June 18th, 2010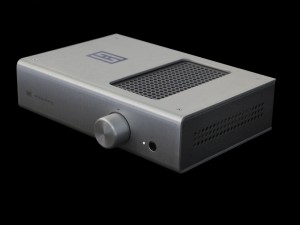 My husband decided he wanted to get back into the Audio biz. Back in the day, he designed some quality amplifiers for a company called Sumo. I guess you can take the boy out of engineering, but you can't take the engineering out of the boy.
Meet Asgard… a limited-production, hand-made headphone amplifier that was designed to make even iPod earbuds sound amazing–and to drive high-dollar headphones to audio nirvana. To see all the specs and even place an order, click here.
In one of my early college years, I started to take a basic electronics class. I had already taken a year of electrical shop where I learned about residential wiring as well as fundamentals that helped me do complete rewires of theatrical lighting fixtures. At that time, theatrical lighting was moving further and further toward electronic light boards, so I figured an electronics class or two would be a good investment of my time.
But I got sick right as we were getting into practical applications. I'd learned how to read schematics, but got sick right as we were starting to do lab work. I fell behind and never quite caught up. My teacher took pity on me and didn't flunk me, he gave me an incomplete. During that semester, I was taking Auto Shop and various Stagecraft classes–none of which had the kind of homework and tests that Electronics had, so falling ill didn't really change my grade or participation.
I never did go back and complete the coursework.
I suppose I'm getting the real world equivalent, though!
My husband designed the whole thing inside and out. I designed the production line. I knew my limitations with such basics as remembering what the colored stripes on resistors mean and the fact that I'd never actually soldered more than a connection or two on a circuit board. (I've done tonnage of cables including 19-pin Socapex and various XLR type audio cables, but my experience with circuit boards was fairly limited.) So, working within those boundaries, knowing I'd become more proficient at everything with each unit I put together, I developed a flexible system so that as I figured out better ways or a better sequence, all I had to do was rearrange, not restructure.
I went from about an hour and a half per board to under an hour within my first 20-25. After that, it's just a matter of nuts and bolts aside from testing and packaging.
We've only barely launched, but sales are already picking up. The Asgard even made it into the Top 20 on TrendHunter!
Yeah, I really feel like we're on to something here. To me, one of the funniest things is that when I do the listening test, I use music I know very well and love to hear and I sometimes forget that I'm actually working and I'll spend twice as long just listening because it sounds. SO. AWESOME! through Asgard.
Our follow up, Valhalla, is nearing full production and I'm excited to take what I learned designing the production system for Asgard and apply it to Valhalla. It'll be my first time with tubes as Asgard was my first with MOSFETs. Life loves me and I love life. It sure is sounding great these days.
June 2nd, 2010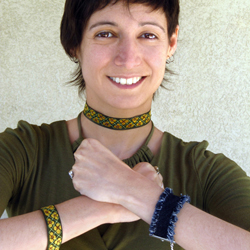 I've done a bigger, better tutorial at ribbonchoker.com about how to make a ribbon choker necklace or ribbon bracelet.
I'd like to thank  my wonderful husband for taking all the photographs without too much grumpiness. That was very sweet of him. I suppose it helps that he'd just gotten a new camera and was excited to use it. I know that while he loves me, shooting me building ribbon chokers isn't likely his favorite pastime, so that new camera came in handy.
Although, he ended up using my camera for much of it. Anyway, this was a project that took me about a year to complete, but I only recently got the domain name. I dunno why I didn't think of it sooner. I nearly fell outta my chair when I saw that it was available. The tutorial here on this site is okay, but ribbonchoker.com is far more comprehensive, with better pictures that open up into larger ones so you can see what I'm talking about.
I've got a lot of other things going on in my world right now. One I can't talk about yet, a few I'll be able to talk about soon and one that I can more fully announce any day now.
If you've followed my twitter feed or have friended me on facebook, you might occasionally read that I'm soldering circuit boards. It's no secret that I'm a multitalented chick-a-dee, but for instance, the day we photographed the tutorial, we also moved a few more units through production. My husband has designed a solid state headphone amplifier and we are just about ready to start shipping units.
Once upon a time, he was a high end audio engineer and I guess he sorta missed those days when a friend of his gave him a headphone amp. After listening only once, I started hearing him say that he could do a better one…with mosfets. (New to electronics? So am I. In fact, don't tell him, but I don't exactly know what a mosfet is, but I know where the go on the circuit board and how to solder them in place and attach them to the heat sink.)
Anyway, while he was chugging away at the design, I was putting together my ribbon choker tutorial. Occasionally, we'd meet somewhere in between and help each other out. He's terrible at making ribbon chokers, but I'm really good at soldering circuit boards. We make a great team.
When we're really ready to make this officially official, I'll announce our company name and website. These amplifiers make my favorite music sound awesome. I listen while I solder.
I'm also still selling vintage sewing patterns, ribbon chokers and Twilight's Fancy necklaces in my ArtFire shop.
June 19th, 2009
I just posted to the Ashleigh Raine blog about how my last two day's worth of work mysteriously went up in file-not-found smoke. Yeah…nice, huh?
So, instead of lamenting, I'm trying to figure out something else I can do to take my mind off of it. I've got a ton of sewing projects, beading projects, even writing projects, but why is it that at this very moment, I can't decide which to do?
Perhaps that's a sign that I should see what I've got that needs repaired. Between antique dolls, vintage clothes and jewelry, I'm certain I can get myself occupied.
I think the worst of the whole ordeal is simply that I lost so much time. Generally, when I put 18+ hours into something, I have something to show for it. Even a completely screwed up, ugly dress…something.
File not found… Not "File messed up", "File misplaced", "File screwed up beyond recognition", "File in hiding" or "File doesn't wanna be worked on at the moment so wait a few hours, days, weeks until it's in a better mood".
File. Not. Found. *sigh*
January 21st, 2009
I mentioned earlier that I wouldn't wish this on my worst enemy… And that's why it hurt so much that it happened to one of my best friends.
Welcome to Eddie's attic: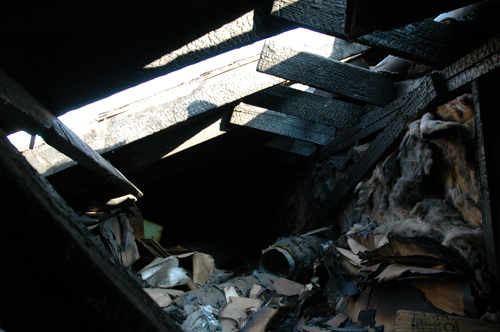 The firefighters had to cut two holes in the roof. Fueled by boxes of carefully wrapped glassware and dishes, the fire burned its own hole.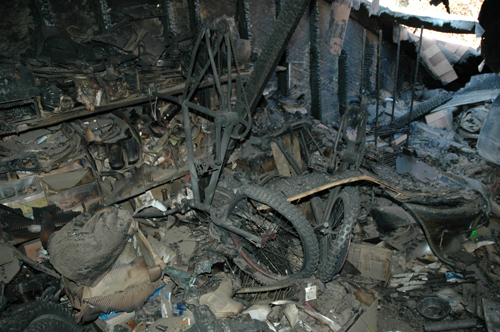 Again, some very, very nice vintage stuff was lost in that fire. When he and I were up there digging through the wreckage, it was a small pleasure whenever we'd find one of a set of 12 glasses or bowls or plates that survived. Occasionally, a set of 12 was reduced to 6, sometimes 2. Although, I don't think there were any sets reduced to zero.
He also lost several wooden lighting fixtures. In one case, the glass part of them had gotten so hot it'd melted. So surreal. And let me just say that one of the worst smells I've ever experienced was in this attic. The mixture of charred materials plus mold and mildew was utterly horrid. I got used to it after a while, but then about 4 or 5 hours later, I started to feel ill so I had to go downstairs.
Those bikes used to be show-quality. Yeah, bad day. Very bad day.
But…he found a smile when he told me that not all of his replacement parts had burned up. He could rebuild those bikes…and I'm sure he absolutely will.
What I learned from seeing this happen to Eddie:
Life is far too short not to live it, love it and keep as much as I can of it in the "now" rather than the "some day" because "some day" may not come in time.
January 14th, 2009
When I walked up to Eddie's house, I was somewhat surprised to see how intact it was. All greenery outside was either completely charred or scorched brown and almost dead. All the leaves were also sort of frozen in the direction the wind had been blowing the night before. I wish I'd gotten a picture of that. So surreal.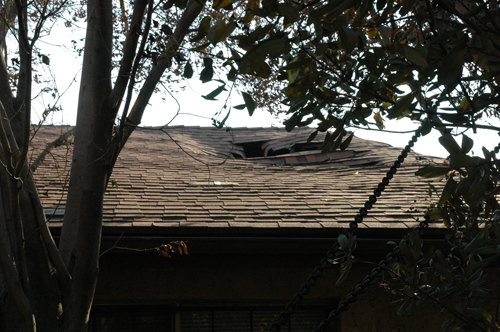 This was the side of his house where his neighbor's was a total loss. In his personal junkyard, there were all sorts of mangled melted metal parts. Wheels, intake manifolds, cylinder heads, hoods, front clips, the list goes on and on. The only stuff that even marginally survived were all the headers. (Go figure!) There were some differentials and other large bits that can be rebuilt, but in at least one instance, the axle tubes had melted. I'd never seen anything like this. So many original factory vintage parts… *sigh*
He met me outside and explained that the attic was what had caught on fire. He'd floored it out a few years back so that he could store some of his incredible collections of Mid-Century Modern stuff, bicycles and various other interesting stuff. An ember or two had blown in and ignited the whole thing.
The fire department blasted it with water and filled it full of foam in order to keep the whole house from going up. When I walked in, the ceiling was on the floor.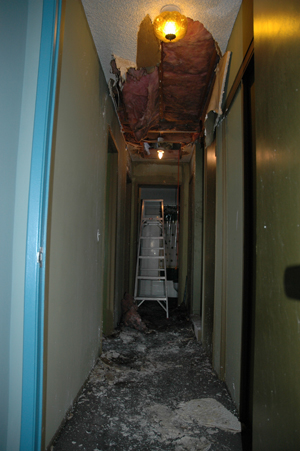 I didn't really know where to start and since Eddie had lived in that house for more than 20 years and had zero intention of moving…well, this was gonna be a big job.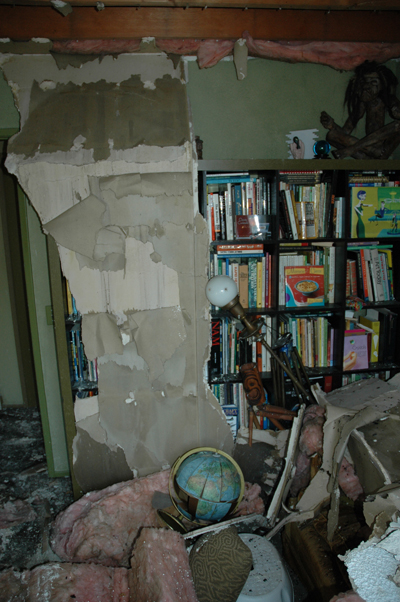 But I was up for it. Eddie is the kind of guy who'd help me if my house had burned down, so I spent a month neck-deep in soot, mildew, all the yucky-ness that goes along with picking up the pieces after a fire has ravaged a house. I wouldn't wish this on my worst enemy, either. Just the smell of something burnt takes me right back to his place. It was awful.
But these pictures aren't even the worst of it.
January 7th, 2009
All rightie… You've met my friend Eddie: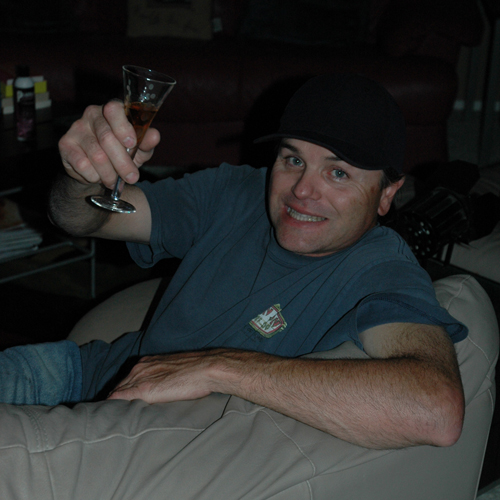 In mid-November of last year, a huge fire hit the mountains behind his house. It was all over the news. More than 500 homes were destroyed or severely damaged.
His was one of them.
He'd been at my house for a barbecue and a movie until about 10:40 PM or so. As he got closer to home, he saw the smoke. The wind was crazy, but being the kind of guy he is, when he couldn't drive all the way up to his house, he parked his car and walked…figuring his house was probably already gone.
It wasn't.
The fire department wasn't there yet, but several yards were on fire, fanned by super-high winds. Eddie got out his garden hose. If it wasn't for his quick action, his neighbor's house might have gone up. He put out some debris that was scorching upward, licking their eaves.
On the other side of his house, he has a rather large collection of vintage car parts for 60s Corvettes and Camaros. A pile of tires had caught fire.
He tried to put it out but then his other neighbor's house became fully engulfed. (The fire was so hot, aluminum wheels, intake manifolds and heads were reduced to puddles while fiberglass hoods became bizarre piles of fuzz.) There was no stopping this blaze. He ran inside his house and grabbed a few things as the fire department arrived.
They almost didn't let him take his other car that was in the garage (a '66 Corvette [the coupe version of the convertible I have]), but there was no way he would've left that car there. When he drove away, he figured it'd be the last time he'd see home sweet home.
We heard from him around 2AM. He called to tell us that he was okay, but that his house was gone.
The next morning, we learned that his house wasn't entirely gone… Well, yeah it was, but no it wasn't.
I drove out there to see if I could help. This is my car parked across the street from his house. Notice how utterly barren those mountains are. In 2003 when a blaze came up to my back fence, there were still a few bits of green and brown on my back hill. This fire was far more ruthless.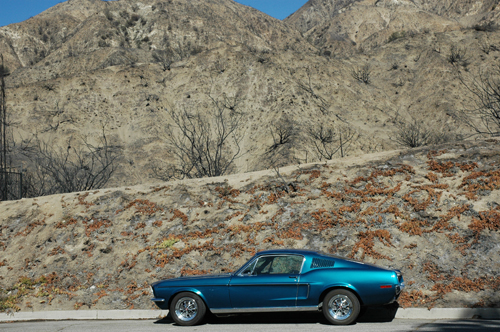 Eddie needed help now, not next week and I was glad to oblige.
December 10th, 2008
For all intents and purposes, this was a vacation. It was not my usual kind of vacation because I really love to go and see and do when I'm on vacation. This was more for my husband. He likes to go somewhere and do nothing. Well, he did write a significant chunk of his novel on this trip. Got it out of the starting gate with a huge bang, I might add. Me, well, I had fun for a few days and was bored for a few more.
Anyhow, back in February, I'd gone to a paranormal event on the Queen Mary (which I'll post about in the coming days) and afterward, I was hooked. I wanted to do more, so I booked the event at the Stanley hotel almost immediately. I figured that since it was so far in the future, I couldn't turn back if I already had the tickets. I couldn't weasel out somehow and neither could my husband. We would have to go.
And go we most definitely did.
That place is crazy with activity. It really is. I was astonished. But mainly, what I wanted to do was meet Jason and Grant now that I was part of their extended team. I'm a TAPS West Coast Home Team member and loving every minute of it, so meeting them again on those terms was so awesome.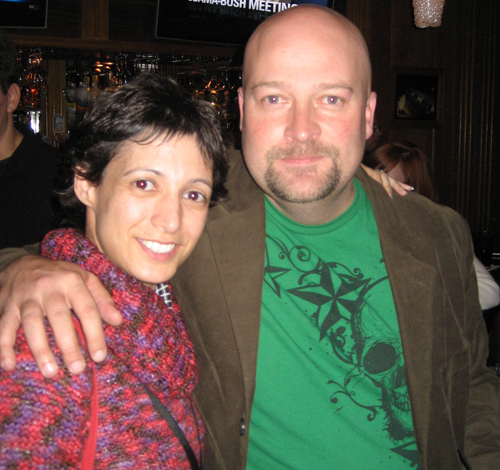 I truly enjoyed being there, listening to all the discussions and meeting new friends.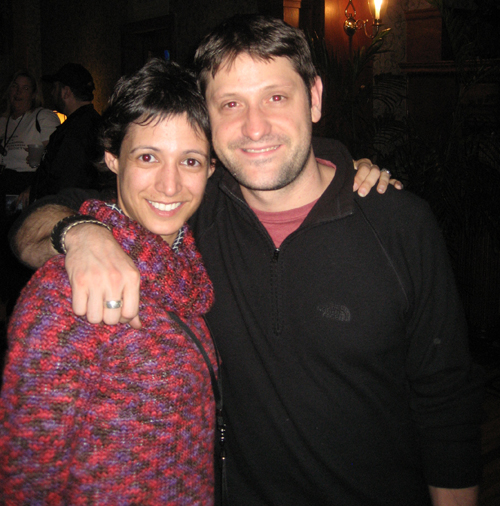 It was also my husband's first event. Being a photographer, he even got a few action shots during the day between investigations and discussions. It's just hard for me not to be investigating when I'm in an area where everyone knows what I'm doing and not just talking to myself or recording thin air.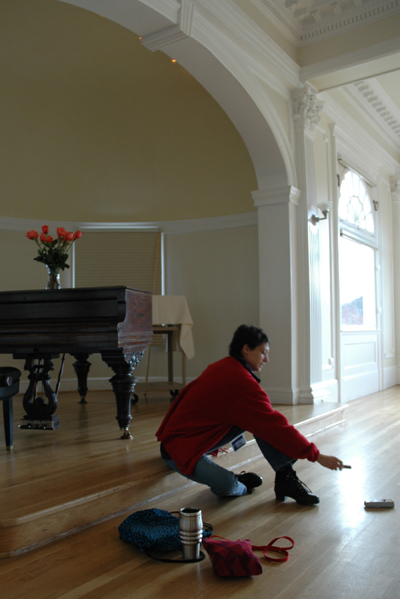 It definitely helps the photographs that the Stanley hotel is so darn gorgeous. I can't wait to go back, but I know it'll be awhile.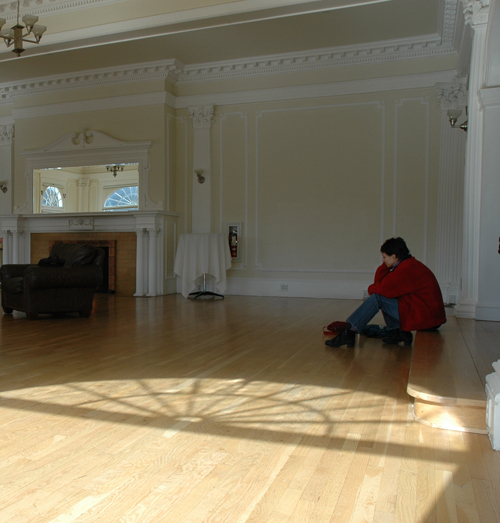 August 26th, 2008
I don't know what took me so long to get to this one. I mean, I saw it in the theater because a friend of a friend who doesn't know me that well had mentioned he saw me in it, so I figured I must've gotten some really good camera time for him to actually recognize me.
Boy was that an understatement. So far, of all the shows I've been in and appeared on camera, this one takes the cake. Big time. I mean, my head is as big as the screen!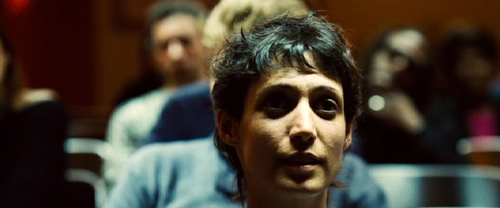 The other shots may not be close-ups, but I'm still totally visible for a change. I suppose it helped that they'd placed me in the front row for some strange reason.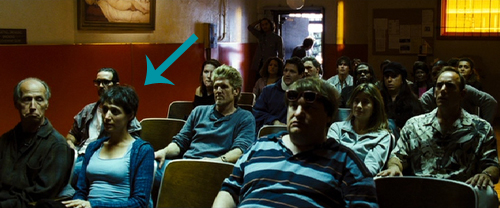 My husband and I saw it together and the moment I was onscreen at all, we started chuckling. Each shot built and built until we were all out cracking up because, like, my head was so freakin' huge! It's one of the best laughs we've had. We really hadn't expected it to be like that. We'd figured okay, since I was in the front row, perhaps I was visible enough. Noooooo… I even got a close-up!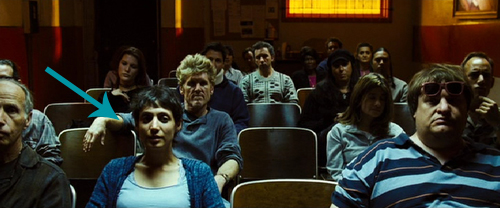 This is also one of the coolest bits I've been part of. I was an alien on They Are Among Us, a dead nun on Angel (in which I also had a close-up, but my head wasn't quite as big as the screen because I was laying down and they wanted to get more blood in the shot), an insane asylum patient on The Changeling and a hooker on Cold Case and Crazy.
But on Domino… I was a recovering nymphomaniac at a Nymphomaniacs Anonymous meeting, no less. Good times!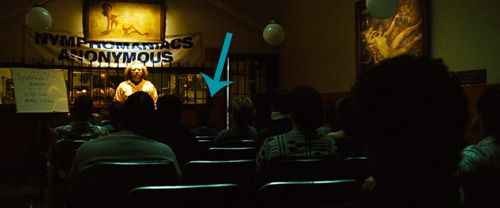 July 20th, 2008
So, I was perusing a file of photos and came across a huge stack I was going to post here once upon a time. While I don't have the mountain of time required to process all the images at this exact moment, I did have the time to post one.
And here it is: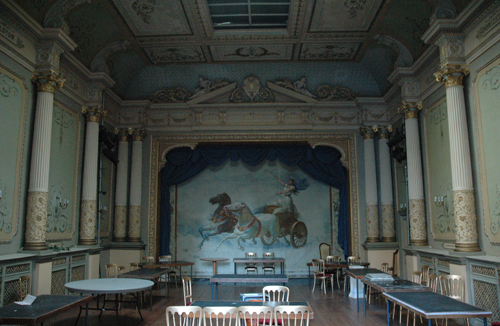 This is the private theater of Adelina Patti. She was the first person in Wales to have electricity in her home. I snuck behind that original drop and discovered that the technology has not been updated. Every spot a gas burner would have been, there's a lightbulb.
I couldn't believe my eyes. I mean, I'd read mountains on the topic of stage lighting from candles to early electricity, but never thought I'd get to witness it in person. This was the type of thing I'd only ever seen in pictures and illustrations. I wanted to spend hours there in Adelina's theater.
Sure, the front of house is all gold leaf and finery, but I wanted to explore the fly gallery and all the electrics. I couldn't quickly figure out where the controls were or I'd've definitely snuck in there, too. It was dark, I didn't have a flashlight and backstage was in use as a storage facility during restoration.
I'll go back to Crag-Y-Nos someday. You bet I will. And maybe, just maybe, I'll go on another impromptu tour backstage…perhaps a ghost of performances past would show me around!
July 2nd, 2008
Once upon a time, I was driving in my '68 Mustang fastback…just out for a fun drive (gas was still waaaaay cheap back then!). I had a route I used to take which reminded me of a few stretches of road where I grew up and discovered the pleasure of taking the long way home. As I turned the corner, there was a sweet '69 Firebird, hood up, with a hot guy standing there.
I couldn't believe my eyes. It actually took me two blocks of deliberating before I finally said, "Fuck it! I'm going back." I whipped a U-turn at the next opportunity and then whipped another one to pull up behind him.
He was closing up a cell phone as I came to a stop, but he walked toward me, a smile slowly growing across his lips. It seemed like he was trying to figure out whether he knew me.
Nope. We were complete strangers to each other.
I asked, "Do you need help? I've got tools in my trunk."
He replied, "No, it's okay. The car just overheated. I'll be back on the road in a few minutes. No worries. Thanks for stopping, though."
I hid the fact that my world was crushed and continued on my way to nowhere. *sigh*
Fast forward several years and this was the incident that spawned the opening to a novel…which is now finally available at Amazon, Barnes & Noble and Borders.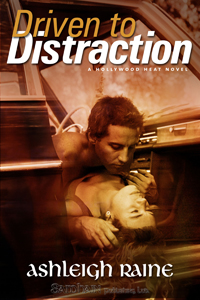 My best friend and I write as Ashleigh Raine and when she decided we should write a novel that takes place in the entertainment industry–but how do we start it?–I knew my little experience was perfect.
Except I get the guy!!!!!!!!!!!!!
We used a bunch of my on-set experiences, including the time I tripped while working on Threat Matrix which spawned a chapter or so. I recall using the base camp and set from one of the times I was on Anchorman. The area for the helicopter stunt was inspired by my night on a music video for 4Mula1 plus a building that served as holding on American Dreams. There were two guys on Ripley's who inspired both Jay and Levi…and the snake incident. One of the precision drivers on Starsky & Hutch also served as inspiration for both Smitty and Cash. The cars in Jay's garage include a few similar to ones I own (Viper and Corvette). And then there were the times I went to stunt driving school…failed the first time, passed the second and got to ride along during an afternoon of drifting which served as further research and inspiration just talking to all those stunt drivers. Oh yeah, and the week I spent being paid to drive four exotic cars which inspired the Ferrari F430 being used as a hero car.
As you can imagine, it was up to me for all the car references as well as the on-set stuff, but Jen played a critical role in it. She was my barometer. Whenever I got too technical, she could chime in with such phrases as "I have no idea what you're talking about here." and I could tone it down for people who don't work on their cars and would likely get lost among the trailers on a typical base camp.
Driven to Distraction has a lot of other stuff inspired by my experiences, but if I were to list them all here, this post would go on forever. And since the book is classified as erotic romance, it's probably better you just go read it. Or at least read some excerpts…
Part of the infamous opening scene inspired by Mr. Hot Firebird: Roadside Attraction
Part of the sex scene inspired by my cars: Garage Rendezvous
Part of a scene inspired by many little friendly races I've had: After Race Romp
Part of the scene using a few locations I've been on: Helicopter Stunt