October 12th, 2007
Doing a little here and a little there isn't always conducive to getting anything done, but I'm really excited about what I've done so far in Second Life… Well, what Twyla Briggs has done!
When you walk up to Publishing Island from Book Island, this is what you see: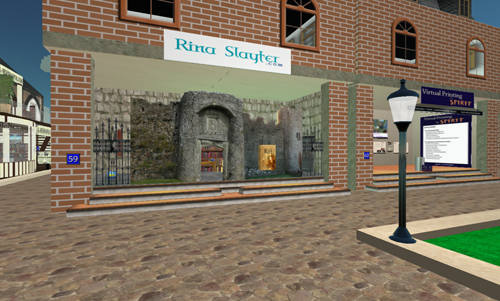 Be like a ghost and walk through the castle wall, and you're in a reasonably close replica of the Chronicle Room under the Ward Manor…where Tayna drinks tea and scours the Chronicles in Otherness: Rift.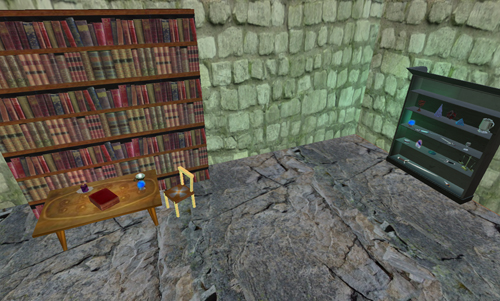 Here's a close-up of the shelves. I made a few things, bought a few things and got a few more for free. I'm still amazed that I built the crystal ball myself. It's got a particle system in it. Jason helped me do some fine tuning on the object as a whole. All in all, for it being the first thing I created, now that I've been in-world working for awhile, I've discovered that I could've started with something a little less involved! Like the odd-shaped things in the middle of the top shelf. I like to think they're crystals, but I know they aren't. That's one of the things I'm working on creating. I want to do a whole line of realistic-looking crystals and such.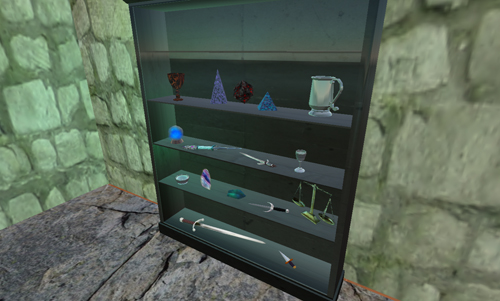 And finally, here's me–Twyla Briggs–sitting at Tayna's table with the Rede, scrying in my crystal ball while enjoying tea like I always do in Second Life. I can't drink it 24/7 in real life, so I might as well get my jollies in Second Life!
Feel free to IM me in-world. I'd love to hear from you!