February 1st, 2009
As Ashleigh Raine, myself and my best friend are writing a series of romance novels set in a fictional California Beach town called Talisman Bay. We've been working with these characters in this town since high school. In other words, we know them like the back of our hands. And oh, how we love them…
When we first started writing, I'd been inspired to make necklaces…again. (I've been going through phases since junior high, just before Jen and I met.) This time, I really dove in.
I'd unintentionally built a prototype back in 1994 when a friend of mine handed me a broken car part (a frayed clutch cable to be exact) and dared me to make jewelry out of it. Well, it's still one of my most treasured pieces all these years later: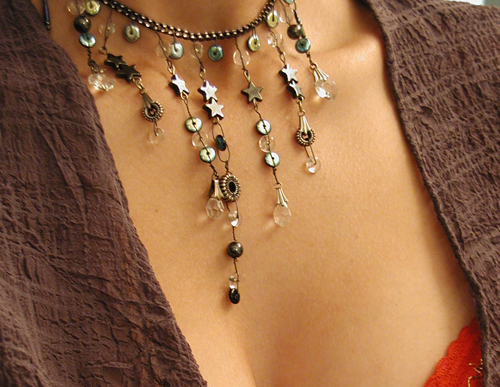 I dunno why, but I love necklaces with lots of dangles. One charm is rarely enough for me for some reason. I love the cascading effect, I suppose.
Anyhow, since I'd gotten back into necklaces and Twyla of Talisman Bay is somewhat my alter-ego, it made sense that she also makes necklaces. Twyla has been with me since high school. In college, I was a lighting designer and my favorite time to mimic is twilight with all that splashy color. Ludwig Tieck has been quoted "Twilight is the time when the logic of daylight meets the magic and mystery of night" and it just really rang true for me.
Twyla, Twilight… She does whatever she fancies… Twilight's Fancy.
I add something new just about every day. Whether it's more signature Twilight's Fancy necklaces, ribbon chokers or purses. I just love spending time in my craft room. My creations are how I share my joy.
August 14th, 2008
While working on a different project, I got inspired to mess with one of my doll pictures. I'd taken the photograph as part of a "before" picture because underneath her dress, she's got some very serious problems that need to be fixed. I guess it's because the girl's so cute or maybe because the picture was just there when I needed it. I don't know, but I like to think I made something sweet out of it.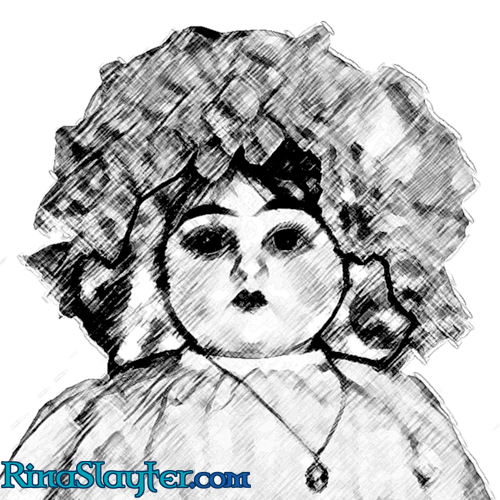 When I'm further along on the project, I'll post the real "before" images as well as progress on fixing all the torn leather. A previous owner had put cotton balls instead of sawdust in her kid body and just the thought of that irritates me. Old rags from 1900, okay maybe, but not cotton balls. That's just plain wrong. In my opinion, antique dolls need to have either antique repairs or period-appropriate repairs if they must be modern.
April 13th, 2008
A way-back machine isn't quite as necessary for this one except for me, it's automatic. I still remember creating this one because I used the colors from my favorite sweater! I wish I still had it. I have the sleeves of the shirt I used to wear underneath it because I recycled them as part of the pantlegs to lengthen a pair of jeans that was too short. Yes, I still have those and yes, they still fit. Will I post a pic? Definite maybe.
Welcome to Favorite February 1988…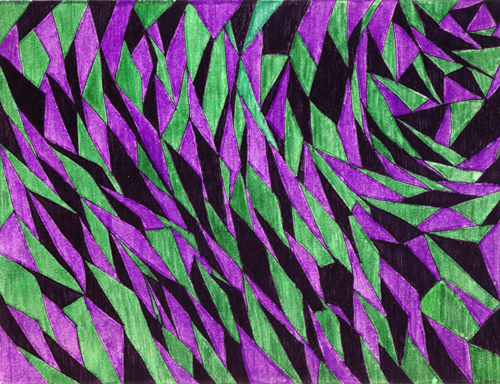 April 9th, 2008
So, it was February 1988 and I'd already done several pieces, so I thought I'd do one a little differently.
You'll need your way-back machine for this one and if you look carefully, you'll see my real name. Rina is just my pen name. Funny thing is, the actual birth of Rina was only maybe a year or two after this drawing. Rina was a character name from one of my long lost stories. For some reason I liked the name and remembered it through the years. My pen name would've been Twyla Emerson–born slightly earlier–but she's a character in the Talisman Bay series that I write as half of Ashleigh Raine and I would've felt a little weird using her name.
Strap in to your way-back machine and enjoy February 1988…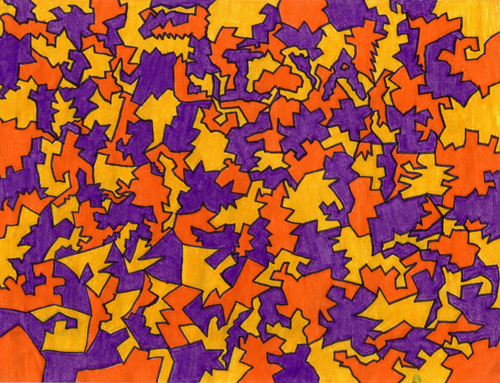 April 5th, 2008
I have no idea if I did any pieces between July and December of 1987, but I'm pretty sure I got a new set of markers for Christmas!
If I remember correctly, this was also an experiment into what it would be like to use 4 colors instead of 3. I think it turned out okay, but could've been better. Oh well.
Here's December 1987…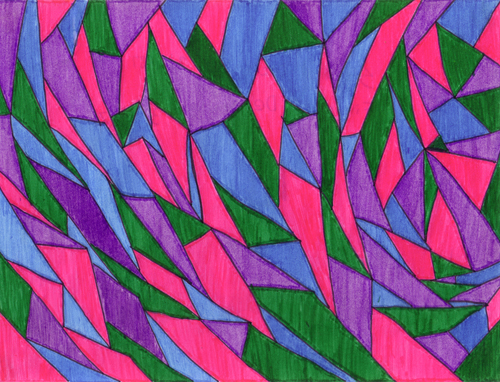 March 31st, 2008
I actually don't like this one much. I even recall not liking it when I made it, but once I'd set ink to paper, I felt I should finish it anyway. To me there are numerous bad spots plus poor color choice because I didn't expect the red to be so bright and the blue to be so dull. Oh well.
The real reason I'm posting this one anyway is because on the back, I noticed that it was marked #5. The previous one I posted was marked #3. I know I made a lot of these pieces, but I can't help but wonder where #1, #2 and #4 went. The other ones I found weren't marked with a number, only a date.
Maybe I'll find more on another day, in a totally different stack of old papers. I have memories of a few others that I did toward the end of doing all of these, but I haven't seen them in years. I would've assumed they'd be with these, but they weren't. Instead, the stamped ones were a sort of bonus.
Welcome to #5 July 1987…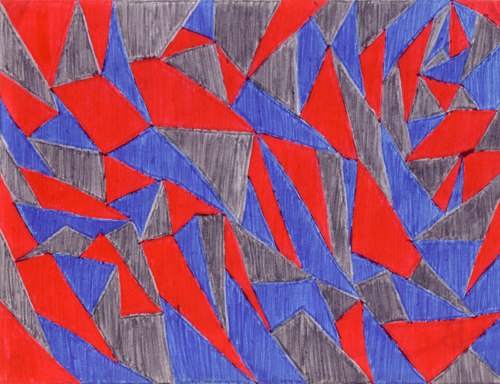 March 28th, 2008
I bet I was still working off the same set of markers I'd gotten for Christmas seven months earlier, but my artwork was changing a little bit. Most of my work is in the same vein.
In fact, after I'd done all of my drawings, I switched gears and started painting on my clothes. Yes, that was the late 80s-early 90s when embellishment was big. And since this was before I discovered cars, I had a lot of time on my hands. In fact, I still have a particular pair of jeans with this kind of artwork painted on them and they do still fit. I should hunt those down and snap a pic.
In the mean time, welcome to July 1987…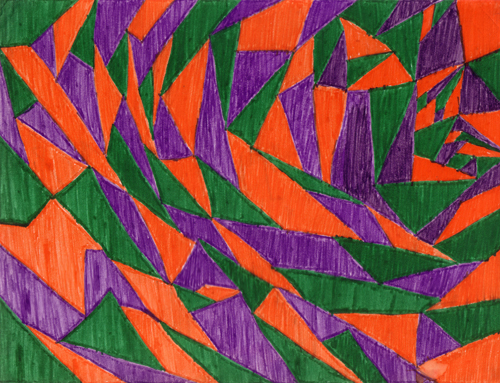 March 24th, 2008
I don't recall if this was when I got a brand new set of magic markers, but since the date on the back of this piece is January 1987 and the color is pretty rich, I'm betting the markers were still brand new from Christmas.
Now, remember, it was 1987… Why am I reminding you to get in your way-back machine? I'll just let the artwork speak for itself…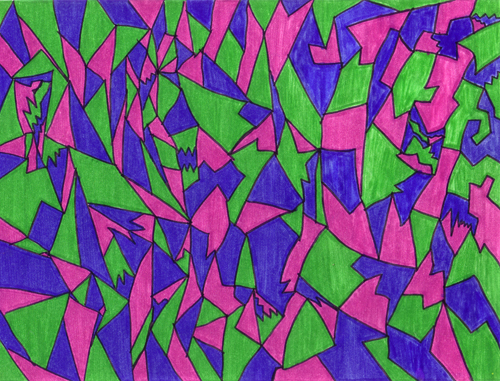 March 20th, 2008
My two stamp art pieces were done at totally different times on different paper. I don't remember doing the other one at all, but I do recall this one because I'd just gotten the ballerina stamp for Christmas and maybe two months earlier, I'd gotten the unicorn circle one and the rainbow on the clouds. There's also a teddy bear with a band-aid on his leg that I think I got for Christmas, too.
I'm thinking this was done some time in either 1985 or 1986. The other was slightly earlier. This was before I discovered beads and proceeded to make 50 pairs of earrings one week only to take them apart and recycle all the beads the following week…for, like, three months. I suppose that's why I have so few drawings. I was too busy beading.
Also of note… None of my drawings are of actual things. They're all abstracts. My brother got the talent to draw real things. I got the talent to make designs. Not much has changed, either. I still can't draw my way out of a paper bag, but I can barf a bunch of color down and have it look at least somewhat pleasing to the eye. I'm betting it was my love of color that helped me while designing stage lighting. I was very particular in my color choices.
Let's call this one Stamping Art.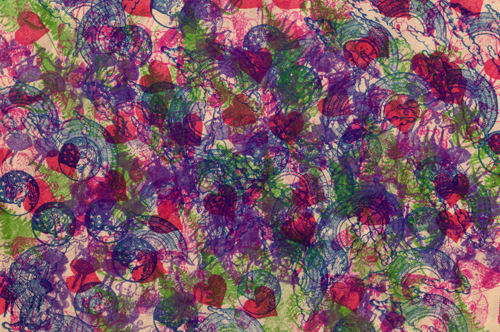 March 16th, 2008
While hunting for some old journal entries, I found a cache of artwork I'd done in 1987-1988 and found it fascinating, so I'm gonna share them here. I mean, I want to scan them anyway, so why not post 'em?
I never titled my work and rarely signed it–I was in 7th or 8th grade, for goodness sake!–so I guess I'll have to make up titles as I go along. Let's call this one 'Stamp Art'. (I know, I know…sooooooo original…) Notice the line running down the left. This piece was done on binder paper. I guess I didn't have any plain paper on hand that day or perhaps I was too lazy to find some… Or maybe the spirit moved me and I couldn't take the time to bother with blank paper, I HAD to do the artwork at that very moment or it'd be lost forever.
Whatever. 🙂