March 31st, 2008
I actually don't like this one much. I even recall not liking it when I made it, but once I'd set ink to paper, I felt I should finish it anyway. To me there are numerous bad spots plus poor color choice because I didn't expect the red to be so bright and the blue to be so dull. Oh well.
The real reason I'm posting this one anyway is because on the back, I noticed that it was marked #5. The previous one I posted was marked #3. I know I made a lot of these pieces, but I can't help but wonder where #1, #2 and #4 went. The other ones I found weren't marked with a number, only a date.
Maybe I'll find more on another day, in a totally different stack of old papers. I have memories of a few others that I did toward the end of doing all of these, but I haven't seen them in years. I would've assumed they'd be with these, but they weren't. Instead, the stamped ones were a sort of bonus.
Welcome to #5 July 1987…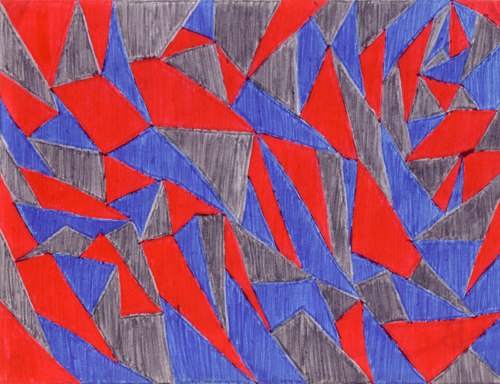 Leave a Reply
You must be logged in to post a comment.