April 3rd, 2009
Happy, happy, HAPPY Friday! It seems like it has been so long in coming, but the day is finally here. Forsaken Talisman is now available. And if you buy it here before next Thursday, you get it at a discount.


Forsaken Talisman by Ashleigh Raine
Is she a victim of a madman's agenda, or a willing player in his demonic games?
Book two in the Talisman Bay series.
Kidnapped and mind-wiped by the Shadow Walkers' greatest nemesis, Skylar has no memories of her own, except for her name. All she knows is what memories she does possess belong to someone else—as does her face—and that she can't trust anyone, including herself.
Shadow Walker Dusty Clements goes against direct orders to rescue Skylar and take her into hiding. It's the only way to get to the truth, and keep her out of the hands of an enemy who could use her to wipe out the entire organization. The last complication Dusty needs is to fall for her.
As Dusty and Skylar work to uncover the secrets of her past, they discover a mystery more than twenty years in the making, and a love they can't deny.
The enemy has one more trick up his sleeve though—a magical kiss capable of probing the deepest secrets of the mind. All he needs to bring the Shadow Walkers down is to get his lips on Skylar one more time…
This book was previously published but has been completely revised, rewritten, re-edited, with an addition of more than 20,000 words.
Warning, this title contains the following: Sex in an interdimensional cave. Hot men ripping demons apart bare-handed. Liberal use of the f-word as verb, adjective, threat and sexual promise. Oh, and wet and soapy sex in the shower followed by warm bodies sliding between cool sheets—yes, sex in a bed. It's almost normal!
BUY EBOOK
EXCERPT: Prologue and First Chapter
EXCERPT: Dusty and Skylar Dance
EXCERPT: First Kiss
March 3rd, 2009
So, I've mentioned time and time again that I also write romance novels as half of the Ashleigh Raine writing team. Our next book is coming out in April and we wanted to do a contest/giveaway in celebration. Whenever we decide to do a contest, the next question is always what will the prizes be.
We both had a 'like duh' moment. My handmade stuff would be perfect. It's all 100% original, unique and will never be duplicated, so why not? Plus, since our next novel is Forsaken Talisman, book two of our Talisman Bay series and in that series Twyla Emerson is a bead-oholic (gee, where'd we get that inspiration? Hmmm…?) it makes sense that the prizes are from as close to Talisman Bay as anyone can get.
So, if you'd like a chance to win one of seven different prizes, head on over to the Contest page at AshleighRaine.com for complete details.
In the mean time, I'm going to immerse back into Twyla's "damn bead room"–as she so affectionately calls it–and have her help me make some more Twilight's Fancy necklaces. Good luck on your contest entry!
February 1st, 2009
As Ashleigh Raine, myself and my best friend are writing a series of romance novels set in a fictional California Beach town called Talisman Bay. We've been working with these characters in this town since high school. In other words, we know them like the back of our hands. And oh, how we love them…
When we first started writing, I'd been inspired to make necklaces…again. (I've been going through phases since junior high, just before Jen and I met.) This time, I really dove in.
I'd unintentionally built a prototype back in 1994 when a friend of mine handed me a broken car part (a frayed clutch cable to be exact) and dared me to make jewelry out of it. Well, it's still one of my most treasured pieces all these years later: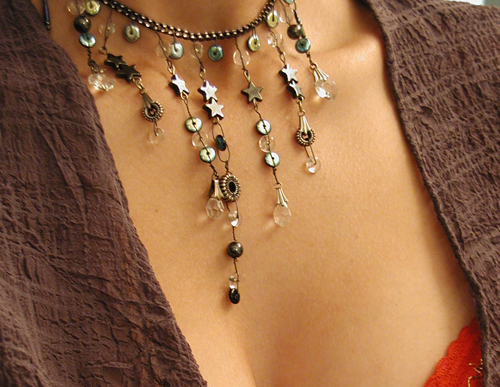 I dunno why, but I love necklaces with lots of dangles. One charm is rarely enough for me for some reason. I love the cascading effect, I suppose.
Anyhow, since I'd gotten back into necklaces and Twyla of Talisman Bay is somewhat my alter-ego, it made sense that she also makes necklaces. Twyla has been with me since high school. In college, I was a lighting designer and my favorite time to mimic is twilight with all that splashy color. Ludwig Tieck has been quoted "Twilight is the time when the logic of daylight meets the magic and mystery of night" and it just really rang true for me.
Twyla, Twilight… She does whatever she fancies… Twilight's Fancy.
I add something new just about every day. Whether it's more signature Twilight's Fancy necklaces, ribbon chokers or purses. I just love spending time in my craft room. My creations are how I share my joy.
August 1st, 2008
About five years ago, I got up the nerve to wear a particular outfit to a romance convention. That evening, I was dubbed "Commando Barbie". Okay, cool. That was fun. The outfit was great–$12 on the sale rack at a Forever 21 in, like, 1999. It hung in my closet for years because I was determined not to get rid of it until I'd worn it at least once. Thus, in 2003, Commando Barbie was "born".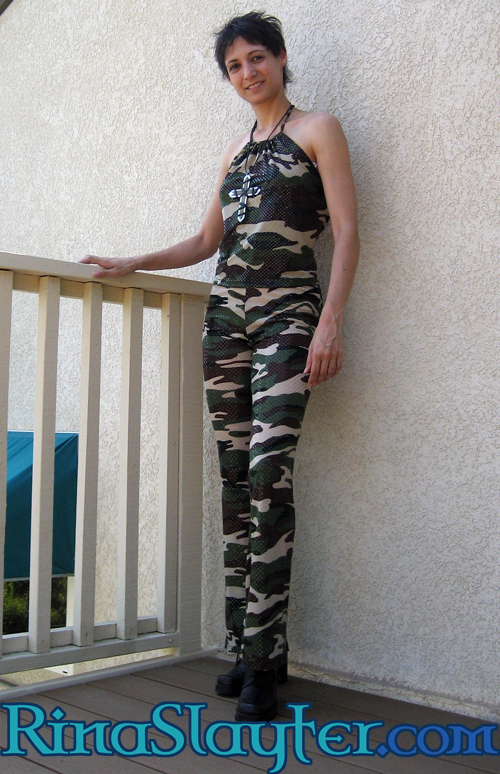 I wore it to Comic Con that year and caused a bit of a double-taking stir as I cruised about the Expo floor. One guy in a booth full of knives, swords and various other weapons just stared and said, "Wow…" before he'd even realized he'd said it aloud.
See, Commando Barbie is much hotter, cooler, better than I could ever be. I dunno what it is about her, but she's really got her shit together. I, however, am her dorky alter-ego. I have difficulty speaking, going places and I'm just so darn uncool. I'm far too shy for my own good and could really learn a thing or two from Commando Barbie. Her social skills are far better than mine. I, in fact, have no social skills.
In a slightly different outfit, Commando Barbie (and her two best friends, Wendy and Jen) met Jamison Newlander and Corey Feldman, the Frog Brothers from Lost Boys–her favorite movie (and mine. We've got that in common.)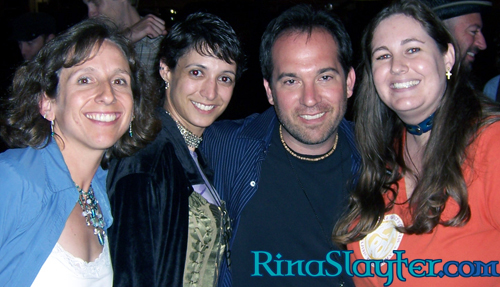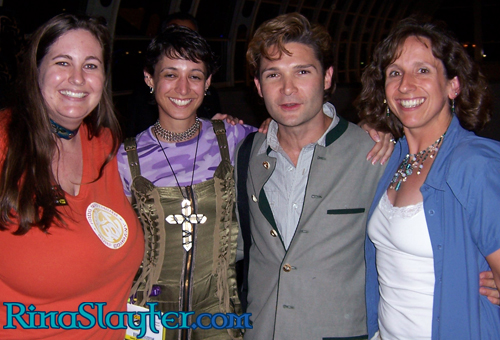 She even got up close with Gareth David-Lloyd, Ianto Jones from Torchwood. (BTW-you should seriously check out the band he fronts, Blue Gillespie. Awesome, sexy, hard blues. Makes me want to go back to Wales again real soon and catch a concert. I also haven't been to all the castles in the south yet.) (Gotta love the T-shirt he's wearing, too. All day long, having his pic taken with numerous women. See, now that's the kind of skills Commando Barbie has and I could only dream of. That shit's hilarious!)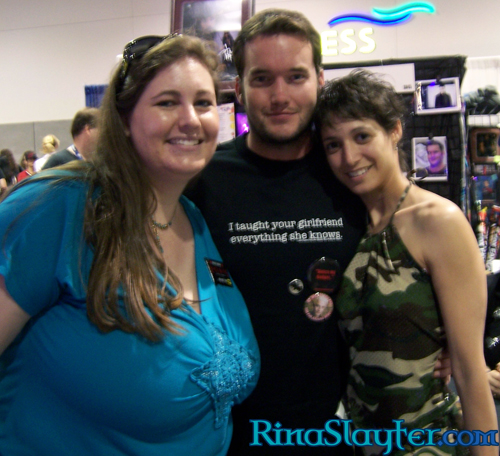 Here she is right next to the Lost Boys: The Tribe booth… As herself…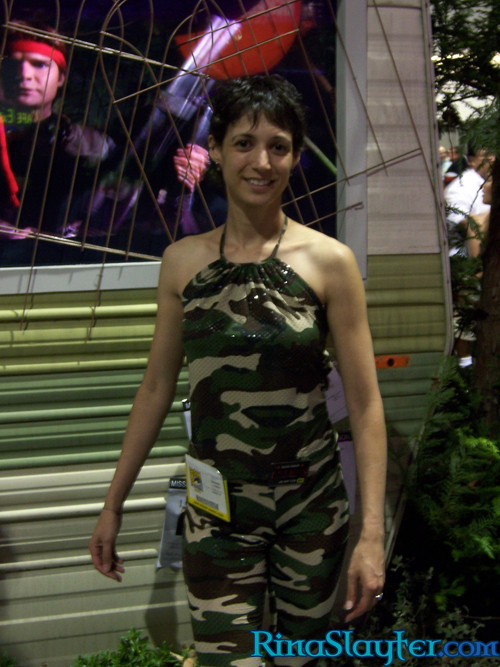 And in her vampire-hunter gear.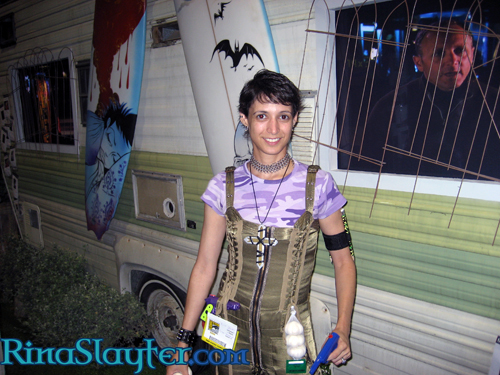 I really wish I were as awesome as she is. In fact, walking around Comic Con with my best friend Jen (together, we're the Ashleigh Raine writing team), I remarked how I wish I wasn't such a big dork. I mean, here I am goofing off with a Dalek… Yeah, a Dalek from Dr. Who for heaven's sake. "Exterminate! Exterminate!" Not cool. And there I am dorking it up, trying to be all cool in my camo and failing miserably. Nice. Help me Commando Barbie! Please put me out of my misery!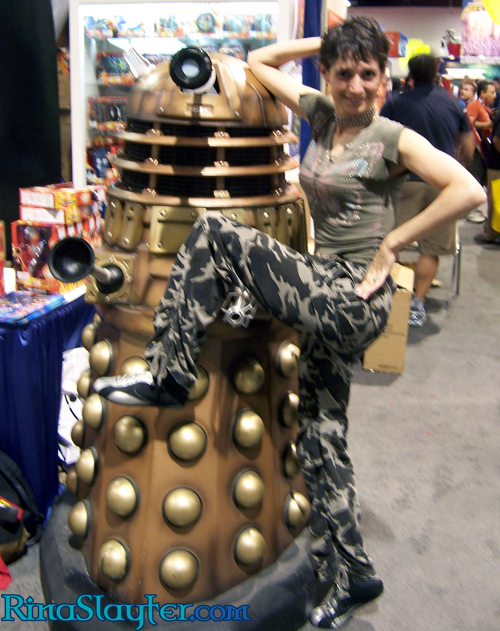 And what was Commando Barbie doing…instead of a Dalek? Well, she got her picture taken for Hustler magazine…for their "Hot Chicks of Comic Con" project. Of course.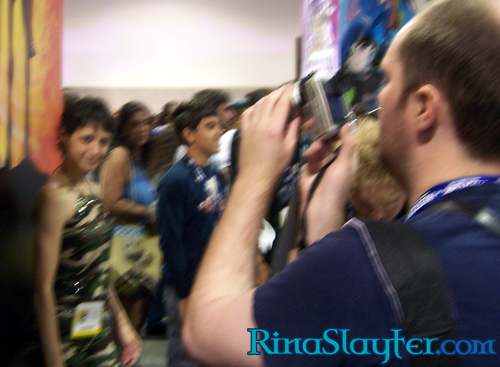 Why can't I be more like her? Instead, I freeze up when people try to talk to me. I trip over my own feet and quite often I have significant difficulty discerning where my ass ends and my head begins due to their close proximity–one being firmly shoved up the other all the time. *sigh*
When I grow up, I wanna be Commando Barbie. That bitch has everything…
July 2nd, 2008
Once upon a time, I was driving in my '68 Mustang fastback…just out for a fun drive (gas was still waaaaay cheap back then!). I had a route I used to take which reminded me of a few stretches of road where I grew up and discovered the pleasure of taking the long way home. As I turned the corner, there was a sweet '69 Firebird, hood up, with a hot guy standing there.
I couldn't believe my eyes. It actually took me two blocks of deliberating before I finally said, "Fuck it! I'm going back." I whipped a U-turn at the next opportunity and then whipped another one to pull up behind him.
He was closing up a cell phone as I came to a stop, but he walked toward me, a smile slowly growing across his lips. It seemed like he was trying to figure out whether he knew me.
Nope. We were complete strangers to each other.
I asked, "Do you need help? I've got tools in my trunk."
He replied, "No, it's okay. The car just overheated. I'll be back on the road in a few minutes. No worries. Thanks for stopping, though."
I hid the fact that my world was crushed and continued on my way to nowhere. *sigh*
Fast forward several years and this was the incident that spawned the opening to a novel…which is now finally available at Amazon, Barnes & Noble and Borders.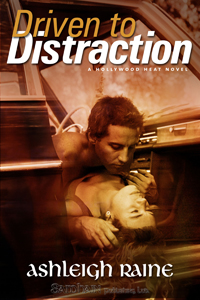 My best friend and I write as Ashleigh Raine and when she decided we should write a novel that takes place in the entertainment industry–but how do we start it?–I knew my little experience was perfect.
Except I get the guy!!!!!!!!!!!!!
We used a bunch of my on-set experiences, including the time I tripped while working on Threat Matrix which spawned a chapter or so. I recall using the base camp and set from one of the times I was on Anchorman. The area for the helicopter stunt was inspired by my night on a music video for 4Mula1 plus a building that served as holding on American Dreams. There were two guys on Ripley's who inspired both Jay and Levi…and the snake incident. One of the precision drivers on Starsky & Hutch also served as inspiration for both Smitty and Cash. The cars in Jay's garage include a few similar to ones I own (Viper and Corvette). And then there were the times I went to stunt driving school…failed the first time, passed the second and got to ride along during an afternoon of drifting which served as further research and inspiration just talking to all those stunt drivers. Oh yeah, and the week I spent being paid to drive four exotic cars which inspired the Ferrari F430 being used as a hero car.
As you can imagine, it was up to me for all the car references as well as the on-set stuff, but Jen played a critical role in it. She was my barometer. Whenever I got too technical, she could chime in with such phrases as "I have no idea what you're talking about here." and I could tone it down for people who don't work on their cars and would likely get lost among the trailers on a typical base camp.
Driven to Distraction has a lot of other stuff inspired by my experiences, but if I were to list them all here, this post would go on forever. And since the book is classified as erotic romance, it's probably better you just go read it. Or at least read some excerpts…
Part of the infamous opening scene inspired by Mr. Hot Firebird: Roadside Attraction
Part of the sex scene inspired by my cars: Garage Rendezvous
Part of a scene inspired by many little friendly races I've had: After Race Romp
Part of the scene using a few locations I've been on: Helicopter Stunt
January 4th, 2008
Well, I at least hope to be now that the hubbub of the holidays is over. I've got a stack of Tales to add as well as some odd things–such as the cause of the funky scent in my Prowler during one of my Tales…
First up, as half of the Ashleigh Raine writing team, I'm happy to announce that Lover's Talisman has released from Samhain Publishing as of today. Check it out! Spiffed up and waaaaaaaay sexier, too!
Also, now that I did actually get a miraculous call-back on The Changeling, I've posted the Tale. This is a very large budget movie starring Angelina Jolie and directed by Clint Eastwood. It was hard not to be fangirl and even harder to believe that yes, I was on a movie set with Angelina Jolie and Clint Eastwood. OMG! I still get all giddy when I think about it!
2007 was a year for that. I mean, I got paid to drive and evaluate Ferraris, Maseratis and OMG, I just realised I didn't actually post that entry! Doing it now! Click here!
November 15th, 2007
I spend much of my time gazing off into space above my computer screen. When my eyes focus, they read the spines of several books, so I figured why not spend a few minutes and open up a Shelfari account. Plus, if I have them all up there and need to refresh my memory about whether or not I have a particular book, I can just do a search of my Shelfari shelf to find out if I should waste my time digging or just buy a new copy.
It's kind of a fun way to get to know people, too. It's like whenever I'm at someone's house and I find myself next to a bookshelf, I gotta read what's there just to see what kind of stuff the person's interested in.
Right now, all I have are books that I've written whether solo or as Ashleigh Raine and about a quarter of the ones I can see over my computer screen. It's the non-fiction section, but I suppose that does say a lot about my interests since I read more non-fiction than anything else. Mostly Medieval and Celtic, too… I couldn't see all the ghost story books or the tarot and divination ones. Also, the books are double-deep. It's gonna be awhile before I get everything posted.
I'm actually surprised how fun it was. I suppose as I dig through the mountain and realize just how monumental an undertaking it really is, I'll change my mind on all that supposed fun. But hey, in the mean time, it brings me joy, so why not?
November 14th, 2007

Dodging explosions, crashing cars, jumping off rooftops…and falling in love.
Sometimes it's the little things, but y'know, I'm excited nonetheless.
Driven To Distraction by Ashleigh Raine (I'm half of the writing team) is now available for pre-order at Amazon.com!!!!!!!!!!!!!!!
A Hollywood Heat Novel
Up-and-coming stuntwoman Blaina Triton stops to help a sexy stranded stranger on the side of the road. Passion ignites hotter than the asphalt beneath their feet and they go back to his place for an anonymous carnal romp. Days later, she arrives on the set of her next feature film only to discover that the man she played out wanton erotic fantasies with is also her boss, Jay Williams. She thinks this job just got a whole lot better, until Jay makes it clear he never mixes business with pleasure.
Jay knows firsthand how distraction can be fatal, but around Blaina, his full, lust-ridden attention strays to her rather than staying on the job. In an effort to regain control, he offers an ultimatum—off set, their relationship is no-naughty-holds-barred, but on set, when they touch, it has to be strictly professional.
Soon their clandestine rendezvous ignite as hot as the movie's onscreen explosions. As an unstoppable stunt team they are flawless, until the strain of their secret relationship begins to tear them apart. Jay has to make a decision. Walk away from the woman he loves, or allow himself to be driven to distraction…
Warning, this title contains the following: Jay and Blaina are imaginative in their proclivities. There's lots of sex in, on and around cars. Sex in public places, sex in a hotel room, masturbation, exhibitionism, oral sex, anal sex, spanking, minor bondage of the tie-me-up-and-have-your-wicked-way-with-me kind and sex with a foreign object.
BUY EBOOK
EXCERPT: Roadside Attraction
EXCERPT: Garage Rendezvous
EXCERPT: After Race Romp
October 5th, 2007
My parents were down this week. We went to some fun places, did some fun things that I wouldn't've done had they not visited. That's always nice.
But I think the best part was up in my home theater, on a 127″ screen, I logged in to Second Life to show my parents what the hell I was talking about. My hubby and I had tried to describe it to them, even showed them last Christmas on a laptop, but they still didn't understand its usefulness, it's mystique, none of that.
Then, larger than life, I showed my dad the Sistine Chapel on the Vassar sim. The first thing he said was, "Wow! The floor! I don't think I've ever seen the floor! I've seen hundreds, even thousands of pictures of the Sistine Chapel, but I don't think I've ever seen the floor! Wow!"
To which I replied, "Watch this!" and flew my camera up to the ceiling and along the walls.
Needless to say, he was hooked and is likely ordering either a new computer or necessary upgrades for the machine he has now as I write this…
We also walked around the Dresden for a little bit. That was cool, too.
He says Second Life is like an internet that you can walk around in and experience rather than just look at or read. I like to think he's absolutely right.
That's why if you go to Book Island and Publisher Island, you'll see a lot of booths set up, but only one is more like an experience. It's got a big castle on the front and hides a room from Otherness: Rift. Seeing it in Second Life made it real for me…a real experience rather than a written one. But, it's also meaningless unless you've read the book. It's neat and all to look at, but it doesn't resonate unless you know that this room had been sealed up, untouched, for over a century and once reopened, had so much more to discover.
But I'm just getting started in Second Life. One of these days, I'll get advanced enough that I put Talisman Bay (still nothing I can link to on the Ashleigh Raine site, but there will be very, very soon!)  in world. Now that would truly kick ass!!!! (I'll have to figure out how to get all of the Shadow Walkers on patrol every day. But good golly, that'd be soooooooo worth the effort!!!!!)
September 21st, 2007
I like to think, somewhere underneath it all, there's a little bit of The Swordswoman in Otherness: Rift. Granted, I like to add in more characters and have many points of view and I tend to stay in this world, but add lots of magic and mysterious phenomena, but underneath it all, it was that book that got me fascinated by fantasy and parallel worlds and thinking outside of the reality of this world. The usual sword and sorcery, dragon books were too far from where I wanted to be.
As an added bonus, when I found the Swordswoman book report, I also found the very first book I'd ever written. It was for school, bound in a cardboard and shelf paper cover (probably an arts and crafts component in combination with the creative writing one), and I got a resounding A on it, but what's more fascinating is that tucked away with it was a complete character and world outline…and a sequel I'd written just for the fun of it.
Seeing those extra pages reminded me of a time when I first started thinking that maybe someday I'd like be a writer. It also reminded me that since that first book, I really did keep writing for pleasure one way or another. Sometimes fiction, sometimes more like memoir in my journals, but never letting longer than a month pass between entries or stories…even to this day.
If I can muster some nerve, I'll post that first book here… I'd even illustrated it! It's called The Fighting Four, it's sequel, The Engaging Eight. (Yes, even back then, I was good at bad alliteration [see Orgasm Fairy by Ashleigh Raine. I wrote all of the bad erotic poetry in the opening scene…one of my many hidden, brilliant, useless talents.])
According to the title page of The Fighting Four, it was written in 1986. I was in 6th grade. About 12 years old.
That was the same year I wrote The Three Witches From The Planet Zebtron. I am still trying to find Zebtron again, but in the mean time, I'm enjoying the other treasures I've unearthed while in my quest for my first story… See, even back then I was mixing genres. No romance yet, though. But I hadn't really discovered boys yet, either. That'd come a few years later.
…And include my best friend Jennifer, a troll, a flying sword, a now cult classic movie, a whole lot of imagination, determination and a bunch of miscellaneous scribblings that to this day I continue to find folded amid other unimportant schoolwork. Yeah, The Swordswoman happened for me in 1986, followed by The Fighting Four and various little stories until the genesis of Talisman Bay with Jennifer in 1989.
From then on, everything was somehow connected either to Talisman Bay or used elements of it. Read Otherness: Rift. and then Lover's Talisman (being re-released from Samhain Publishing in January, 2008) and tell me about the similarities…