June 21st, 2003
This was definitely a life-altering experience for me. I was earning my first two SAG vouchers, on my way to getting into the union and got waaaaaaaaay more than just that. I had zero expectations going into it and just let it unfold. It's still one of my favorite shoots ever.
Two weekend days in downtown LA that I will never forget.
The following are excerpts from an email written shortly after the shoot:
I spent my weekend on the set of the feature film Starsky & Hutch.
Ben Stiller and Owen Wilson are playing Starsky & Hutch in the movie. I'm thinking it's gonna be rather campy. But the original S&H do make an appearance.
I saw them very briefly this weekend. They were in one of the stunt scenes we shot. I got to watch as the lead stunt driver jumped the Torino through a driveway into the street so that it landed going backward. Then, he drove in reverse gear toward the poice station and then whipped the car around 180 degrees into a parking space. Oh yeah… It was a thrill just to watch. I was about three cars away from the action… The captain of the driving team was riding in the car in front of me so he could see everything. My, oh my… what a weekend!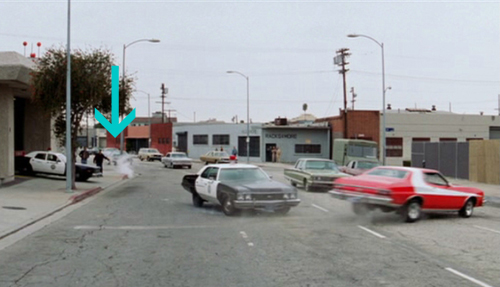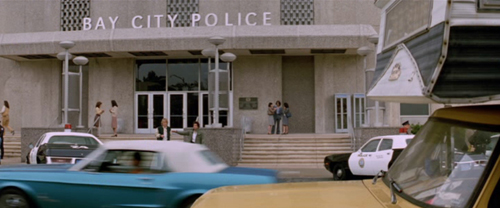 Let me break it all down a little more…
I showed up at base camp and got my first SAG voucher. I was absolutely on cloud 9 at this point.
The person checking me in gave me a map of the set and told me where to park. I was already in costume because wardrobe chose an outfit from my own personal collection, so I hopped in my car and drove to where the map told me to.
I was about three cars back in the line-up and gradually the rest of the background cars rolled up eventually. I was just excited to be there. I didn't really care about much else. I was on a show that I'd loved as a kid and was two vouchers closer to getting into SAG. Life couldn't get much better at that point.
Oh, but it did…
During the first take, the cars in front of me took off and then I was waved through frame only to discover afterward that I'd been grouped with the precision drivers!!!!
Talk about a little dream come true for me!
Because I'm a good driver, that first take set the stage for the rest of the shoot. The precision driving coach took a liking to me and used me all day the first day.
And then on the second day, I figured I'd never get used again because my car was seen so much. But when the driving coach asked me where my car was, I told him production didn't want to see me anymore and he talked to the 1st AD about it.
WOW!
From that point on, they considered me a precision driver! I had the time of my life! He let me drive a bunch of different cars on the driving team.
I just happened to be in the right place at the right time and know how to pay attention and drive a car such that I hit the same mark every time and I got to be on the precision driving team. Yeah, the captain of the team has been stunt driving since Mission Impossible, the TV show!
By the time that second day was through, I'd driven about five different cars. It was so amazing. I'd found a new dream…to be a stunt driver or at least a precision driver. So far, that's my absolute favorite. I already love cars.
Also, during that fantastic second day, Jen and I got to talking on my cell phone. We were in edits on Lover's Talisman and were discussing the book as a whole.
This was the day we decided to rewrite the end of the book.
Actually, one of the weirdest things about our decision to rearrange the end of Lover's Talisman was that I was the one who actually noticed it was lame somehow. Usually, I'm not quite that astute and Jen points out where we suck the hardest and we fix it.
I just remember sitting with the driving team on Starsky & Hutch, calling Jen on my cell phone to check in as I usually do and of course, we got to talking about Lover's Talisman and how we were both rereading it for the millionth time.
We sort of reminisced about writing it and I was trying to figure out how to exactly say what was on my mind… That while even on the millionth read through, Lover's Talisman wasn't half bad, but there was one scene…(one of Jen's personal faves from the getgo)…that I was just tired of reading.
It was wonderfully great the first time, but after the millionth, I really paid no attention to it. And it's a friggin' sex scene! So, I just kinda quickly glossed over that in hopes of not pissing her off and we went on to talk about other stuff.
Then, the next time I talk to her, she has this brilliant idea to rework the end of the book mainly because the cave scene really didn't advance the plot in the ways it should.
Boy, did I wipe the sweat from my brow. 🙂 Sure I had no idea why I didn't like the millionth read through of the cave scene, but that's why Jen and I work so well together.
Life altering. I tell ya, this shoot had everything. Tons and tons of adventure plus writing stuff. I got to do great research for Driven To Distraction as well as get on my way to getting into SAG.
One of my all time favorite shoots bar none. I wish they were all as awesome as this one.