October 22nd, 2009
This month was pretty tough for me, pet-wise. Most has turned out okay, but not all.
First, I'd accidentally left my garage door open without knowing that my big tortoise was in the garage. Of course he wandered away. And tortoises are not smart enough to come when you call them. Or at least mine is not smart enough!
So, I started checking the LA County Animal Shelter website because they post photos of animals in real time as they arrive at any shelter in the county. When I first went there, I saw a few turtles, even a Sulcata tortoise, but my guy wasn't there.
I was kinda surprised, though. I didn't really think the shelter would have turtles and tortoises, I was just out of options and figured I'd exhaust my resources before giving up.
A day or so later, one of my water turtles bit a tankmate and did enough damage that I had to put the poor little fellow down. RIP, Piggy.
A week later, my neighbors found Toad (my big tortoise) frolicking behind their house. Yay! But obviously, nothing can bring Piggy back.
Although the ordeal did give me an idea.
Obviously, there were troubles in the turtle tank that still needed to be resolved… My two girl turtles had always been aggressive. The Piggy incident was not the first time they'd bit another. Usually, no damage was done, but that was also back when they were smaller. Turtles will bite anything…dead, alive, tied down, floating…they'll bite it. That's why you can't put plastic plants or anything non-edible or small in a turtle tank. They'll eat 'em anyway and likely hurt themselves because of it.
As it turned out, our boy turtles are all mellow, but those girls…those crazy girls who grow faster than boys have always been rambunctious. We'd even noticed in the last few months that the boys almost always kept their tails curled in–as though if they didn't they'd get bit. The girls were so much bigger than they were and therefore stronger and tougher.
Well, how about the animal shelter? I kept an eye on the website, waiting for a boy turtle to show up. My two girls would be fine together, but they just didn't play nice with the boys and they ate all the food before the boys could get two pieces down their necks. They'd be great for a family other than ours.
So when the first boy turtle showed up on the site, I made the phone call to show my interest in him. Within an hour later, I put the girl turtles in a bucket and headed to the shelter that had the boy.
I was the first incoming and outgoing turtles for a couple of the clerks there. I guess not many people know about the shelter for adopting turtles. They're only $10! Incoming and outgoing, $10 each. Yeah, way cheap!
I went there with two in a bucket, I came home with one. He's about the same size as the two girls combined, but mellllllllllllllow. I suppose that might have something to do with him being abused.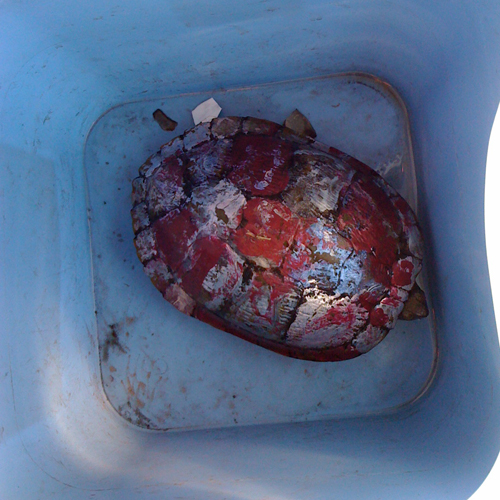 Someone painted him. A lot. I can't tell for sure what kind of turtle he is because I can't see what his shell looks like. By the rest of him, he's probably a Pacific Pond Turtle, but I can't be sure until I clean all the paint off. It's gonna take days, maybe weeks because I can't do it all at once for fear of killing him with the toxicity.
However, last night my husband held the turtle while I cleaned off a couple scales. This morning, Graffiti ate breakfast with his two tankmates. I think he's gonna be okay.
September 3rd, 2009
It has been awhile since last I blogged. I got a little busy. Being a one-woman show, starting a business can be time-consuming.
Since last I blogged, I've started regularly having a booth at the Santa Clarita Open Air Market (aka The Saugus Swap Meet at the Saugus Speedway).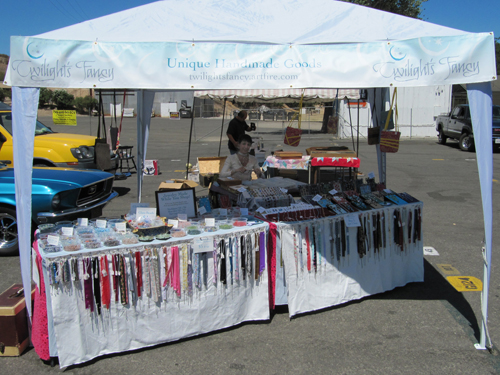 At the moment, I'm there on Saturdays, Sundays and Tuesdays, but I might scale back a little because of another venture I'll get into later in this post.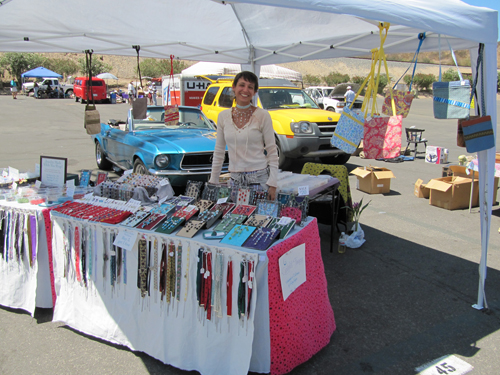 I've been having a great time out there. I'm always looking for deals, so my work is priced accordingly and I've always got stuff on sale just for the fun of it.
Plus, I make jewelry while I tend my booth. You can pick out beads and have me make them into something for you (earrings are only $5!) or I usually bring some from home and fill custom orders while I'm there. I also make ribbon choker necklaces and ribbon bracelets.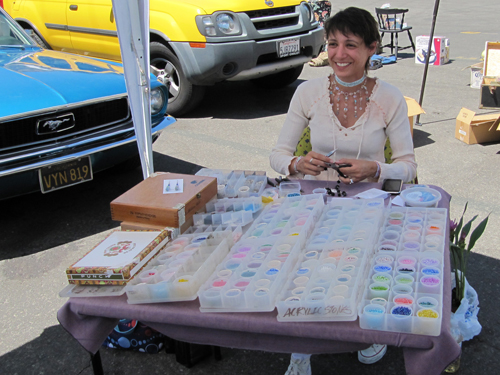 There isn't much I cannot do…one way or another.
Okay, now for the bit I said I'd get to later in this post…
In my Etsy store, I've started listing vintage patterns…mostly from the 60s-80s. See, my closets are full of clothes from those decades, too. There are a lot that I'm just not wearing, so I'm photographing them and also getting them listed at Etsy. If all I'm doing is looking at them, why not take pictures (which are grrrrreat to look at!) and let the clothes move further on their journey?
Don't get me wrong, I still wear mostly vintage: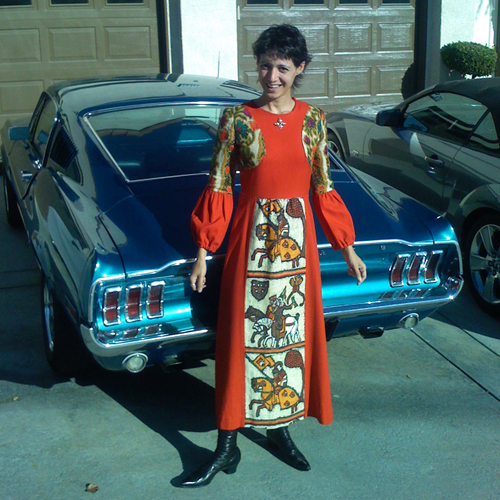 But I've got racks and racks of such great stuff that it'd take me a few years to wear it all if I wore something different every day.
Yeah. I've got a lot of clothing.
And vintage patterns go hand-in-hand with the clothing. I've got about 150 patterns listed and at least 300 more ready to roll. It's just a matter of time. Being a one-woman show, I don't have the army I'd need to get everything posted, but that's okay. It's nice to have something to show for all my hard work.
Plus, since I enjoy vintage clothes so much, seeing the patterns is just as much fun. I've held back a few so that I can make outfits out of them. Some will be out of vintage fabrics and some will be out of later stuff, but all will be fun and well worth the time invested. The plan is to use those as the vacation, the treat, the celebration of things to come.
July 21st, 2009
While the cat's away, this mouse tried to play, but ended up working anyway.
Oh well. I'm glad for it. The print galleys for Forsaken Talisman arrived. It'll release in paperback in February 2010. In the mean time, Jen and I are working on the next in the Talisman Bay series, Eternal Talisman. It's gonna be awesome.
During my read through of Forsaken Talisman, I remembered so many nuances and hints of things to come and just so much fun stuff. In fact, after I finished reading it, I ended up reading what we've got so far of Eternal Talisman.
I just can't wait. While Jen's on vacation, I'm tasked with drafting the next scene and I'm so glad I read Forsaken Talisman before I dove in. Just so I can have fresh eyes. It takes Jen and I so long to write full length novels that it's easy to forget details if they aren't in the outline…or if I don't get the "what were you thinking? Did you forget?" phone call that follows me sending a scene to Jen! I dunno why, but she's just that much better at remembering what's been written, what's been outlined and what we've got planned, but aren't gonna write into a book just yet than I am. I get them all confused. Oh well.
In February of 2010, Ashleigh Raine's Forsaken Talisman will be available. We've added over 20K words to it. Yeah, several new scenes, a few new takes on existing scenes, lots of changes. It's hardly the same book that it was the first time around. And we're so thankful for the second chance.
Here's the blurb:
Kidnapped and mind-wiped by the Shadow Walkers' greatest nemesis, Skylar has no memories of her own, except for her name. All she knows is what memories she does possess belong to someone else—as does her face—and that she can't trust anyone, including herself.
Shadow Walker Dusty Clements goes against direct orders to rescue Skylar and take her into hiding. It's the only way to get to the truth, and keep her out of the hands of an enemy who could use her to wipe out the entire organization. The last complication Dusty needs is to fall for her.
As Dusty and Skylar work to uncover the secrets of her past, they discover a mystery more than twenty years in the making, and a love they can't deny.
The enemy has one more trick up his sleeve though—a magical kiss capable of probing the deepest secrets of the mind. All he needs to bring the Shadow Walkers down is to get his lips on Skylar one more time…
To read more about it–including excerpts and deleted scenes–click here to go to the Ashleigh Raine website!
June 12th, 2009
I posted on the Ashleigh Raine blog about how nervous I am to be doing the Rose Bowl Flea Market this Sunday. During the course of that, I created a new spotlight I'd like to share here, too:

Good golly do I need to keep updating my photos. I got a new camera not too long ago and have been slowly working my way through my huge inventory and redoing all the pictures. I'm a little impatient, but I'm slogging through just fine because I know that when it's all said and done, it'll be tons easier to move forward. The new camera (a Canon PowerShot SX200 IS) already enabled me to cut my processing time in half–if not more. Yeah, totally awesome investment.
Anyway, a few weeks back, I posted a pic of my tortoise (his name is Toad) looking like a bathing beauty. My husband snagged it, applied his sense of humor and here we have my Friday fun pic: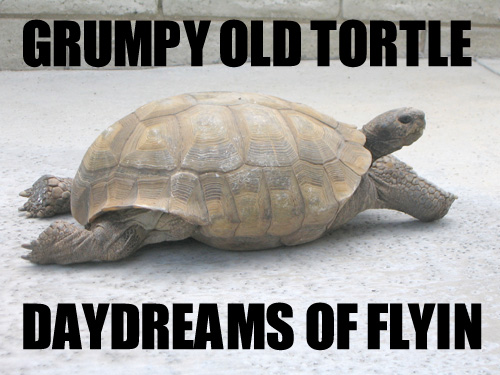 I hope you have a fabulous day and a wonderful weekend. If you're anywhere near Pasadena, come see me at the Rose Bowl!
March 16th, 2009
It has been awhile since last I posted anything about my car collection. I've been a little too busy to work on them, but thankfully they're all running at the moment. Sure, some need a little tuning, but as long as I can get to the grocery store and back, I'm not worried. They're never-ending projects. Driving them *should* be an adventure. (Like the time my '68 Mustang fastback caught on fire on the way to the grocery store. Yeah, that was fun! No major damage. I only had to replace a couple wires under the dash.)
Speaking of my '68 Mustang fastback…my pride and joy…
She was born a plain jane, but I assure you, she's never been plain during the 15 years I've owned her. She always keeps me on my toes and will always be with me.
The '83 Trans Am in the previous pic used to be mine as well. Had to sell it, but I don't really miss it that much. It was a nifty neat car and I wish I could've kept it, but I'm glad to've owned it for a time and gotten to drive it in a few television shows.
Notice the difference in engine compartment between the previous pic and the following one? The one below was taken in 1998… A few things have changed during that time, huh? And more have changed since that pic, too!
'66 Corvette convertible… Yes, that's a 427/435 under that hood. I'll admit that this is more Jason's car than mine, but I do tinker on it from time to time and of course, I do drive it. Yes, it's a very loud beast. I've even used it in a few television shows and feature films.
What can I say, I like '68 Mustangs. Here's my Convertible cruiser. He's not fast, but he sure does look and drive great. Finally got an AOD in him, too, after the engine swap I covered in the car section of this blog.
I told my hubby I was gonna do 'a little tinkering on the car'. He came out and this is what he found!
Here's my project car–'69 Corvette–when we bought it. Finding it, involved my best friend Eddie (he helped with the last engine swap) and a pair of binoculars…over a period of about 15 years.
When Eddie and Jason lifted the hood, this is what they found. Nice, huh? Just start 'er up. NOT!
Eddie and I particularly enjoyed this detail… Yeah, that's a wasp nest on that rotor… I saved it, too, just 'cuz I'm weird like that.
My '03 Viper is quite a fun ride…
Last, but certainly not least, my '00 Prowler… (I really need to take more pics of it, but this pic is good enough.) Really, really fun to drive.
I also have an '08 Saturn Sky Redline, but I haven't taken any pics of it yet.
February 25th, 2009
Here I go again with the colors of twilight. Although, I must admit this one doesn't have a lot of magenta in it, but then again, perhaps this twilight wasn't on our planet, in our world, whatever. Hey, I'll make sure to use the appropriate amount of magenta in the next one. Actually, this one's more the cooler colors of twilight. I haven't really done one with the warmer colors. Hmmm… Inspiration, inspiration, inspiration!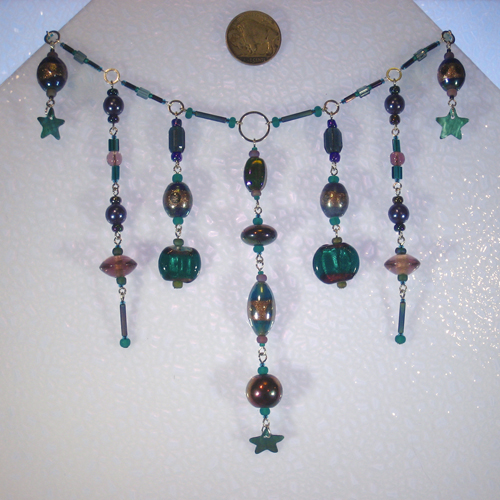 Teal is my favorite color. My '68 fastback is teal, many of my favorite clothes are teal. It's always been with me. So when I saw those dyed seashell star charms, of course I had to have them. Like duh!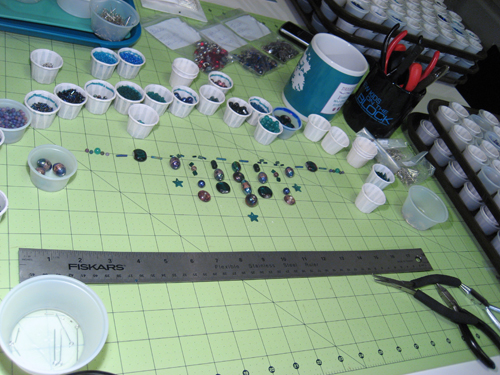 This necklace practically designed itself. It was done before I even knew it. And because it came together so easily, I also did a version without the dangles…but I haven't listed that one yet, so be looking for it!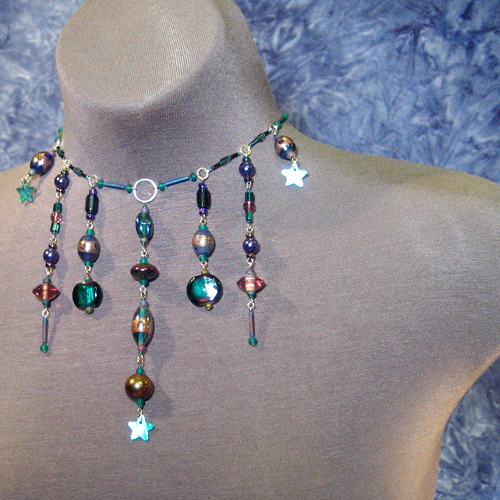 In the mean time, check out my Artfire shop. I list a new Twilight's Fancy necklace every day!
February 24th, 2009
Every time I do one of these interviews, I proofread and am amazed at how wacky I am. I've got my hand in so many different things all at the same time, but it never feels that way while I'm doing everything, only when I take a step back.
So read up and enjoy…
And should you need some really smooth, really silky soap that won't irritate your skin, go here and enjoy!
February 23rd, 2009
I was interviewed by a fellow artisan. Read about me here. I didn't know I was so interesting until I saw the post. Seriously. I'm a lot crazier than I think I am! 🙂
See her crochet work at Artfire and Etsy. And her graphic art at Artfire and Etsy.
January 23rd, 2009
Wow. I titled this post "shifting gears" and I'm not even gonna mention car stuff. What is this world coming to?
Anyhow, I just wanted to post about how I'm adding to my plate… I'm making stuff.
How is this different from normal?
I'm selling it, too.
Yeah, that's why the big banner across the top. I have simply got to clean out my sewing room. It's bad in there. I love my mess, but if I don't make a bunch of stuff or sell off what I have, I don't have the room to collect more and my need to hunt and gather and build is stronger than my need to store.
See how bad it has gotten: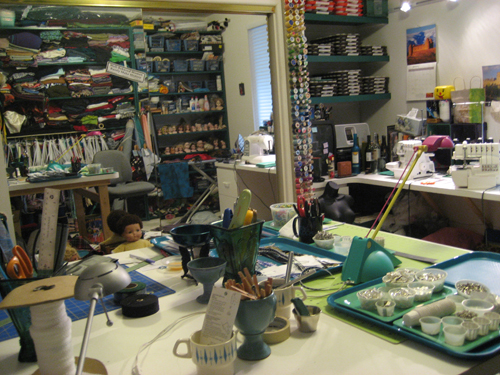 Every nook and cranny from floor to ceiling is full. Under the table: full. Drawers: full. Closet: full. And yes, see those spools of thread on the right near the center of the picture?: Floor to ceiling, every peg is full and there are a few in between just resting on their neighbors. And each spool is a different color. I put the duplicates in a separate box hidden under the counter.
I've opened two stores. One as RinaSlayter at Etsy. And one as TwilightsFancy at ArtFire. Why two names? Because I didn't think I was really gonna be in this for the long haul. I was gonna off a few things and be done with it. But now I'm addicted.
Plus, those of you who might remember my Twilight's Fancy necklaces…well, they're coming back. I am still gearing up to get those listed. They take a little more time than some of my other stuff, but they're worth the wait. Good ol' Twyla from the Talisman Bay Series by Ashleigh Raine is still making necklaces. Oh hell yes, she is.
In fact, right now, she's making ribbon choker necklaces with some of her beads (all those trays next to the thread spools). I swear she's addicted.
I'm also making purses. A few months back, Jen calls me up because she was heading to my place so that we could go to a New Kids on the Block concert. I was making a bunch of noise in the background:
Jen: What is all that noise?
Me: I'm making purses for us to take to the show tonight.
Jen: You're making purses. Okay.
Me: Yeah, it takes you about an hour to get here, I needed a purse for tonight, so while you're on your way, I'm gonna make ones for both of us just 'cause I can.
Jen: Oooooookay. (She understands and doesn't think this is strange in the slightest, of course.)
Me: Yeah, when you get here you can decide which one you want because they both go with what I'm wearing.
Jen: Sure. See you in an hour.
I'm still using that purse I made. It's one of my primaries. I love it to pieces. So simple, yet so handy. I've made a whole bunch more using that same pattern, different material and different trim.
I'm gonna go see what else I can build. Today being a Friday, I'm trying to spice things up a little. So far, the grassy green tea has helped, but I need to build something. I'm itchin' to make another signature Twilight's Fancy necklace…the beaded kind with more than three dangles. Yeah, one of those.
November 27th, 2008
I'd really hoped to get caught up on my blog posts including finally meeting Jason and Grant at the Stanley Hotel now that I'm a TAPS West Coast Home Team member. Last time I met them was great, but this time was different and I do want to share that as well as a lot of the other stuff I've been up to: A few more New Kids on the Block concerts, more designing and sewing and a few other miscellaneous bits.
One of the reasons I fell behind is because my best friend's house burned down and I've been helping him salvage the place.
I saw Changeling and saw myself in it! Yay! I heard that I was seen in the Starter Wife, but I haven't seen it yet. I also heard that I was in Raising the Bar. I've only seen one of the two episodes I was in, though. It's so rare that I actually get visible screen time, so to be seen in so much in such a short time is great. I can't wait to grab screen captures to add to my collection.
On this happy thanksgiving, I'm very thankful for everything and everyone directly and indirectly in my life. All my experiences with those people have made me who I am and given me such a wonderful life so far and it seems to be getting impossibly better each day. Thank you.