October 16th, 2008
I have not forsaken my blog. I'm actually brewing up a couple new ventures that I'll share within the coming weeks, I promise.
I went to a couple of New Kids on the Block concerts last week and I'm still reeling. It was never this good back in the day. I've now been to 12 NKOTB concerts, not including 7 or 8 miscellaneous Joe McIntyre and Jordan Knight solo concerts and I don't remember it ever being this awesome. I mean, really. I'm still singin' and dancin' in my car while listening to The Block. These memories will last a lifetime I'm sure.
And yes, you read that twitter correctly… I wrapped my legs around Donnie Wahlberg. It just seemed like the thing to do at the time. I mean, he hugged me like he wasn't gonna let go and lifted me way up in the air. Rather than let my legs dangle, I was…ummm…a little more creative! I'll be seeing him and the rest of the guys again at the end of November. I can't even begin to imagine the hi jinx.
In the coming weeks, I hope to post some pics of the concerts and my fandom through the years. To kick it off, here's a couple shots of my room when I was about fifteen or so.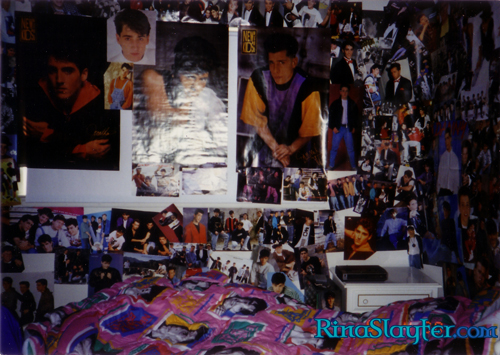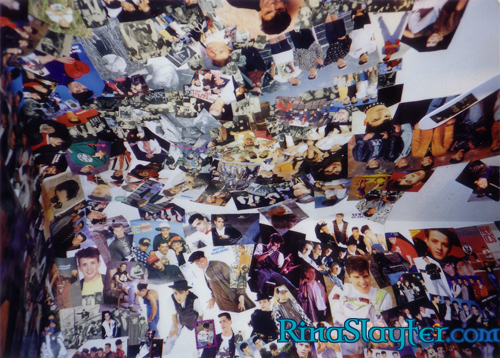 When all was said and done I had more than 3,000 pictures on my walls and ceiling. Notice those posters in the first one? They're hiding my window. Notice the ceiling fan to the right in the second one? It had a few pictures on it, too. I was pretty hardcore back then and these pics were taken before my whole room was complete. As you can see, there's some empty space up there on my ceiling, but that didn't last much longer than when this shot was taken.
I'm a little more subdued now. A little… It's getting harder and harder to resist, though, now that they're back and I have concert images from the shows I went to.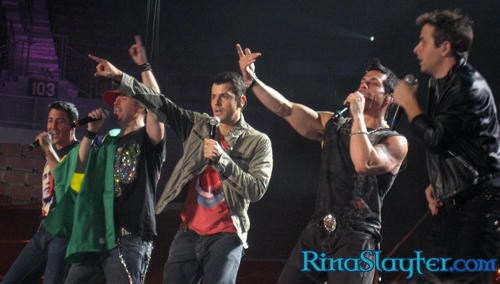 Life is a series of adventures and the wildest, craziest ones I've been on have had something to do with the New Kids one way or another, so why give up now?
August 23rd, 2008
I believe some of my best adventures were on this show and they didn't happen during filming! From almost driving through the Red Sea to waving at tourists on the Backlot Tram Tour, this was quite an interesting gig.
Much of what burned on the Universal lot this year was where base camp and the set were, too. When I heard about that fire, I immediately thought of my time on Spiderman II, Superhero and Where The Truth Lies.
Here's another of my smallest performances. It's not quite as small as Hollywoodland, but it's close! This is definitely the kind of shot where I wonder if I'll actually be seen at all or was I just given a cross there 'just in case' the camera happens to see that deep. It's always nice to make it in frame, though!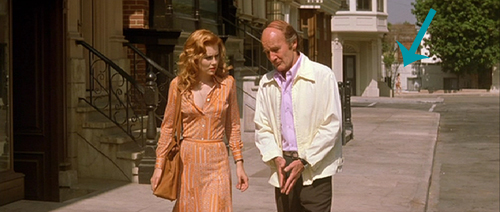 In these next ones, boy was I pissed when I tried to do the screen capture and there was some dumbass extra blocking the view of my car…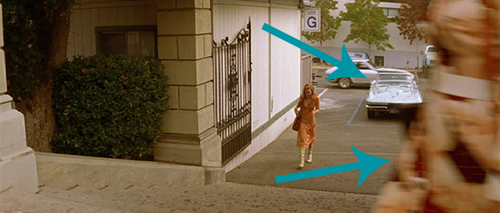 Yeah, that dumbass extra was me!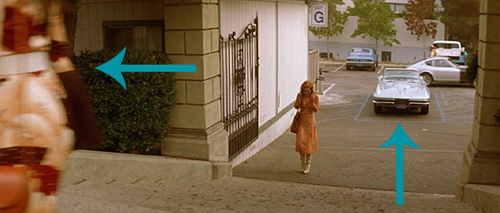 The way I could tell was not just by the colors on my dress, but that's my own purse. I recognized my purse and then vaguely remembered doing this wipe, but hadn't realized that it was part of my cross heading across the street.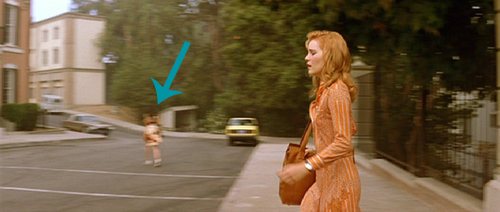 I looked for myself in the other shot, but while I thought I saw myself, I wasn't entirely sure, so I didn't do a capture. The finished product was nothing like what was shot.
August 19th, 2008
Okay, so this one's a stretch, but scoured every frame during all the wide shots and while I could make out people standing next to me, I just wasn't positive that the partial face I saw was me. I didn't want to point my silly arrow to the wrong person. I really wanted to be more visible in this movie, but oh well.
What I've got is what I've got… Me in shadow and the only reason I know that's me is because myself and one other guy were the only ones actually walking forward in this shot. There was a lady standing near the opening, but she was sideways.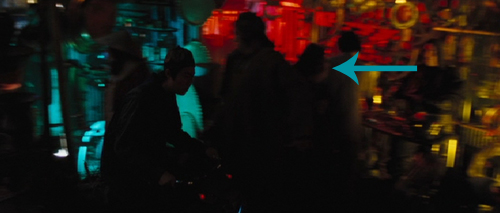 In fact, my arrow is right over her head. Whoops! Sorry, but this was my one moment in frame on Serenity, so I gotta make the best of it!
August 16th, 2008
I must admit…I had a lot of fun on this shoot. It wasn't spectacularly fun or intense or anything like that, but even almost three years later, I'm remembering it as a nice, long-but-easy shoot.
Since then, I've worked with the same A.D. on G-Force, but due to the nature of the shoot, I think I only saw him three times and that was mostly during lunch!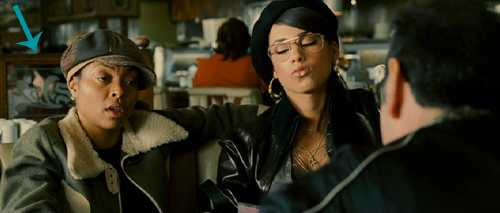 It's not the best shot of me, but it really is me back there. Not too shabby considering I doubted getting any screen time at all except maybe this scene and lo and behold, there I am!
August 12th, 2008
I've got a sizable stack of DVDs to go through in order to grab screen captures of myself in frame. Of a stack of twenty, I may only come up with five or so shows in which I actually appeared in frame. This time, I had a stack of about twelve and I came up with four. Not too bad.
Although, for the amount of running around I did on Carnivale, I really thought I'd get so much as a split second in frame, but I got a whole lot of nothing. However the day I was a prop magnet, I managed to make it in frame several times. The problem was mostly that in the various angles, I was blocked by other things. Oh well. At least I got this one: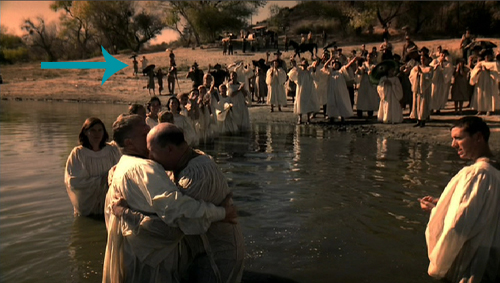 As I get the rest ready, I'll post 'em.
In the mean time, I've heard from a few people that I made it into a commercial for Raising The Bar. I have yet to see it, but that'd be awesome. Kind of like when my car made it into the trailer for Anchorman.
July 2nd, 2008
Once upon a time, I was driving in my '68 Mustang fastback…just out for a fun drive (gas was still waaaaay cheap back then!). I had a route I used to take which reminded me of a few stretches of road where I grew up and discovered the pleasure of taking the long way home. As I turned the corner, there was a sweet '69 Firebird, hood up, with a hot guy standing there.
I couldn't believe my eyes. It actually took me two blocks of deliberating before I finally said, "Fuck it! I'm going back." I whipped a U-turn at the next opportunity and then whipped another one to pull up behind him.
He was closing up a cell phone as I came to a stop, but he walked toward me, a smile slowly growing across his lips. It seemed like he was trying to figure out whether he knew me.
Nope. We were complete strangers to each other.
I asked, "Do you need help? I've got tools in my trunk."
He replied, "No, it's okay. The car just overheated. I'll be back on the road in a few minutes. No worries. Thanks for stopping, though."
I hid the fact that my world was crushed and continued on my way to nowhere. *sigh*
Fast forward several years and this was the incident that spawned the opening to a novel…which is now finally available at Amazon, Barnes & Noble and Borders.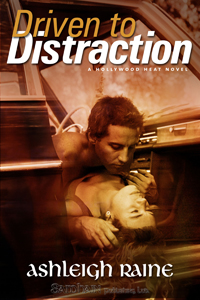 My best friend and I write as Ashleigh Raine and when she decided we should write a novel that takes place in the entertainment industry–but how do we start it?–I knew my little experience was perfect.
Except I get the guy!!!!!!!!!!!!!
We used a bunch of my on-set experiences, including the time I tripped while working on Threat Matrix which spawned a chapter or so. I recall using the base camp and set from one of the times I was on Anchorman. The area for the helicopter stunt was inspired by my night on a music video for 4Mula1 plus a building that served as holding on American Dreams. There were two guys on Ripley's who inspired both Jay and Levi…and the snake incident. One of the precision drivers on Starsky & Hutch also served as inspiration for both Smitty and Cash. The cars in Jay's garage include a few similar to ones I own (Viper and Corvette). And then there were the times I went to stunt driving school…failed the first time, passed the second and got to ride along during an afternoon of drifting which served as further research and inspiration just talking to all those stunt drivers. Oh yeah, and the week I spent being paid to drive four exotic cars which inspired the Ferrari F430 being used as a hero car.
As you can imagine, it was up to me for all the car references as well as the on-set stuff, but Jen played a critical role in it. She was my barometer. Whenever I got too technical, she could chime in with such phrases as "I have no idea what you're talking about here." and I could tone it down for people who don't work on their cars and would likely get lost among the trailers on a typical base camp.
Driven to Distraction has a lot of other stuff inspired by my experiences, but if I were to list them all here, this post would go on forever. And since the book is classified as erotic romance, it's probably better you just go read it. Or at least read some excerpts…
Part of the infamous opening scene inspired by Mr. Hot Firebird: Roadside Attraction
Part of the sex scene inspired by my cars: Garage Rendezvous
Part of a scene inspired by many little friendly races I've had: After Race Romp
Part of the scene using a few locations I've been on: Helicopter Stunt
February 4th, 2008
I know it has been a long time since my last post. There's a damn good reason for it–two, actually–but I can't talk about it. And since I gotta keep my mouth shut, you know it's gotta be some pretty cool shit.
Wait. I can talk in generics, though…
The thing that has sucked up most of my time is the fact that I'm adding something new to my resume: special effects costuming.
That reads like a really neat thing to do and I assure you, it is. It's hard work and ventures into the great unknown for me, but I love it. I really do. I mean, it's even for a major motion picture that'll likely come out next summer, too. To get jobs like this, you gotta know someone. Well, my hubby has been friends with a particular sculptor/effects costumer since 5th grade. Welcome to Hollywood. Nepotism is fine as long as the person actually can do the job. Yay!
I haven't work this hard since I built my Leeloo costume, but that was way more me. I had to do a lot of thinking on that costume. For this new venture, I just do what I'm told and when I don't know what I'm doing, I just ask someone. I'm learning a lot…
I'm basically a costuming grunt. So far, I've traced and cut out patterns, hand sewn various items until my fingers turned crimson, discovered new glues and my personal favorite: sewn enough leather strapping for a BDSM convention. I have totally been sewing leather straps in my dreams for the last few days. If it wasn't so much fun for me, I'd seriously be worried. On top of it all, the actor we're doing this costume for is one of my all-time favorites. He's really, really hot and I've already met him and I love him and he's awesome and I still can't believe that my introduction to effects costuming happens to be on a costume for him and it's so freakin' amazing and, and, and… Yay!
The other thing I'm up to hasn't officially started yet, but the massive upsurge to get it rolling happened last week. It happens to do with writing, which is always a plus, but instead of novels, it's for a movie. I really can't say more than that without giving too much away, but it's something I never would've dreamed I'd get to have a part in, let alone for this particular movie.
Things are looking way, way, way up for me right now. I get all giddy and giggle just thinking about it all.
January 4th, 2008
Well, I at least hope to be now that the hubbub of the holidays is over. I've got a stack of Tales to add as well as some odd things–such as the cause of the funky scent in my Prowler during one of my Tales…
First up, as half of the Ashleigh Raine writing team, I'm happy to announce that Lover's Talisman has released from Samhain Publishing as of today. Check it out! Spiffed up and waaaaaaaay sexier, too!
Also, now that I did actually get a miraculous call-back on The Changeling, I've posted the Tale. This is a very large budget movie starring Angelina Jolie and directed by Clint Eastwood. It was hard not to be fangirl and even harder to believe that yes, I was on a movie set with Angelina Jolie and Clint Eastwood. OMG! I still get all giddy when I think about it!
2007 was a year for that. I mean, I got paid to drive and evaluate Ferraris, Maseratis and OMG, I just realised I didn't actually post that entry! Doing it now! Click here!
November 15th, 2007
I spend much of my time gazing off into space above my computer screen. When my eyes focus, they read the spines of several books, so I figured why not spend a few minutes and open up a Shelfari account. Plus, if I have them all up there and need to refresh my memory about whether or not I have a particular book, I can just do a search of my Shelfari shelf to find out if I should waste my time digging or just buy a new copy.
It's kind of a fun way to get to know people, too. It's like whenever I'm at someone's house and I find myself next to a bookshelf, I gotta read what's there just to see what kind of stuff the person's interested in.
Right now, all I have are books that I've written whether solo or as Ashleigh Raine and about a quarter of the ones I can see over my computer screen. It's the non-fiction section, but I suppose that does say a lot about my interests since I read more non-fiction than anything else. Mostly Medieval and Celtic, too… I couldn't see all the ghost story books or the tarot and divination ones. Also, the books are double-deep. It's gonna be awhile before I get everything posted.
I'm actually surprised how fun it was. I suppose as I dig through the mountain and realize just how monumental an undertaking it really is, I'll change my mind on all that supposed fun. But hey, in the mean time, it brings me joy, so why not?
November 14th, 2007

Dodging explosions, crashing cars, jumping off rooftops…and falling in love.
Sometimes it's the little things, but y'know, I'm excited nonetheless.
Driven To Distraction by Ashleigh Raine (I'm half of the writing team) is now available for pre-order at Amazon.com!!!!!!!!!!!!!!!
A Hollywood Heat Novel
Up-and-coming stuntwoman Blaina Triton stops to help a sexy stranded stranger on the side of the road. Passion ignites hotter than the asphalt beneath their feet and they go back to his place for an anonymous carnal romp. Days later, she arrives on the set of her next feature film only to discover that the man she played out wanton erotic fantasies with is also her boss, Jay Williams. She thinks this job just got a whole lot better, until Jay makes it clear he never mixes business with pleasure.
Jay knows firsthand how distraction can be fatal, but around Blaina, his full, lust-ridden attention strays to her rather than staying on the job. In an effort to regain control, he offers an ultimatum—off set, their relationship is no-naughty-holds-barred, but on set, when they touch, it has to be strictly professional.
Soon their clandestine rendezvous ignite as hot as the movie's onscreen explosions. As an unstoppable stunt team they are flawless, until the strain of their secret relationship begins to tear them apart. Jay has to make a decision. Walk away from the woman he loves, or allow himself to be driven to distraction…
Warning, this title contains the following: Jay and Blaina are imaginative in their proclivities. There's lots of sex in, on and around cars. Sex in public places, sex in a hotel room, masturbation, exhibitionism, oral sex, anal sex, spanking, minor bondage of the tie-me-up-and-have-your-wicked-way-with-me kind and sex with a foreign object.
BUY EBOOK
EXCERPT: Roadside Attraction
EXCERPT: Garage Rendezvous
EXCERPT: After Race Romp