October 10th, 2004
It took me three tries before I finally figured out what gate to go in at Universal Studios and then they didn't have any maps for getting to set. It was still dark outside because it was only 5AM when I headed in.
According to the convoluted instructions that the lady at the gate gave me, I hopped on the right street and then came to a suspicious looking stretch that said, "Do not enter." I was thinking, "Well, if I don't go here, where the hell's the rest of the road?" as I stopped in front of the sign. …Then I saw why I wasn't supposed to continue. That was the part of the backlot tram tour where the Red Sea parts!!!!
I had half a mind to drive through it, but I was in my husband's '66 Corvette and I still didn't know exactly where the set was. With a playful frown, I threw the car in reverse and set about finding the way around the Red Sea. It wasn't lit very well, but I did find my way.
Once at base camp, all the guys were drooling over my car. That's always fun.
I went to wardrobe (who of course hated everything 70s that I brought) who gave me a short dress…It was many shades of beige, complete with mountains and geese. I felt sooooo 'happenin'! Then, I went to hair who gave me a Cher wig with bangs. Then make-up, who dolled me up…a lot like a toned down version of Cher.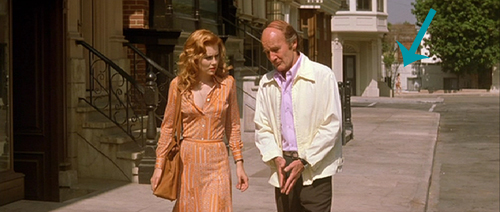 Once on set, I parked my car and did a bunch of walking-through-frame kinds of things. I bet my car got more camera time than I did!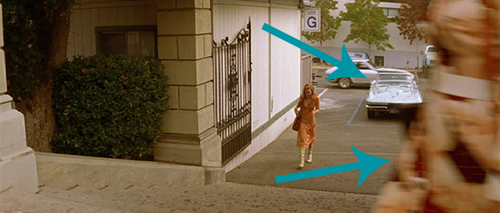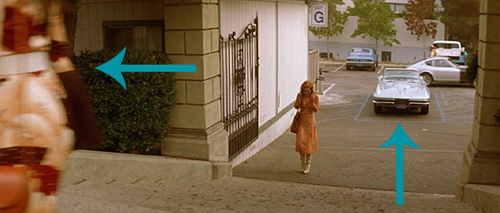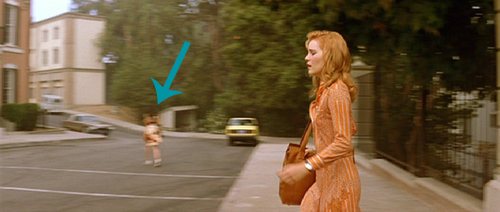 That day was short. I got to go home at a reasonable hour. I had as much trouble getting off the Universal lot as I did getting on. Most of the gates are closed on the weekend. But I did drive past one tram tour! 🙂 They probably thought I was Jennifer Beals or someone. I was just glad to be booked for another day.
…And wouldn't ya know it, I almost drove through the Red Sea again!!!!!! It was 5AM and dark! What did I know? (I tell ya, though, I really, really, really, really wanted to drive through just so I could say I'd done it!)
Anyhow, the day started much as the first one had. Except the costumers changed their minds about hating one of my outfits. But didn't tell me they wanted me to wear that outfit first, so I screwed up and wore the wrong thing. They didn't get mad, they just had to give me something else to wear later on.
In that first set-up, I struck up a nice rapport with the First Assistant Director. He at first didn't realize that I'm not like most extras…I actually have a brain and can understand and follow directions. He gave me a starting cue and an ending cue and I hit them every time.
When the lead actress got to a certain spot, I walked down the stairs of a water tower and then when the lead actress started going up the stairs, I was to cross her path right in the middle. The First AD even singled me out specifically to tell me I was "Wonderful!" It was just nice to know that he'd noticed.
And that water tower–which by the way, I was getting serious stair-master exercise on–it's actually a tank for shooting underwater stuff. It was empty, but nonetheless nifty to look down into just to say that I've seen it. Kinda like the Red Sea, only no risk involved and if I were to have gone into it, I would not have been chuckling like I would have done while parting the Red Sea.
After that scene was done, the costumers gave me another outfit…which had THE most stuck zipper on the planet. Just when I was about to give up and go get help, the darn thing came down and I shimmied into the beige pantsuit.
The next shot was in Hollywood and I had to get in my Corvette (yes, still wearing wig and costume, passing 2 tram tours this time, plus all the people on the freeway) and drive to the corner of Hollywood and Vine. Ironically, the location was out front of the nightclub where Jason and I got married!
They were doing a minor stunt where one car cuts off another one, but my 'Vette was parked and they had precision drivers running. I was totally jealous. …And annoyed because I was instructed to walk away from the action and didn't get to see any of it. I only heard it. The second take included some brake-squealing that didn't sound intentional. After that one, the Coordinator had a few words with the girl doing the cutting off. Okay…so it was more than a few… But at least the next 4 or 5 takes were good.
I must have walked up and down that block a hundred times by the end of the day. One side, then the other, and I never really saw the scene. Oh well. I guess I'll have to wait until the movie comes out. I still bet that my car got more camera time than I did!