July 11th, 2009
It's after 1AM and I just gotta get blog. I just gotta. I've gone too long since my last post. There are many really great reasons for that, too, though.
I've been making lots and lots of necklaces, developing new designs, even selling them at swap meets just to do that inevitably fun 'something' with them this time around.
I just got home from a New Kids on The Block concert. They were awesome as always. I even met them ahead of the show. Tonight was my seventh time. Back in the day, I went to 9 concerts, but was never able to meet them. I suppose I'm making up for that now and I'm sooooooooooo glad for it. They were absolutely worth the wait.
Because I'm too lazy when it comes to myself, I use the concerts as incentive/inspiration for me to create more outfits. I haven't even twittered the last few days because I was making a little halter top and pants/skirt. I've never done a halter top before, so that was quite an experience. I didn't even have a pattern I could fudge from. I just had to do it on the fly. The pants were easy, though. Yoga pants. I can whip up a pair of 'em in less than an hour. Then, I draped a quasi-skirt over the top.
Yoga is another thing I've been doing more of. I barely talk about it on my blog here, but I absolutely love yoga and all that it allows me to do and feel and be. Bending, stretching, twisting…and building tons of strength…while really taking control by doing the poses and in turn, they do me, good golly, I wish I could live on my mat.
I built another website. It's not completely finished yet, but it's damn close. Tomorrow, I'll be helping out at a TAPS boot camp. I absolutely love being a TAPS member. Ghosts were people, too. There's no reason to be afraid of them. Yeah, strangeness abounds when they're active, but that's only if you refuse to admit what your senses are telling you. Some of the most interesting people I've met are dead and I plan to meet many, many more.
It seems I've got my hands in a little bit of everything these days and I wouldn't have my life any other way. In fact, just the other day I was telling someone about how even two years later, I still have trouble believing I was paid to drive a Lamborghini Gallardo, a Porsche 911 Turbo and 2 Ferrari F430s. These are the kinds of things that happen in my life and I wouldn't trade them for the world.
However, I really should blog more about them!
Anyhow, a few weeks back, at a swap meet, I scored a composition ball-jointed antique doll body. It needs to be restrung, but so do several of my other dolls–some are even on display smashed between two others so that it's not obvious their arms aren't really attached. Hell, some of them, their heads are just sitting on their bodies. One good earthquake and they come trembling down. Is it wrong for me to find that hilarious?
Anyhow, I wanna blog about restringing. I've never done it before, so I wanna see if I can do it.
My cars need some work, too. I've had the replacement speaker for my Prowler over 2 years now, at least. Plus, I'm finally sick of the manual switch on the fan in my '68 Fastback. Well, it's not really a switch. When I go to drive the car, I have to plug the fan in or it won't turn on at all. Heaven forbid I should leave it on while I'm in yoga class. I'd come out to a dead battery and that would be very, very bad. I've got the proper thermostatic relay switch. I just need to install it. The wiring is already done and everything. I dunno why such a quick job has gotten backed up in my queue.
Over the next few weeks, I'll also be doing a lot of writing. Jen's handed the current few chapters to me. One to rewrite/edit/change, the other to draft. Eternal Talisman is gonna be an amazing book when we're through with it. The characters come alive. They live, they love, they fight, they laugh, they lead very tumultuous lives, but yet somehow they pull it all together and help each other through.
If I can't be back at the New Kids on the Block concert right now, I'd like to be in Talisman Bay. Maybe I'll dream myself there tonight. That would be awesome. Have a wonderful weekend!
April 3rd, 2009
Happy, happy, HAPPY Friday! It seems like it has been so long in coming, but the day is finally here. Forsaken Talisman is now available. And if you buy it here before next Thursday, you get it at a discount.


Forsaken Talisman by Ashleigh Raine
Is she a victim of a madman's agenda, or a willing player in his demonic games?
Book two in the Talisman Bay series.
Kidnapped and mind-wiped by the Shadow Walkers' greatest nemesis, Skylar has no memories of her own, except for her name. All she knows is what memories she does possess belong to someone else—as does her face—and that she can't trust anyone, including herself.
Shadow Walker Dusty Clements goes against direct orders to rescue Skylar and take her into hiding. It's the only way to get to the truth, and keep her out of the hands of an enemy who could use her to wipe out the entire organization. The last complication Dusty needs is to fall for her.
As Dusty and Skylar work to uncover the secrets of her past, they discover a mystery more than twenty years in the making, and a love they can't deny.
The enemy has one more trick up his sleeve though—a magical kiss capable of probing the deepest secrets of the mind. All he needs to bring the Shadow Walkers down is to get his lips on Skylar one more time…
This book was previously published but has been completely revised, rewritten, re-edited, with an addition of more than 20,000 words.
Warning, this title contains the following: Sex in an interdimensional cave. Hot men ripping demons apart bare-handed. Liberal use of the f-word as verb, adjective, threat and sexual promise. Oh, and wet and soapy sex in the shower followed by warm bodies sliding between cool sheets—yes, sex in a bed. It's almost normal!
BUY EBOOK
EXCERPT: Prologue and First Chapter
EXCERPT: Dusty and Skylar Dance
EXCERPT: First Kiss
February 1st, 2009
As Ashleigh Raine, myself and my best friend are writing a series of romance novels set in a fictional California Beach town called Talisman Bay. We've been working with these characters in this town since high school. In other words, we know them like the back of our hands. And oh, how we love them…
When we first started writing, I'd been inspired to make necklaces…again. (I've been going through phases since junior high, just before Jen and I met.) This time, I really dove in.
I'd unintentionally built a prototype back in 1994 when a friend of mine handed me a broken car part (a frayed clutch cable to be exact) and dared me to make jewelry out of it. Well, it's still one of my most treasured pieces all these years later: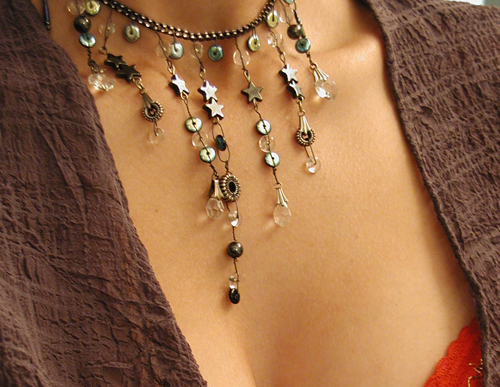 I dunno why, but I love necklaces with lots of dangles. One charm is rarely enough for me for some reason. I love the cascading effect, I suppose.
Anyhow, since I'd gotten back into necklaces and Twyla of Talisman Bay is somewhat my alter-ego, it made sense that she also makes necklaces. Twyla has been with me since high school. In college, I was a lighting designer and my favorite time to mimic is twilight with all that splashy color. Ludwig Tieck has been quoted "Twilight is the time when the logic of daylight meets the magic and mystery of night" and it just really rang true for me.
Twyla, Twilight… She does whatever she fancies… Twilight's Fancy.
I add something new just about every day. Whether it's more signature Twilight's Fancy necklaces, ribbon chokers or purses. I just love spending time in my craft room. My creations are how I share my joy.
July 2nd, 2008
Once upon a time, I was driving in my '68 Mustang fastback…just out for a fun drive (gas was still waaaaay cheap back then!). I had a route I used to take which reminded me of a few stretches of road where I grew up and discovered the pleasure of taking the long way home. As I turned the corner, there was a sweet '69 Firebird, hood up, with a hot guy standing there.
I couldn't believe my eyes. It actually took me two blocks of deliberating before I finally said, "Fuck it! I'm going back." I whipped a U-turn at the next opportunity and then whipped another one to pull up behind him.
He was closing up a cell phone as I came to a stop, but he walked toward me, a smile slowly growing across his lips. It seemed like he was trying to figure out whether he knew me.
Nope. We were complete strangers to each other.
I asked, "Do you need help? I've got tools in my trunk."
He replied, "No, it's okay. The car just overheated. I'll be back on the road in a few minutes. No worries. Thanks for stopping, though."
I hid the fact that my world was crushed and continued on my way to nowhere. *sigh*
Fast forward several years and this was the incident that spawned the opening to a novel…which is now finally available at Amazon, Barnes & Noble and Borders.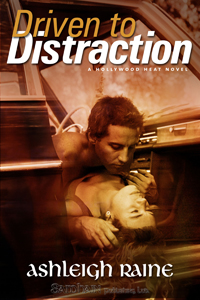 My best friend and I write as Ashleigh Raine and when she decided we should write a novel that takes place in the entertainment industry–but how do we start it?–I knew my little experience was perfect.
Except I get the guy!!!!!!!!!!!!!
We used a bunch of my on-set experiences, including the time I tripped while working on Threat Matrix which spawned a chapter or so. I recall using the base camp and set from one of the times I was on Anchorman. The area for the helicopter stunt was inspired by my night on a music video for 4Mula1 plus a building that served as holding on American Dreams. There were two guys on Ripley's who inspired both Jay and Levi…and the snake incident. One of the precision drivers on Starsky & Hutch also served as inspiration for both Smitty and Cash. The cars in Jay's garage include a few similar to ones I own (Viper and Corvette). And then there were the times I went to stunt driving school…failed the first time, passed the second and got to ride along during an afternoon of drifting which served as further research and inspiration just talking to all those stunt drivers. Oh yeah, and the week I spent being paid to drive four exotic cars which inspired the Ferrari F430 being used as a hero car.
As you can imagine, it was up to me for all the car references as well as the on-set stuff, but Jen played a critical role in it. She was my barometer. Whenever I got too technical, she could chime in with such phrases as "I have no idea what you're talking about here." and I could tone it down for people who don't work on their cars and would likely get lost among the trailers on a typical base camp.
Driven to Distraction has a lot of other stuff inspired by my experiences, but if I were to list them all here, this post would go on forever. And since the book is classified as erotic romance, it's probably better you just go read it. Or at least read some excerpts…
Part of the infamous opening scene inspired by Mr. Hot Firebird: Roadside Attraction
Part of the sex scene inspired by my cars: Garage Rendezvous
Part of a scene inspired by many little friendly races I've had: After Race Romp
Part of the scene using a few locations I've been on: Helicopter Stunt
January 4th, 2008
Well, I at least hope to be now that the hubbub of the holidays is over. I've got a stack of Tales to add as well as some odd things–such as the cause of the funky scent in my Prowler during one of my Tales…
First up, as half of the Ashleigh Raine writing team, I'm happy to announce that Lover's Talisman has released from Samhain Publishing as of today. Check it out! Spiffed up and waaaaaaaay sexier, too!
Also, now that I did actually get a miraculous call-back on The Changeling, I've posted the Tale. This is a very large budget movie starring Angelina Jolie and directed by Clint Eastwood. It was hard not to be fangirl and even harder to believe that yes, I was on a movie set with Angelina Jolie and Clint Eastwood. OMG! I still get all giddy when I think about it!
2007 was a year for that. I mean, I got paid to drive and evaluate Ferraris, Maseratis and OMG, I just realised I didn't actually post that entry! Doing it now! Click here!
November 15th, 2007
I spend much of my time gazing off into space above my computer screen. When my eyes focus, they read the spines of several books, so I figured why not spend a few minutes and open up a Shelfari account. Plus, if I have them all up there and need to refresh my memory about whether or not I have a particular book, I can just do a search of my Shelfari shelf to find out if I should waste my time digging or just buy a new copy.
It's kind of a fun way to get to know people, too. It's like whenever I'm at someone's house and I find myself next to a bookshelf, I gotta read what's there just to see what kind of stuff the person's interested in.
Right now, all I have are books that I've written whether solo or as Ashleigh Raine and about a quarter of the ones I can see over my computer screen. It's the non-fiction section, but I suppose that does say a lot about my interests since I read more non-fiction than anything else. Mostly Medieval and Celtic, too… I couldn't see all the ghost story books or the tarot and divination ones. Also, the books are double-deep. It's gonna be awhile before I get everything posted.
I'm actually surprised how fun it was. I suppose as I dig through the mountain and realize just how monumental an undertaking it really is, I'll change my mind on all that supposed fun. But hey, in the mean time, it brings me joy, so why not?
November 14th, 2007

Dodging explosions, crashing cars, jumping off rooftops…and falling in love.
Sometimes it's the little things, but y'know, I'm excited nonetheless.
Driven To Distraction by Ashleigh Raine (I'm half of the writing team) is now available for pre-order at Amazon.com!!!!!!!!!!!!!!!
A Hollywood Heat Novel
Up-and-coming stuntwoman Blaina Triton stops to help a sexy stranded stranger on the side of the road. Passion ignites hotter than the asphalt beneath their feet and they go back to his place for an anonymous carnal romp. Days later, she arrives on the set of her next feature film only to discover that the man she played out wanton erotic fantasies with is also her boss, Jay Williams. She thinks this job just got a whole lot better, until Jay makes it clear he never mixes business with pleasure.
Jay knows firsthand how distraction can be fatal, but around Blaina, his full, lust-ridden attention strays to her rather than staying on the job. In an effort to regain control, he offers an ultimatum—off set, their relationship is no-naughty-holds-barred, but on set, when they touch, it has to be strictly professional.
Soon their clandestine rendezvous ignite as hot as the movie's onscreen explosions. As an unstoppable stunt team they are flawless, until the strain of their secret relationship begins to tear them apart. Jay has to make a decision. Walk away from the woman he loves, or allow himself to be driven to distraction…
Warning, this title contains the following: Jay and Blaina are imaginative in their proclivities. There's lots of sex in, on and around cars. Sex in public places, sex in a hotel room, masturbation, exhibitionism, oral sex, anal sex, spanking, minor bondage of the tie-me-up-and-have-your-wicked-way-with-me kind and sex with a foreign object.
BUY EBOOK
EXCERPT: Roadside Attraction
EXCERPT: Garage Rendezvous
EXCERPT: After Race Romp
October 15th, 2007
You've read my views on Malcolm Reynolds and Captain Jack Harkness. Now, let me introduce you to my favorite character of all time.
Methos from Highlander.
I know I'm not alone in loving Methos. In fact, I don't know of anyone who isn't intrigued by him. Sure, I love Duncan, too, but he's too good guy heroic—almost predictable to me. It does add to Methos's appeal that he's onscreen with Duncan, though. They juxtapose and yet compliment each other very, very well. I think without Duncan, Methos might not have been so intriguing. Plus, I find Peter Wingfield incredibly attractive, but there's nothing new there. All my favorite characters are hot one way or another to me.
He's not really a good guy. Not that he's a dickhead, though. He's sharp and such, but not an asshole. Part of that is because he's not a leader. Like, at all. Like, not by any stretch of the imagination. He's not even a hero. He has heroic moments, but he's far from a true hero. When there's danger, he's more inclined to run away from it rather than into the fray like Duncan does.
Why would that make him my favorite character of all time?
Many reasons, but the one coming to mind right now is that when I see a guy coming at me with a sword ready to slice my head off, I'm more inclined to run away than stay and fight, too.
That makes Methos human. He has been alive for five thousand years and doesn't want to die. He wants to keep on living. That means that life really is worth living. No matter how many guys come at him wanting to kill him, he doesn't give up. He does everything he can to keep his head attached to his body.
He's been bad (one of the Four Horsemen of the Apocalypse, no less) but he's changed for the better. That gives me hope that people can change at any time…as long as they truly want to. All this stuff is fascinating to me.
But beyond those character traits, the man is five thousand years old. He's lived through the history I read about in books. I geek on that stuff. I really do. What I wouldn't give for a glimpse into some of the times Methos has seen. I mean, if I could sit down and just chat with him about things that happened centuries, millennia ago…what a pleasure! And he seems to enjoy talking about that stuff.
He doesn't keep much hidden at all really. Sure, he didn't tell Duncan about the Four Horsemen time in his life, but who would? I mean, you've got this good-guy friend…would you say, "Oh, by the way, I used to be one of the meanest, deadliest, most feared guys on the planet." Somehow, I don't think that'd come up in conversation much. Plus, that was thousands of years ago.
I bet if Methos was to try to tell someone about his life—his entire life—it would take a decade of talking non-stop. Sometimes a year of my life feels like a century. I just can't imagine what it would be like to live for so many centuries and still want to keep living because I'm not tired of it yet. That's fascinating stuff to me.
Now, if I could just figure out a good story to combine Malcolm Reynolds, Captain Jack Harkness and Methos into one guy…
They might be interesting interacting with each other individually, but as one…now that'd be crazy fascinating. I'll have to work on that…
October 12th, 2007
Previously, I posted about Captain Malcolm Reynolds. Now, I'd like to stick with the captain theme and write about Captain Jack Harkness from Torchwood.
Once again, yeah, I think John Barrowman is hot, but this time, that characteristic is really important to the character of Captain Jack. They guy is a charmer. His sexuality is very important and not just tossed in for flavor. Every time he sees someone new, he sizes him or her up and since we don't know if Jack really is human, we don't know what he's looking for when he sizes someone up sexually.
Captain Jack is dickheaded at times, yes, just like Mal, but once again warranted. He leads a secret group of alien hunters. He's got to be a tough guy and all that. Many of his qualities are similar to Malcolm Reynolds, but Jack is slippery in a different sort of way…which adds a different kind of mystery to him.
Malcolm is purely human and when he dodges a personal question, it seems that he's just not willing to talk about it. Jack, however, there's a sort of feeling beyond his unwillingness to talk about it. Like, if he were to talk about it, he's afraid you wouldn't believe him or worse you'd make his life hell one way or another for having told you.
Plus, he's somehow immortal and even he doesn't know how or why. That in itself is intriguing. He doesn't need to sleep. He, of course, dodges the question of loneliness. The way he's written leaves the viewer wanting more, more, more. I feel like I only kind of know him. He hasn't really done anything out of character for me because he's written to stretch that boundary, to only give you a taste, enough to think you know who he is, but then when it comes down to it, you don't really know who he is or why he's there. But you do know that there is definitely a reason. You can only hope you find it out some time.
Even he doesn't know all the reasons and that's another reason I love Captain Jack. For all his strength, he's also vulnerable and afraid of the unknown—not the alien unknown, the where's, why's, etc. of himself. He knows an awful lot about aliens! Duh. He seems a little afraid to learn all the reasons he's immortal and has been sent through time, all that unknown stuff.
Add his being 'full of life' and what an intriguing character to me.
Pushing into bisexuality also brings further intrigue and desire to understand him, to know him more thoroughly. He's got so many facets and either he doesn't know them himself or he's unwilling to share them outright, it all makes me want more of him and I enjoy that. It doesn't make me project traits onto him, it makes me wait in hopes of him showing those traits.
But while he's immortal, he's still comparatively young to the last of my favorite characters. In fact, if I had to chose my favorite character of all time, I'd chose the final one. Who is he? Allow me to be like Captain Jack and keep you waiting…
October 7th, 2007
I'm not sure why, but my three most favorite characters of all time come from visual experiences rather than text. It might be because there's the written component plus the actor plus the director all the way out through the costumers, lighting people and even props and set who flesh out the characters beyond what my imagination conjures while reading, but I doubt I'll ever know for sure.
I'll start with Captain Malcolm Reynolds from Firefly (TV) and Serenity (movie).
Yeah, it helps that I find Nathan Fillion incredibly hot, but there really is a lot to the character of Mal. I did not see Firefly on television. I saw it on DVD and therefore had the luxury of seeing the episodes in order.
And I hated the Captain! To me, in that first episode, the pilot, he was too much of a dickhead and I was kind of disappointed. I wanted to like him. I really, really did. He's the captain for goodness sake, he needs to be likable to me in one way or another. However, I just wasn't feelin' him. I wasn't understanding him enough to know why he was the way he was and why he said or did the things he did.
Thankfully, that first episode did not keep me from watching the rest of them. I was willing to give Mal and his gang more chances and I ended up absolutely loving his character beyond so many other characters I've witnessed.
Yeah, he's a dick at times, but that comes with the territory of being the commander of a ship—especially one that dallies in illegal activities. He's got to be shrewd, smart and strong.
But he's also got a softer side. It's sometimes hidden, sometimes heroically worn on his sleeve, but always enough to make him human, not some kind of superhero. Often, captains, leaders, and the like are written as human superheroes able to leap tall buildings in a single bound, able to dodge every bullet shot (except of course at the big climactic moment when the script, not his character, dictates it.)
But not Mal. He gets his ass kicked sometimes, ends up humiliated at others, even fails a time or two. And he handles them all true to his roughness around the edges, with either grace or further mishap…sometimes both.
Those are all qualities I absolutely love in a character. Sometimes it's all in the writing, sometimes in the acting and directing and sometimes it's in the choice of the less-sung production heroes. In any or all of those cases, it's what makes the character who he is and how he appears to me on the screen.
For me, though, there's one thing missing: He's not immortal, magically inclined or capable of any other paranormal oddity. In fact, it's amazing he's even on my list of favorite characters because he's a pure, un-enhanced human.
The other two fellows…well…I guess you'll just have to wait to read who they are and why they're so awesome for me.