February 1st, 2009
As Ashleigh Raine, myself and my best friend are writing a series of romance novels set in a fictional California Beach town called Talisman Bay. We've been working with these characters in this town since high school. In other words, we know them like the back of our hands. And oh, how we love them…
When we first started writing, I'd been inspired to make necklaces…again. (I've been going through phases since junior high, just before Jen and I met.) This time, I really dove in.
I'd unintentionally built a prototype back in 1994 when a friend of mine handed me a broken car part (a frayed clutch cable to be exact) and dared me to make jewelry out of it. Well, it's still one of my most treasured pieces all these years later: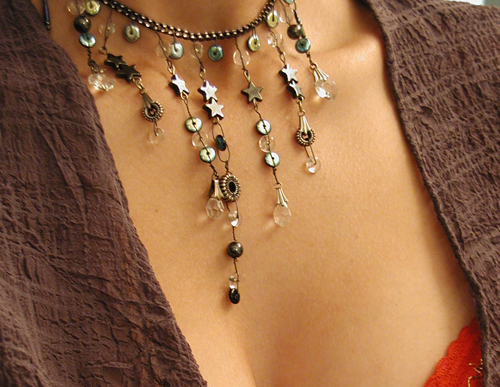 I dunno why, but I love necklaces with lots of dangles. One charm is rarely enough for me for some reason. I love the cascading effect, I suppose.
Anyhow, since I'd gotten back into necklaces and Twyla of Talisman Bay is somewhat my alter-ego, it made sense that she also makes necklaces. Twyla has been with me since high school. In college, I was a lighting designer and my favorite time to mimic is twilight with all that splashy color. Ludwig Tieck has been quoted "Twilight is the time when the logic of daylight meets the magic and mystery of night" and it just really rang true for me.
Twyla, Twilight… She does whatever she fancies… Twilight's Fancy.
I add something new just about every day. Whether it's more signature Twilight's Fancy necklaces, ribbon chokers or purses. I just love spending time in my craft room. My creations are how I share my joy.
Leave a Reply
You must be logged in to post a comment.