August 19th, 2010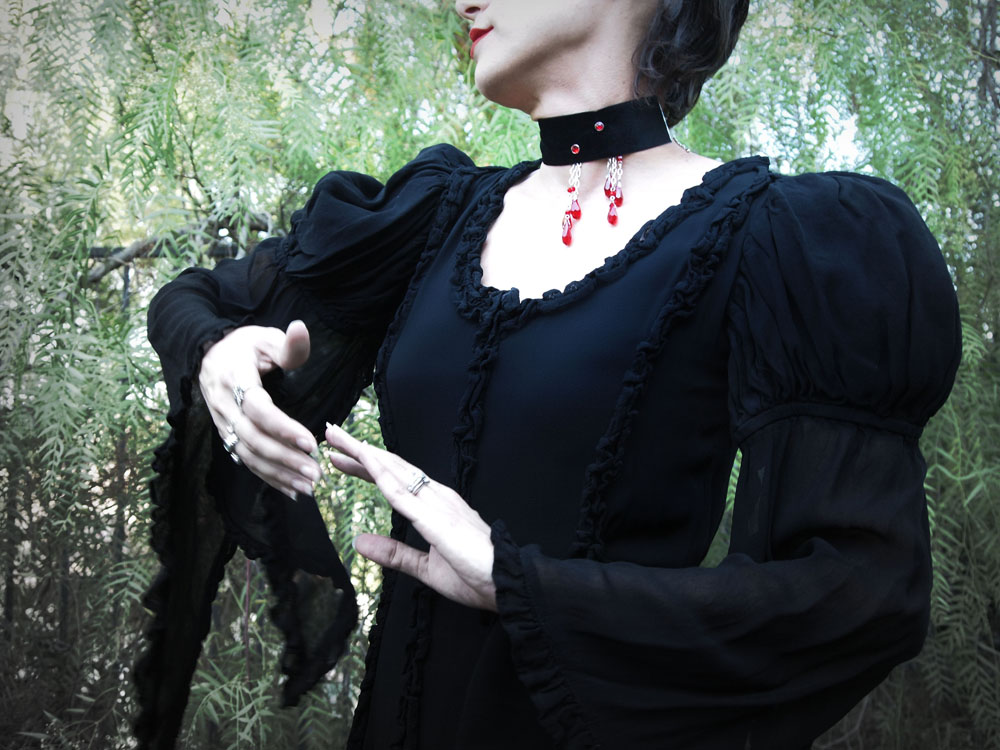 This is my latest creation. It's a wide black velvet ribbon choker necklace with crystal drops hanging down like blood from a vampire bite.
It'd be a great Halloween costume piece or for cosplaying at cons. I wear mine around town. Why not? Some days I pretend I'm a vampire slayer who got a little too close to a dark and sexy fangboy. Some days, I'm little more than a willing slave.
This year has been a crazy one for me. Between the success of my husband's new audio company, Schiit, the continued success of Twilight's Fancy and all the writing I've been doing with my best friend Jen as Ashleigh Raine, it's been awesome. Although, I gotta admit my favorite part has been getting to call my husband a SchiitHead. Like, he really is…and he doesn't get mad when I call him that! How awesome is that?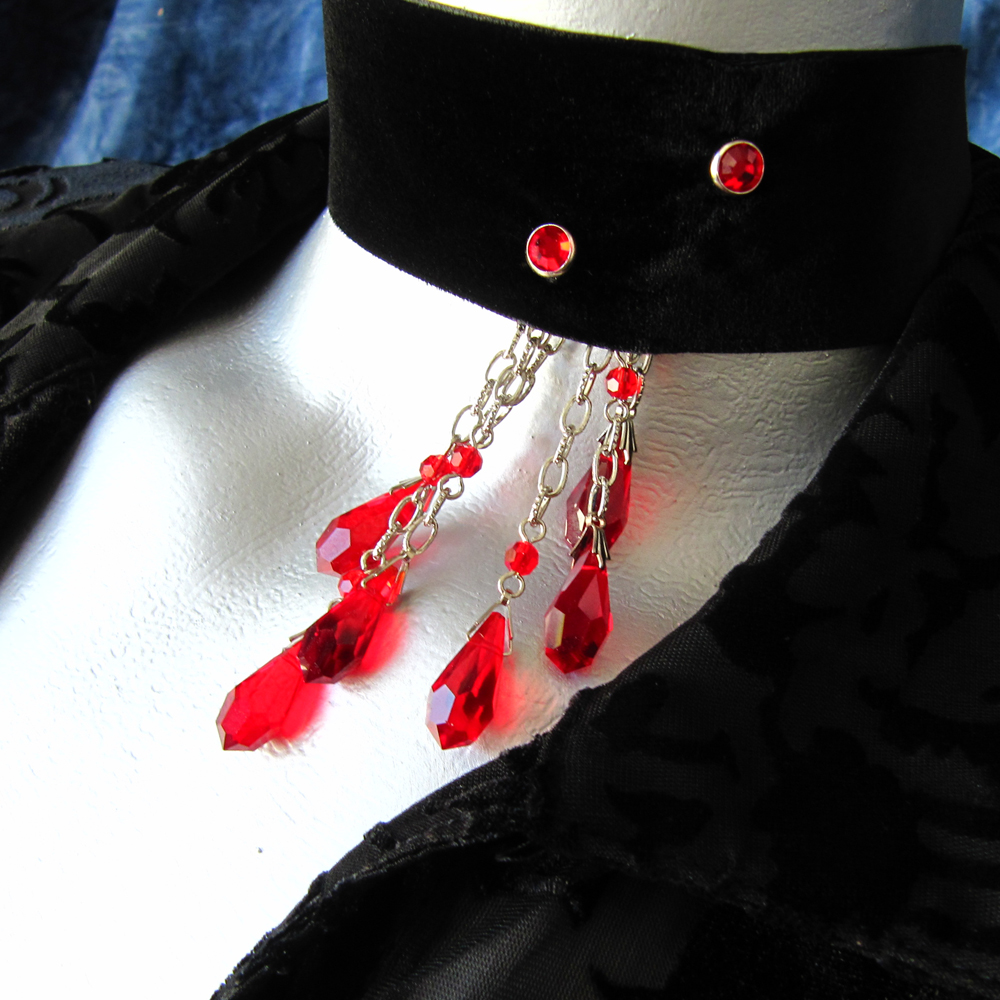 When I'm not building vampire chokers, I'm soldering circuit boards. But next year… Well, let's just say that Jen and I have many, many plans we hope to execute. I for one have many costumes I'd like to build, too. I just hope I can find the time to do everything I want to do.
I gave Jen a vampire choker for her birthday. It just seemed fitting since our friendship started around when the Lost Boys premiered in theaters: October of 1987. We met in 1988 and one of our favorite things to do was watch Lost Boys-—on VHS!—-at my house because Jen's mom wouldn't let her watch R rated movies yet. I think I wore out that video tape. Seriously. I used to put on that movie nearly every day after school while I did my homework.
Alex Winter played Marko and wore a like totally awesome jacket with patches and chains—-oh, it really hit my fashion-ometer as far as incredible coolness. It pegged it, actually. Pegged it so hard I chose one of my denim jackets from my closet and set to work embellishing it with rhinestones and chains and all sorts of craziness.
I still have that jacket.
It weighs about ten pounds now.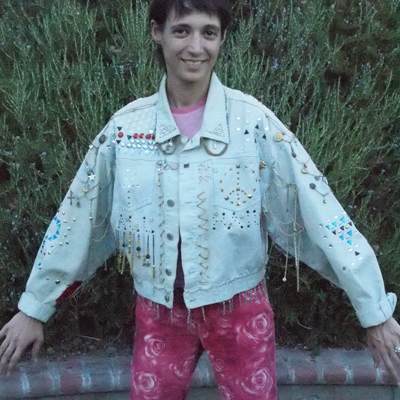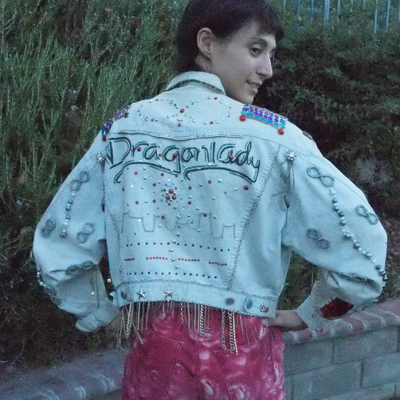 I just got my husband to finally take a picture of me wearing the infamous Dragonlady jacket. Some of the stones and whatnot have fallen off over the years, but that gives it the proper worn look…like Marko's jacket.
I just find it incredible that because of my experiences, all the 250+ hours I put into that jacket, when it came time to do the vampire choker, not only was it a natural extension of my love of vampires, but I also already knew how to do all the components…and make it reversible. Yeah. The blood dangles can go on the left or the right without having to unhook anything. Just turn it around.
I love how certain things have stayed with me over the years. Certain events, people, experiences never really age as far as I'm concerned. There are things that I still talk about as though they happened yesterday. Things that I did that still feel like yesterday. And I wouldn't change a thing…well, perhaps I'd blog about it all more…
In any case, if you'd like to get your very own vampire bite choker, click here!
September 18th, 2009
As I've mentioned in my previous post, I'm not only making beaded jewelry, I'm also back into another of my loves: vintage sewing patterns.
My best friend got married over ten years ago, I'm not sure exactly which year in the late 1990s because that part of my life is kind of a blur, but anyway, I was to be one of her bridesmaids. The dresses would be easy because we all went on a shopping trip and found what we needed. Tons of fun. However, there was still the rehearsal that I seriously did not have a dress for.
This was back in my hardcore theater technician days. I wore all black jeans and t-shirts, all the time because it was easier. I even carried my wrench in my back pocket, flashlight and multi-tool on my belt. I spent more time backstage than I did working on my car or doing homework. I did not own any dresses.
But I love shopping at thrift stores.
And at one of them, there was a vintage sewing pattern for 29 cents. It was for a cute, 1970s full-length dress with little flutter sleeves. It was a size too big for me, but whatever. It was so cheap, it didn't matter.
Oh yeah, did I mention I couldn't afford to buy new clothes? Let alone a dress that was in brand new shape to wear to the rehearsal?
Anyhow, I hit up the discount fabric store and got some floral fabric. It was lightly tie-dyed navy blue with very small pink flowers on vines. I didn't have the money for a long zipper, so I planned to do some kind of front closure. I didn't know how to do button holes on my thrift store sewing machine, so I found some snaps on the sale rack.
From there, I cut out the pattern, didn't adjust it properly to fit or to accommodate the snaps. Whoops!
In order to resurrect the dress, I just went with it and added a tie to the waist to pull it in. Once it was on, no one could tell that I'd screwed up the pattern. At least I couldn't and I got a ton of compliments on that sweet dress.
But then it shrank when I laundered it and since I couldn't wear it anymore, I donated it back to one of the thrift stores I frequented. Sometimes I wish I'd kept it just for the memories.
Now, I still don't buy new clothes and I wear mostly vintage…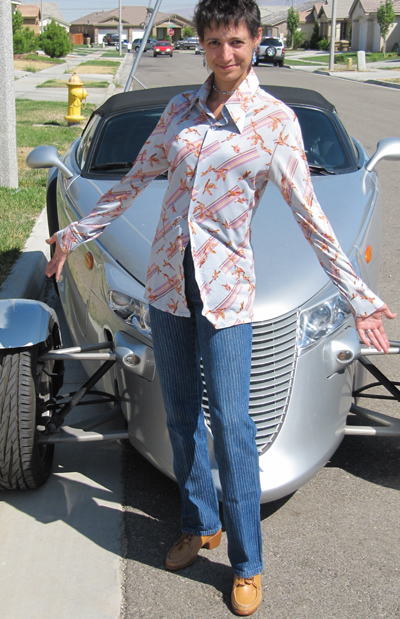 And now that my Etsy store is full of vintage patterns, I can make whatever I want…and modify it properly for a change! I'm not selling that flutter sleeve dress pattern, though. One of these days I'm gonna redo the navy blue dress…the right way!
September 3rd, 2009
It has been awhile since last I blogged. I got a little busy. Being a one-woman show, starting a business can be time-consuming.
Since last I blogged, I've started regularly having a booth at the Santa Clarita Open Air Market (aka The Saugus Swap Meet at the Saugus Speedway).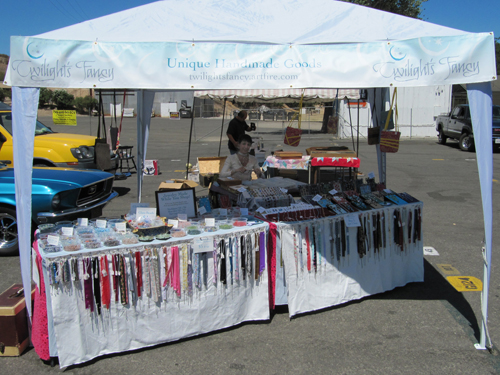 At the moment, I'm there on Saturdays, Sundays and Tuesdays, but I might scale back a little because of another venture I'll get into later in this post.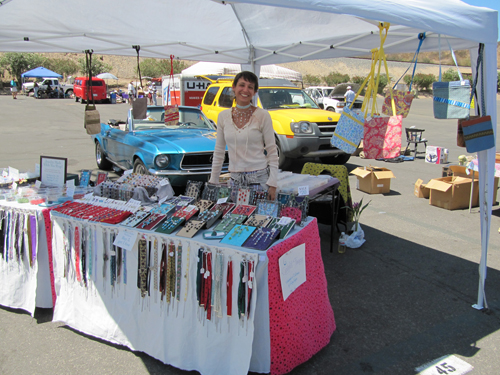 I've been having a great time out there. I'm always looking for deals, so my work is priced accordingly and I've always got stuff on sale just for the fun of it.
Plus, I make jewelry while I tend my booth. You can pick out beads and have me make them into something for you (earrings are only $5!) or I usually bring some from home and fill custom orders while I'm there. I also make ribbon choker necklaces and ribbon bracelets.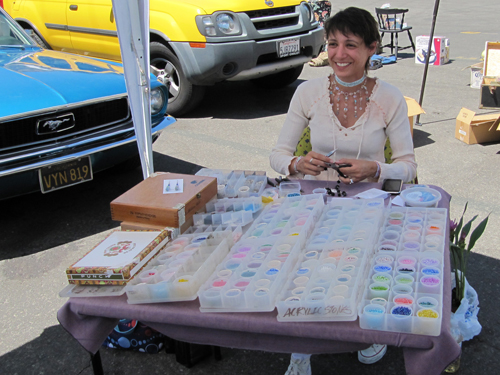 There isn't much I cannot do…one way or another.
Okay, now for the bit I said I'd get to later in this post…
In my Etsy store, I've started listing vintage patterns…mostly from the 60s-80s. See, my closets are full of clothes from those decades, too. There are a lot that I'm just not wearing, so I'm photographing them and also getting them listed at Etsy. If all I'm doing is looking at them, why not take pictures (which are grrrrreat to look at!) and let the clothes move further on their journey?
Don't get me wrong, I still wear mostly vintage: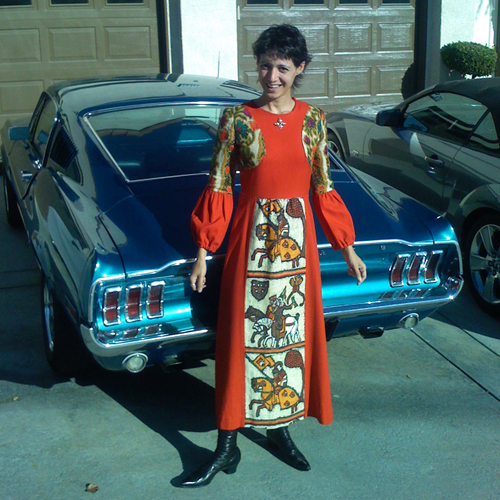 But I've got racks and racks of such great stuff that it'd take me a few years to wear it all if I wore something different every day.
Yeah. I've got a lot of clothing.
And vintage patterns go hand-in-hand with the clothing. I've got about 150 patterns listed and at least 300 more ready to roll. It's just a matter of time. Being a one-woman show, I don't have the army I'd need to get everything posted, but that's okay. It's nice to have something to show for all my hard work.
Plus, since I enjoy vintage clothes so much, seeing the patterns is just as much fun. I've held back a few so that I can make outfits out of them. Some will be out of vintage fabrics and some will be out of later stuff, but all will be fun and well worth the time invested. The plan is to use those as the vacation, the treat, the celebration of things to come.
July 15th, 2009
I really need to remember to snap more pics while I'm building stuff. In this case, I didn't snap any. Although, given that I did make 4 ugly shirts on the way to this only slightly less ugly one, I'm not real sure I should sear your retinas with all that ugliness.

Anyhow, Here's what I wore to the New Kids on the Block concert last Friday. It's not the best picture and it's not the best outfit, but I always build something when I go to their shows. Not because I think they care what I'm wearing, but because otherwise, I'd never actually make anything for myself. I used to make outfits for when I was a seatfiller. My Grammy outfit is still in my closet and I've worn my American Music Awards quite a few times since then, too. It's all incentive to stay the same size.
Admittedly, there are certain things I like to do… Stretch pants, stretch velvet, parts that flow when I spin around. I dunno why, I just like those things. And I usually like to show very little skin. That's probably why I flailed so much on the concert outfit. In comparison:
This was what I made to wear to the Grammys.
Back to the concert outfit… The fabric is burn-through velvet. I got a few yards in 1999 because it was just so awesome to me. Then, in 2004, I found a partial bolt for $1/yard. I bought the whole damn thing…figuring of course that I'd use it for 'something'. Well, that something had arrived.
I'd designed it in my head for about two months prior. Nothing actually turned out like what was in my head. I even screwed up the pants. They were supposed to be a little longer. Whoops. Oh well. My seatfiller boots went great anyway.
Initially, I was going to do this cute half shirt on the top and make a bunch of tassels to hang down just above my knee somewhere. Then, that morphed to a tank top…to a long shirt similar to a dress…to a backless, but longer top. When all was said and done, I ended up with a short halter. It's okay, but not my best work.
I'd never built a halter before and I didn't have a pattern to pull the shape I wanted, so I just had to guess and drape and make it up as I went along. I only had a few days to get my act together, so once all my important parts were covered, I pretty much had to be satisfied.
Yes, the necklace is holding up the center of the halter. It actually looked better that way rather than letting it hang.
The necklace was also an experiment. It's my first triple-decker. I might make more, but not necessarily out of crystal unless I receive special requests. 90% of the beads in this particular necklace are upcycled from my grandmother's broken necklaces. They'd needed restringing when they were given to me in high school (some even earlier!). I kept all the beads around for 'just the right' necklace.
That was the only part of this whole outfit that turned out…and was even better in person than what I'd dreamt up in my head. The sparkle on that thing was incredible. It also weighs a lot, though.
I mis-measured the waistline and cut the elastic too big. Luckily it was snug enough not to look too bad. The skirt isn't really a skirt. It's just a bit of fabric attached to the waistband and I cut it to give some nice folds. I'd feel better about the skirt if my sewing machine had gotten along better with it. The bobbin kept barfing. I almost gave up, but again, I was pressed for time. The halter top was already done. All I needed were the pants.
Because of the burnthrough aspect of the velvet, I needed to use two layers in a few important spots. I suppose the outfit might've turned out better if I'd had more time, but I'm not positive. The good news is that I learned soooooooooooooooooooo much from this adventure that I'm betting the next outfit I make from that fabric will be a billion times better. I already have a few ideas.
I still wanna try the tassels. I've never done them. They'd be the same as the ties on the back of the halter…and those went off without a hitch. Here's hoping I can do a better second rendition.
Or at least use up the remaining 17 yards on the partial bolt!
July 11th, 2009
It's after 1AM and I just gotta get blog. I just gotta. I've gone too long since my last post. There are many really great reasons for that, too, though.
I've been making lots and lots of necklaces, developing new designs, even selling them at swap meets just to do that inevitably fun 'something' with them this time around.
I just got home from a New Kids on The Block concert. They were awesome as always. I even met them ahead of the show. Tonight was my seventh time. Back in the day, I went to 9 concerts, but was never able to meet them. I suppose I'm making up for that now and I'm sooooooooooo glad for it. They were absolutely worth the wait.
Because I'm too lazy when it comes to myself, I use the concerts as incentive/inspiration for me to create more outfits. I haven't even twittered the last few days because I was making a little halter top and pants/skirt. I've never done a halter top before, so that was quite an experience. I didn't even have a pattern I could fudge from. I just had to do it on the fly. The pants were easy, though. Yoga pants. I can whip up a pair of 'em in less than an hour. Then, I draped a quasi-skirt over the top.
Yoga is another thing I've been doing more of. I barely talk about it on my blog here, but I absolutely love yoga and all that it allows me to do and feel and be. Bending, stretching, twisting…and building tons of strength…while really taking control by doing the poses and in turn, they do me, good golly, I wish I could live on my mat.
I built another website. It's not completely finished yet, but it's damn close. Tomorrow, I'll be helping out at a TAPS boot camp. I absolutely love being a TAPS member. Ghosts were people, too. There's no reason to be afraid of them. Yeah, strangeness abounds when they're active, but that's only if you refuse to admit what your senses are telling you. Some of the most interesting people I've met are dead and I plan to meet many, many more.
It seems I've got my hands in a little bit of everything these days and I wouldn't have my life any other way. In fact, just the other day I was telling someone about how even two years later, I still have trouble believing I was paid to drive a Lamborghini Gallardo, a Porsche 911 Turbo and 2 Ferrari F430s. These are the kinds of things that happen in my life and I wouldn't trade them for the world.
However, I really should blog more about them!
Anyhow, a few weeks back, at a swap meet, I scored a composition ball-jointed antique doll body. It needs to be restrung, but so do several of my other dolls–some are even on display smashed between two others so that it's not obvious their arms aren't really attached. Hell, some of them, their heads are just sitting on their bodies. One good earthquake and they come trembling down. Is it wrong for me to find that hilarious?
Anyhow, I wanna blog about restringing. I've never done it before, so I wanna see if I can do it.
My cars need some work, too. I've had the replacement speaker for my Prowler over 2 years now, at least. Plus, I'm finally sick of the manual switch on the fan in my '68 Fastback. Well, it's not really a switch. When I go to drive the car, I have to plug the fan in or it won't turn on at all. Heaven forbid I should leave it on while I'm in yoga class. I'd come out to a dead battery and that would be very, very bad. I've got the proper thermostatic relay switch. I just need to install it. The wiring is already done and everything. I dunno why such a quick job has gotten backed up in my queue.
Over the next few weeks, I'll also be doing a lot of writing. Jen's handed the current few chapters to me. One to rewrite/edit/change, the other to draft. Eternal Talisman is gonna be an amazing book when we're through with it. The characters come alive. They live, they love, they fight, they laugh, they lead very tumultuous lives, but yet somehow they pull it all together and help each other through.
If I can't be back at the New Kids on the Block concert right now, I'd like to be in Talisman Bay. Maybe I'll dream myself there tonight. That would be awesome. Have a wonderful weekend!
June 21st, 2009
Pointy, shiny, pink leather… How can a girl go wrong with these? Okay, so they're not real comfy to wear, but I did survive an unplanned three-hour shopping trip in them, so they became one of my favorites.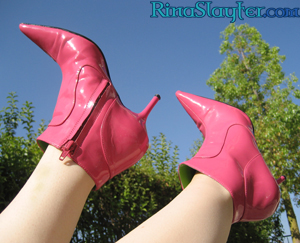 They're not 80s, but they sure do look retro. And they make me wish I had more pink in my wardrobe so that I'd wear them more often. Especially now that I've worn them in so much after that impromptu shopping trip.
Okay, so there you have 'em. They aren't all my wackiest or all my faves, but they're a fair representation of what I have to work with and my collection grows every year. These pics were all taken last year. Since then, I've added some like totally awesome 80s pumps that I would've died for back in the day as well as various other great pairs vintage and modern…including jellies!
There have been a few times where I've found the same pair of shoes twice at thrift stores. Once, while I was wearing them! Yeah, what was funny is that I saw them on the shelf and thought, "Ohhhh…those are awesome…Wait. Don't I already have ones like them?" Then looked down and there they were on my feet! I bought the pair on the rack and donated the ones on my feet. (The rack pair was less worn than the ones I was wearing! The cashier got a kick out of it, too.)
I don't need to spend a lot of money in order to really enjoy the shoes I find. I think that's one of the best things about my collection. It's comprised almost entirely of shoes I found without actively searching. Sure, there are a few that I needed to get for certain applications, but the rest just happened. I know what I like, so I buy them when I see them…as long as they're less than about $10. Most, I get for $5 or less. If I'm spending more than $5, they've gotta be truly stellar and something I don't already have. That's pretty hard to do these days, but it does still happen.
A few months ago, I picked up another pair of vintage silver shoes like the ones I posted earlier. They're a slightly different style, but the same toe shape. I wasn't gonna get them since I already have a similar pair, but for $2, I just couldn't pass them up. They'd never been worn. The bottoms are still smooth!
June 14th, 2009
I bought these shoes to go with an equally killer dress. I'm not sure what turned more heads, the shoes or the dress, but wearing these shoes makes me feel unstoppable. These are certainly one of my most attitudinal pairs of shoes.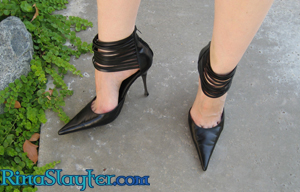 Yeah, these came into my collection because I couldn't find what I needed at thrift stores and I just didn't have a pair of killer black spike heels. Even I was shocked when I discovered that I'd have to actually go out and buy a pair of new shoes. It happens so infrequently for me.
In fact, I don't even remember the last time I had to actually go shoe shopping. Most of the time, I just check the racks at thrift stores to see if there's anything I like. Then, it all comes together when I either look through my wardrobe and discover the perfect outfit or when I store the shoes until the perfect outfit comes along second hand…or I make the perfect outfit. (That's what I'll be doing soon for a pair of silver boots I acquired a few years back.)
June 7th, 2009
These shoes reminded me of my grandmother. Not the conservative, straight-laced one, the other, bizarre character who would've worn these with just about anything…including a polyester pantsuit…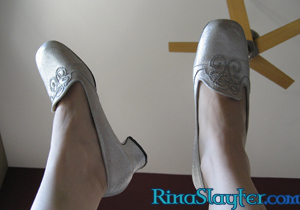 I generally wear them with some of my fancy vintage stuff, but they're silly enough to wear with just about everything else in my wardrobe. They're silver. That's easy to work with.
They're not the most comfy, but if the funny-factor is in order, they're perfect. I got them at a thrift store almost 10 years ago now. That was one of the few times where I actually found what I was actively looking for rather than just buying something because it was silly. I'd needed a pair of vintage shoes to go with one of my old dresses. I'd doubted I'd find the right shade of mint green, so I focused on silver or white. Lo and behold there they were at the second store on my rounds.
May 31st, 2009
I call these my disco shoes even though they're painful to really dance in. I dunno, something about the fact they're gold and holographic just makes them fun to wear out for fun.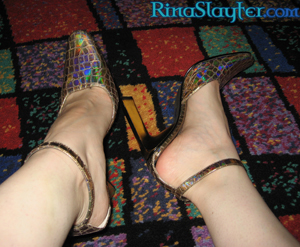 They're a little too high and a little too small, but they do peg my weird-o-meter pretty well. I definitely don't wear them much, but when I do, it's always memorable… Last time, I got some pretty wicked blisters, but strangely, when I wore other shoes, the blisters weren't irritated. That's like both having and not having blisters all at the same time. I suppose I'm a glutton for punishment, but the experience was worth it to me.
May 25th, 2009
Meet my brown fuzzy monster coat: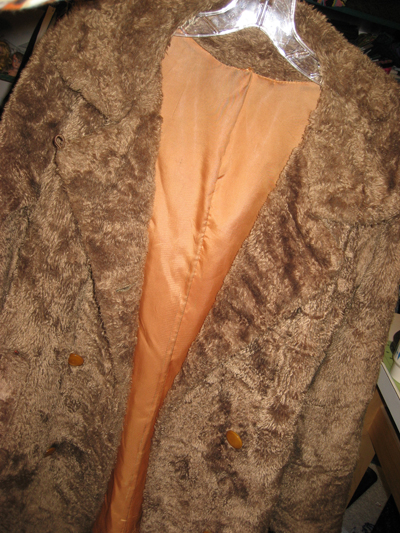 Not to be confused with my dark brown one, my red one, my gold one or either of my light blue ones. I got this coat from a thrift store and didn't notice that one of the sleeves had blown out in back until I went to wear it one chilly night and slid my arm right through the lining and everything. Whoops!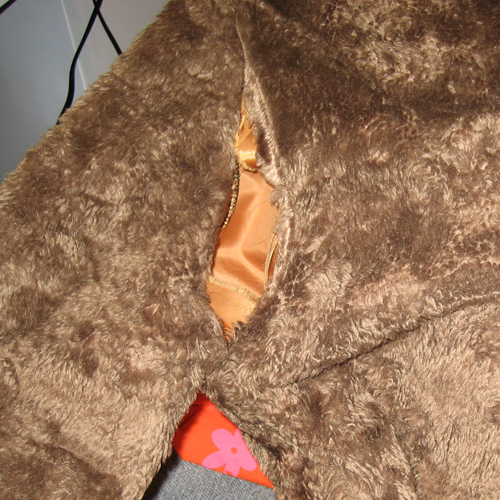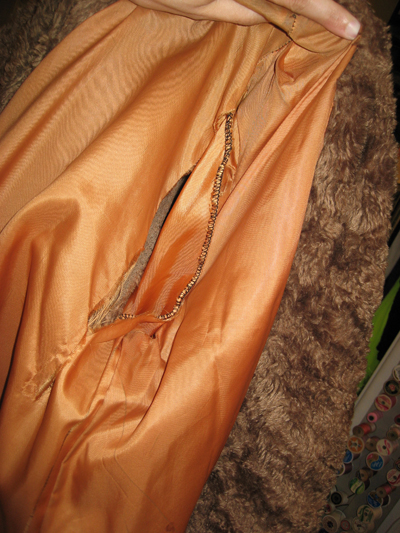 It's understandable. The coat is likely from the 60s or 70s. It's definitely vintage and has seen a lot of wear. That's why I like it and most of my others. They're so worn, they really look like fuzzy monsters or well-loved teddy bears. Kind of matted, but so very comfy and warm.
Anyway, I've never sewn fur before (fake or real), so this was a bit of an experiment for me. Rather than be afraid, I just pretended it was like any other fabric and started pinning, starting with the side. Only the seams had busted. The fabric was still intact.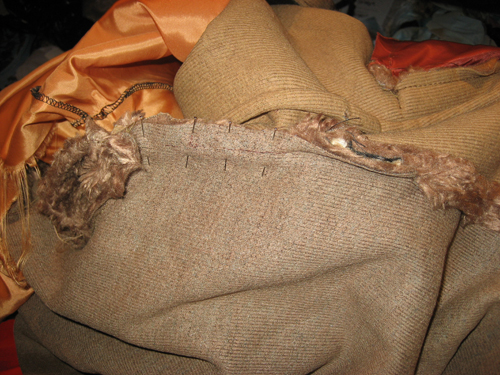 I stitched it back together and then pinned the sleeve: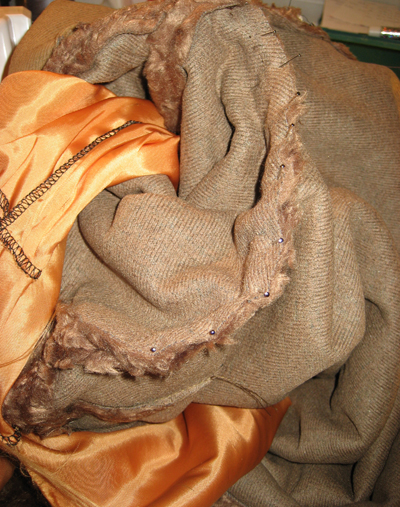 Sewing it back together was a little tricky, but I made it happen. Plus, it's fuzzy fur, so it's quite forgiving as far as showing repairs.
I really wasn't sure what to do about the lining since it was frayed. There are a few iron-on patches in other spots, but while I do have patches I could use, in a way, I wanted to do this in such a way that when it frays again, I'll be forced to replace it entirely. There's a lot of wear on the inside, but the outside still retains its fun.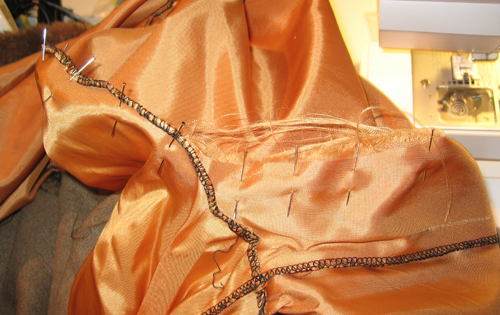 So, once the lining was stitched up, too, it was time for the moment of truth: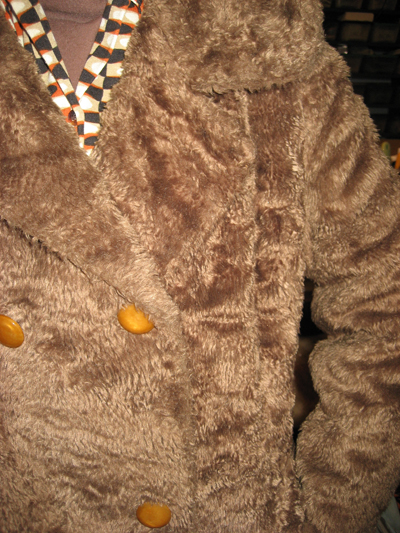 Hooray! Some day I'll replace the buttons. The plastic is getting cracked and crazed. You can't tell from far enough away, but up close, those buttons really need to be swapped out. And it's not like I don't have a billion buttons waiting for the 'perfect' garment to come along when I'll finally break down and install them.