June 14th, 2009
I bought these shoes to go with an equally killer dress. I'm not sure what turned more heads, the shoes or the dress, but wearing these shoes makes me feel unstoppable. These are certainly one of my most attitudinal pairs of shoes.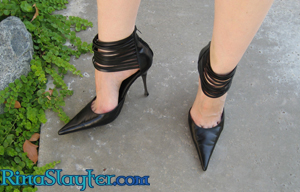 Yeah, these came into my collection because I couldn't find what I needed at thrift stores and I just didn't have a pair of killer black spike heels. Even I was shocked when I discovered that I'd have to actually go out and buy a pair of new shoes. It happens so infrequently for me.
In fact, I don't even remember the last time I had to actually go shoe shopping. Most of the time, I just check the racks at thrift stores to see if there's anything I like. Then, it all comes together when I either look through my wardrobe and discover the perfect outfit or when I store the shoes until the perfect outfit comes along second hand…or I make the perfect outfit. (That's what I'll be doing soon for a pair of silver boots I acquired a few years back.)
Leave a Reply
You must be logged in to post a comment.