September 3rd, 2008
I got lost. I can't freakin' believe I got lost, but I did. And not in the conventional, wrong turn kind of way, either. I followed the signs as usual, but at one point there were three production signs, the top two were for a different show and the bottom one was for the one I was on…but they were all pointing to the same driveway and I didn't see that bottom one in time.
Oh well… I called casting and they helped me get where I was supposed to go. I was only ten minutes late and they weren't pissed off about it at all.
In fact, I still love this show. The first time I was on was great and so was the second. This third time was no different–well, no different in general, but completely different in practice. Last two times, I was an upscale recovering drug addict. This time, I was a pedestrian with my 1968 Mustang Fastback and it was 1970-something.
I'd dragged a ton of clothes to this gig because, well, I have them, I might as well use them. And for a great change, the costumers loved me.
It was a simple scene, but since there was a flipped car and a bunch of water involved, the set-up was kind of involved. I ended up driving my car to the set before going through hair and make-up.
Since my eyebrows and the front of my hair had been burned off in a small kitchen explosion brought on by team effort stupidity between my husband and I, my hair is a little shorter than usual. When I stopped by the hair trailer, she just sighed and said there wasn't enough for her to really do anything with it. I just kind of smashed it down and pretended I was Janet from Three's Company. It's too short, but I felt the need to try.
Then, in the make-up trailer, the lady started going nuts with me. She drew on eyebrows to hide my stubble and even put fake eyelashes on me to lengthen my burnt lashes. She really had a great time on my eyes and good golly, that's the best I've felt since the explosion. It's been a little over a week and it just seems to take forever for hair to grow back when you have none. At least the burns on my eyelids, lips and nose are done. They took about five days to heal. Now they're just a little tender, but no big deal. I just want my facial hair back!
Anyhow, once I was out of there, we sat around in holding for awhile (which was air conditioned…it was getting freakin' hot and humid outside and we were all thankful for the opportunity to stay cool) before heading to the set. I was saved as a driver and they'd planned on having me drive my Mustang, but it was too loud. Of course. Happens every time.
Instead, I drove one of the other picture cars…through a towering water effect on the first take before they toned it down for the following ones. It was another miserable black vinyl, no air-conditioning car just like my Mustang, so I kinda felt right at home. I just drank a ton of water so I didn't dehydrate.
Basically, after those four or five takes, we were done, but they were still filming and a few of the other extras worked. I ended up reading a book and/or talking with others there. It wasn't a bad gig at all. I just wish it wasn't so hot. That was no fun at all.
Traffic was so bad getting there, that it took me a full two hours. I changed my route on the way home just to change the scenery a little and it took me an hour and a half despite the actual mileage was longer. I've certainly learned my lesson!
I got to keep the fake eyelashes as a souvenir and just before actually working, I snapped a picture with my phone. I'm really not supposed to do that, but I was careful not to get anything that's supposed to be some big secret in the background, so hopefully I won't get chewed out. I just really wanted to capture the brilliant make-up job I'd been given. It was kind of Twiggy-esque.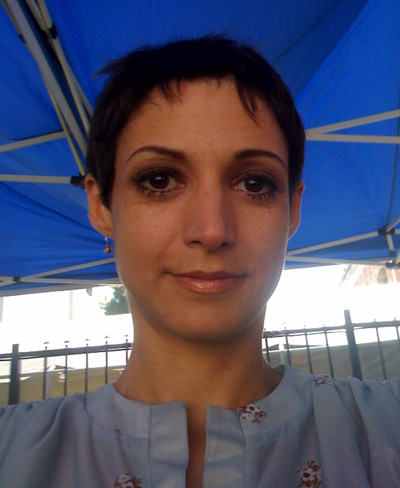 August 26th, 2008
I don't know what took me so long to get to this one. I mean, I saw it in the theater because a friend of a friend who doesn't know me that well had mentioned he saw me in it, so I figured I must've gotten some really good camera time for him to actually recognize me.
Boy was that an understatement. So far, of all the shows I've been in and appeared on camera, this one takes the cake. Big time. I mean, my head is as big as the screen!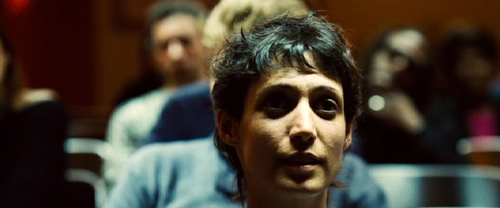 The other shots may not be close-ups, but I'm still totally visible for a change. I suppose it helped that they'd placed me in the front row for some strange reason.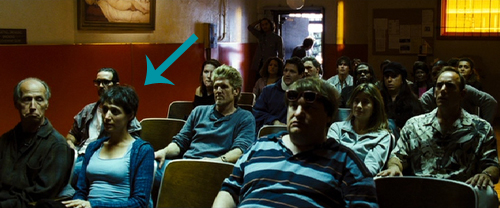 My husband and I saw it together and the moment I was onscreen at all, we started chuckling. Each shot built and built until we were all out cracking up because, like, my head was so freakin' huge! It's one of the best laughs we've had. We really hadn't expected it to be like that. We'd figured okay, since I was in the front row, perhaps I was visible enough. Noooooo… I even got a close-up!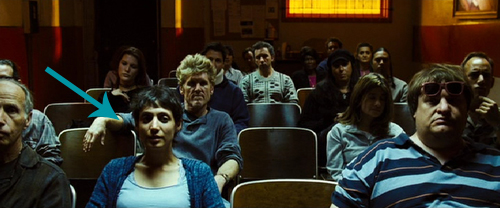 This is also one of the coolest bits I've been part of. I was an alien on They Are Among Us, a dead nun on Angel (in which I also had a close-up, but my head wasn't quite as big as the screen because I was laying down and they wanted to get more blood in the shot), an insane asylum patient on The Changeling and a hooker on Cold Case and Crazy.
But on Domino… I was a recovering nymphomaniac at a Nymphomaniacs Anonymous meeting, no less. Good times!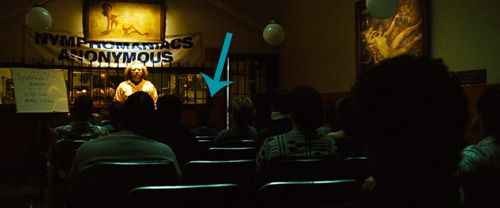 August 23rd, 2008
I believe some of my best adventures were on this show and they didn't happen during filming! From almost driving through the Red Sea to waving at tourists on the Backlot Tram Tour, this was quite an interesting gig.
Much of what burned on the Universal lot this year was where base camp and the set were, too. When I heard about that fire, I immediately thought of my time on Spiderman II, Superhero and Where The Truth Lies.
Here's another of my smallest performances. It's not quite as small as Hollywoodland, but it's close! This is definitely the kind of shot where I wonder if I'll actually be seen at all or was I just given a cross there 'just in case' the camera happens to see that deep. It's always nice to make it in frame, though!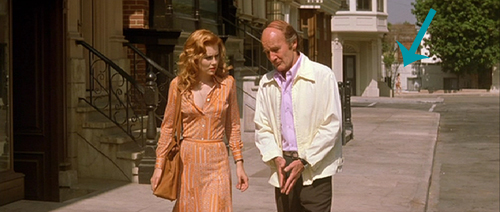 In these next ones, boy was I pissed when I tried to do the screen capture and there was some dumbass extra blocking the view of my car…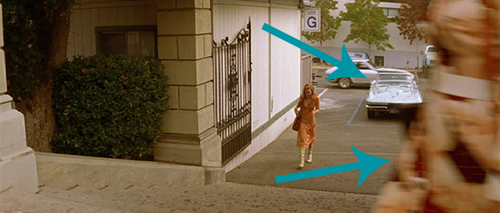 Yeah, that dumbass extra was me!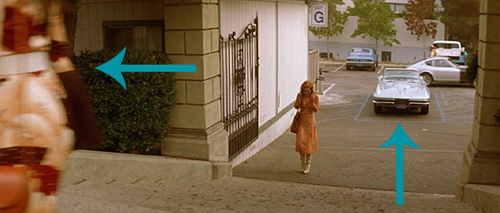 The way I could tell was not just by the colors on my dress, but that's my own purse. I recognized my purse and then vaguely remembered doing this wipe, but hadn't realized that it was part of my cross heading across the street.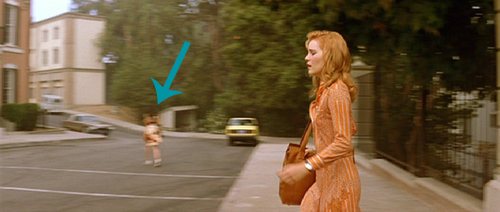 I looked for myself in the other shot, but while I thought I saw myself, I wasn't entirely sure, so I didn't do a capture. The finished product was nothing like what was shot.
August 19th, 2008
Okay, so this one's a stretch, but scoured every frame during all the wide shots and while I could make out people standing next to me, I just wasn't positive that the partial face I saw was me. I didn't want to point my silly arrow to the wrong person. I really wanted to be more visible in this movie, but oh well.
What I've got is what I've got… Me in shadow and the only reason I know that's me is because myself and one other guy were the only ones actually walking forward in this shot. There was a lady standing near the opening, but she was sideways.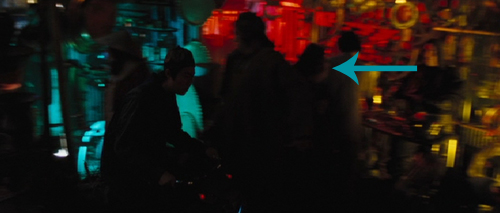 In fact, my arrow is right over her head. Whoops! Sorry, but this was my one moment in frame on Serenity, so I gotta make the best of it!
August 16th, 2008
I must admit…I had a lot of fun on this shoot. It wasn't spectacularly fun or intense or anything like that, but even almost three years later, I'm remembering it as a nice, long-but-easy shoot.
Since then, I've worked with the same A.D. on G-Force, but due to the nature of the shoot, I think I only saw him three times and that was mostly during lunch!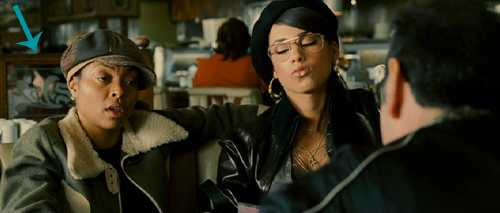 It's not the best shot of me, but it really is me back there. Not too shabby considering I doubted getting any screen time at all except maybe this scene and lo and behold, there I am!
August 12th, 2008
I've got a sizable stack of DVDs to go through in order to grab screen captures of myself in frame. Of a stack of twenty, I may only come up with five or so shows in which I actually appeared in frame. This time, I had a stack of about twelve and I came up with four. Not too bad.
Although, for the amount of running around I did on Carnivale, I really thought I'd get so much as a split second in frame, but I got a whole lot of nothing. However the day I was a prop magnet, I managed to make it in frame several times. The problem was mostly that in the various angles, I was blocked by other things. Oh well. At least I got this one: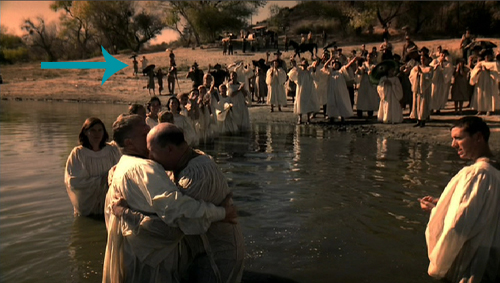 As I get the rest ready, I'll post 'em.
In the mean time, I've heard from a few people that I made it into a commercial for Raising The Bar. I have yet to see it, but that'd be awesome. Kind of like when my car made it into the trailer for Anchorman.
July 14th, 2008
I was so glad to be back on this show. Last time was great. This time I was actually booked with my Viper rather than being bumped up.
I got there, parked in a dirt lot before being directed up to the set, survived wardrobe with flying colors (she actually loved what I was wearing and the fact that I'd brought a ton of choices. Why can't all costumers be that awesome?) and got the car appropriately backed in just in time for the first rehearsal. Then, the scene was shot–without any picture cars in the background–and I was sent to holding. Ummm…okay…
About an hour or so later, I was brought in to do about three takes for a tiny little scene and then ushered back out to holding. Ummm…all right…
An hour after that, I was wrapped. Ummm…yay!
June 27th, 2008
I hadn't driven my Viper in awhile and the thought crossed my mind to bring it to this gig because it was upscale and there were other people booked with cars, but I just wasn't sure so I brought my Prowler.
I was to be playing an upscale drug addict in a high-dollar rehab center for the last three days.
Arriving at the location, I was instructed to park on a street. I think that's a first for all the gigs I've been on. It was private property, but it was just strange that all the cars were on the street. Anyway, I got there okay and went to wardrobe after grabbing some breakfast. They mostly liked what I had on. After being instructed to change my tank top, they gave me another cute one to put over it plus some jewelry…and a different pair of shoes.
They were killer.
Yeah, four-inch heeled sandals. OUCH!
I could barely walk in them to begin with because they offered zero support to my ankles and the bottoms were thin enough that I could feel the pavement. When I got to the set, we were on cobblestones and tile. It was absolutely no fun.
However, before we got there, they did ask if anyone else had upscale cars and I offered up my Prowler. The hero car was also silver so there went that idea. Oh well. They still gave me some extra money for it and that was nice.
I gotta laugh at my shoe misfortune a little, though. During the exterior scene, I was asked to do a cross that involved going up the stairs around a fountain and no matter how hard I tried, I could not keep the pain from showing. I tried walking slowly, smoothly, fast, whatever and in the end they decided they didn't want anyone walking in the background. I'm fairly certain that was mostly my fault because other people asked if my feet were hurting in those shoes.
Yeah, they were killer.
So killer, I put on my loafers immediately just to not be wearing those things.
I spent much of the rest of the day in holding except for one scene where the ADs came running out to holding hollering while pointing, "You…and you! Come now. We need you!" I hauled ass to the set while asking if I should bring the other shoes. They said I looked fine and put me in the scene at the last second. Fun stuff.
Then they needed another stand-in and I got chosen because I resembled the actor a little. I was about the right height and hair color, so I got upgraded. That was nice. I did a couple scenes including a dream sequence one where I was standing in for a sort of Lady In Waiting. While I stood in, one of the set dressers put a ribbon with flowers around me. Yay! I love souvenirs!
The next day was spent mostly by the pool. Even though they really, really, really wanted me in a bathing suit, I declined. My worry was that if they put me in a bathing suit, I'd be expected to go in the pool.
I get cold easily…and I can't swim unless the boat I was in sank. Yeah, I'm really that pathetic.
So, with more down time I managed to read When Ghosts Speak by Mary Ann Winkowski. Great read. I highly recommend.
Oh! I almost forgot… As I was coming away from the wardrobe trailer toward the changing room Debra Messing was getting into an SUV to go up to the set. I guess she recognized me from standing in the day before and smiled at me. I was already returning her beaming grin by the time I realized that I wasn't just smiling at some random pretty lady, I was grinning at a principal actor. Eye contact is usually a no-no, but we weren't on set, so it must've been okay.
And I just gotta say, that woman is gorgeous! She smiled at me in the morning and the rest of my day was equally as wonderful.
The following day started with a bang of a different sort. I was used in the first scene along with the rest of the addicts. I don't want to give away the scene, but lately I've been on a few shows where I'm required to do some real acting in the scenes. Remember all my listening on Raising The Bar? Well, that skill came in handy once more on this show… Yay!
And then I spent the rest of the day in holding, having some great conversations in between reading On The Loose by Tara Janzen. I dunno why, but I just couldn't concentrate on reading. Oh well. Another good day over all.
May 24th, 2008
I got the call for this gig while I was on the set of I Love You, Man. I knew I wasn't going to be leaving any time soon–the rumor was 3AM!–so when I discovered I had to be in downtown LA at 7:30AM, I was not thrilled one bit.
Luckily, the wardrobe for both shoots was about the same, so all I had to do was add a couple shirts, jackets and a pair of pants to my gig bag before I went to sleep around 2AM. We surprisingly got out a little after 1AM. I was still going to be sleep-deprived, but I wasn't the only one and the extra hours of sleep definitely helped.
I got to the set on time and went through the usual rigmarole. The weather was awfully gloomy and threatening to rain some more. I was trying to keep as much of a sunny disposition as I could. It wasn't their fault I'd been stuck on a late shoot the night before.
The wardrobe lady loved my stuff and that truly made my day. She excitedly tugged at a couple of my shirts and a jacket and said, "Is this vintage?!" I replied, "Yeah. It used to be a dress, but I opened it up to be a jacket." She tugged on it, "Great! Wear that over whatever else you want in order to keep warm."
I didn't have much to go under it, so I just grabbed an extra shirt and put it on over the one I was wearing. I'd come prepared with one of my heaviest coats. I was good to go…despite my awful habit of wanting to lay down and close my eyes. The blacktop was looking so comfortable…
Anyway, we hopped in a van to go to the set and the incredibly awesomely nice PA started placing us. (I really wish more PAs could be like him. He was so nice and without a bad attitude toward us extras. I really appreciated it after the hell I had on Raising The Bar.) I followed him as he set up crosses for people to do and since I'd been holding a book said, "If you want, I can just sit somewhere in frame and read. If that'd work."
He liked the idea and sat me on a bench behind where the action was to take place. I tell ya, my mental capacity at this point probably couldn't have handled a cross, so sitting on that bench, reading was perfect. I even made sure I wasn't static when the cameras were rolling. I was just so thankful to be there, doing that on a day when I was really off my game like that.
I even sat there between takes, between setups, the entire time. I didn't bother going to holding. I mean, whether I read on the park bench or read in holding didn't really matter. Plus, I had my feet up on the bench and since there was only a chair in holding, it wasn't as comfy.
Okay, now, here's the surreal part of this gig. Imagine all the sleep-deprivation creating a good fog in my brain… I'm reading a book because that was about the extent of the actions I could perform on such low energy… And the scene…well…the two lead actors were shouting "Penis!" at the top of their lungs.
Y'know, when two young kids are just having cute fun together kissing and goofing off in between. Well, that's what the scene happened to be. I don't know why they were repeatedly yelling "Penis!", but it does make me want to see the movie in order to find out. Plus, there's a pretty good chance I'll make it into the finished product due to my static location.
So, there you have it… The day I spent in a haze, on a park bench, reading a book while the scene revolved around two people yelling "Penis! PENIS! PeeeeeeNIS! PEEnis! PEEENIIIS!!!"
I love being an extra. The truth is almost always waaaaaaaay stranger than fiction.
May 23rd, 2008
Last time, I was a waitress and then a hip and trendy bowling alley patron. This time, I was just a hip and trendy bar patron.
I parked in the lot next to the ocean—which was nifty because I don't get to see the ocean every day and I was a little early. Even though it was really cold, listening to the surf while I sat in my car was nice.
Considering the bad time I'd had on my last show, my hopes weren't high on this one, but when I got there, they'd had a whole enclosed trailer for us extras—climate controlled, too! We all had both chairs AND tables, too.
And they even made sure we got fed before heading to the wardrobe line. When I got there and it started to rain, they brought out tents for us so we wouldn't get too wet. Now that's an awful lot of icing on my cake and I hadn't even gotten to the set yet.
When the costumer looked at me, she decided that I should change into a different outfit, but she wanted me to come back once I'd changed. When I came back, she looked me up and down and then got distracted so I thought I was done and headed over to the hair and makeup tents. About two minutes into having my makeup done, a PA came over and told me I had to go back to wardrobe.
All I could think of was: Uh-oh…
And sure enough, she wanted me to change again, but she said she "had something for me".
All I could think of was: Uh-oh…again.
There were an awful lot of thin, short, low-cut sundresses being worn and I really didn't want to get stuck freezing in one of those… in the rain, too, even though the shot took place indoors, we still had to walk a half block to get where we were going.
But then, the costumer brought out this totally awesome vintage jumpsuit. The kind of thing I'd normally wear. She was excited to have someone wear it. Granted, it really was small, but it fit me perfectly. I guess I was born in the wrong era. Lots of vintage stuff fits me waaaay better than contemporary.
Anyhow, so I was suited up and ready for work…
Which was nothing different from anything else I've done—a bunch of crossing through frame—however, the location was so small, there really wasn't enough room for everyone and I ended up sandwiched between a pole, the script supervisor, the monitors and a camera dolly.
In other words, hell for an extra.
You don't want to be in the way, but you are. You don't want to be near monitorland, but you are. You don't want to get run over by the camera dolly, but you might. You don't want to get hit by the boom mic operator, but you might. And you especially don't want to be in the way when the principal actors are trying to talk to the director, but you are.
And you're bracing yourself the whole time for the gigantic chewing out…but it never came. In fact, they were all really nice and understanding about the close quarters. It was amazing.
Then again, I'd come off of a pretty bad show, so when someone was nice to me, it really stood out.
So, I spent the next eight or nine hours walking through frame, pretending I was drinking a martini—which was water with olives, but whatever. My feet did eventually get tired, but I looked great.
And due to my position stuffed in that impossible corner…let me just say that Paul Rudd has the kind of smile where when it happens (which is thankfully quite often), the whole world seems a happier place. Yeah, I…umm…well…I melted. I just couldn't help it. He had that effect on me. What a great little gig.
Finally, we got to a change where instead of walking through frame, they had me seated…right behind the hero table. My back is to the action, but I'm betting when all is said and done, I'll be in at least one frame of the movie. That's always nice.
For the last few hours, Paul Rudd and Jason Siegel were just ad-libbing back and forth and good golly, there were a few times they were so hilarious that it was hard no to laugh. They were amazing. Amazing to experience their talents while joking in character. This was the first comedy I've done where it's more than just the star (Will Farrell in Kicking & Screaming and Jim Carey in Yes Man) is doing the ad-libbing and I really enjoyed it. It broke the monotony.
The only problem with this shoot wasn't even the fault of the shoot. About half way in—after we knew we'd likely be there until 2am—I learned I was booked on another show the following day…at 7:30am. Nice.
But then Paul Rudd smiled at me and everything was beautiful again. *sigh*