You gotta check out Otherness: Rift. It's the first in my Otherness series and it has gotten fantastic reviews (which I'll, of course, post here as I get further along in the construction process!) It's an urban fantasy with lots of magic and history. I spent about three months researching Welsh history and a little bit of Californian history only to start writing the book and discover that while I was glad I'd done the research, very little of it actually landed in the novel. It's all underlying and will be explored throughout the series, though, and I am working on the next in the series.
Magic is only a small part of the real dangers lurking in a future of dark otherness.

Also, of note, Blue Root. It's not perfect, but it's free. I've serialized it at blueroot.net because even after all these years, I still love the darn thing. It's funny, it's romatic, it's futuristic, it's just downright weird and I'd rather share it for free than let it rot on a hard drive somewhere.
It was the first novel I wrote by myself and made for good practice for Otherness: Rift even though the two don't resemble each other at all. (For the record, I've got another unpublished novel, too, but that one needs to rot on a hard drive. It's pretty bad…seriously.)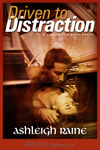 Because I also write as half of the Ashleigh Raine writing team, let me mention Driven to Distraction. It's the second in our Hollywood Heat series. The first, Acting on Impulse, is a short story.
Utilizing my experiences as a background actor and driver, etc. in various movies and television shows documented in the Tales From Hollywood section, we put together a super-spicy erotic romance novel. Our hottest one yet.
Dodging explosions, crashing cars, jumping off rooftops…and falling in love.