June 2nd, 2010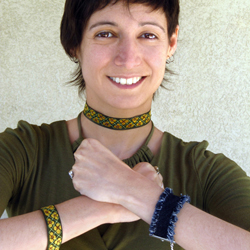 I've done a bigger, better tutorial at ribbonchoker.com about how to make a ribbon choker necklace or ribbon bracelet.
I'd like to thank  my wonderful husband for taking all the photographs without too much grumpiness. That was very sweet of him. I suppose it helps that he'd just gotten a new camera and was excited to use it. I know that while he loves me, shooting me building ribbon chokers isn't likely his favorite pastime, so that new camera came in handy.
Although, he ended up using my camera for much of it. Anyway, this was a project that took me about a year to complete, but I only recently got the domain name. I dunno why I didn't think of it sooner. I nearly fell outta my chair when I saw that it was available. The tutorial here on this site is okay, but ribbonchoker.com is far more comprehensive, with better pictures that open up into larger ones so you can see what I'm talking about.
I've got a lot of other things going on in my world right now. One I can't talk about yet, a few I'll be able to talk about soon and one that I can more fully announce any day now.
If you've followed my twitter feed or have friended me on facebook, you might occasionally read that I'm soldering circuit boards. It's no secret that I'm a multitalented chick-a-dee, but for instance, the day we photographed the tutorial, we also moved a few more units through production. My husband has designed a solid state headphone amplifier and we are just about ready to start shipping units.
Once upon a time, he was a high end audio engineer and I guess he sorta missed those days when a friend of his gave him a headphone amp. After listening only once, I started hearing him say that he could do a better one…with mosfets. (New to electronics? So am I. In fact, don't tell him, but I don't exactly know what a mosfet is, but I know where the go on the circuit board and how to solder them in place and attach them to the heat sink.)
Anyway, while he was chugging away at the design, I was putting together my ribbon choker tutorial. Occasionally, we'd meet somewhere in between and help each other out. He's terrible at making ribbon chokers, but I'm really good at soldering circuit boards. We make a great team.
When we're really ready to make this officially official, I'll announce our company name and website. These amplifiers make my favorite music sound awesome. I listen while I solder.
I'm also still selling vintage sewing patterns, ribbon chokers and Twilight's Fancy necklaces in my ArtFire shop.
December 8th, 2009
…But the man was legendary, so I suppose my tribute can't possibly be too late.
I learned recently that the man who taught me how to properly swab a deck and cuss like a sailor died this year.
Read the obituary for John Delaney, Former Scene Shop Foreman of San Joaquin Delta College, here
When I arrived in the theater department at Delta College in 1992 because "I'd taken a theater class in high school and thought maybe I might like to try it again", I was lucky enough to also be in the cast of Spoon River Anthology. (Not a whole lot of surprises here. It was a cast of 78 and I think 79 or 80 auditioned.)
Because we were all required to procure a chair for us to sit in on stage, I was escorted into the bowels of the theater. But someone had already snagged the chairs cushy enough for the rich Dora Williams (Yep, I played a murderess) so I went back upstairs into the scene shop.
JD hooked me up with a chair carcass and then proceeded to show me a thing or two about a thing or two and that I'd need to get some fabric and some stuffing, but he had the upholstery tape I'd need.
Ummm… Okay, JD. I'll take your word for it. I ain't never redone a chair before, but what the hell?!
Over the next week, JD showed me how to use the old rotten fabric to be a pattern on the new fabric I got. He showed me how to use wood stain. He showed me how to use that upholstery tape across the frame so my butt wouldn't fall straight through the chair. He showed me how to cover the bottom and staple it so that it wouldn't be ugly.
In turn, I showed him I can build anything I put my mind to.
During opening weekend, I got laid off from my little craft store job. John White noticed I was upset and at the end of the conversation, told me not to worry because on Monday I would be on the clock in the scene shop.
That chair JD showed me how to recover was what got me the job. I still have that chair. I'll never get rid of it. That thing reminds me how far I've come and how much farther I can go with just a little bit of help.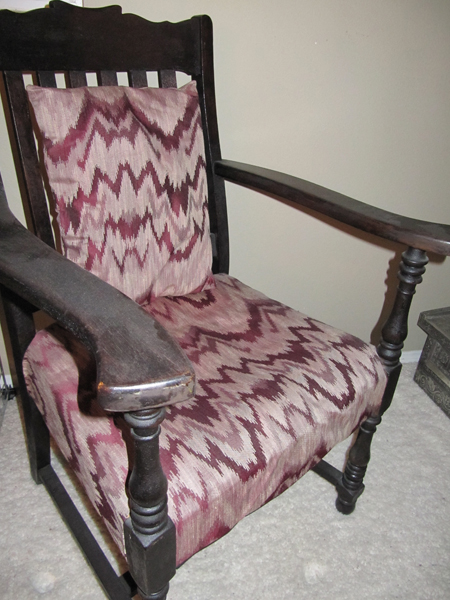 Over the next three years, I learned how to build flats, cut steel pipe, wield a saber saw, safely use a pneumatic nail gun, paint without dribbling, get straight on every screw, sew backdrops, use the fish on the table saw, build banisters, properly mop a stage, hang scenery, use a chassis punch, operate a band saw with incredible precision, lament about and fix old cars (namely his old Dodge truck and my '68 Mustang fastback), use a wood lathe, tap and die nuts and bolts, wash paint brushes and cuss like there was no tomorrow.
But even through all the scenic conundrums we faced, JD always had a plan of attack. He always knew how to approach the project even if he didn't know for sure how it'd work out.
And then there was one time when I was a Master Carpenter for our production of Hair. The director wanted two puppet heads made for Mom and Dad. Their mouths had to move…only powered by the jaws of the actors who'd be wearing the heads.
The small head had a diameter of about 2 feet and was only 2 feet tall. The other was almost 3 feet tall. They were molded by the costume department and built from papier mache.
Once dry, they were brought into the scene shop. They were now officially "our problem".
Me: Hey JD, the heads are here.
JD: Shit.
Me: What kind of guts are we gonna put in them?
JD: Well shit, they got nothin' in 'em?
Me: Yeah, they're just shells. What're we gonna do?
JD: Goddamn. I dunno.
(I was stunned. My jaw dropped.) Me: What? You don't know?
JD: No fuckin' clue.
Me: But…You don't…I don't…How are we… You're just fuckin' with me, right?
JD: Nope. I dunno how we're gonna do it, but we are, goddammit. Somehow. Even if we gotta stuff 'em with goddamn Kotex, these bastards are gonna work.
We brainstormed for a few days. JD had the idea to take a couple of old hardhats we had laying around and affix all-thread to them and flush mount it through the heads with j-nuts (or them other similar nuts that are escaping my memory at the moment but mount flush and press fit so as not to turn).
So we got the hardhats in there okay, but that didn't solve how to hold them to the actors' heads nor did that solve how to make them talk.
We bounced a few more ideas off of each other. Heat setting, self-adhesive velcro worked as sturdy chin straps. But again, how to make 'em talk?' We were running out of time.
JD took a box cutter to the mouths and then pondered the shells he'd cut out.
JD: We need a fulcrum…and something to mount these pieces of shit to. Maybe a hinge.
Me: Ummm… Okay, but these are hollow and we still gotta figure out how the actors can make them talk.
The light bulb went on above his head and he retreated to the tool cage for some two-part foam. He filled 'em up and we shaped them a little so that the actors could still get them on, but all the while, we kept wondering what kind of hinge and mechanism we were gonna build to make them actually move with the actors' mouths.
Somehow the next day while I was putting some finishing touches on something else, the idea came to me.
Me: JD! I figured it out! Did you figure out how we're gonna make 'em talk? How we're gonna attach the mouths?
JD: Nope, the bastards are still sittin' there.
Me: We can use lightweight fabric for a hinge.
JD: Well goddamn. Yeah, we could.
Me: And with all that foam in there, we can shove a couple of pieces of coat hanger into it and put a piece of cardboard on them to hold 'em steady.
JD: Shit, let's try it!
We did. When I put that first puppet head over mine and made the mouth move, we were both so glad…well, relieved anyway… It was only a day or two before dress rehearsals, but we'd come through even without having any idea how we were gonna make it work.
As you can tell, I look back fondly at my days in the scene shop. I learned so much about stagecraft and even more about life. I don't freak out during crises. I don't. The show must go on and there's always a way to make it happen even if you don't know how.
Goodbye JD. And thank you for EVERYTHING!
September 18th, 2009
As I've mentioned in my previous post, I'm not only making beaded jewelry, I'm also back into another of my loves: vintage sewing patterns.
My best friend got married over ten years ago, I'm not sure exactly which year in the late 1990s because that part of my life is kind of a blur, but anyway, I was to be one of her bridesmaids. The dresses would be easy because we all went on a shopping trip and found what we needed. Tons of fun. However, there was still the rehearsal that I seriously did not have a dress for.
This was back in my hardcore theater technician days. I wore all black jeans and t-shirts, all the time because it was easier. I even carried my wrench in my back pocket, flashlight and multi-tool on my belt. I spent more time backstage than I did working on my car or doing homework. I did not own any dresses.
But I love shopping at thrift stores.
And at one of them, there was a vintage sewing pattern for 29 cents. It was for a cute, 1970s full-length dress with little flutter sleeves. It was a size too big for me, but whatever. It was so cheap, it didn't matter.
Oh yeah, did I mention I couldn't afford to buy new clothes? Let alone a dress that was in brand new shape to wear to the rehearsal?
Anyhow, I hit up the discount fabric store and got some floral fabric. It was lightly tie-dyed navy blue with very small pink flowers on vines. I didn't have the money for a long zipper, so I planned to do some kind of front closure. I didn't know how to do button holes on my thrift store sewing machine, so I found some snaps on the sale rack.
From there, I cut out the pattern, didn't adjust it properly to fit or to accommodate the snaps. Whoops!
In order to resurrect the dress, I just went with it and added a tie to the waist to pull it in. Once it was on, no one could tell that I'd screwed up the pattern. At least I couldn't and I got a ton of compliments on that sweet dress.
But then it shrank when I laundered it and since I couldn't wear it anymore, I donated it back to one of the thrift stores I frequented. Sometimes I wish I'd kept it just for the memories.
Now, I still don't buy new clothes and I wear mostly vintage…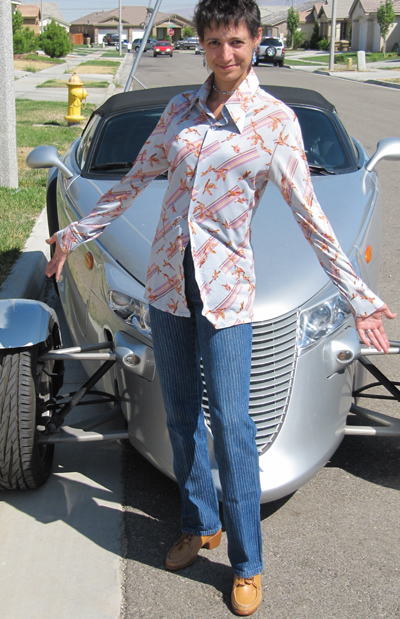 And now that my Etsy store is full of vintage patterns, I can make whatever I want…and modify it properly for a change! I'm not selling that flutter sleeve dress pattern, though. One of these days I'm gonna redo the navy blue dress…the right way!
September 3rd, 2009
It has been awhile since last I blogged. I got a little busy. Being a one-woman show, starting a business can be time-consuming.
Since last I blogged, I've started regularly having a booth at the Santa Clarita Open Air Market (aka The Saugus Swap Meet at the Saugus Speedway).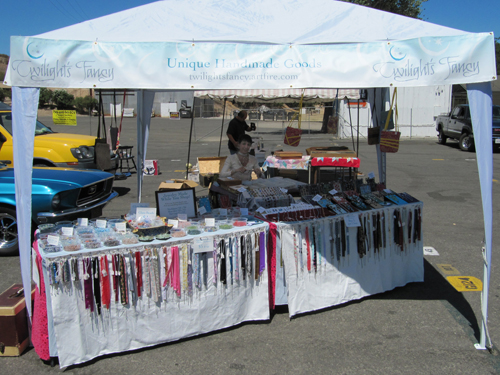 At the moment, I'm there on Saturdays, Sundays and Tuesdays, but I might scale back a little because of another venture I'll get into later in this post.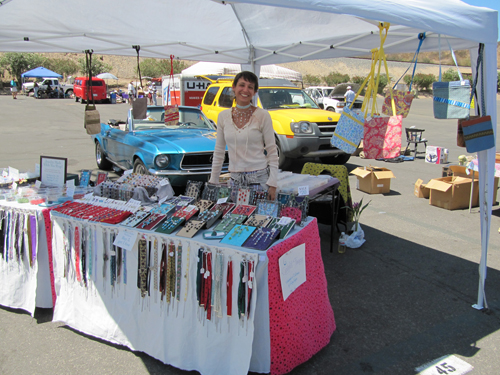 I've been having a great time out there. I'm always looking for deals, so my work is priced accordingly and I've always got stuff on sale just for the fun of it.
Plus, I make jewelry while I tend my booth. You can pick out beads and have me make them into something for you (earrings are only $5!) or I usually bring some from home and fill custom orders while I'm there. I also make ribbon choker necklaces and ribbon bracelets.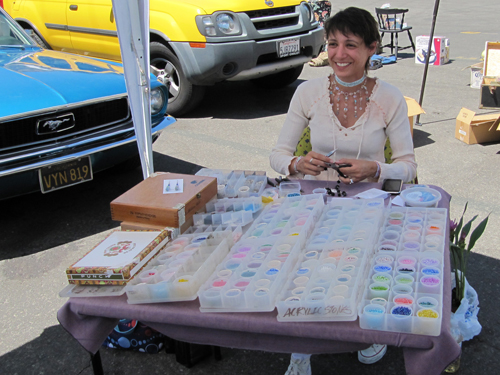 There isn't much I cannot do…one way or another.
Okay, now for the bit I said I'd get to later in this post…
In my Etsy store, I've started listing vintage patterns…mostly from the 60s-80s. See, my closets are full of clothes from those decades, too. There are a lot that I'm just not wearing, so I'm photographing them and also getting them listed at Etsy. If all I'm doing is looking at them, why not take pictures (which are grrrrreat to look at!) and let the clothes move further on their journey?
Don't get me wrong, I still wear mostly vintage: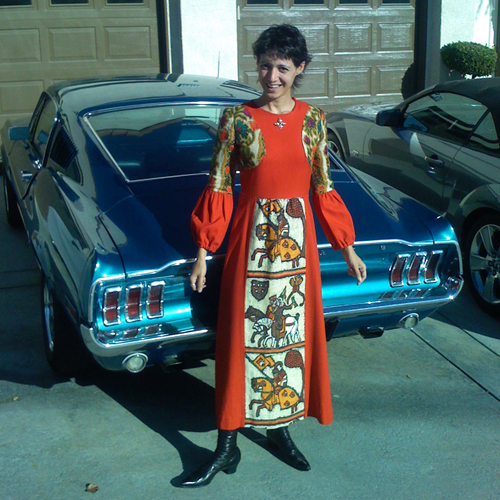 But I've got racks and racks of such great stuff that it'd take me a few years to wear it all if I wore something different every day.
Yeah. I've got a lot of clothing.
And vintage patterns go hand-in-hand with the clothing. I've got about 150 patterns listed and at least 300 more ready to roll. It's just a matter of time. Being a one-woman show, I don't have the army I'd need to get everything posted, but that's okay. It's nice to have something to show for all my hard work.
Plus, since I enjoy vintage clothes so much, seeing the patterns is just as much fun. I've held back a few so that I can make outfits out of them. Some will be out of vintage fabrics and some will be out of later stuff, but all will be fun and well worth the time invested. The plan is to use those as the vacation, the treat, the celebration of things to come.
July 11th, 2009
It's after 1AM and I just gotta get blog. I just gotta. I've gone too long since my last post. There are many really great reasons for that, too, though.
I've been making lots and lots of necklaces, developing new designs, even selling them at swap meets just to do that inevitably fun 'something' with them this time around.
I just got home from a New Kids on The Block concert. They were awesome as always. I even met them ahead of the show. Tonight was my seventh time. Back in the day, I went to 9 concerts, but was never able to meet them. I suppose I'm making up for that now and I'm sooooooooooo glad for it. They were absolutely worth the wait.
Because I'm too lazy when it comes to myself, I use the concerts as incentive/inspiration for me to create more outfits. I haven't even twittered the last few days because I was making a little halter top and pants/skirt. I've never done a halter top before, so that was quite an experience. I didn't even have a pattern I could fudge from. I just had to do it on the fly. The pants were easy, though. Yoga pants. I can whip up a pair of 'em in less than an hour. Then, I draped a quasi-skirt over the top.
Yoga is another thing I've been doing more of. I barely talk about it on my blog here, but I absolutely love yoga and all that it allows me to do and feel and be. Bending, stretching, twisting…and building tons of strength…while really taking control by doing the poses and in turn, they do me, good golly, I wish I could live on my mat.
I built another website. It's not completely finished yet, but it's damn close. Tomorrow, I'll be helping out at a TAPS boot camp. I absolutely love being a TAPS member. Ghosts were people, too. There's no reason to be afraid of them. Yeah, strangeness abounds when they're active, but that's only if you refuse to admit what your senses are telling you. Some of the most interesting people I've met are dead and I plan to meet many, many more.
It seems I've got my hands in a little bit of everything these days and I wouldn't have my life any other way. In fact, just the other day I was telling someone about how even two years later, I still have trouble believing I was paid to drive a Lamborghini Gallardo, a Porsche 911 Turbo and 2 Ferrari F430s. These are the kinds of things that happen in my life and I wouldn't trade them for the world.
However, I really should blog more about them!
Anyhow, a few weeks back, at a swap meet, I scored a composition ball-jointed antique doll body. It needs to be restrung, but so do several of my other dolls–some are even on display smashed between two others so that it's not obvious their arms aren't really attached. Hell, some of them, their heads are just sitting on their bodies. One good earthquake and they come trembling down. Is it wrong for me to find that hilarious?
Anyhow, I wanna blog about restringing. I've never done it before, so I wanna see if I can do it.
My cars need some work, too. I've had the replacement speaker for my Prowler over 2 years now, at least. Plus, I'm finally sick of the manual switch on the fan in my '68 Fastback. Well, it's not really a switch. When I go to drive the car, I have to plug the fan in or it won't turn on at all. Heaven forbid I should leave it on while I'm in yoga class. I'd come out to a dead battery and that would be very, very bad. I've got the proper thermostatic relay switch. I just need to install it. The wiring is already done and everything. I dunno why such a quick job has gotten backed up in my queue.
Over the next few weeks, I'll also be doing a lot of writing. Jen's handed the current few chapters to me. One to rewrite/edit/change, the other to draft. Eternal Talisman is gonna be an amazing book when we're through with it. The characters come alive. They live, they love, they fight, they laugh, they lead very tumultuous lives, but yet somehow they pull it all together and help each other through.
If I can't be back at the New Kids on the Block concert right now, I'd like to be in Talisman Bay. Maybe I'll dream myself there tonight. That would be awesome. Have a wonderful weekend!
June 19th, 2009
I just posted to the Ashleigh Raine blog about how my last two day's worth of work mysteriously went up in file-not-found smoke. Yeah…nice, huh?
So, instead of lamenting, I'm trying to figure out something else I can do to take my mind off of it. I've got a ton of sewing projects, beading projects, even writing projects, but why is it that at this very moment, I can't decide which to do?
Perhaps that's a sign that I should see what I've got that needs repaired. Between antique dolls, vintage clothes and jewelry, I'm certain I can get myself occupied.
I think the worst of the whole ordeal is simply that I lost so much time. Generally, when I put 18+ hours into something, I have something to show for it. Even a completely screwed up, ugly dress…something.
File not found… Not "File messed up", "File misplaced", "File screwed up beyond recognition", "File in hiding" or "File doesn't wanna be worked on at the moment so wait a few hours, days, weeks until it's in a better mood".
File. Not. Found. *sigh*
May 22nd, 2009
Whenever I look out my back window, I just have to see where my tortoise is, what he's up to. Sometimes, he gets himself flipped over and can't get back upright again because he's got a flat spot on his shell, so it's good I'm looking out for him just in case.
And then there are days when I look out, expecting him to be frolicking in the grass or ground cover, but he's not.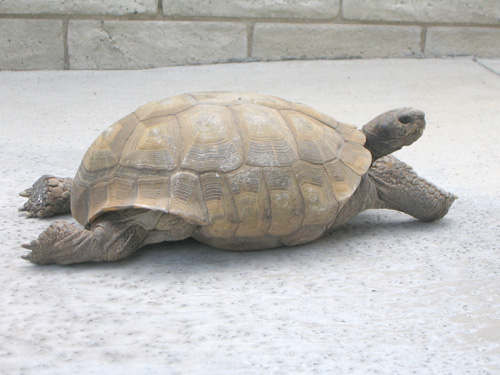 I should caption this "Don't hate me because I'm beautiful!"
May 8th, 2009
My husband and I always joke that we have a moving boulder in our yard. It seems to crop up in all sorts of different places. This morning, there were two boulders where I only remember having one…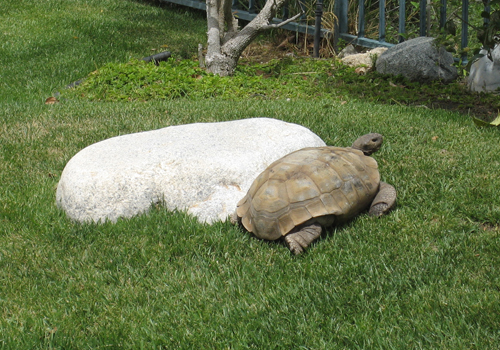 It is so totally Friday and I'm so totally glad for it. Not that my weekend will be laid back in comparison to the week I've had, but there's just something special about Fridays for me.
In celebration, I'm going to go make a bunch more necklaces. Or maybe frolic with my walking boulder…aka Toad. (Yes, my tortoise is named Toad. Thankfully, he's not smart enough to be confused by it.)
April 22nd, 2009
My desert tortoises are contemplating coming out of hibernation, but the weather just hasn't been too cooperative. One day, it's warm enough that my big guy stirs and even comes out of the garage, tanks up on water and starts mowing the lawn. The next, he turns back into a boulder. Poor guy. The little ones have hardly stirred at all.
Awhile back, I read an article about a two-headed tortoise and sent it to my husband. He replied with his own customization: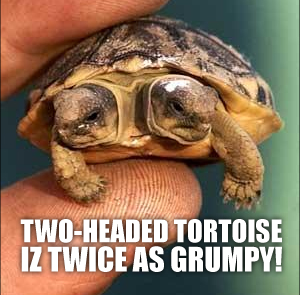 I laughed for awhile. But ultimately, I'm still missing my tortoises.
Fast forward a few months. He was reading an unrelated website and there was a great tortoise pic…which he knew would cheer me up–especially with customization!: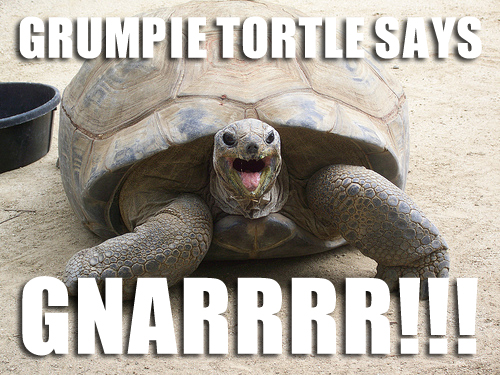 Okay, so he was on the right track.
And today, despite the cold weather, the sun was out and Toad was walking around in the backyard. He didn't have much ground clearance, but he was cruising around. Here's to summer!
April 6th, 2009
Wanna know a little more about me and how I came to be a handmade jewelry artisan?