September 18th, 2009
As I've mentioned in my previous post, I'm not only making beaded jewelry, I'm also back into another of my loves: vintage sewing patterns.
My best friend got married over ten years ago, I'm not sure exactly which year in the late 1990s because that part of my life is kind of a blur, but anyway, I was to be one of her bridesmaids. The dresses would be easy because we all went on a shopping trip and found what we needed. Tons of fun. However, there was still the rehearsal that I seriously did not have a dress for.
This was back in my hardcore theater technician days. I wore all black jeans and t-shirts, all the time because it was easier. I even carried my wrench in my back pocket, flashlight and multi-tool on my belt. I spent more time backstage than I did working on my car or doing homework. I did not own any dresses.
But I love shopping at thrift stores.
And at one of them, there was a vintage sewing pattern for 29 cents. It was for a cute, 1970s full-length dress with little flutter sleeves. It was a size too big for me, but whatever. It was so cheap, it didn't matter.
Oh yeah, did I mention I couldn't afford to buy new clothes? Let alone a dress that was in brand new shape to wear to the rehearsal?
Anyhow, I hit up the discount fabric store and got some floral fabric. It was lightly tie-dyed navy blue with very small pink flowers on vines. I didn't have the money for a long zipper, so I planned to do some kind of front closure. I didn't know how to do button holes on my thrift store sewing machine, so I found some snaps on the sale rack.
From there, I cut out the pattern, didn't adjust it properly to fit or to accommodate the snaps. Whoops!
In order to resurrect the dress, I just went with it and added a tie to the waist to pull it in. Once it was on, no one could tell that I'd screwed up the pattern. At least I couldn't and I got a ton of compliments on that sweet dress.
But then it shrank when I laundered it and since I couldn't wear it anymore, I donated it back to one of the thrift stores I frequented. Sometimes I wish I'd kept it just for the memories.
Now, I still don't buy new clothes and I wear mostly vintage…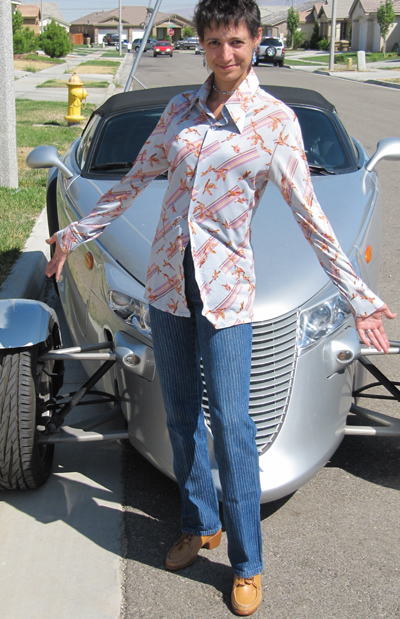 And now that my Etsy store is full of vintage patterns, I can make whatever I want…and modify it properly for a change! I'm not selling that flutter sleeve dress pattern, though. One of these days I'm gonna redo the navy blue dress…the right way!