July 11th, 2009
It's after 1AM and I just gotta get blog. I just gotta. I've gone too long since my last post. There are many really great reasons for that, too, though.
I've been making lots and lots of necklaces, developing new designs, even selling them at swap meets just to do that inevitably fun 'something' with them this time around.
I just got home from a New Kids on The Block concert. They were awesome as always. I even met them ahead of the show. Tonight was my seventh time. Back in the day, I went to 9 concerts, but was never able to meet them. I suppose I'm making up for that now and I'm sooooooooooo glad for it. They were absolutely worth the wait.
Because I'm too lazy when it comes to myself, I use the concerts as incentive/inspiration for me to create more outfits. I haven't even twittered the last few days because I was making a little halter top and pants/skirt. I've never done a halter top before, so that was quite an experience. I didn't even have a pattern I could fudge from. I just had to do it on the fly. The pants were easy, though. Yoga pants. I can whip up a pair of 'em in less than an hour. Then, I draped a quasi-skirt over the top.
Yoga is another thing I've been doing more of. I barely talk about it on my blog here, but I absolutely love yoga and all that it allows me to do and feel and be. Bending, stretching, twisting…and building tons of strength…while really taking control by doing the poses and in turn, they do me, good golly, I wish I could live on my mat.
I built another website. It's not completely finished yet, but it's damn close. Tomorrow, I'll be helping out at a TAPS boot camp. I absolutely love being a TAPS member. Ghosts were people, too. There's no reason to be afraid of them. Yeah, strangeness abounds when they're active, but that's only if you refuse to admit what your senses are telling you. Some of the most interesting people I've met are dead and I plan to meet many, many more.
It seems I've got my hands in a little bit of everything these days and I wouldn't have my life any other way. In fact, just the other day I was telling someone about how even two years later, I still have trouble believing I was paid to drive a Lamborghini Gallardo, a Porsche 911 Turbo and 2 Ferrari F430s. These are the kinds of things that happen in my life and I wouldn't trade them for the world.
However, I really should blog more about them!
Anyhow, a few weeks back, at a swap meet, I scored a composition ball-jointed antique doll body. It needs to be restrung, but so do several of my other dolls–some are even on display smashed between two others so that it's not obvious their arms aren't really attached. Hell, some of them, their heads are just sitting on their bodies. One good earthquake and they come trembling down. Is it wrong for me to find that hilarious?
Anyhow, I wanna blog about restringing. I've never done it before, so I wanna see if I can do it.
My cars need some work, too. I've had the replacement speaker for my Prowler over 2 years now, at least. Plus, I'm finally sick of the manual switch on the fan in my '68 Fastback. Well, it's not really a switch. When I go to drive the car, I have to plug the fan in or it won't turn on at all. Heaven forbid I should leave it on while I'm in yoga class. I'd come out to a dead battery and that would be very, very bad. I've got the proper thermostatic relay switch. I just need to install it. The wiring is already done and everything. I dunno why such a quick job has gotten backed up in my queue.
Over the next few weeks, I'll also be doing a lot of writing. Jen's handed the current few chapters to me. One to rewrite/edit/change, the other to draft. Eternal Talisman is gonna be an amazing book when we're through with it. The characters come alive. They live, they love, they fight, they laugh, they lead very tumultuous lives, but yet somehow they pull it all together and help each other through.
If I can't be back at the New Kids on the Block concert right now, I'd like to be in Talisman Bay. Maybe I'll dream myself there tonight. That would be awesome. Have a wonderful weekend!
April 24th, 2009
Any time there's a malfunctioning part on one of my cars, I like to save it. Sometimes it serves as inspiration, sometimes it just looks cool. Like, to help get over the expensive sadness of the engine I blew up on a very bad day, I kept the fried bearings. They'd gotten so hot, they'd melted. Yeah, molten metal in my engine. I don't ever want that to happen again, so seeing those bearings reminds me to check the oil and all-in-all pay attention to what my engine sounds like.
I even saved the warped and cracked valve out of my convertible '68 Mustang…and the busted exhaust manifold has spent time as a pen holder on my desk although not anymore. It got replaced when I unearthed my Ziggy pen cup from when I was little (It says "Genius at Work" and is likely copyright 1980!).
So, anyway, when my '68 Mustang Convertible was still running rough even after the engine swap, it was time to figure out why. The battery had died a few times, too.
That should've been my first clue. That, plus the dim headlights, flickering interior lights and the general rough ignition problems. The funniest part of the whole thing is how simple of a part it was, but how quietly it broke. It's not the kind of thing that goes Ka-Pow! and suddenly the car stops or makes awful noises.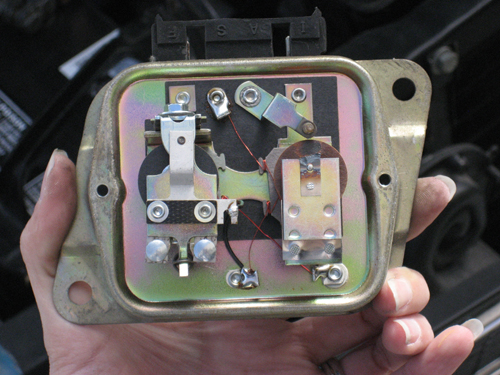 Changing it out was real easy and now it sits on my shelf of odd tidbits…including the busted rocker stud from my husband's '66 Corvette and the interior build sheet from my '68 Mustang fastback, etc.
July 2nd, 2008
Once upon a time, I was driving in my '68 Mustang fastback…just out for a fun drive (gas was still waaaaay cheap back then!). I had a route I used to take which reminded me of a few stretches of road where I grew up and discovered the pleasure of taking the long way home. As I turned the corner, there was a sweet '69 Firebird, hood up, with a hot guy standing there.
I couldn't believe my eyes. It actually took me two blocks of deliberating before I finally said, "Fuck it! I'm going back." I whipped a U-turn at the next opportunity and then whipped another one to pull up behind him.
He was closing up a cell phone as I came to a stop, but he walked toward me, a smile slowly growing across his lips. It seemed like he was trying to figure out whether he knew me.
Nope. We were complete strangers to each other.
I asked, "Do you need help? I've got tools in my trunk."
He replied, "No, it's okay. The car just overheated. I'll be back on the road in a few minutes. No worries. Thanks for stopping, though."
I hid the fact that my world was crushed and continued on my way to nowhere. *sigh*
Fast forward several years and this was the incident that spawned the opening to a novel…which is now finally available at Amazon, Barnes & Noble and Borders.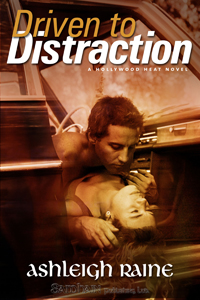 My best friend and I write as Ashleigh Raine and when she decided we should write a novel that takes place in the entertainment industry–but how do we start it?–I knew my little experience was perfect.
Except I get the guy!!!!!!!!!!!!!
We used a bunch of my on-set experiences, including the time I tripped while working on Threat Matrix which spawned a chapter or so. I recall using the base camp and set from one of the times I was on Anchorman. The area for the helicopter stunt was inspired by my night on a music video for 4Mula1 plus a building that served as holding on American Dreams. There were two guys on Ripley's who inspired both Jay and Levi…and the snake incident. One of the precision drivers on Starsky & Hutch also served as inspiration for both Smitty and Cash. The cars in Jay's garage include a few similar to ones I own (Viper and Corvette). And then there were the times I went to stunt driving school…failed the first time, passed the second and got to ride along during an afternoon of drifting which served as further research and inspiration just talking to all those stunt drivers. Oh yeah, and the week I spent being paid to drive four exotic cars which inspired the Ferrari F430 being used as a hero car.
As you can imagine, it was up to me for all the car references as well as the on-set stuff, but Jen played a critical role in it. She was my barometer. Whenever I got too technical, she could chime in with such phrases as "I have no idea what you're talking about here." and I could tone it down for people who don't work on their cars and would likely get lost among the trailers on a typical base camp.
Driven to Distraction has a lot of other stuff inspired by my experiences, but if I were to list them all here, this post would go on forever. And since the book is classified as erotic romance, it's probably better you just go read it. Or at least read some excerpts…
Part of the infamous opening scene inspired by Mr. Hot Firebird: Roadside Attraction
Part of the sex scene inspired by my cars: Garage Rendezvous
Part of a scene inspired by many little friendly races I've had: After Race Romp
Part of the scene using a few locations I've been on: Helicopter Stunt
March 9th, 2008
So this weekend was rather surprising. I'm writing this while experiencing an overwhelming feeling of accomplishment…
My husband and I successfully unhooked the old engine in my '68 Convertible Mustang yesterday. Today, we pulled that engine out and put in a different one.
I am utterly amazed that we did it. Every other time I've tried to do this much work in a weekend, something inevitably either breaks or turns up missing and I have to stop everything and abandon the project for another day or week…or month.
But not this weekend. All went well. Very, very well.
'Course we didn't try to get it ready to start… Perhaps that's when the real shenanigans will take over.
January 4th, 2008
Well, I at least hope to be now that the hubbub of the holidays is over. I've got a stack of Tales to add as well as some odd things–such as the cause of the funky scent in my Prowler during one of my Tales…
First up, as half of the Ashleigh Raine writing team, I'm happy to announce that Lover's Talisman has released from Samhain Publishing as of today. Check it out! Spiffed up and waaaaaaaay sexier, too!
Also, now that I did actually get a miraculous call-back on The Changeling, I've posted the Tale. This is a very large budget movie starring Angelina Jolie and directed by Clint Eastwood. It was hard not to be fangirl and even harder to believe that yes, I was on a movie set with Angelina Jolie and Clint Eastwood. OMG! I still get all giddy when I think about it!
2007 was a year for that. I mean, I got paid to drive and evaluate Ferraris, Maseratis and OMG, I just realised I didn't actually post that entry! Doing it now! Click here!
January 4th, 2008
Seriously, I accepted money for test driving these cars!!! It was a tough job, but somebody had to do it.
Ferrari F430 Coupe, Porsche 911 Turbo, Lamborghini Gallardo and a Ferrari F430 Spider. And yes, Spider is spelled with an 'i' for this car. We looked it up on the Owner's Manual because we were curious.
This gig happened for a little over a week in July 2007 and I wouldn't trade it for the world. I got up at 1:45AM every day, got to work by 3:50 (I live about an hour from the shop) and was driving out the door at 4:00AM. On the mornings when I had trouble dragging myself out the door, I'd wonder why I tortured myself getting up so early and driving so far. Then, the door would roll up and the cars were sitting there and we'd all give each other that 'pinch me, 'cause I MUST be dreaming' look.
I'll admit, though, that driving for 8 hours in any car isn't fun for some people, but I love it. I also love that it was my job to press every button, turn every knob and then write out my findings, my preferences, my suggestions for improvement.
Told ya it was a tough job, but someone had to do it!
They're all so freakin' sexy–except the 911. Sorry Porsche people, but I'm just not a 911 girl. I wanted to like the car, but I just couldn't find anything about it that turned me on. Nothing. Well, the cup-holders were pretty bitchin'. They fold up and stow away when not in use. That's all I liked about the car.
I liked the Gallardo. It had some eccentricities, but I liked it.
I loved the Ferraris. OMG did I love them. Everything about them. They could've had more torque, but I'm used to driving my Viper, so I expected the Ferrari to be lacking in that regard. The sound, the paddle shifting, the steering, ohhhh… I'm getting all orgasmic just thinking about those cars!
It's been months and I still only barely believe I got to drive those cars. If it weren't for the pictures and all the notes I'd scribbled for the job, I don't think I'd really believe I was fortunate enough to have done the job.
December 11th, 2007
I'll admit the car was down for a few months, but it was in the garage. The windows were down, too, but when I started driving it again, yikes! it smelled funky. I can't even really describe the scent… Maybe like boiled sweat. I've never smelled anything like it. Not putrescent, but certainly not a pleasure to inhale–especially in a car with such a small passenger compartment.
But it didn't keep the car from running, so I drove it anyway–windows down, of course. LA weather's good for that.
I was fortunate enough to get a week's worth of work on The Changeling and that car is one of my favorites to drive on studio lots, so on the Monday, I kept the windows down until I got there and all was well, but funky smelling.
On Tuesday, as I was tossing my stuff in the car before heading out, I just by chance happened to look behind the driver's seat. I found the cause of the funky smell, but didn't have time to deal with it. I mean, I didn't know how long it had been there and didn't want it to either come apart in my hand or drip something icky that I'd need to clean off the upholstery right away. I'd need to take precaution. The only immediate thing I felt I needed to do was take pictures!
So, I drove to the studio that day knowing what was stinking up my car and I wished I'd taken care of it because it was kinda disconcerting for it to be there, me knowing it but not doing anything about it. Until I got home.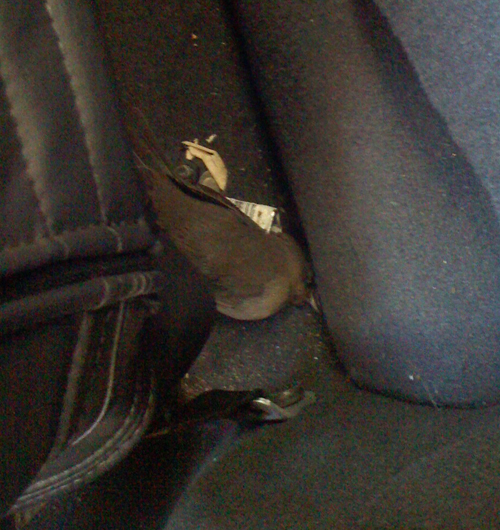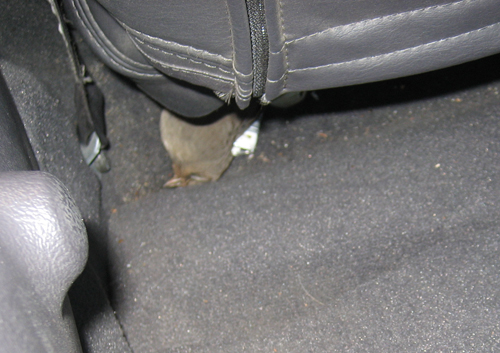 Yes, there was a dead bird in my Prowler…and it had probably been there for months! I still every now and then chuckle and utter, "There was a dead bird in my car." I have no idea how it got there, either. I mean, yeah, the windows were down, but they're pretty small on that car. And the car was in the garage, too!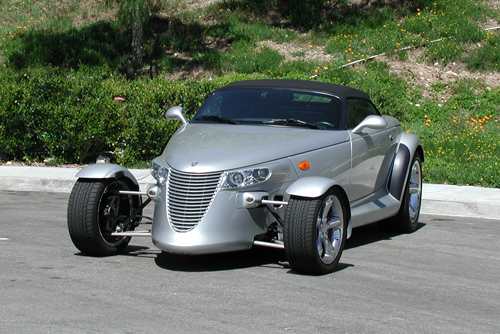 I've yet to name the poor tweety, but it is now the patron saint of my garage. I'll mount him on a plaque or something soon, but right now, he's resting by the door, watching over my cars. Poor little thing. Completely mummified, too.
December 2nd, 2007
I went to the LA AutoShow. Honestly, new cars don't really thrill me all that much, so it's a pretty quick show for me. I got to relive the exhilaration of the F430s I got to drive over the summer and now that it has been shown, I can mention that I got to drive the Maserati Gran Turismo, too. So, when I saw it at the show, I convinced the gal to let me into the booth so I could show my husband the car I'd thought was so nifty. I think my husband would still rather have an Astin. I can't say which I'd rather have because I haven't driven the Astin yet…but oh, how I want to.
Of course, I also stopped by the Lotus booth… I love the Elise. Someday, I will definitely own one. Absolutely. It's not the fastest car on the planet, but it's unique, sporty and little: Just like me.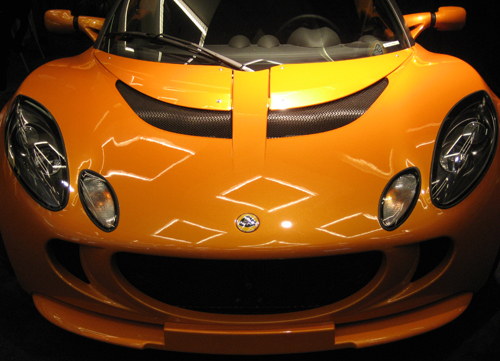 I'm gonna get me one of them thar cute little cars… I love 'em!
The other highlight of the show for me was the '08 Viper. I wanted to see what the new metallic green looked like in person and oh hell yeah, that's my color for the car.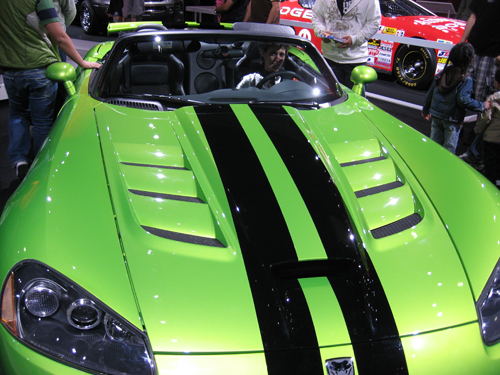 However, the single most important thing I did at the show was get in the car and ram the seat forward to see if I could easily get the clutch all the way in without sitting on a pillow, without platform shoes, etc.
YES!!!!!!!!!!!!!!!!!! See how much distance there is behind the seat? I know it screws up the aesthetics, but darn it all, I'm a little girl, so I'm forced to go to drastic measures to drive a big man's car. I really don't care how silly it looks as long as the car go, go, goes!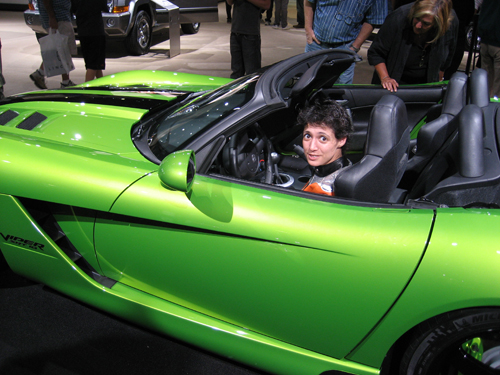 I'm sure I'll be getting a green Viper at some point, too. I'll likely swap my '03 for it as soon as I can. It's about time Dodge put an interesting color on the Viper.
July 16th, 2007
In June, I went to a Mustang Cruise put together by some of the guys on the boards at mustangforums.com. When I got there, I felt pretty out of place. I had one of maybe 3 or 4 classics. Everyone else had late models.
Don't get me wrong, I had a great time and talked to some very interesting people, but I could hardly relate. Yeah, I've got an '06 GT, but not only is it stock, I'd driven my '68 fastback that day. To me, it's way more interesting than the late model. Ah well. I was gonna go to another, but they were having it the same weekend as Comic Con and when they called, I was on the road out of town so I had to miss it.
A few days after this cruise, some of the guys were nice enough to post pictures. I saved a couple that were either of my car or included my car in the background while we were on the road. Unfortunately, I somehow didn't save who actually took the pics. One has the guy's info on it. The others said we could snag their pics, so I'm considering that permission for posting 'em here. There were over 160 cars on the cruise, too. It was awesome.
You can barely see me in the driver seat. Oh boy! And this next one, I was likely yacking with somebody about my jalopy. No surprises there, either.
Even though these last two pics are about the same, I like how the photographer below happened to catch a late model driving by. I don't know if that was intentional, but I think the pic looks cool because of it.
 Special thanks to everyone who was there. I hope to do another one!
April 8th, 2007
While hunting for something completely unrelated, I stumbled upon a stack of photographs that I'd assumed were lost long ago when I moved. Some of them are worth posting… Like this one:
This was taken on Van Nuys Blvd. during the Millenium Car Show in 2000. I don't remember who took this photo of me, but I'm glad he gave me a copy. This was taken back when I used to enter my car in shows. I've won one trophy and that's all I need.
I did not win anything at this show, but that's beside the point. It's just fun to be there. Plus, mine's a driver. It's not always spotlessly perfect. I haven't put my car in a show since this one because my car got damaged in a small hit and run a few months after this pic was taken and I still haven't fixed it. Lazy, I know, I know, but it has taken this many years to make it worth redoing the whole car and to finally get over my bad luck from that wreck.
I was thinking this might be the year I redo the car again, but I'm having second thoughts. I need to replace a lot of panels, so I think it might take me another year before I start sanding.