December 11th, 2007
I'll admit the car was down for a few months, but it was in the garage. The windows were down, too, but when I started driving it again, yikes! it smelled funky. I can't even really describe the scent… Maybe like boiled sweat. I've never smelled anything like it. Not putrescent, but certainly not a pleasure to inhale–especially in a car with such a small passenger compartment.
But it didn't keep the car from running, so I drove it anyway–windows down, of course. LA weather's good for that.
I was fortunate enough to get a week's worth of work on The Changeling and that car is one of my favorites to drive on studio lots, so on the Monday, I kept the windows down until I got there and all was well, but funky smelling.
On Tuesday, as I was tossing my stuff in the car before heading out, I just by chance happened to look behind the driver's seat. I found the cause of the funky smell, but didn't have time to deal with it. I mean, I didn't know how long it had been there and didn't want it to either come apart in my hand or drip something icky that I'd need to clean off the upholstery right away. I'd need to take precaution. The only immediate thing I felt I needed to do was take pictures!
So, I drove to the studio that day knowing what was stinking up my car and I wished I'd taken care of it because it was kinda disconcerting for it to be there, me knowing it but not doing anything about it. Until I got home.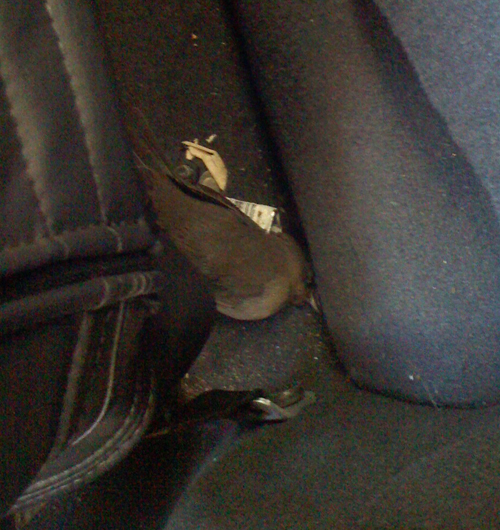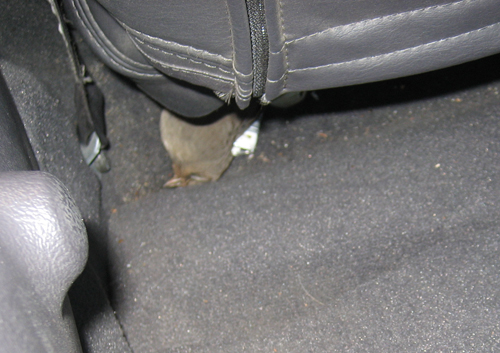 Yes, there was a dead bird in my Prowler…and it had probably been there for months! I still every now and then chuckle and utter, "There was a dead bird in my car." I have no idea how it got there, either. I mean, yeah, the windows were down, but they're pretty small on that car. And the car was in the garage, too!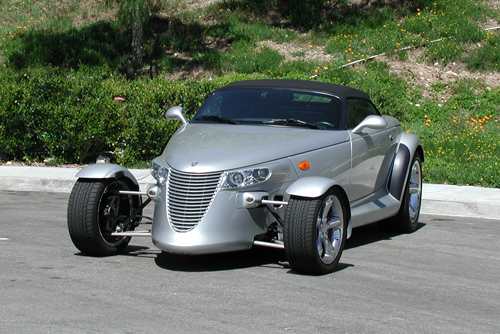 I've yet to name the poor tweety, but it is now the patron saint of my garage. I'll mount him on a plaque or something soon, but right now, he's resting by the door, watching over my cars. Poor little thing. Completely mummified, too.
2 Responses to "The Funky Smell In My Prowler"
ashleighraine.com » Blog Archive » The Changeling (3) Says:
January 12th, 2008 at 4:18 pm

[…] So, I drove to the studio lot knowing the funky smell the car had had for the past few months was a dead bird. Ew. All I could think about the whole time was that there was a dead bird going for yet another ride in the car. It'd probably been in there for a few hundred miles around town at least. Click here for the whole story on the poor birdy…and pictures! […]

ashleighraine.com » Blog Archive » The Changeling (4) Says:
January 12th, 2008 at 4:19 pm

[…] was spent in holding. Tuesday was utterly amazingly awesome despite the dead bird. […]
Leave a Reply
You must be logged in to post a comment.