July 11th, 2003
I was on Anchorman about 9 times from July to September 2003. I didn't write much about each shoot at the time.
The highlights were seeing Vince Vaughn (who's really tall and quite handsome in person) rehearsing his lines while standing about two feet from my car. And spending an entire day scribbling down notes for Driven To Distraction and Forsaken Talisman while lounging in the back seat of my car because I wasn't being used much. And driving my husband's '66 Corvette convertible while wearing a pink herringbone polyester pantsuit, but that shot didn't make it into either the movie or the deleted scenes.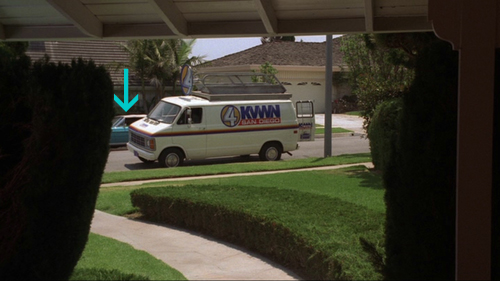 The following is an excerpt from an email I'd sent after seeing the movie:
I saw Anchorman today… Hmmm… Out of a 9 week shooting schedule where I was there 9 days, of the exterior shots, only two of them were actually in the movie. I'm thinking that during reshoots, they must have reshot half the movie or something. Even if I wasn't in frame, I should've recognized more of the shots. Very strange…
My car did get a blip of camera time, though…the exact same blip that's in the theatrical trailer. My Mustang fastback is parked out front of the bar and takes up about three quarters of the screen. Kinda odd that that was the only time one of my cars was in frame. Hopefully, the DVD will have tons of deleted scenes. There's still hope for me yet!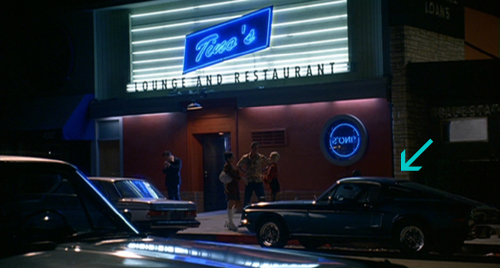 Hell, I might as well talk about that one night where my car was parked outside the bar. I know that last year, I didn't write it up. That was a little bit before I started doing these Tales.
Anyhow, that night was a Second Unit gig during one of the last weeks of filming. Absolute cake of an evening. I showed up at the location, waited around until it started to get dark. Then, we got in our cars and drove essentially about a half block, parked and walked away.
At some point after the cars were parked, we broke for lunch…errr…dinner, but they still call it lunch even when it's about 8 or 9PM.
After that, I hung out in the real bar that they were using the exterior of. It was open for business that night. Mind you, the neighborhood wasn't the nicest and I felt kinda odd when a guy started picking up on me despite my wedding ring. So, I looked for the biggest crew guy I could find. His name was Tim, he was 6'5″ or so and somewhere around 300 pounds. A cool transpo guy. He'd driven me back to the set after lunch. On all the big shows, they've got shuttle vans even when the set is less than a block from base camp.
Anyhow, I just ran right up to him, gave him a big hug and told him I might've left something in his van. He looked at me kinda odd and I whispered, "Weird guy picking up on me" and started leading Tim out the door. He followed with a chuckle.
Once we were outside, he inquired about the weirdo like he'd get down to business if I needed him to, but I told him it wasn't really necessary. The weirdo was a little tipsy and it was easier to just stay out of the bar for the rest of the night. So, I hung out with Tim and one of the costumers. Oddly enough, the costumer guy was smoking a Cuban cigar. I'd thought it somewhat of a waste to be smoking a Cuban on set, but he replied something like, "Nothing is ever a waste. Life is to be enjoyed."
So, there I sat on the curb, talking philosophy, cars (and stuff I don't even remember anymore) at about 1AM, between Tim and a big tattooed costumer who was smoking a Cuban cigar while my pride and joy '68 Mustang fastback was getting her big break in the movies.
Life's weird that way. And that's just the way I like it!
Bonus shots:
This was the night that us background people were sort of filling out the scene. The cars coming toward the camera were all stunt and precision drivers. The cars going away…well, I was in that group.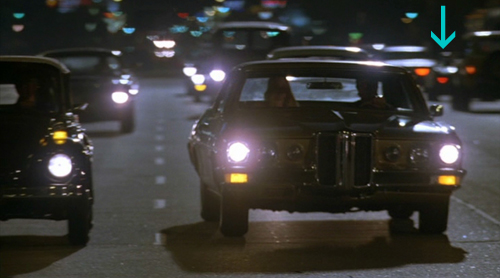 I found this next one in the deleted scenes. This day was a little odd in that I was at the very tail end of the costume line somehow and all of the other car background people had not only gone through the line, but had gotten in their cars and gone to the set. I'd gotten completely left behind, so I followed one of the shuttle vans.
When I arrived, they'd started rolling, so I got in line to drive through because I wasn't brazen enough to go and just park my car in the scene. I knew I'd get yelled at for driving through because my car was so loud, but I also felt I was there to do a job, so I went on through. The AD, predictably, told me to park it…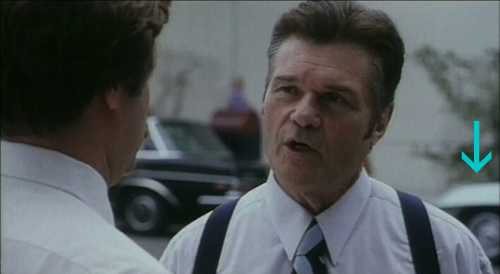 And for this last one, there's a little more story involved. My '68 Mustang Fastback is actually hidden even though it's in frame. The arrow is pointing to me! I can't believe I made it into the movie after all!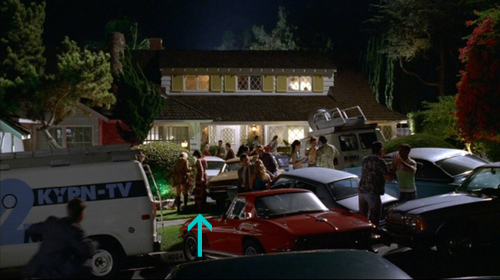 However… This shoot ended at about 2AM and I was pretty tired. I stayed in my disco dress and left my hair and make-up done. Why should I care what I looked like? I was only going home…
So, I was driving a little fast on the wide-open freeway that night. So, I weaved through a little bit of traffic, too. I just wanted to get home and go to bed…But of course, at that time of morning, the cops see speed and weaving and assume the driver's drunk.
I got pulled over, but not ticketed…I showed him my paperwork from the set to verify that I was just heading home from a period movie and he really didn't looked fazed at all. Even though my disco dress is loud, I'd imagine he'd pulled over much crazier people in weirder outfits. All turned out well and I crept home nice and slowly.