July 2nd, 2008
Once upon a time, I was driving in my '68 Mustang fastback…just out for a fun drive (gas was still waaaaay cheap back then!). I had a route I used to take which reminded me of a few stretches of road where I grew up and discovered the pleasure of taking the long way home. As I turned the corner, there was a sweet '69 Firebird, hood up, with a hot guy standing there.
I couldn't believe my eyes. It actually took me two blocks of deliberating before I finally said, "Fuck it! I'm going back." I whipped a U-turn at the next opportunity and then whipped another one to pull up behind him.
He was closing up a cell phone as I came to a stop, but he walked toward me, a smile slowly growing across his lips. It seemed like he was trying to figure out whether he knew me.
Nope. We were complete strangers to each other.
I asked, "Do you need help? I've got tools in my trunk."
He replied, "No, it's okay. The car just overheated. I'll be back on the road in a few minutes. No worries. Thanks for stopping, though."
I hid the fact that my world was crushed and continued on my way to nowhere. *sigh*
Fast forward several years and this was the incident that spawned the opening to a novel…which is now finally available at Amazon, Barnes & Noble and Borders.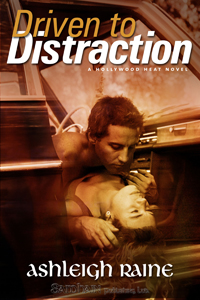 My best friend and I write as Ashleigh Raine and when she decided we should write a novel that takes place in the entertainment industry–but how do we start it?–I knew my little experience was perfect.
Except I get the guy!!!!!!!!!!!!!
We used a bunch of my on-set experiences, including the time I tripped while working on Threat Matrix which spawned a chapter or so. I recall using the base camp and set from one of the times I was on Anchorman. The area for the helicopter stunt was inspired by my night on a music video for 4Mula1 plus a building that served as holding on American Dreams. There were two guys on Ripley's who inspired both Jay and Levi…and the snake incident. One of the precision drivers on Starsky & Hutch also served as inspiration for both Smitty and Cash. The cars in Jay's garage include a few similar to ones I own (Viper and Corvette). And then there were the times I went to stunt driving school…failed the first time, passed the second and got to ride along during an afternoon of drifting which served as further research and inspiration just talking to all those stunt drivers. Oh yeah, and the week I spent being paid to drive four exotic cars which inspired the Ferrari F430 being used as a hero car.
As you can imagine, it was up to me for all the car references as well as the on-set stuff, but Jen played a critical role in it. She was my barometer. Whenever I got too technical, she could chime in with such phrases as "I have no idea what you're talking about here." and I could tone it down for people who don't work on their cars and would likely get lost among the trailers on a typical base camp.
Driven to Distraction has a lot of other stuff inspired by my experiences, but if I were to list them all here, this post would go on forever. And since the book is classified as erotic romance, it's probably better you just go read it. Or at least read some excerpts…
Part of the infamous opening scene inspired by Mr. Hot Firebird: Roadside Attraction
Part of the sex scene inspired by my cars: Garage Rendezvous
Part of a scene inspired by many little friendly races I've had: After Race Romp
Part of the scene using a few locations I've been on: Helicopter Stunt