February 28th, 2008
I know I haven't directly mentioned it on my blog–and I'm actually kinda surprised by that–but I've always believed in ghosts. Ever since I was a little girl. My earliest ghost-related memory is when I was about 6 years old, maybe, but that was just the biggest memory. The earlier ones are smaller, somewhat less significant as far as actual concrete instances. Their only significance is that they happened and a conclusion can be drawn from them collectively.
Anyhow, I have always been interested in paranormal activity and always believed that I'm psychic (might wanna get out the jacket and prep the padded room for me). So, when a friend of mine asked if I wanted to go to a ghost hunt on the Queen Mary, I did not hesitate.
But wait. Before I get to that, let me give a little general back story. I'll add more later in the form of experiences.
When I was little, I used my psychic ability to have 'friends' if you will. They were not imaginary. They came and went. My grandfather died shortly before my fifth birthday. He was the most awesomest grandpa on the planet if I do say so myself. Yes, I still remember him even though I was so young. That's how awesome he was. He cared about everyone and had tons of energy. Anyway, after he passed away, it seemed as though he never really left me. No matter where I was, I could call him and he'd be there if I needed him–even if I didn't, sometimes he showed up, too! As I got older, he faded somewhat, but he still stops by from time to time. He came from a very big family, so he's got a lot of people to look in on.
As I got older, I started to sense more clearly. Yeah, grandpa was around, but so were a lot of other people I didn't know. Some wanted to talk, some didn't. Some were confused, some weren't.
Then, I started working in theatres.
Every theatre has a ghost. I swear it. Usually more than one, but there's always at least one that's active. As you can imagine, for someone as sensitive as I am, spending a lot of long hours in the dark can get pretty creepy. There were times I was working late at night, behind locked doors, heard things, saw things, etc. I started to explore some of it as well as researching. If you read my novel, Otherness: Rift, I incorporated a lot of personal paranormal experiences to suit the story. But, after all the time spent in theatres, I started to become too sensitive. Too many ghosts were trying to communicate with me.
I had to find a way of turning it off.
It can't be. I've tried. All I can do is ignore it. But I can always tell when I walk into a haunted building or room or if a ghost arrives in the room where I am. It's just another weird thing about me. I don't talk about it much. I'm weird enough already! I don't need to start yammering about my ghost experiences, too.
Okay, well, maybe that's true, but not entirely. This whole post has come about because of the ghost hunt I mentioned in the first few paragraphs. And because of the ghost hunt, I'm back to my old ways, back to allowing myself to use a higher sensitivity and all the craziness that comes with it. Yes, my time on the Queen Mary, listening to lectures and sitting in the dark with people with K-II meters and voice recorders has inspired me to embrace my …uh… "gift" once again. I'm not crazy. I'm just psychic.
I didn't get pictures of everyone involved. I didn't know what to expect, so this time was sort of practice for future hunts. The event was put on by David Schrader and Tim Dennis of DarknessRadio.com. And I've been essentially living under a rock for the last decade or so because I have not watched television. I do not have cable. The only television I see is on DVD or if I'm at my writing partner's (Jen) house and she just 'has' to show me something.
I have not seen Ghost Hunters, Dead Famous or Haunting Evidence. But these were the guys headlining the event on the Queen Mary. I knew who the people were (well, I'd heard of them at least), but I hadn't watched their shows except for a couple episodes of Ghost Hunters because Jen has a thing for Grant Wilson and ghosts, too for that matter! I went into the event knowing there'd be lectures as well as a 4 hour ghost hunt.
I had the time of my life. In fact, it was sort of life changing…well, life restoring for me. I got to be in a room with a few hundred other people who believe in the paranormal and don't think I'm crazy when I share my experiences. To me, that's freakin' awesome.
The folder of pictures I took during those few days is a bit daunting to look through. I didn't get any photographic evidence of anything, but I did want to share a few here on my blog. So, without further yammering, here's Denise and I with Grant and Jason.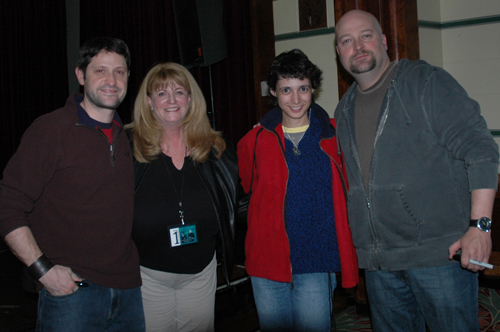 This next one has a little story attached to it. Earlier in the day, David was about to announce the next speaker when he got a call on his cell phone. It was Patrick Burns, asking if anyone had a Nikon camera with them. Well, I did, so I raised my hand and he put me in touch with Patrick. Apparently, something bad had happened to his lens and he needed to take some IR photos for some lovely ladies who'd won an auction for a photo session with him and the ship. We determined that I had the same camera as he did, so I walked down there and handed over my lens. He brought it back about an hour later. The following picture was taken through that very same lens! He thanked me profusely as you can tell. He's a really great guy. Really, really super awesome.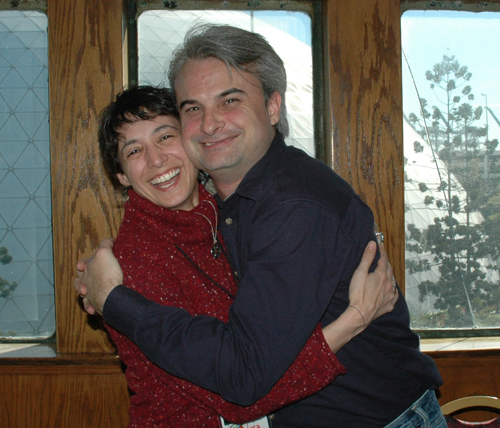 The whole experience is still sinking in. Honestly, though, even without a whole lot of physical activity, the responses on the K-II meter and what I learned in the lectures and people I met were awesome. I'll definitely do another one of these. My new K-II meter is probably being shipped as I write this, too! I'm looking forward to reviewing all of the HD video footage I took, too. I didn't know it until about 10 minutes before the hunt, but my camera has night vision! I was so stoked to see what I'd get. If I got anything good, I'll post it, I promise.
November 15th, 2007
I spend much of my time gazing off into space above my computer screen. When my eyes focus, they read the spines of several books, so I figured why not spend a few minutes and open up a Shelfari account. Plus, if I have them all up there and need to refresh my memory about whether or not I have a particular book, I can just do a search of my Shelfari shelf to find out if I should waste my time digging or just buy a new copy.
It's kind of a fun way to get to know people, too. It's like whenever I'm at someone's house and I find myself next to a bookshelf, I gotta read what's there just to see what kind of stuff the person's interested in.
Right now, all I have are books that I've written whether solo or as Ashleigh Raine and about a quarter of the ones I can see over my computer screen. It's the non-fiction section, but I suppose that does say a lot about my interests since I read more non-fiction than anything else. Mostly Medieval and Celtic, too… I couldn't see all the ghost story books or the tarot and divination ones. Also, the books are double-deep. It's gonna be awhile before I get everything posted.
I'm actually surprised how fun it was. I suppose as I dig through the mountain and realize just how monumental an undertaking it really is, I'll change my mind on all that supposed fun. But hey, in the mean time, it brings me joy, so why not?
November 6th, 2007
So, I had this wonderful blog post all thought out and ready to go. I'd noodled out some notes and everything. Now, I can't find my notes and while that normally wouldn't be much of a problem, apparently with this particular post, I did one of those open-cranium, bleed-thoughts, promptly-forget-everything-because-it's-all-on-the-napkin sort of things.
I betcha it was sheer brilliance on that napkin. Uh huh. Oh yeah. And then I probably used it to wipe up after lunch. Nice.
But I'm sure that happens to everyone, so I'll do my best to get on with what I was going to post about…well, some of it, anyway.
The main part of the post was going to be a little more on Leeloo and the can-can dress I made. But, while I snapped a few shots of the stockings I was going to describe, I didn't actually upload them, so there's nothing I can do about that part of the post. I'm not using the computer right now where those currently reside, so the Leeloo stockings are just gonna hafta wait a little bit.
Another part of the post is about yoga. I'd gotten busy and had gone to maybe three classes over the last five months where generally, I go to three or four classes per week–sometimes more. But yesterday, I realized I had some time to spare and was coincidentally wondering where one of my favorite teachers went after she left the studio I'd been going to… So I Googled her name.
And discovered that she'd opened her own studio about five minutes from my house!!!!!! Yippie yippie yay!!!! And I love the name of it: Just Breathe Yoga Studio. Part of my joy toward the name comes from the Drew Barrymore movie Ever After which I so adore. Danielle says, "Just breathe" when she arrives at the masque and that line has stuck with me. The rest of the joy comes from what is actually going through my mind while I'm in handstand or candlestick or some days even triangle or warrior 2. It's amazing how just about anything gets easier when you Just Breathe.
So, I'm back in regular yoga practice and feeling better already.
The rest of the post was about something sort of odd that I've always wanted to do, but I'm almost afraid to admit the real numbers… I've started photographing my entire wardrobe and am posting the images to Flickr so that it's searchable when I'm mid-bargain-hunting and can't remember whether my pair of 80s, pointy black pumps are leather or suede. Recently, I've found great deals at thrift stores and then once I got them home, had to immediately re-donate because I already own something similar to what I bought.
Through this inventorying process, I also end up with total amounts of things I have and I'm not sure if that's a good thing or not. For instance, I now know I own 105 purses. And while when I'm trying to find one to match an outfit, I feel like that's too few and I never have quite the right one, I also know that that's a lot of freakin' purses, so I'm gonna hafta cull. The hard part is figuring out where to start.
Now, I'm going to make myself another cup of tea–probably some sort of oolong–and ponder which of my 257 pairs of shoes needs to be re-donated. I know, I know, that's a lot of freakin' shoes, too, but the scary thing is that the only ones that I seem to have collected similar pairs of are rubber-soled, beige leather, lace-up shoes from the 70s. I have 5 that are similar. WTF?!?!?! I would've expected to see more black flats from the 80s, but I've only got 3 of those. The rest are reasonably unique and therefore difficult to part with.
I've only just begun photographing garments. I'm sure I'll post highlights here as I get up the nerve. Some I own solely to amaze and astound guests when they come over for parties. Seriously. Friends request certain outfits sometimes…and New Year's has been legendary because I change outfits several times throughout the event. Other than Halloween, there are very few times I can wear a pink herringbone polyester pantsuit or white M.C. Hammer pants with a matching half-shirt. And even fewer times those outfits would be requested of me. But I have them. And I'm not afraid to wear them.
In fact, just the other day I wore a gray and beige large herringbone, polyester pantsuit–complete with one of the largest butterfly collars I own!–to the grocery store with Jason. I'm not convinced he was amused by my outfit, but he was definitely amused by the odd looks I was getting. I, of course, remained oblivious.
October 19th, 2007
I'm not a coffee drinker. Sorry, don't pelt me with rotten fruit. I just don't like the way coffee tastes.
And would you believe I still get chided for not knowing that 'coffee cake' does not have a lick of coffee in it because I'd avoided it simply because of its name? Yeah, I was 27 when I learned that coffee cake doesn't necessarily have coffee in it. You see, I sooooo dislike the taste of coffee that I was unwilling to take a chance on something with coffee as part of its name. I just don't like the taste of coffee.
I'm still wary of the stuff.
It's no secret that I'm a weirdo and my dislike of coffee is certainly a contributing factor. I like the way coffee smells, just not the way it tastes.
So it's a damn good thing I fell in love with tea in high school.
At first, I mooched off Mom's Lipton. Then I learned there was more than one brand in restaurants and they taste a little different from Lipton, but pretty close. Then a boyfriend of mine introduced me to oolong…but I thought it was a little weird. I drank it, but I still preferred that Lipton kind of taste.
Then, tea played a little role in the 11-day courtship following meeting my husband. He's a coffee drinker, but he likes tea as well. That was one of the things we talked about on our first date, actually. Tea. And that Lipton had made a cold brew version for iced tea. The day after our date, I mailed him some…just 'cause I like him. I knew he was 'the one' for me from the getgo and I somehow knew he'd appreciate the gesture. He did…I got a phone call from him shortly after. Yay!!
Since then, we've visited the Chinatown here in LA. We'd wandered into Ten Ren Tea and a whole new world of teas opened up and swallowed me! I couldn't get enough. I discovered that the reason teas taste different is because there are different types and processes and growing regions and estates. I surfed the web for more and more and more and more information.
Until I got bored reading about it all and decided that I just wanna drink the stuff. I tend toward oolongs and greens, but love a good black tea now and then. I like varietals and single origins, but don't infuse 'em with them fruits and berries or any other non-tea leaf. Nope, not for me. I'm apparently a purist.
I've since discovered Wing Hop Fung for teas as well. They've got a huge variety and they give free samples. Plus, if you want to try one, they'll brew it up right there and see if you like it enough to buy.
A few months back, they gave me a little sample of a mystery tea. It was in a little green pouch and while there was no Chinese on it, there was also no English…just a number. Hmmm… A whole day went by until the curiosity was unbearable. I brewed it up and good golly, I was hooked on this mysterious 1222 and had to go get more.
Next time I was there, I brought the pouch with me so I wouldn't forget the number and hunted through the aisles of huge glass jars until I found the number I was looking for. But that couldn't be right… The tea I loved couldn't possibly have ginseng in it. Ginseng tastes horrible. Every time I try a ginseng tea, I wanna gag. How could the mystery tea I loved so much be infused–with ginseng no less–and still taste good? It must've been a mistake. I pulled off the lid and sniffed. That was the stuff all right. So I got a quarter pound of it and am enjoying it even as I write this post. Yum.
In Second Life, my avatar, Twyla Briggs, drinks it non-stop. I even modified the script so she'd sip more often than every 15 seconds. I can't help it. I love the stuff. I love the way it tastes and wish I could drink it all the time.
I've turned into such a tea snob. I'll drink that cheap-o, thrift-o, get-it-anywhere-snore Lipton because it's still tea and I still love it, but I've come to prefer loose leaf teas. Their flavor is much brighter. I bring my own (sometimes including my self-warming pot because hotel coffee makers flavor the water too much) when I go on vacation. And since there's almost always hot water available when I'm on movie sets, I bring my own there as well.
So, there you have it. My one vice. I don't drink, smoke or do any kind of drugs…except snooty, caffeinated teas. Just another of my eccentricities. In fact, I think it's my most expensive! Well, as far as food or drink is concerned…
October 15th, 2007
You've read my views on Malcolm Reynolds and Captain Jack Harkness. Now, let me introduce you to my favorite character of all time.
Methos from Highlander.
I know I'm not alone in loving Methos. In fact, I don't know of anyone who isn't intrigued by him. Sure, I love Duncan, too, but he's too good guy heroic—almost predictable to me. It does add to Methos's appeal that he's onscreen with Duncan, though. They juxtapose and yet compliment each other very, very well. I think without Duncan, Methos might not have been so intriguing. Plus, I find Peter Wingfield incredibly attractive, but there's nothing new there. All my favorite characters are hot one way or another to me.
He's not really a good guy. Not that he's a dickhead, though. He's sharp and such, but not an asshole. Part of that is because he's not a leader. Like, at all. Like, not by any stretch of the imagination. He's not even a hero. He has heroic moments, but he's far from a true hero. When there's danger, he's more inclined to run away from it rather than into the fray like Duncan does.
Why would that make him my favorite character of all time?
Many reasons, but the one coming to mind right now is that when I see a guy coming at me with a sword ready to slice my head off, I'm more inclined to run away than stay and fight, too.
That makes Methos human. He has been alive for five thousand years and doesn't want to die. He wants to keep on living. That means that life really is worth living. No matter how many guys come at him wanting to kill him, he doesn't give up. He does everything he can to keep his head attached to his body.
He's been bad (one of the Four Horsemen of the Apocalypse, no less) but he's changed for the better. That gives me hope that people can change at any time…as long as they truly want to. All this stuff is fascinating to me.
But beyond those character traits, the man is five thousand years old. He's lived through the history I read about in books. I geek on that stuff. I really do. What I wouldn't give for a glimpse into some of the times Methos has seen. I mean, if I could sit down and just chat with him about things that happened centuries, millennia ago…what a pleasure! And he seems to enjoy talking about that stuff.
He doesn't keep much hidden at all really. Sure, he didn't tell Duncan about the Four Horsemen time in his life, but who would? I mean, you've got this good-guy friend…would you say, "Oh, by the way, I used to be one of the meanest, deadliest, most feared guys on the planet." Somehow, I don't think that'd come up in conversation much. Plus, that was thousands of years ago.
I bet if Methos was to try to tell someone about his life—his entire life—it would take a decade of talking non-stop. Sometimes a year of my life feels like a century. I just can't imagine what it would be like to live for so many centuries and still want to keep living because I'm not tired of it yet. That's fascinating stuff to me.
Now, if I could just figure out a good story to combine Malcolm Reynolds, Captain Jack Harkness and Methos into one guy…
They might be interesting interacting with each other individually, but as one…now that'd be crazy fascinating. I'll have to work on that…
October 12th, 2007
Previously, I posted about Captain Malcolm Reynolds. Now, I'd like to stick with the captain theme and write about Captain Jack Harkness from Torchwood.
Once again, yeah, I think John Barrowman is hot, but this time, that characteristic is really important to the character of Captain Jack. They guy is a charmer. His sexuality is very important and not just tossed in for flavor. Every time he sees someone new, he sizes him or her up and since we don't know if Jack really is human, we don't know what he's looking for when he sizes someone up sexually.
Captain Jack is dickheaded at times, yes, just like Mal, but once again warranted. He leads a secret group of alien hunters. He's got to be a tough guy and all that. Many of his qualities are similar to Malcolm Reynolds, but Jack is slippery in a different sort of way…which adds a different kind of mystery to him.
Malcolm is purely human and when he dodges a personal question, it seems that he's just not willing to talk about it. Jack, however, there's a sort of feeling beyond his unwillingness to talk about it. Like, if he were to talk about it, he's afraid you wouldn't believe him or worse you'd make his life hell one way or another for having told you.
Plus, he's somehow immortal and even he doesn't know how or why. That in itself is intriguing. He doesn't need to sleep. He, of course, dodges the question of loneliness. The way he's written leaves the viewer wanting more, more, more. I feel like I only kind of know him. He hasn't really done anything out of character for me because he's written to stretch that boundary, to only give you a taste, enough to think you know who he is, but then when it comes down to it, you don't really know who he is or why he's there. But you do know that there is definitely a reason. You can only hope you find it out some time.
Even he doesn't know all the reasons and that's another reason I love Captain Jack. For all his strength, he's also vulnerable and afraid of the unknown—not the alien unknown, the where's, why's, etc. of himself. He knows an awful lot about aliens! Duh. He seems a little afraid to learn all the reasons he's immortal and has been sent through time, all that unknown stuff.
Add his being 'full of life' and what an intriguing character to me.
Pushing into bisexuality also brings further intrigue and desire to understand him, to know him more thoroughly. He's got so many facets and either he doesn't know them himself or he's unwilling to share them outright, it all makes me want more of him and I enjoy that. It doesn't make me project traits onto him, it makes me wait in hopes of him showing those traits.
But while he's immortal, he's still comparatively young to the last of my favorite characters. In fact, if I had to chose my favorite character of all time, I'd chose the final one. Who is he? Allow me to be like Captain Jack and keep you waiting…
October 7th, 2007
I'm not sure why, but my three most favorite characters of all time come from visual experiences rather than text. It might be because there's the written component plus the actor plus the director all the way out through the costumers, lighting people and even props and set who flesh out the characters beyond what my imagination conjures while reading, but I doubt I'll ever know for sure.
I'll start with Captain Malcolm Reynolds from Firefly (TV) and Serenity (movie).
Yeah, it helps that I find Nathan Fillion incredibly hot, but there really is a lot to the character of Mal. I did not see Firefly on television. I saw it on DVD and therefore had the luxury of seeing the episodes in order.
And I hated the Captain! To me, in that first episode, the pilot, he was too much of a dickhead and I was kind of disappointed. I wanted to like him. I really, really did. He's the captain for goodness sake, he needs to be likable to me in one way or another. However, I just wasn't feelin' him. I wasn't understanding him enough to know why he was the way he was and why he said or did the things he did.
Thankfully, that first episode did not keep me from watching the rest of them. I was willing to give Mal and his gang more chances and I ended up absolutely loving his character beyond so many other characters I've witnessed.
Yeah, he's a dick at times, but that comes with the territory of being the commander of a ship—especially one that dallies in illegal activities. He's got to be shrewd, smart and strong.
But he's also got a softer side. It's sometimes hidden, sometimes heroically worn on his sleeve, but always enough to make him human, not some kind of superhero. Often, captains, leaders, and the like are written as human superheroes able to leap tall buildings in a single bound, able to dodge every bullet shot (except of course at the big climactic moment when the script, not his character, dictates it.)
But not Mal. He gets his ass kicked sometimes, ends up humiliated at others, even fails a time or two. And he handles them all true to his roughness around the edges, with either grace or further mishap…sometimes both.
Those are all qualities I absolutely love in a character. Sometimes it's all in the writing, sometimes in the acting and directing and sometimes it's in the choice of the less-sung production heroes. In any or all of those cases, it's what makes the character who he is and how he appears to me on the screen.
For me, though, there's one thing missing: He's not immortal, magically inclined or capable of any other paranormal oddity. In fact, it's amazing he's even on my list of favorite characters because he's a pure, un-enhanced human.
The other two fellows…well…I guess you'll just have to wait to read who they are and why they're so awesome for me.
October 5th, 2007
I've noticed that there are many people coming here to see my Leeloo costume. Perhaps its creation as well as me wearing it and dancing the Cancan in it, I dunno.
Well, I've decided to make a series of posts about it. I didn't take pictures when I built it. In retrospect, I should've. I had no idea it'd be such an ambitious undertaking. One I'd do again, but not so enthusiastically because that dress practically owned me for a month and a half. It was totally worth it, but it was also a lot of work.
From design to finished product, it wasn't a picnic. First came the screen shots to see what Leeloo was actually wearing and what her hair looked like with those long, weird, gummed-up, not-traffic-cone-orange, just-bright-orange twists. The hardest part was seeing what her shoes looked like. The only times her shoes were onscreen where when she was kicking ass and most of the freeze frames were too blurry to make out the detail on her shoes. Granted, I was doing a different rendition of her costume, so I could vary a little, but I wanted a good base to start with.
It was a combined effort between me and Shawn Crosby. He did a wonderful drawing of the design. I have it somewhere. I'll post it if I can find it.
In the end, the costume cost me hundreds of dollars and hundreds of hours. I really stepped up to the plate on this one and I'm amazed that it turned out like it did. I'd never worked with vinyl or stretch netting or even some simpler things like snaps and interfacing and decorative elastic and iron-on bonding. Okay, so some of those things aren't as common, but you get the picture. This wasn't an easy job, but I did learn a lot. Not only did I learn how to physically do stuff, I learned something more important: That I could do just about anything I set my mind to…yes, just about anything.
October 5th, 2007
My parents were down this week. We went to some fun places, did some fun things that I wouldn't've done had they not visited. That's always nice.
But I think the best part was up in my home theater, on a 127″ screen, I logged in to Second Life to show my parents what the hell I was talking about. My hubby and I had tried to describe it to them, even showed them last Christmas on a laptop, but they still didn't understand its usefulness, it's mystique, none of that.
Then, larger than life, I showed my dad the Sistine Chapel on the Vassar sim. The first thing he said was, "Wow! The floor! I don't think I've ever seen the floor! I've seen hundreds, even thousands of pictures of the Sistine Chapel, but I don't think I've ever seen the floor! Wow!"
To which I replied, "Watch this!" and flew my camera up to the ceiling and along the walls.
Needless to say, he was hooked and is likely ordering either a new computer or necessary upgrades for the machine he has now as I write this…
We also walked around the Dresden for a little bit. That was cool, too.
He says Second Life is like an internet that you can walk around in and experience rather than just look at or read. I like to think he's absolutely right.
That's why if you go to Book Island and Publisher Island, you'll see a lot of booths set up, but only one is more like an experience. It's got a big castle on the front and hides a room from Otherness: Rift. Seeing it in Second Life made it real for me…a real experience rather than a written one. But, it's also meaningless unless you've read the book. It's neat and all to look at, but it doesn't resonate unless you know that this room had been sealed up, untouched, for over a century and once reopened, had so much more to discover.
But I'm just getting started in Second Life. One of these days, I'll get advanced enough that I put Talisman Bay (still nothing I can link to on the Ashleigh Raine site, but there will be very, very soon!)  in world. Now that would truly kick ass!!!! (I'll have to figure out how to get all of the Shadow Walkers on patrol every day. But good golly, that'd be soooooooo worth the effort!!!!!)
September 21st, 2007
I like to think, somewhere underneath it all, there's a little bit of The Swordswoman in Otherness: Rift. Granted, I like to add in more characters and have many points of view and I tend to stay in this world, but add lots of magic and mysterious phenomena, but underneath it all, it was that book that got me fascinated by fantasy and parallel worlds and thinking outside of the reality of this world. The usual sword and sorcery, dragon books were too far from where I wanted to be.
As an added bonus, when I found the Swordswoman book report, I also found the very first book I'd ever written. It was for school, bound in a cardboard and shelf paper cover (probably an arts and crafts component in combination with the creative writing one), and I got a resounding A on it, but what's more fascinating is that tucked away with it was a complete character and world outline…and a sequel I'd written just for the fun of it.
Seeing those extra pages reminded me of a time when I first started thinking that maybe someday I'd like be a writer. It also reminded me that since that first book, I really did keep writing for pleasure one way or another. Sometimes fiction, sometimes more like memoir in my journals, but never letting longer than a month pass between entries or stories…even to this day.
If I can muster some nerve, I'll post that first book here… I'd even illustrated it! It's called The Fighting Four, it's sequel, The Engaging Eight. (Yes, even back then, I was good at bad alliteration [see Orgasm Fairy by Ashleigh Raine. I wrote all of the bad erotic poetry in the opening scene…one of my many hidden, brilliant, useless talents.])
According to the title page of The Fighting Four, it was written in 1986. I was in 6th grade. About 12 years old.
That was the same year I wrote The Three Witches From The Planet Zebtron. I am still trying to find Zebtron again, but in the mean time, I'm enjoying the other treasures I've unearthed while in my quest for my first story… See, even back then I was mixing genres. No romance yet, though. But I hadn't really discovered boys yet, either. That'd come a few years later.
…And include my best friend Jennifer, a troll, a flying sword, a now cult classic movie, a whole lot of imagination, determination and a bunch of miscellaneous scribblings that to this day I continue to find folded amid other unimportant schoolwork. Yeah, The Swordswoman happened for me in 1986, followed by The Fighting Four and various little stories until the genesis of Talisman Bay with Jennifer in 1989.
From then on, everything was somehow connected either to Talisman Bay or used elements of it. Read Otherness: Rift. and then Lover's Talisman (being re-released from Samhain Publishing in January, 2008) and tell me about the similarities…