June 2nd, 2010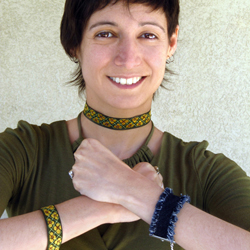 I've done a bigger, better tutorial at ribbonchoker.com about how to make a ribbon choker necklace or ribbon bracelet.
I'd like to thank  my wonderful husband for taking all the photographs without too much grumpiness. That was very sweet of him. I suppose it helps that he'd just gotten a new camera and was excited to use it. I know that while he loves me, shooting me building ribbon chokers isn't likely his favorite pastime, so that new camera came in handy.
Although, he ended up using my camera for much of it. Anyway, this was a project that took me about a year to complete, but I only recently got the domain name. I dunno why I didn't think of it sooner. I nearly fell outta my chair when I saw that it was available. The tutorial here on this site is okay, but ribbonchoker.com is far more comprehensive, with better pictures that open up into larger ones so you can see what I'm talking about.
I've got a lot of other things going on in my world right now. One I can't talk about yet, a few I'll be able to talk about soon and one that I can more fully announce any day now.
If you've followed my twitter feed or have friended me on facebook, you might occasionally read that I'm soldering circuit boards. It's no secret that I'm a multitalented chick-a-dee, but for instance, the day we photographed the tutorial, we also moved a few more units through production. My husband has designed a solid state headphone amplifier and we are just about ready to start shipping units.
Once upon a time, he was a high end audio engineer and I guess he sorta missed those days when a friend of his gave him a headphone amp. After listening only once, I started hearing him say that he could do a better one…with mosfets. (New to electronics? So am I. In fact, don't tell him, but I don't exactly know what a mosfet is, but I know where the go on the circuit board and how to solder them in place and attach them to the heat sink.)
Anyway, while he was chugging away at the design, I was putting together my ribbon choker tutorial. Occasionally, we'd meet somewhere in between and help each other out. He's terrible at making ribbon chokers, but I'm really good at soldering circuit boards. We make a great team.
When we're really ready to make this officially official, I'll announce our company name and website. These amplifiers make my favorite music sound awesome. I listen while I solder.
I'm also still selling vintage sewing patterns, ribbon chokers and Twilight's Fancy necklaces in my ArtFire shop.