October 22nd, 2009
This month was pretty tough for me, pet-wise. Most has turned out okay, but not all.
First, I'd accidentally left my garage door open without knowing that my big tortoise was in the garage. Of course he wandered away. And tortoises are not smart enough to come when you call them. Or at least mine is not smart enough!
So, I started checking the LA County Animal Shelter website because they post photos of animals in real time as they arrive at any shelter in the county. When I first went there, I saw a few turtles, even a Sulcata tortoise, but my guy wasn't there.
I was kinda surprised, though. I didn't really think the shelter would have turtles and tortoises, I was just out of options and figured I'd exhaust my resources before giving up.
A day or so later, one of my water turtles bit a tankmate and did enough damage that I had to put the poor little fellow down. RIP, Piggy.
A week later, my neighbors found Toad (my big tortoise) frolicking behind their house. Yay! But obviously, nothing can bring Piggy back.
Although the ordeal did give me an idea.
Obviously, there were troubles in the turtle tank that still needed to be resolved… My two girl turtles had always been aggressive. The Piggy incident was not the first time they'd bit another. Usually, no damage was done, but that was also back when they were smaller. Turtles will bite anything…dead, alive, tied down, floating…they'll bite it. That's why you can't put plastic plants or anything non-edible or small in a turtle tank. They'll eat 'em anyway and likely hurt themselves because of it.
As it turned out, our boy turtles are all mellow, but those girls…those crazy girls who grow faster than boys have always been rambunctious. We'd even noticed in the last few months that the boys almost always kept their tails curled in–as though if they didn't they'd get bit. The girls were so much bigger than they were and therefore stronger and tougher.
Well, how about the animal shelter? I kept an eye on the website, waiting for a boy turtle to show up. My two girls would be fine together, but they just didn't play nice with the boys and they ate all the food before the boys could get two pieces down their necks. They'd be great for a family other than ours.
So when the first boy turtle showed up on the site, I made the phone call to show my interest in him. Within an hour later, I put the girl turtles in a bucket and headed to the shelter that had the boy.
I was the first incoming and outgoing turtles for a couple of the clerks there. I guess not many people know about the shelter for adopting turtles. They're only $10! Incoming and outgoing, $10 each. Yeah, way cheap!
I went there with two in a bucket, I came home with one. He's about the same size as the two girls combined, but mellllllllllllllow. I suppose that might have something to do with him being abused.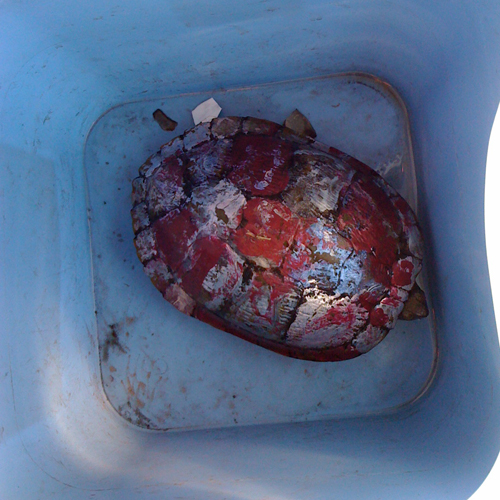 Someone painted him. A lot. I can't tell for sure what kind of turtle he is because I can't see what his shell looks like. By the rest of him, he's probably a Pacific Pond Turtle, but I can't be sure until I clean all the paint off. It's gonna take days, maybe weeks because I can't do it all at once for fear of killing him with the toxicity.
However, last night my husband held the turtle while I cleaned off a couple scales. This morning, Graffiti ate breakfast with his two tankmates. I think he's gonna be okay.