January 14th, 2009
When I walked up to Eddie's house, I was somewhat surprised to see how intact it was. All greenery outside was either completely charred or scorched brown and almost dead. All the leaves were also sort of frozen in the direction the wind had been blowing the night before. I wish I'd gotten a picture of that. So surreal.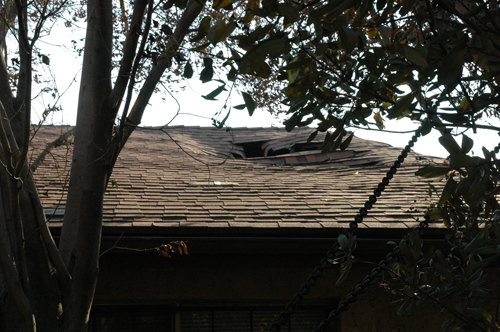 This was the side of his house where his neighbor's was a total loss. In his personal junkyard, there were all sorts of mangled melted metal parts. Wheels, intake manifolds, cylinder heads, hoods, front clips, the list goes on and on. The only stuff that even marginally survived were all the headers. (Go figure!) There were some differentials and other large bits that can be rebuilt, but in at least one instance, the axle tubes had melted. I'd never seen anything like this. So many original factory vintage parts… *sigh*
He met me outside and explained that the attic was what had caught on fire. He'd floored it out a few years back so that he could store some of his incredible collections of Mid-Century Modern stuff, bicycles and various other interesting stuff. An ember or two had blown in and ignited the whole thing.
The fire department blasted it with water and filled it full of foam in order to keep the whole house from going up. When I walked in, the ceiling was on the floor.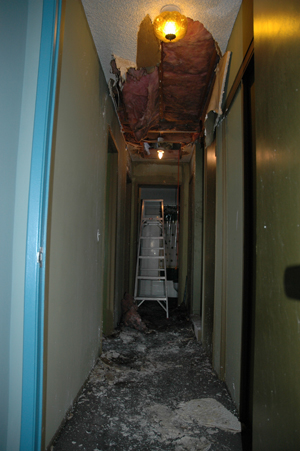 I didn't really know where to start and since Eddie had lived in that house for more than 20 years and had zero intention of moving…well, this was gonna be a big job.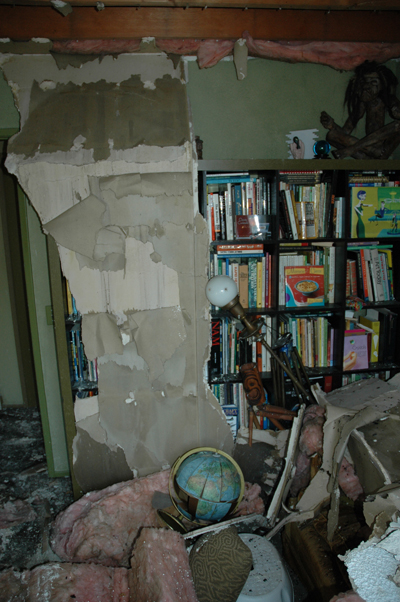 But I was up for it. Eddie is the kind of guy who'd help me if my house had burned down, so I spent a month neck-deep in soot, mildew, all the yucky-ness that goes along with picking up the pieces after a fire has ravaged a house. I wouldn't wish this on my worst enemy, either. Just the smell of something burnt takes me right back to his place. It was awful.
But these pictures aren't even the worst of it.