September 2nd, 2007
The other day, my husband asked if I'd posted any pics about my adventures doing the Cancan while dressed as Leeloo from the Fifth Element…which turned into an internet expedition to see if anyone had posted other since last I looked. We'd had a camera meltdown and couldn't take pictures of our own, so we're depending on the great 'net to provide what would've been otherwise lost to us.
I'd already posted some pics from Hazel (here and here). But I've found more since then.
For the record, yes, I know I look nothing like Mila Jovovich. She's awesome. I, however, am not so much. I might someday get to be as awesome as she is, but I was certainly not while at WorldCon 2006 dancing the Cancan in an outfit I'd built which had been inspired by the one she'd worn in The Fifth Element. I'm not a dancer and likely never will be. But there was still much awesomeness in the experience I had. If nothing else, it serves well as a conversation piece.
Now for a new pic…
I found this one posted on Flickr by dragondawn. I don't know you, but I thank you!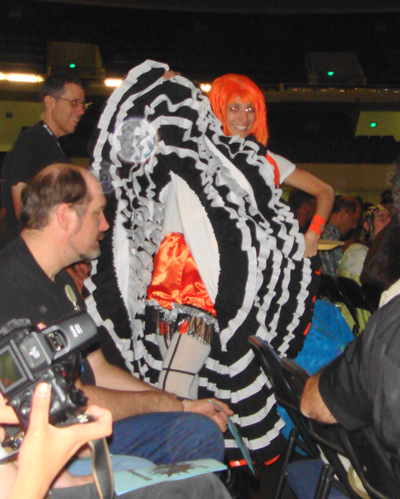 While wearing a cancan dress, I just had this strange compulsion to flip it up. I dunno why. It's just one of those things, I guess. It's a dress that's made to be held up, so why not? Life's too short not to live a little…