October 26th, 2006
Let me warm up a little…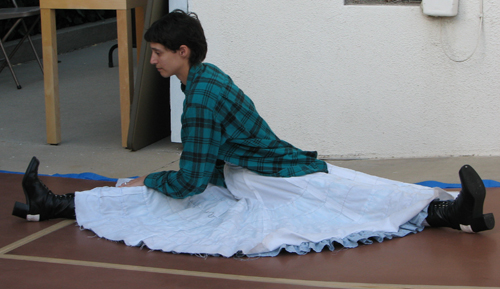 A little more. I was at the center of the cancan dance finale, so I had to limber up a bit more than I already was.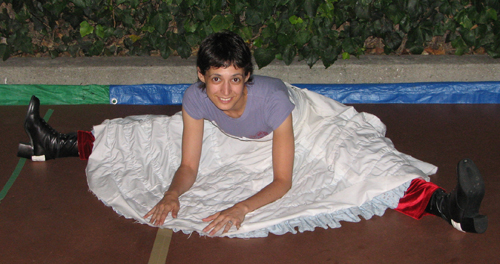 Okay, now let me get into my costume. This is a dress rehearsal.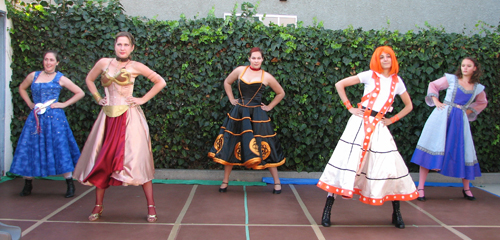 Colleen, Amy, Maria, Myself and Wendy… We were the dancers of L'Etoile Rouge.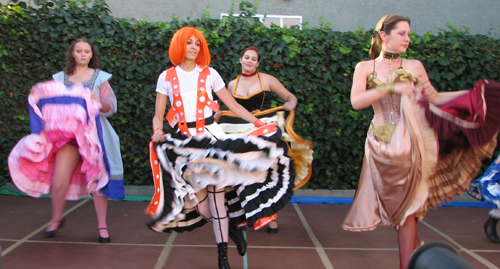 My costume isn't even all the way together at this point. The 20 safety pins holding my suspenders up didn't show up in the pics, but you can kind of see the sides flying off in the breeze. As a geeky costumer thing that doesn't show in the pics either, I built the suspenders out of two pieces of vinyl. The front from shoulder to bottom of skirt and halfway around is one piece and so is the back. Yeah, royal pain in the ass, but ultimate challenge at which I succeeded! (Can you tell I surprised even myself?! I'd never worked with vinyl before.)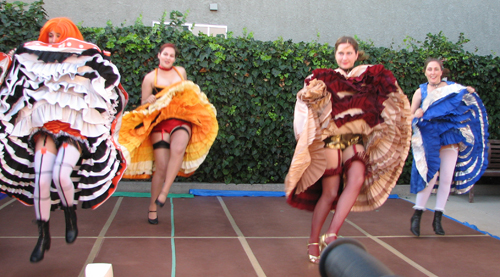 Notice my lack of rhythm? If I wasn't holding my skirt so high, you'd see that I had a big grin on my face. I can't dance, but I sure can smile!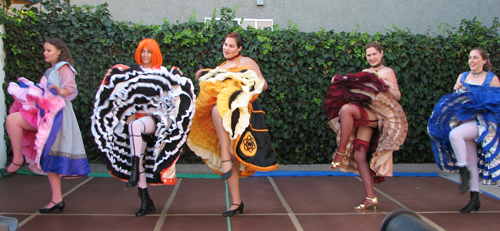 I built my stockings… To give you an idea of how tough they were, imagine working with a fabric so stretchy and sheer that no less than twenty times, I had to disentangle it from my coverlock machine. I only had to cut the fabric out of the machine once, though. The needles would go right through it and hang up and snag and piss me off!!!! Grrr… I still shudder at the memories. The stockings turned out great, but in my opinion, they were kinda hinky. I was just very lucky that they turned out as well as they did.
Okay, remember I said I was the center of the finale? There isn't a pic of the fantastic tableau at the end, but here's an action shot. Yes, that's my foot in my hand and my leg is straight. I'm also wearing a corset under the dress. Yeah, ouch… But I did it!!!!!!! Not bad for a gal with zero dance experience, huh? Oh and did I mention that I spun around and then switched legs and spun again?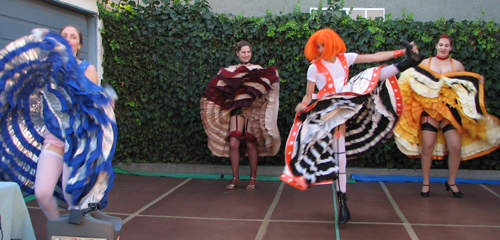 I tell ya, I love a good challenge and this adventure afforded me several. There are so many things about it that I just can't believe I did! Too many to count. The experience was downright incredible as far as learning about sewing, designing, thinking ahead, dancing and driving (I had to drive an hour each way for rehearsals.).
Special thanks to Chaz (aka Hazel) for snapping these pics and letting me post them here.
One Response to "Cancan Leeloo…"
RinaSlayter.com » Blog Archive » Yes, I really did dance the Cancan on a stage while dressed as Leeloo! Says:
October 2nd, 2007 at 12:06 pm

[…] as Cancan Leeloo for the Lux After Dark halftime show of the 2006 WorldCon Costume Masquerade. (dress rehearsal, before the show, in the audience, backstage) But did you notice that one kind of picture is absent […]