October 29th, 2006
I gotta limber up again for these last couple pics… Let me put my corset on, too…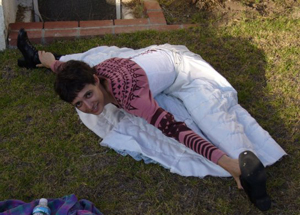 Special thanks to Lawrence M. Green for taking this pic of my stretching out. He was always at rehearsals helping out with whatever we needed and I truly appreciate all his hard work.
Okay, now to WorldCon, waiting to head over to the Masquerade. Chaz (aka Hazel) shot the following pics, too. I swear if he hadn't been there, I might not have had any documentation of me in my costume. Thanks, Chaz! 🙂
Jason was nice enough to go with me…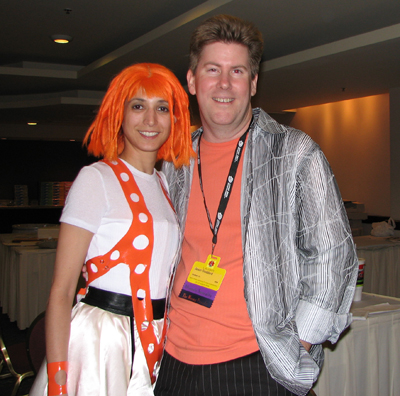 I was kind of nervous, and by this point very tired. The nervousness was more like an old friend to me, though. Back when I did a lot of theatre, even though I was running the light board, or sound board, or pulling the grand curtain, or running a followspot, or being 'the person who clipped in Judas before he hung himself in Act II', I always got a twinge of nervous energy. When the audience was ready to be entertained and it was my job to support the entertainers, there was a certain thrill in that. And this time, I was actually an entertainer!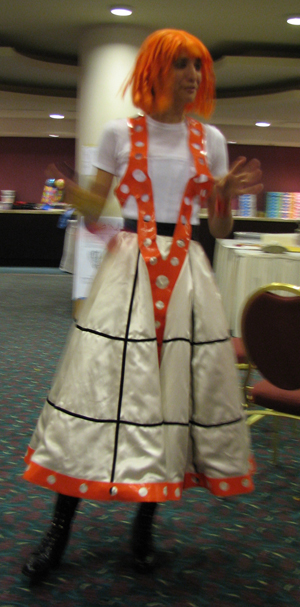 My number one goal–one that'd measure the amount of success I had on stage–was to not fall off the stage. It's no secret that I can't dance, so as long as I just did the best I could and most of all, had fun, I'd be fine so long as I didn't fall off the stage. It was a pretty good drop and I didn't want to get hurt. In all honesty, I have no idea if I did the routine correctly. The darn wig killed my peripheral vision, so I have no clue how I did. But even if I screwed up, I did it with gusto. I did it like I meant it and I had fun while doing it. And no, I did not fall off the stage. Therefore, in my own mind, I was a huge success!
And there's just this funny thing about cancan dancing…and wearing a cancan dress. It made me do something I would never do in my regular life. I always had this strange compulsion to hike up my skirt! Even before going on stage to dance, I must've flashed the entire audience. Guys took pictures and I proudly held up my skirt. I dunno what came over me. While wearing a cancan skirt, all I wanted to do was hold it up. That, in itself, was a little adventurous experience for me…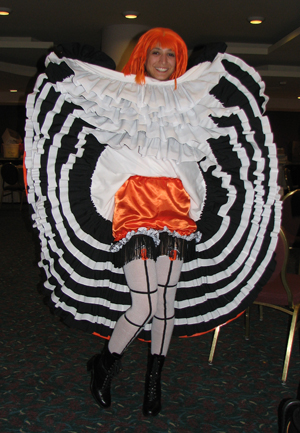 There you have it. I…as Leeloo from the Fifth Element…danced the cancan at Worldcon 2006.
Up next… I…as the non-skirt-holding-up car chick I really am…remove an intake manifold in about twenty minutes just to prove I can do it. Although putting it back on took a little longer…
4 Responses to "A little more Leeloo"