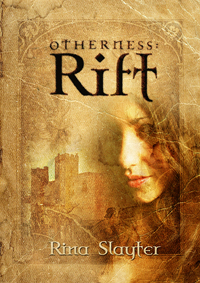 Liz Spencer only wants to dump her boyfriend, not change her entire life.
Drawing her into chaos, a freak earthquake strikes her town, revealing that California's rock solid history goes back much further than the Gold Rush—centuries earlier, in fact. Entangled within that mystery, cursed magic still thrives today in her best friend, Tayna, who'd always been odd, but magic?
A powerful warlock lures away Liz's new roommate, forcing Tayna and Liz to use witchcraft to thwart him. With grave fear, Liz discovers that magic is only a small part of the real dangers lurking in a future of dark otherness.
Buy: eBook — Paperback
Excerpt: Library — Dinner
Deleted: Scene Two — Chapter Ten Opening
Enjoy the video teaser I made!
5 cups from Coffee Time Romance!
"Rina Slayter has created a mesmerizing page-turner with this novel. The characters are funny, sophisticated and fascinating. OTHERNESS: RIFT is an original and deeply intriguing tale complete with secret mysteries and prophesies but set in modern day California. With both a vivid cast of characters and mystical lore, the reader is hooked from the very beginning. This is the kind of novel that takes you to a different place and allows your imagination to soar."
~Bonnie Lass, Coffee Time Romance
5 hearts from The Romance Studio!
"Otherness: Rift is a novel which captured my imagination from the first page and drew me into the story's world, so that for the duration of the novel I found myself transported and forgetting I was simply reading, and not living along with the characters. As a lifelong reader, I realize how rare such an event is, and treasure each book in which this happens. Rina Slayter has quite a way with words and has composed an excellent beginning to a new fantasy series which will attract many readers who love mystery, suspense, fantasy, magic, and romance."
4.5 stars from Euro-Reviews!
"Rina Slayter is a very talented writer who knows what readers want and also knows how to deliver it. Otherness: Rift left me breathless by moments. I particularly liked the part where Liz awakens in the earthquake, I could almost feel it myself. This book contains magic, mystery and witchcraft. A powerful warlock is also present. The earthquake reveals alot that was better kept hidden. Rina Slayter has written a really enjoyable and fascinating story that will keep you on the edge of your seat."
4 lips from Two-Lips Reviews!
"I enjoyed Rift and the world the author laid forth. This fantasy tale and its themes of friendship and the history and ancient historical magic made this a unique tale. The characters were well drawn and engaged my attention and emotions… I can see Ms. Slayter's complex world-building in evidence here. This appears to be her first solo work, and I'm interested to see what else she has up her sleeve."

Buy: eBook — Paperback
Excerpt: Library — Dinner
Deleted: Scene Two — Chapter Ten Opening