April 26th, 2009
I call these my peacock shoes. I don't know what possessed me to buy them, but they sure are fun to wear.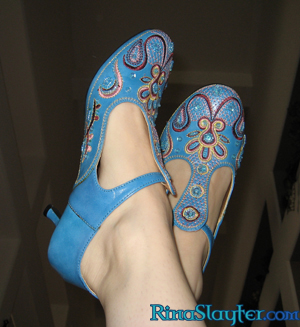 They're not the best quality and I don't know that they can sustain a lot of wearing, but they're definitely strange and that was the main reason why I bought them. It doesn't hurt that they're one of my favorite colors, too. Weird, loud and colorful. My ideal pair of shoes.
I got these at the same store in Chinatown where I got those simple olive green leather shoes, too. These aren't as well made, but what they don't have in durability, they make up for in strangeness. Plus, its not like I plan on wearing them every day. Believe it or not, I don't have that many outfits I can wear with them.
Leave a Reply
You must be logged in to post a comment.