April 1st, 2009
The doll's torso has been patched up and so has one leg. That left the leg that needed the most work. The previous glue job had been so bad I needed a blade to cut away the glue.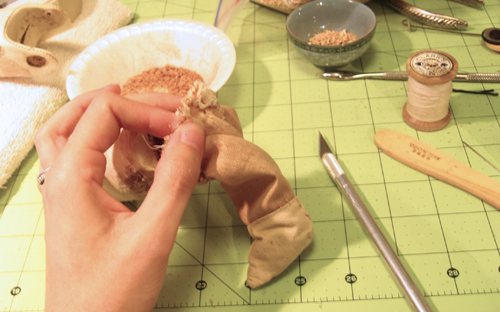 That was certainly no picnic, either. I'm just glad that whoever had made the quasi-socks over the feet didn't glue them. I'm sure they would've been done as poorly. Whoever had done the socks was a great seamstress and did a far better job than I ever could have. I was so glad they'd been done, too, because that would've been another task for me to dread.
And on that note of dread, rather than proceed to stuff the leg, I decided that I needed to figure out what I was going to do about the hip wire. I didn't have any. The closest stuff I had was aluminum and therefore too flexible. I needed something stiff but not as thick as a coat hanger. Hmmm…
I hunted around in the garage after rooting around in my sewing room. Nothing.
But I seemed to recall a spool of bailing wire somewhere… It might be too thin, it might not, but I needed to find it in order to find out and yet it was nowhere to be found.
Still dreading stuffing the leg, I thought outside the box… Well, outside anyway. I knew the wire had been used to hold up some vines on the side of the house so I went out there because maybe, just maybe, there'd be a tail on one of the lengths.
Sure enough, there was.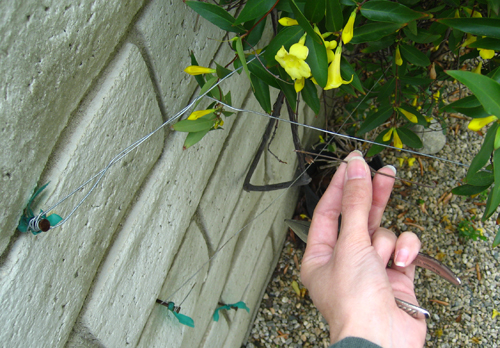 Yay! I cut off the whole tail and used that thrill to fuel the stuffing of the other leg.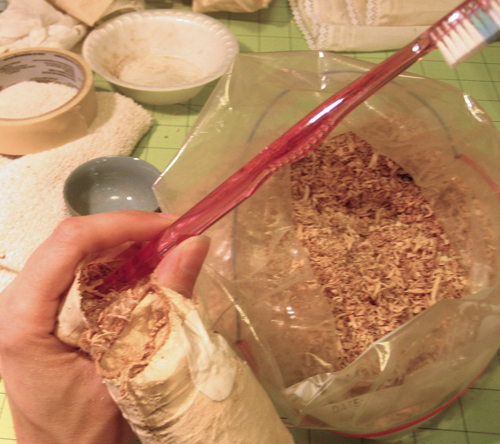 I was there for what felt like an eternity. Spooning in sawdust, packing it down with the toothbrush handle, spooning in more sawdust, packing it down even harder. I even accidentally rammed the toothbrush through the fabric and had to do another patch. (I was too pissed off to take photos of that expedition!)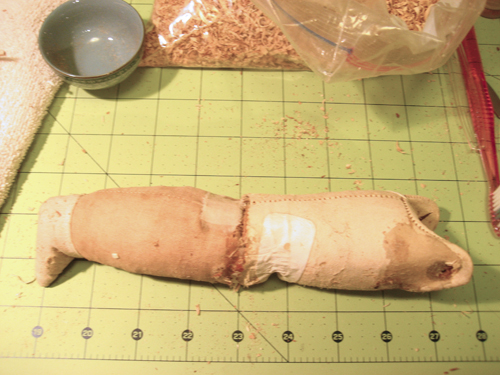 Once I got it fairly well stuffed, it was time to do like I'd done to the other leg and wrap a piece of leather around, stuffing as I glued it down. Stuffing and packing and stuffing and packing. I'd discovered that in my set of carving tools I had one that was more cylindrical like the end of my toothbrush except smaller. That was what I used on all the finishing stuffs for each of the holes and tears. (I just now realized I'd forgotten to mention what I'd used! Sorry.)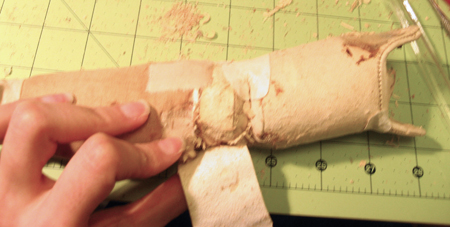 Once both legs were stuffed and patched, I reinforced the tops of the legs, too, by cutting circles out of the old leather and regluing them.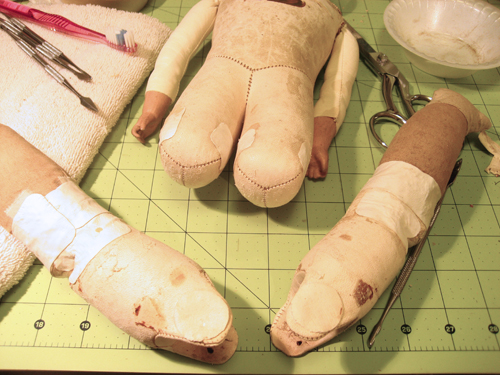 I'd never restabbed a hip joint before. I was in for quite a little learning experience…
Leave a Reply
You must be logged in to post a comment.