March 29th, 2009
They're suede and zip all the way up over my knees. And they're just oh, so crazy. I wish I could wear them more often, but very few outfits actually 'go' with them.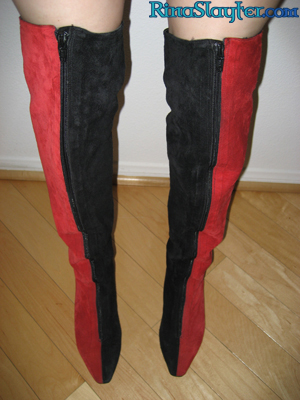 I got them in the mid 90s, but they're definitely from the late 80s. I have a blazer from that time period that goes with them, but seriously, wearing that much red and black…I gotta get up the guts because they attract a lot of attention. They're more silly than they are sexy, but whatever.
About ten years ago, I wore them to a car show and the wife of one of the guys showing his car stopped me and regaled me with a story about her pair…except hers were electric blue and black. Since then, I've been on the lookout at every thrift store, but haven't seen a blue pair.
Maybe I'll start checking online because not only are they strange, they're comfy, too…and warm because all that suede goes above the knee. Now, if I find a blue and black blazer that goes with them, I swear I'll faint right then and there.
Leave a Reply
You must be logged in to post a comment.