March 22nd, 2009
I wore these to my first serious job interview and got the job. They've been good luck ever since.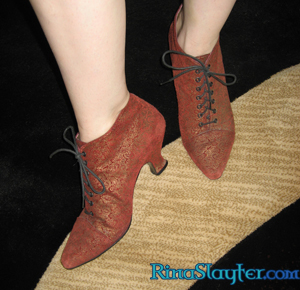 Sometimes I forget I have these. I don't have a lot of outfits that really go with them, but of course that doesn't stop me from wearing them. They sat innocently on a rack at a thrift store I've long since forgotten. Along with all the usual second hand shoes, these were easy to spot.
My husband jokes that the easiest way to figure out what to get for me is to find the ugliest thing in the store and buy it because I'll love it. In fact, my brother just used that principle when deciding which slipper socks to get me for Christmas. As he stood there in front of all the choices, he said he picked the most boring ones for my mom and the loudest, silliest ones for me. Score!
Leave a Reply
You must be logged in to post a comment.