March 15th, 2009
I'd never seen another pair of shoes quite this odd yet simple. I've got a few wild pairs, but this one, well, this one threw me for a loop. They're simple black, but shaped so strangely I had to have them.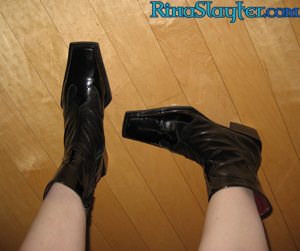 When I first saw them at at Goodwill while on vacation in my hometown, I almost didn't buy them. They were almost a little too strange. Yeah, that's strange in itself: the fact that I wouldn't get a pair of shoes because they were too weird. But that's one of the reasons I knew I had to get them. They were my size, weird and $10 or less, therefore I must own them.
And, y'know, they're just right for spunking up a boring outfit. The picture doesn't really do them justice. I've never seen another pair quite like them. I get stopped by complete strangers asking where in the world I got them. I have no idea what year they are from, either. I suppose they're timeless!
Leave a Reply
You must be logged in to post a comment.