March 4th, 2009
For the record, I'm not a doll doctor. Not at all. I've never watched someone else repair a doll. I've never even asked someone about doing it. I've read a couple of books on the subject, but that's it. Everything I know about doll repair is from what I've done and what I've seen on the dolls as they come into my collection. I could be totally off my rocker on how I work on them, but I care immensely. I once overheard an old school mechanic tell a young man that "What you lack in experience, you make up for in caring." I like to think that rings true here, too.
I've blogged some of my doll repair work previously, too. Click here to read about the celluloid doll I fixed.
All right, continuing on my AM 1897…
I wasn't offended by the double-stick tape under the wig. I don't use it, but that's just because my dolls don't get moved around and their hair stays on just fine without the need for anything sticky to keep it there. The only thing that bothers me about double-stick tape is that it does dry out and become ineffective. This stuff was still super-gooey, though.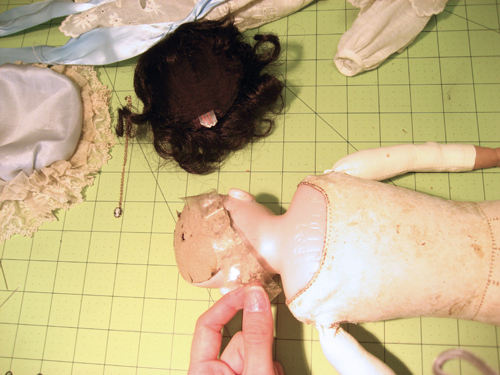 However, I am offended by synthetic wigs on antique dolls. When I get a chance, I'll swap this doll's synthetic wig for either a human hair one or perhaps one made from mohair. I'm leaning more toward human hair because that'll look the closest to how the doll came into my collection and still be correct for the time period.
Okay, here I am looking at the task at hand. Both legs need work below the knee. The leather on one side was marginal.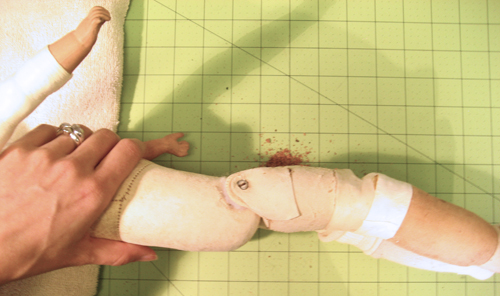 The leather on the other side…well…it was very loose under the sock.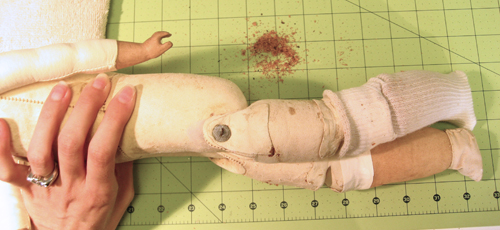 Okay, time to dig in for real. Since I needed to work on the hips and the legs themselves, I figured the best thing to do would be to remove the legs first. I straightened the end of the wire (which went through the right kind of metal buttons at each hip, but they were mismatched in size) and removed it.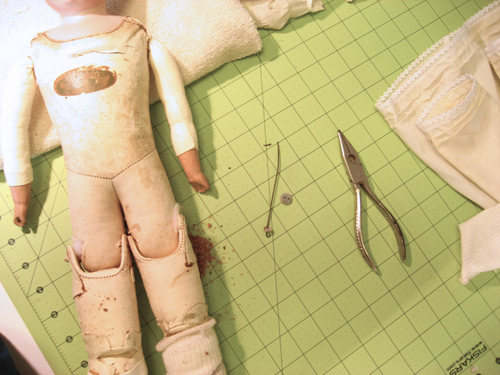 Only to discover that the hip damage on the torso was even worse than I'd thought. That hole is huge.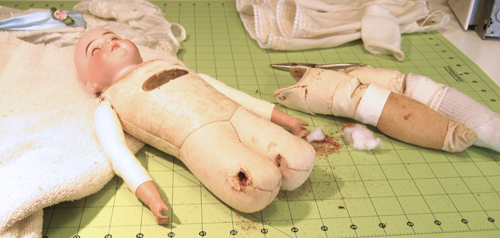 And the hole on the other side is even bigger…and stuffed with polyester fiberfill…grrrrrr…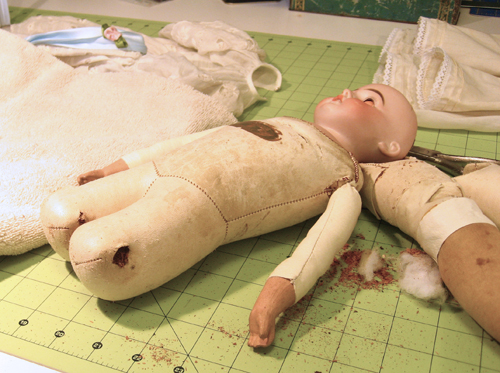 Time to get out the bag of sawdust I keep handy… and the old kid leather gloves to use as patching.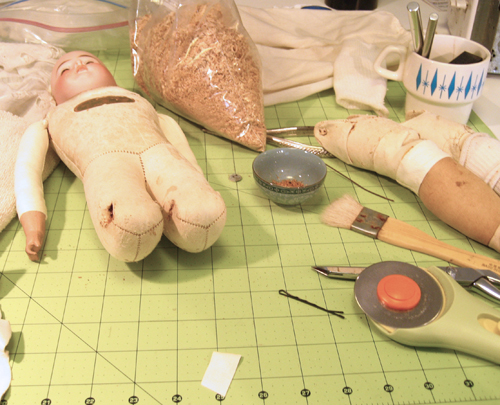 In my next post, I'll detail how I did the hip repair.
Leave a Reply
You must be logged in to post a comment.