June 30th, 2008
I'm no expert on haunted dolls, but I do have a rather large collection of antique dolls–the kind that were played with, not the kind that have spent the last century on display–and I've experienced paranormal activity in my home after acquiring some of them.
Also, being a sensitive, I can kinda sense which ones are "different".
Now, none of my dolls have moved more than can be attributed to gravity or other purely natural circumstances. They don't (as far as I know) become animated and run around on adventures all night. I've never put a doll in one place only to find her in another later on…unless someone put her there.
In most cases, I got these dolls from flea markets, eBay, thrift stores or they were given to me by family or friends…and then there was the one I found right on top in a trash can almost as though whoever threw her out had hoped someone else would come along and rescue her.
I do not collect display-only dolls. I have a few, but they just don't have the history the other girls have. A broken finger, missing paint, cracks, dents, chips, rips: all those things are what I prefer when I look at a doll.
And those are the things that devalue dolls the quickest. For instance, I could buy a doll for $300 in perfect condition or get the same doll for about $80 in broken condition. Hmmm… I can rescue a piece of history at a fraction of the cost of a perfect doll, and it's a piece of a person's history, not just of doll-making. Gee, tough choice. I'll take the cheap, interesting one with stories to tell over the girl who sat on a shelf or in a box her whole life.
So when I say that when I got this doll she was missing eyes, wig, dress and one of her arms had fallen off, you understand why I had to have her. I don't recall exactly how much she cost about 4 or so years ago, but I'm betting she was under $100. At the time, in mint condition, she was worth a little over $200 probably.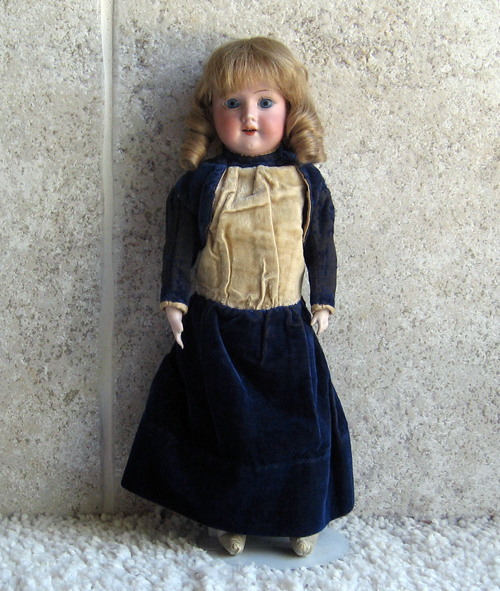 Honestly, she wasn't in bad shape, just far from display-ready. I ordered a wig (still kicking myself for buying a new one instead of waiting for a used one in her size), found a set of eyes in my stockpile and set them (she was supposed to have sleep eyes that open and close, but I still haven't gotten up the nerve to give those a try especially on such a small head) and then hunted through my collection of dresses. The only one I had that'd fit was one my mom's grandmother had made for one of her dolls when she was a kid. It was far from antique looking, but I put it on this doll, got her a doll stand and put her on display. The one she's wearing now, is a hand-sewn antique I got within the last six months.
I've already chronicled the paranormal activity that happened around the time I got this doll. Since then, I don't believe anything else has happened that I can attribute to her. I'll post pictures of some of my other "different" girls later… One of which I considered getting rid of, but just couldn't because I didn't want to shove the "problem child" on another unsuspecting person.
In all honesty, as long as a ghost isn't bothering me, I don't mind the company. I'm not going to throw out a ghost for opening my refrigerator once or twice, but I'd consider it if it kept turning on all the lights in the house over night. Them electric bills can get costly!
So, in other words, I'll be posting about my doll collection and the many facets of them. From the restorations I do to the ghosts who are attached, I plan on covering it all. Why? Because I like sharing my collection. Whenever new people come to my house and see my dolls, if they ask about them, I have to refrain from talking their ear off over how the dolls were made or where I got them or what I've done to them. My dolls are something I enjoy talking about, so why not share them here on my blog? I've got a few hundred of them and each one has a story…
2 Responses to "Haunted Dolls…"
buffalogal3 Says:
July 31st, 2008 at 11:59 pm

Wow. Someone else who gathers dolls in the same manner as I. "Collects" just plain sounds so impersonal and cold. I stumbled across this site tonight whilst trying to research who might have made a doll I recently introduced into my home that I bought labeled as an unmarked German bisque with kidolene body, sans clothing or hair, and a very inexpensive price tag. After I took her out of the box and unwrapped the layers upon layers upon layers of bubble wrap I just sat looking at her, wondering who played with her, what her name was, what things she'd seen. It's usually what I do when I'm compelled for one reason or another to bring one home – a tilt of the head, a facial expression, old beat up (but original) clothes, or none at all, usually bearing some fault that no purist would ever accept, but which I could care less about.

I, too, found myself at an early age bringing home abandoned children who had found their way into garage sales, junk shops, auctions and antique shops. I was 12 when I bought what I eventually identified as a Saucy Walker – only when I found her she was crammed on the back of a shelf full of old dirty milk bottles – and she cost me a buck. No clothes, dreadfully bedraggled hair, and absolutely filthy. I think the desire to bring them home is somehow connected to when I was growing up, and was occasionally permitted to take several dolls out of the china closet to carefully play with that had belonged to my grandparents. When word got out to relatives and neighbors, people started hauling all sorts of dolls in various stages of disarray or decay out of closets, attics and basements and giving them to me. (Including a huge Kammer & Reinhardt Flirty Eye.) Bear in mind, this was back in the 60s, before people realized that things stored in attics, etc. might actually be worth something. At the time, even I didn't know what things were worth, until my parents started getting me various price guides and doll mark identification books as they became available.

I digress. Always do. Can't seem to maintain a direct line of thinking these days and branch off in all sorts of directions. Back to the unidentified doll I started talking about way back in paragraph one. While I was sitting there looking at her, unconsciously running a finger over the bottom of the back shoulderplate, I suddenly realized I could feel an unevenness to the bisque under the kidolene and suspected the doll actually was marked. I was able to gently peel back the shoulder "strap" of the kidolene and peer down her back and could make out a clear 14/0 in a circle. Looks like you have one too – which you noted in another blog. Have you ever been able to find out who made these ? I know that eventually I will come across the information somewhere if I keep looking (shoot, I could probably just call Richard Wright Antiques – if anyone would know, he would. He's probably one of the foremost doll experts in the world. Have known his family since I was a kid – he was in the same class as my brother in high school, and we used to shop at his parent's antique shop. Richard was already doing a large portion of their buying by the time he was in junior high, and by the time he hit high school, he was flying around the world looking for things for the shop. His own personal doll collection is likely as purist as you can get, but his shop does sell everything from beat up to beautiful. Me ? I'd rather get the ones that are beat up and need help. There's something very satisfying about doctoring them back to life. Wish I had more time to devote to it.

I've never had any overt paranormal experiences with any of the dolls. I do, however, sometimes get a sense of "something" from them. Oddly, although I don't make a habit of naming them, occasionally, while going through my initial "introduction sit down" with them, a name will just pop into my head. I figure it's highly likely that that is what the doll's name was, so that is what I call them from that point on. And about 40 years ago, I had a wooden Charlie McCarthy ventriloquist doll given to me that completely creeped me out. He actually triggered feelings of anger and loathing in me that were positively scary. I had to get rid of him.

I'll stay tuned to your site and keep tabs on your doll happenings from time to time.

RinaSlayter Says:
August 1st, 2008 at 10:31 am

Thanks for your awesome comment!!!!! 🙂 It's so refreshing to know I'm not the only one who prefers the girls who've got personality.

I do the same sort of thing with my dolls while unwrapping them or just when I first get them. If a name pops into my head, that's what the girl's called. It sadly doesn't always happen, though. And yeah, sometimes when I bring in a doll, I don't feel well, although, with my latest creepy doll, the anger dissipated after a few months and now all seems to be well. I can't say she's happy, but at least she's not angry anymore.

I got my first dolls the same way you did. Once I took a liking to a doll or two, relatives and friends gave me their old ones. Here's the link to that story: http://rinaslayter.com/2008/04/21/my-love-for-old-dolls/ Beyond that, if you click in my sidebar where it says Dolls, that'll bring up all my posts that have to do with my doll collection. I'm just barely getting started posting about them. Currently, I'm doing a little reinforcement on a couple of dented, very thin celluloid heads. I haven't taken any pictures, though. I suppose I should…

At one time, I was under the impression that 14/0 dolls were made by Kestner, but I don't know where I got that idea and I haven't been able to back it up since. About a month ago, I bought another 14/0 head along with a wax-over socket head because I didn't have a wax-over socket head and the price was tiny. I've got a few wax-over shoulder heads and one poured wax, but no wax-over sockets. When the heads arrived, I wasn't sure which was I was more excited about because 14/0's are gorgeous and it's always interesting when I receive a head I have nothing else similar to. Now, I just need a couple of bodies for them and I'll build them up from there. It's all an adventure to me.

Paranormal experiences have been few in comparison to how many dolls I actually have, but you're right, some of them have "something" going on…that undefinable "something"… One of the dolls I picked up recently caught me off guard in that an image of a bunch of linens popped into my head. I emailed the person I got the doll from and he said the doll came straight out of a trunk in an attic. The next few days, my husband and I heard sneezes coming from the direction of the doll. Now, everything seems fine. And I think it's fascinating that the doll had no clothes when I got her, but amid my spares, I had petticoat, slip and dress that fit her as though they had been made for her.

Thank you so very much for stopping by!