January 3rd, 2008
After getting so much work in December, I was even more surprised to work during the first week of January. While on the set, I overheard other extras saying that this show was the last show still in production and it was supposedly finishing this week. I dunno if that was true or not. I was just glad to be working.
I was playing a cancer patient.
There was less traffic than expected, so I ended up pretty early. I waited around in my car for awhile before going to the wardrobe trailer where were supposed to sign in.
I got to wear my pajamas and slippers with little piggy heads on them and they gave me a robe. From there, I went to hair and make-up which was sort of deja vu for me because of The Changeling. Only this time, they made me look sick, but not completely wrecked. In any case, it was still fun for me.
Being the last out of the trailer, everyone else had already been escorted to the sound stage. When I finally arrived there, I had a 50/50 chance of finding holding once I opened the door. To the left or to the right? I went right and eventually found a holding without knowing I should have gone left to the other holding. Oh well. I couldn't have been used in the party scene anyway. It didn't really matter and once they found me, they didn't tell me to move, so I didn't worry about it.
The other day, my husband randomly asked what holding looked like, so while everyone was gone, I snapped a pic with my cell phone because this holding was kind of fun. It was apparently in the backyard of a house on the stage.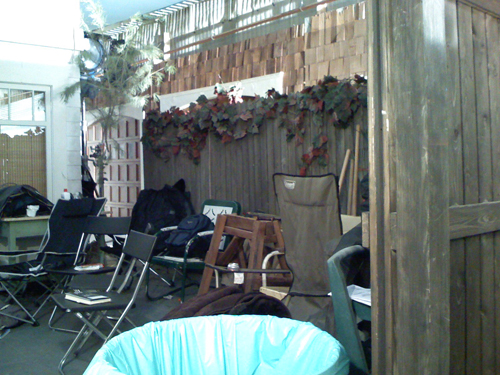 Holding ranges from a tent, to chairs set up near the set or a block away, to an area without chairs where we can sit on the curb or stairs, to a place out of the way on a sound stage, to another room in a given location. It's catch as catch can sometimes–one time holding was in the chapel of a hospital!
My scene was the last of the day. It ended up being the martini shot, too. (The "martini shot" is the very last shot of the day. I don't remember the history of why it's called that, though.) I'd waited and waited even when they changed the party people over to hospital workers, wondering when they were going to use us three patients. They used the two elderly people mostly.
Then, finally the martini shot rolled around and I was positioned sort of toward the back. If I make it into the finished product, it'll be for maybe two frames. Oh well. It was still fun for me.
And as I left that second sound stage, I walked over parking spaces that read, "Heroes Cast". That was sorta fun, too. Maybe someday I'll get to be on Heroes, too, if the writers strike ever ends.
Leave a Reply
You must be logged in to post a comment.