September 13th, 2007
I found some more pics of me and the rest of us Cancan girls from the Lux After Dark halftime show of the 2006 WorldCon Costume Masquerade.
The following pics were on a website with Danny Low's photography of all the costumes. Thanks a million, Danny!!!!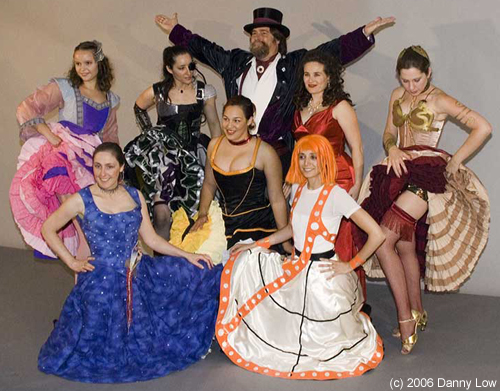 This was definitely an experience I will never, ever forget. First, just being in the room with so much talent. I learned a lot about sewing and costuming throughout the whole adventure.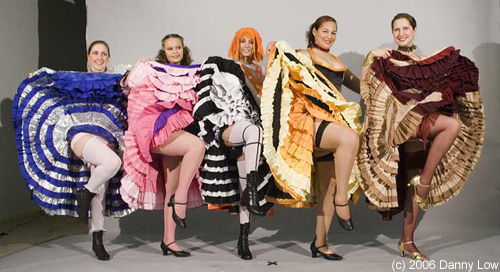 Gotta have a shot of the girls with the legs, of course. We're wearing cancan dresses for goodness sake! It's virtually impossible to resist holding them up.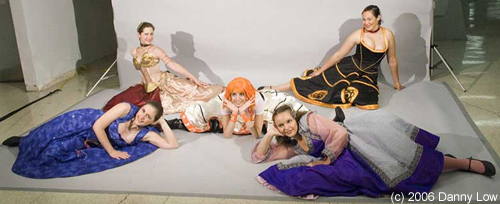 This was the final tableau of our big dance number recreated backstage for the photographers. You can't really see, but yeah, I stretched out so much that I could sit with my chin on my hands, elbows on the floor between my outstretched legs. This took months. Granted, I was pretty heavily into yoga by this time, so it was an extension of something I was already working toward. However, yoga is not done in a corset, but Cancan dancing is and it was a whole new ballgame to get that flexible despite my innards being compressed.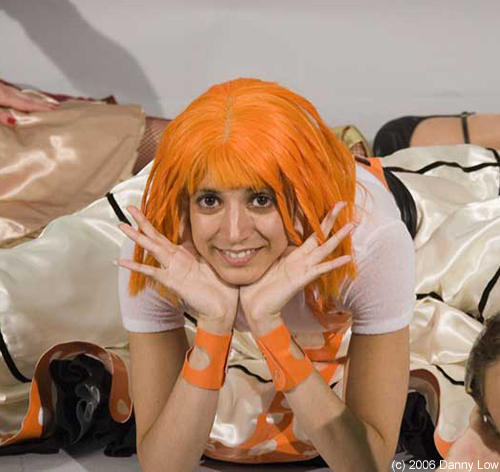 Once again, yes, I know I look nothing like Mila Jovovich and this pic is proof! But I did have a wonderful time and I did keep my costume. Leeloo will be returning someday. I don't know if she'll be doing another Cancan, but she'll definitely cruise through a few conventions over the years. So much time and effort went into that costume, I'd hate to let it languish in my closet.