November 23rd, 2005
It had been two years since my last time on West Wing, but I found that not much had changed.
I misjudged holiday traffic and ended up an hour early to the Warner Brothers lot, but I was totally okay with that. I'd brought 5 books plus my palm pilot and keyboard. I was totally prepared.
As I walked through the lot (parking was at Gate 3, but the stage was closer to Gate 7…whatever), I sort of had a little moment…of thanks, even. Because as I walked down the main drag, a golfcart full of tourists whizzed by and I recalled a time long ago, when I'd dreamed of just walking on a studio lot.
That had seemed so far-fetched at the time, yet at the moment, I was recalling that little-girl reverie, there I was, walking on one of the oldest lots in Hollywood. I mean, the stages there have big placards that say what shows shot there and when all the way back to the thirties. Yeah. And I walked right by stage 24 which now has a placard proclaiming it the "FRIENDS stage". Yeah, all this was stuff I'd never imagined I'd see and yet there I was.
I am very thankful for my tiny little part time Hollywood job. It puts me in places I never thought I'd be. I'm livin' the dream!!!
Okay, so I got to the stage and couldn't find holding. I followed another extra and we wondered together where holding was. I recalled years ago, that holding was in a trailer, but it took one of the crew guys showing us where it was for me to fully realize that not much had changed in the last couple years.
My sojourn trough the wardrobe line was painless. They wanted my green suit. Okay. I put it on.
And then I waited…
I finished Donald Maass's "Writing a Breakout Novel" and then moved on to Edith Pargeter's "The Heaven Tree" and my eyes started to glaze over for some reason so I switched to my palm pilot and wrote out some notes for my next novel. Of course half the extras in holding marvelled at my palm pilot/keyboard setup. Another day another dollar…
But then it was finally time to go onto the stage. I was a White House staffer. Immediately through the stage door, there was a row of Emmys. That was pretty cool, seeing them displayed so proudly right there by the door. I'd never seen one up close before. Pretty. Shiny. Gold.
We set up in the lobby. I might've actually gotten some camera time. I walked behind the principle actors as they came into the lobby. Nifty stuff.
But the most bizarre thing–one of the many that I also love about Hollywood–was that things aren't always what they seem. My starting space was literally inside the front door where a security guard pretended to check me in. Now, I dunno why I found this so amusing, but the presidential seal on the floor–which looked to be brass–was squishy! Yeah, I stepped on it and it flexed underneath my weight! So, between takes, while I read more of "The Heaven Tree", I sort of swished back and forth on the squishy presidential seal while marvelling at how the 'brass' buckled under my weight.
I dunno. Maybe I was bored or just easily amused, but that was fun for me.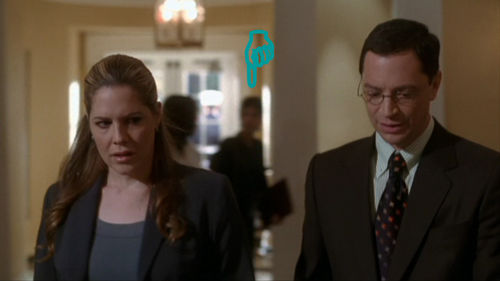 My next task was doing a top-of-shot cross in front of the actors as they walked down a hallway. I'll bet I got camera time on that one, too. I mean, I was walking perpendicular to their path while they were talking. I was only there for a split second, but still. I was there. I hope that makes it in.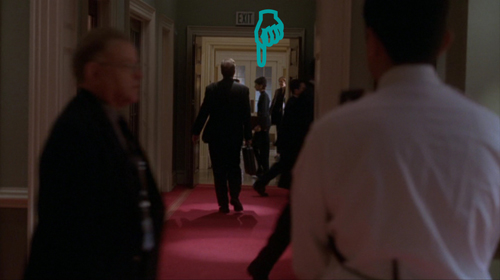 Actually, speaking of West Wing camera time. I recall recently getting a screen cap of the last time I was on.
Anyhow, after everyone got wrapped and sent home, there were four of us left to do the last scene of the day. At first, I was being sent home, but then the guy changed his mind. It was fine with me because my drive was going to suck no matter what time I got out of there. Plus, I'd already changed into my beige suit.
[Oddly enough, last time I wore the beige suit was on the same lot for Old Christine and to make matters sillier, one of the Grips that I'd talked to on Old Christine recognized me and we chatted for a bit. Hollywood is a very small place sometimes.]
So, during the last scene of the night, I started in frame at the top of it. I hope I got camera time there. I believe the episodes shot that day were 10 or 11 and 13, so I might be in both. That'd be fun.
Anyhow, toward the end of the shot, Brad Whitford looked at us four extras and said something like, "Geez, I haven't said Hi to the extras yet." He scolded himself and then introduced himself to each of us four and asked our names, making sure he got them right. That was so freakin' cool. And yeah, on that show Martin Sheen supposedly does the same thing, but still when the magic moment happened, it was awesome.
Yeah, it was a simple introduction, and I hadn't thought it would really make a difference in the grand scheme of things, but y'know what…it really did make a difference. I felt better about my role in the production–like I wasn't just 'goddamn background' and that my job mattered for once.
We're usually so maltreated and condemned because of a few stupid people spoiling it for the rest of us that this one simple little gesture made all the difference to me. In fact, it even improved my performance! Or at least my performance felt more meaningful and I liked that. It was nice.
And I can add Brad Whitford to the list of recognizable actors who've spoken to me. I dunno…Add that to the little girl reverie from earlier and this whole background acting thing is astoundingly, incredibly, beautifully wonderful and I wouldn't trade any of it for the world!
It's nice to live the dream…and get paid for it.
UPDATE: I found that other scene I was at the top of, but I guess I landed on the cutting room floor. Ah well. 2 out of 3 ain't bad.
Leave a Reply
You must be logged in to post a comment.