October 31st, 2005
For starters, I had a bizarre time trying to get to the stage. I swear it wasn't my fault. Here's how it went:
I showed up at Paramount Studios and entered the Gower Gate where a security guard checks people in and issues passes and maps.
Well, there were two other extras in front of me and they weren't exactly the sharpest tools in the shed…or at least they hadn't done this too many times before and the guard got a little restless. She made the assumption that all three of us were going to the same show despite my totally 1983 wardrobe. (Then again, it was Halloween and I'm sure she'd seen weirder stuff on non-Halloween days, too)
She was a pretty tough cookie so I didn't argue when she drew out the map to Stage 23. I needed to go to Stage 17, but I wasn't about to say that. I figured I'd just follow the other two and 17 would be somewhere close.
Nope.
I walked around and around and around. Usually, when I go to Paramount, I enter through the Lemon Grove gate. I know my way around better from that side. This kind of reminded me of when I was on Old Christine at Warner Brothers not to long ago–I know the lot from every other entrance but the one I came in through.
Finally, I stop a security guard and he points me past the water tank. Duh. I felt like such an idiot for forgetting there were more stages on that side of the lot…
I get over there and find 15 and 16, but where the hell is 17? I find New York Street where we'll be filming, but still I had more wandering before I found Stage 17.
The highlight of my impromtu tour was passing down alleyway after alleyway that were most certainly used during the filming of Angel. I recognized so many places including the Angel Investigations building facade on the backlot across from where we were shooting.
I finally come up on Stage 17 and go through the door. The sets are all empty. Where is everyone? I walk all the way through the building and out the other side. I figured I'd see either a group of extras or someone who could tell me where check-in was.
I turn down another dark alleyway and happen to peer in some of the windows… There were ancient generators and a lighting control board from eons ago. See, back in the day, light boards weren't computerized consoles like they are now. Lighting control was done by numerous huge levers–kind of like old-school breakers except bigger.
I passed four windows' worth of these huge throw switches assumedly attached to old dimmers, but I couldn't see inside any of the panels. I was totally in awe. Once upon a time, I was a Theatrical Lighting Designer, Master Electrician, Light Board Operator and Lighting Equipment Repair Technician, so seeing how it all used to be done was fantastic. There were sections chained off as though a tour runs through. I gotta look into it because that stuff really floats my boat. I could geek on it for hours.
I wander back to where I started at Stage 17 and there's a table set up. I'd finally found check-in. But I was about an hour early (I'd stupidly misjudged traffic) so I had to wait. No biggie. At least I knew where I was supposed to be now.
Background pinball is background pinball. The most exciting thing about the shoot was a bus in motion. Uh-huh. Oh boy. I wish there was more to report, but the only other excitement I had was when the costumer absolutely loved every inch of clothing I'd brought. I was stunned. This is a period show, 1983, and the costumer was actually excited to have me. This was the first time ever on a period show that there was no sigh, "I guess what you have will work" or without even looking in my garment bag "What size are you?".
Oh yeah, and this was also the first show where I got to be the token white girl. It was fun. I hope I get to do more.
UPDATE: All that and a couple of screen captures to boot!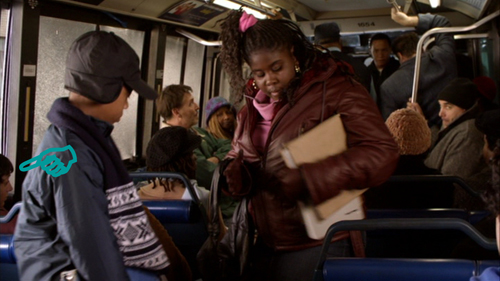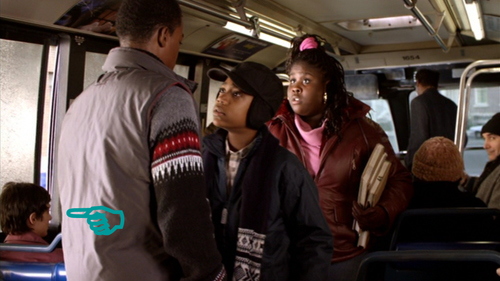 Leave a Reply
You must be logged in to post a comment.