June 23rd, 2005
The scene was a Chinese restaurant. I, along with several others, were patrons.
During the two thirteen-or-so hour days I was there, I only worked about an hour and a half on the set. But I did see Drew Barrymore and Eric Bana.
Eric is hot. Yum… I was wishing I could stare at him rather than my menu. Oddly enough, I think the menus were real and some of the food sounded pretty tasty so I might have to drag Jason back to that restaurant and see.
Drew Barrymore was wearing heels and was about as tall as I am. I never really got near her except walking by in the herd of extras.
Mostly, this shoot was about sitting in holding under a nice shady tree while talking to fellow extras or reading books. I finished one book and got half way through another! That's pretty rare for me in that short of a time period…
Anyhow, our little group had a very interesting mix of people–all of whom were open-minded, intelligent and entertaining in one way or another. The stories we told about our lives were lots of fun. I swear I'm going to use one guy's boyfriend experience as backstory in a book somewhere. And then there was the Italian guy who grew up in Switzerland and is living in Beverly Hills… Lots of fun people on this shoot. So much so that I really didn't care I was on set for less than two hours. Holding was tons more fun.
I might've gotten a split second of camera time…or perhaps my arm will be prominently seen above Drew Barrymore's shoulder. Yeah…one of those deep background kind of shoots for me. I'll see the movie eventually, I'm sure. Sometimes I wish I had more opportunities to be seen, but on the day of filming, I just do what I'm told, no matter how much I know no one's going to see me.
UPDATE: I actually made it into the finished product!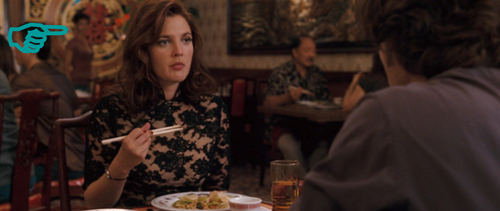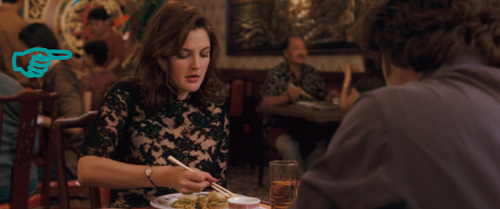 This next one is more like what I expected.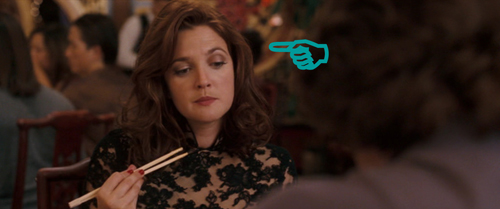 I did set a personal record on that first day, though…
In a dark green short sleeved shirt and long mauve/purple skirt, I went to wardrobe. At first they said I looked fine–and I tried to grab my stuff and run away before they changed their mind!–but then they asked to see everything else I'd brought. They didn't like any of it so the lady went onto the wardrobe trailer and came back with 4 skirts. I went to the changing room and picked out a beige skirt. It fit, so I left it on.
I went back to her and she didn't like it. I kinda agreed, but really none of the skirts matched my shirt. She wanted to see me in one of the other skirts, so I went back to the tent and changed into a plum one.
That skirt didn't go with the shirt, so she went on the trailer and looked for another shirt. She came back with four–none of which looked all that great with the skirt, but hey, I'm just an extra. It's not my job to even care about what I'm wearing.
I changed into the shirt that I liked the best. It was purple and magenta and flowery striped.
But it didn't go with the skirt…
So, fed up with making me change, the woman gave me a pair of jeans because there was no way the jeans weren't going to work!
When all was said and done, I'd shattered my record of two changes and I have to admit that trying on clothes can be fun!
On the second day of shooting–the day I didn't work at all–I got my clothes from wardrobe and headed toward the tent. There was a transpo guy talking to someone. I wasn't really paying attention except that I was about to walk through the middle of their conversation. I excused myself as I passed through, then realized that I recongnized the voice of the woman the transpo guy was talking to. Yep…Drew Barrymore. The shoot's record was about ten feet for how close I got to any of the principle actors. Jen always likes to know how close I got and well…there you have it. Drew seemed pretty nice, too.
And while us extras were waiting to go through the lunch line, she picked her food out of the buffet just like the rest of us. I think she ate in her trailer, though. I don't blame her. The lunch room was kinda hot and stuffy.
Leave a Reply
You must be logged in to post a comment.