January 27th, 2003
The following is an excerpt from an email I'd sent shortly after this shoot:
It was definitely obvious that it was a long running show that was highly successful… The snack table wasn't just one table, it was 6. (no joke!) And lunch was like a buffet version of the Wolfgang Puck Cafe.
We got there around 9:30, but didn't work until after lunch around 1:00. Kelsey Grammer was a hoot plus it was also obvious once more that he'd been doing the show forever. His patience was kind of slim- but then again, if you were an actor that has to crash into a mailbox while riding a bicycle and still make it look fresh, you'd probably be impatient if the camera guys didn't get the shot on the first time, too!
I was roughly 10 feet away from him when he was telling one of his co-stars that he had an absolutely wonderful time at the Golden Globe awards. And, he also said that he really likes Colin Farrell. There's more to that little quip, but I didn't hear exactly every word so it'd look stupid for me to try to write it all out in this email.
The entire cast was there. And I must say that Kelsey is in remarkable condition. He must work out everyday. The lady who plays Roz is an absolute sweetie and the girl who plays her cute daughter really is that cute!!! The rest of the cast was on the opposite side of the street from me so I really didn't get to interact with them. Kelsey did say, "Hi" to me, though. I'm not sure why, I guess he just felt he should say something! I was right next to the mailbox after all.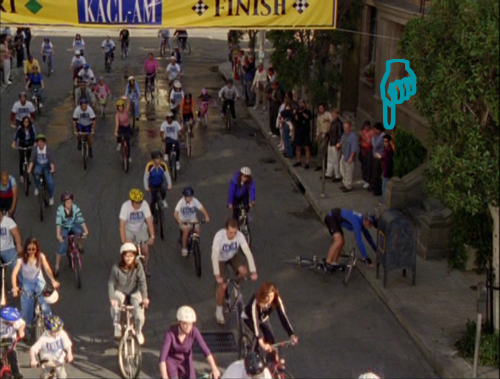 It's the episode with the Bike-A-Thon. I don't know the exact title. I'm the closest extra to the mailbox that Frasier runs into. I didn't intentionally put myself there, but that's where I landed. I'm right there in front.
And so it went… My parents even saw me on that episode! Jen recorded it for me and I must say my acting was stunning. Yes, rather than trying to warn the poor fellow that he's about to run into the mailbox, or even help him once he's fallen, I just put my hands in front of my face. I can't watch. Yeah, welcome to Hollywood, where the most likely reactions become the least desirable.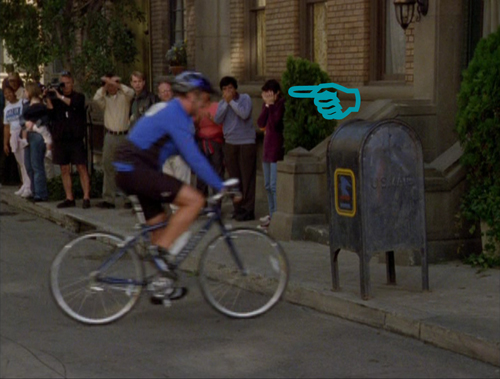 Update: Even though I'd already heard I was in frame, the following pic was more like what I expected. That one and the big wide shot. The others were a bit surprising.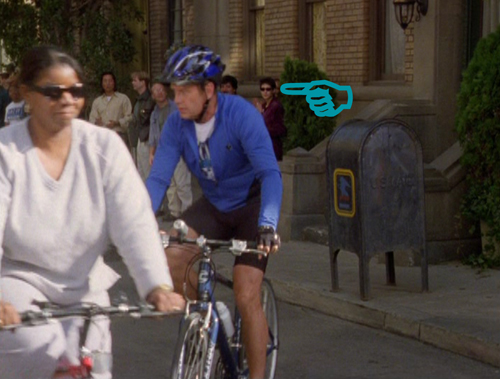 This last one is one of very few gems I've gotten. There are only extras in it! Just like in Spiderman II, but it never ceases to surprise me when I'm one of those extras.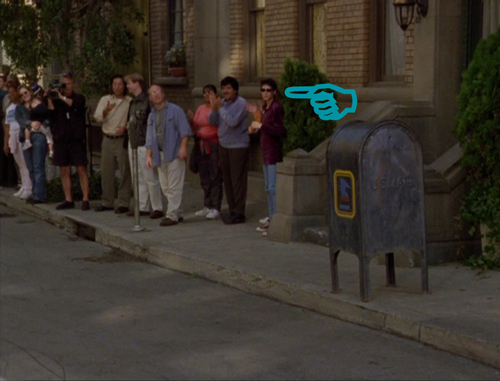 Leave a Reply
You must be logged in to post a comment.