March 1st, 2009
I love these quirky shoes. They're strangely shaped yet still comfortable. I've worn them to concerts and the grocery store and they just seem to go with everything.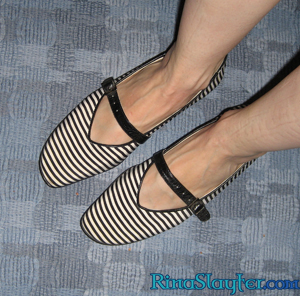 However, they just don't seem to break in. That's most likely why they landed at the thrift store I bought them from. Standing in them is fine, but walking around the block? No thanks. Socks seem to help, but not much. I wear 'em because they're funky, but if I know I'll be walking a lot, I opt for one of my other black and white pairs. There's only so much torture I'll put my feet through!
February 26th, 2009
Every now and then things come together so easily, I declare it graceful. That's what happened with this necklace. It. Just. Came. Together. Yeah, it designed itself. I hardly had to do anything but make sure the beads were in the right place.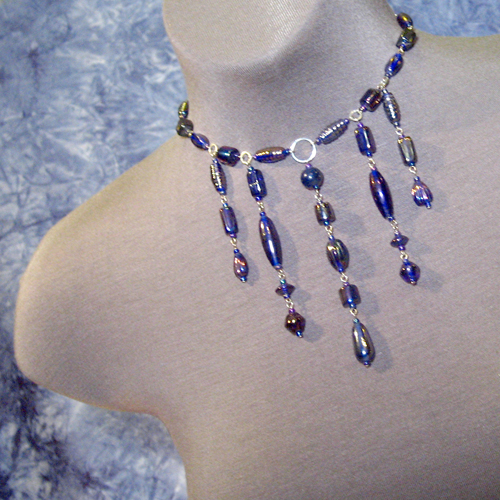 Like, I'm betting that it still would've come together if I'd tripped and dropped the bead tray all over my table. I almost didn't list this one, too, because I don't have my own blue one. After all, in Lover's Talisman, it's a blue Twilight's Fancy necklace that is the talisman.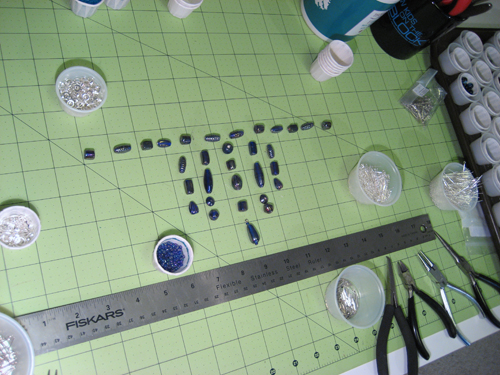 Notice how in the picture there isn't a huge pile of beads in cups around the necklace. It's just right there, ready to be assembled. Yeah, that's seriously how easily this thing came together. Sometimes I agonize over where the beads go, which ones I want to use, how to embellish, how many dangles, etc. Not this time. I think that's one of the reasons I want to keep it for myself.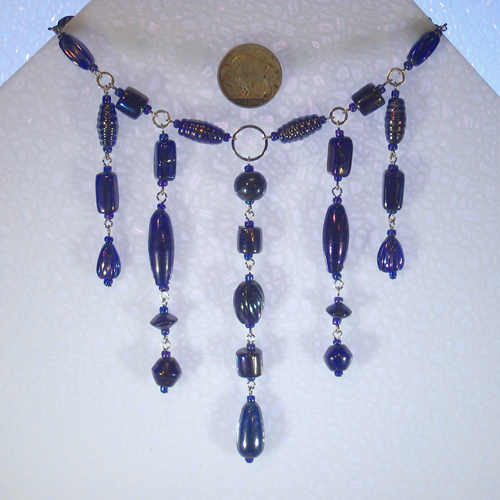 Then again, if someone else buys it, they'll collect the good karma that is flowing through it and I'd rather spread that kind of joy. I'm sure there'll be others for me. Plus, being the master of all I survey in my craft room, there's no reason I can't just design and build one for myself. Like, duh.
Which reminds me, if you want me to build you a custom necklace, all ya gotta do is contact me through my Twilight's Fancy shop and let me know what color(s), etc. you're looking for. My bead collection is monstrous. I bet I can put something together for you in no time flat!
February 25th, 2009
Meet my AM 1897. She was made some time around 1897, but not necessarily that year, by Armand Marseille, a German doll maker…probably the most popular doll maker. Sure, she displays well: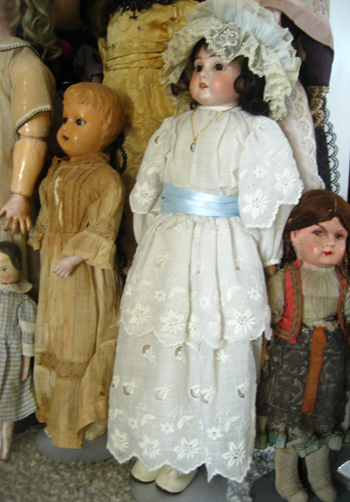 However, under that white dress, she's falling apart. I've been in denial for about a decade now. This doll came into my possession in 1999 or so. I'd put her on layaway at an online doll seller, made a few payments and forgot about her. About eight months later, the shop sent me a beautiful doll greeting card reminding me about her. Whoops! Anyway, I've displayed her for all these years, but I knew I'd have to get down to business and see what was really wrong with her hips. She'd been leaking a little sawdust when I first got her, but that was back when I was still afraid to dive in and do repairs.
These days, well, to prevent the damage from getting worse, I took her into my craft room: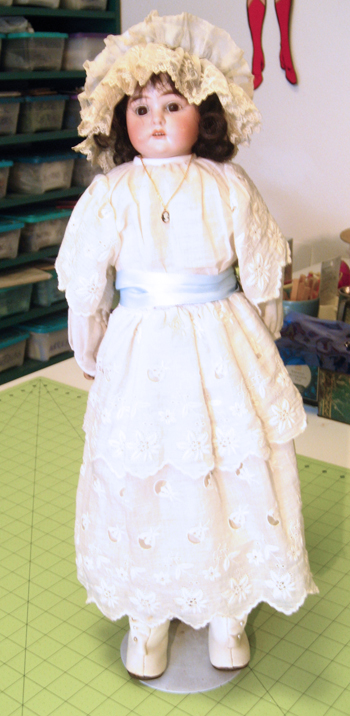 I removed her clothing so that I could get the real story…well, almost all of her clothing. When I got to the sock, I had to stop because a bunch more sawdust spilled out.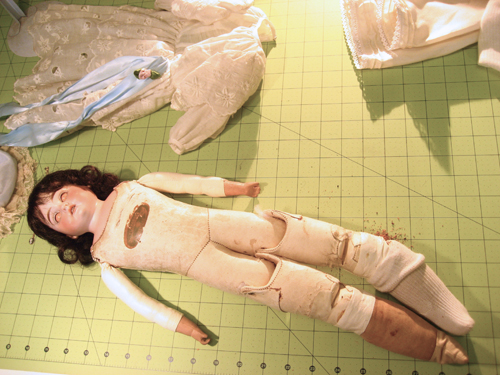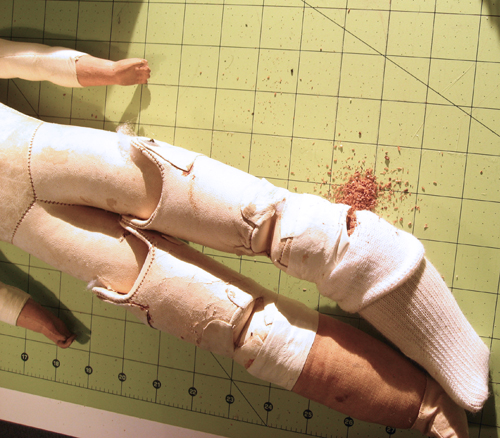 While the rest of her clothes were off, I inspected the earlier repairs that had been done. They really seemed to have been done real quick just to resell the doll or something. Yeah, some of the holes were covered up, but not very well…or at least not with a whole lot of care, I guess. I don't know how else to describe the job that was done.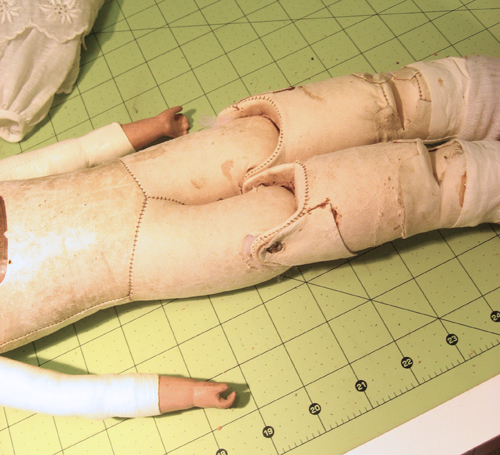 I was optimistic about the hip joints after seeing the large patches. Sadly, the outside of the hips didn't really need patching. The inside, on the doll torso, was where the problems were and those weren't worked on except to stuff some polyester fiberfill in there and hope for the best. I was not thrilled.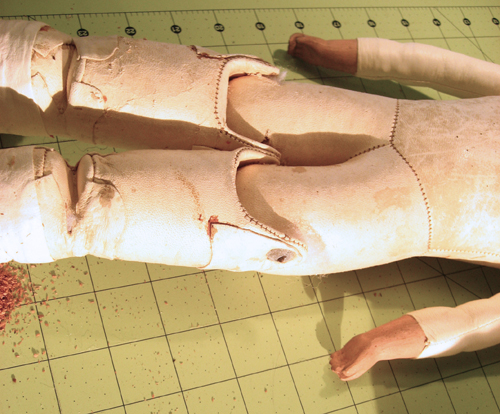 To me, repairs should be reversible for one thing. They should also use period correct materials. In other words, polyester fiberfill does not belong anywhere near antique dolls. Old rags, sawdust, sure, but not fiberfill. It just doesn't belong. That was another clue that whoever did the repairs was just trying to get the doll out the door. The person didn't really care what the doll was supposed to be stuffed with. At least the last doctor had used kid leather to cover the holes…I just really wish she'd done a neater job. There were two kinds of glue and the only areas that were covered were the unnecessary hip joint pieces. The other glued pieces were very sloppy. That's why the leg was leaking so badly.
February 25th, 2009
Here I go again with the colors of twilight. Although, I must admit this one doesn't have a lot of magenta in it, but then again, perhaps this twilight wasn't on our planet, in our world, whatever. Hey, I'll make sure to use the appropriate amount of magenta in the next one. Actually, this one's more the cooler colors of twilight. I haven't really done one with the warmer colors. Hmmm… Inspiration, inspiration, inspiration!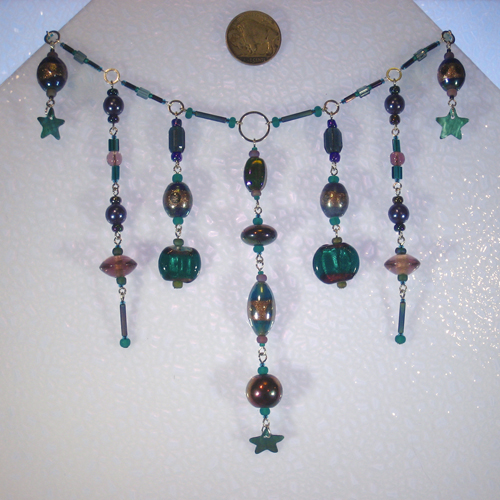 Teal is my favorite color. My '68 fastback is teal, many of my favorite clothes are teal. It's always been with me. So when I saw those dyed seashell star charms, of course I had to have them. Like duh!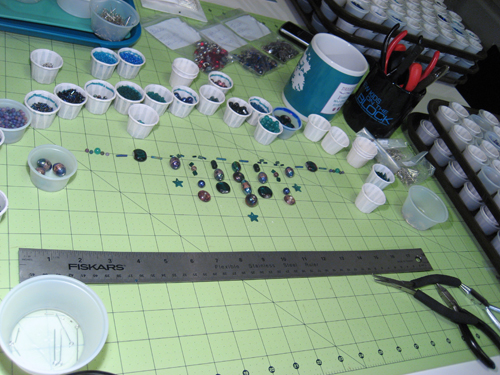 This necklace practically designed itself. It was done before I even knew it. And because it came together so easily, I also did a version without the dangles…but I haven't listed that one yet, so be looking for it!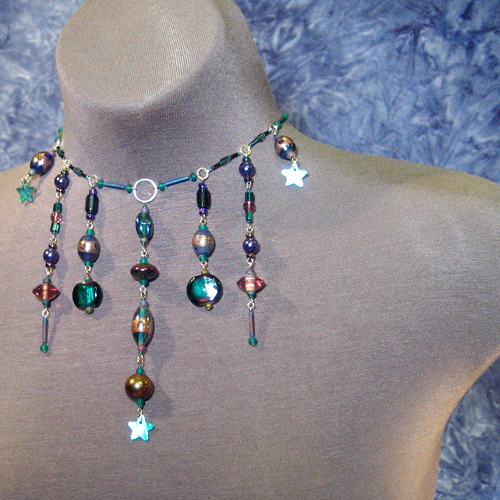 In the mean time, check out my Artfire shop. I list a new Twilight's Fancy necklace every day!
February 24th, 2009
Every time I do one of these interviews, I proofread and am amazed at how wacky I am. I've got my hand in so many different things all at the same time, but it never feels that way while I'm doing everything, only when I take a step back.
So read up and enjoy…
And should you need some really smooth, really silky soap that won't irritate your skin, go here and enjoy!
February 23rd, 2009
Since I kinda had fun posting Twilight Dream, I'm going to make this into a habit.
Meet Blaze: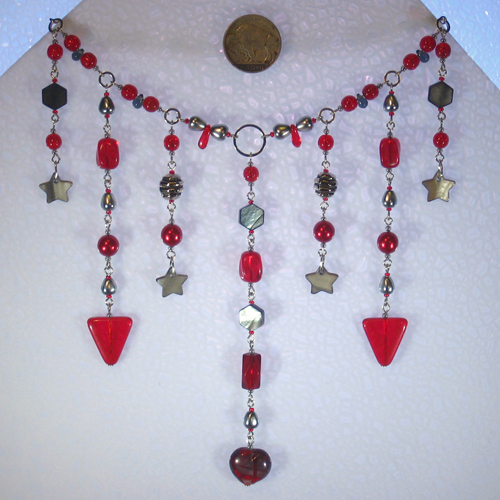 I just really wanted to build a red necklace. I have a surplus of red beads, so I focused on that color to see what I could come up with. I finally got to use that red and gray heart at the end of the center dangle. It seems like every other time I pulled out my red beads, I'd pick that one up and try to make a necklace around it, but end up going in a different direction. This time, it worked quite well.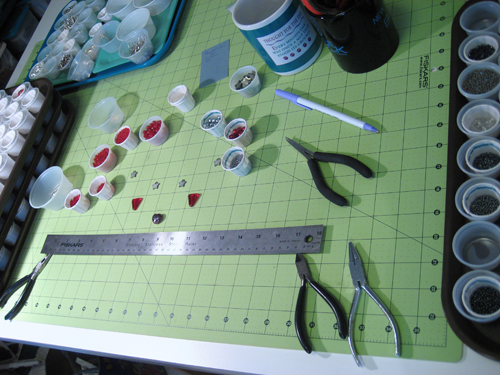 So well, that I got a little excited and this necklace has not only a lot of dangles, but they're all really long. It'd look great filling the deep V of a little black dress or over a white turtleneck.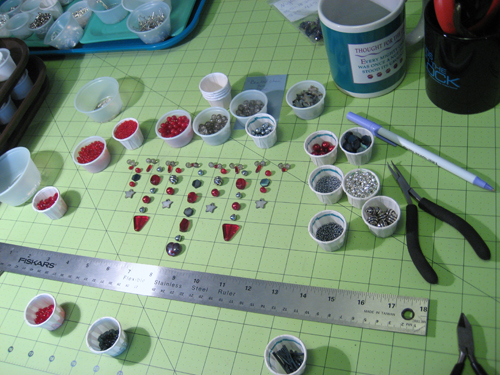 Blaze is now for sale in my Twilight's Fancy ArtFire shop. And can I just say that I'm really digging that red? So much so, in fact, I'm gonna go make something else red right now because I didn't use up anywhere near what I wanted to use up. Yeah! Even with all those dangles!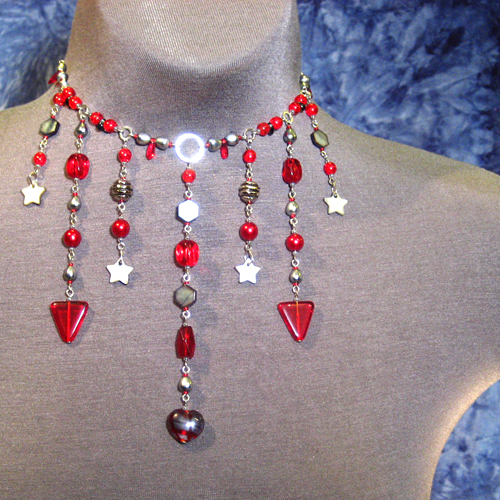 February 23rd, 2009
I was interviewed by a fellow artisan. Read about me here. I didn't know I was so interesting until I saw the post. Seriously. I'm a lot crazier than I think I am! 🙂
See her crochet work at Artfire and Etsy. And her graphic art at Artfire and Etsy.
February 22nd, 2009
I got these shoes eons ago from a thrift store. They were pretty cheap because the laces were missing. I had a pair of laces from the same time period sitting around collecting dust (they were a gift when I was in third or fourth grade). They don't exactly match style-wise, but I really don't care. They get the job done and let my eclectic taste shine through.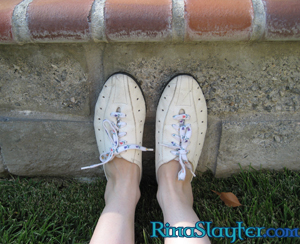 Somehow, I'd lost these for about ten years and only recently rediscovered them, smashed, at the bottom of a box of random old stuff. I have no idea how they got separated from the rest of my shoes, but whatever. I'm glad to have them back.
February 17th, 2009
I make a lot of ribbon choker necklaces and I know there are people who'd like to learn how.
It's super easy and I'll do a nice how-to real soon.
Right now, I'm preparing a series about repairing one of my antique dolls. Next up will be the ribbon choker necklaces, I promise!
In the mean time, if you'd like to see pictures of them, peruse my shop at ArtFire. I make them out of different ribbons and even set them into greeting cards.
February 15th, 2009
I took pics of some of my shoes for a project that has now run its course. Rather than file them away and forget about them, I'm blogging them. Why not? I mention my extensive wardrobe, but I don't always put my money where my mouth is. So this is my chance.
I am the same size I was in high school and I don't get rid of as much stuff as I should. I love vintage and second hand shopping, but I've had some stuff so long it's now considered vintage anyway! I've got more than 250 pairs of shoes and boots spanning many decades. The ones I've photographed aren't always the strangest, they're just some of my favorites. I hope you enjoy them as much as I do.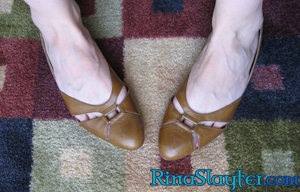 They're cute, they're funky, they're like totally 80s and they only cost me a couple of bucks second hand, but they are one of my most comfortable pairs of shoes for summer.
I've worn them on a few extra gigs, too. Strangely, though, I wasn't playing 1980-something. They were modern day shoots. I suppose no one really pays attention to what extras have on their feet, but still, I thought it was strange that the costumers had me wear them. That was one of those days when I just slid on the nearest pair of shoes as I headed out the door. The other gig, I simply didn't have another brown pair of flats that matched the outfit I was bringing.