April 22nd, 2009
My desert tortoises are contemplating coming out of hibernation, but the weather just hasn't been too cooperative. One day, it's warm enough that my big guy stirs and even comes out of the garage, tanks up on water and starts mowing the lawn. The next, he turns back into a boulder. Poor guy. The little ones have hardly stirred at all.
Awhile back, I read an article about a two-headed tortoise and sent it to my husband. He replied with his own customization: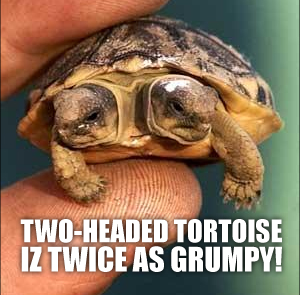 I laughed for awhile. But ultimately, I'm still missing my tortoises.
Fast forward a few months. He was reading an unrelated website and there was a great tortoise pic…which he knew would cheer me up–especially with customization!: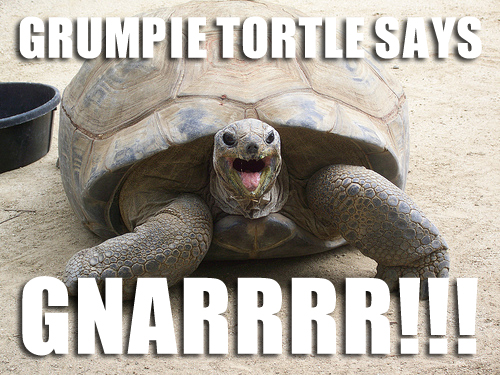 Okay, so he was on the right track.
And today, despite the cold weather, the sun was out and Toad was walking around in the backyard. He didn't have much ground clearance, but he was cruising around. Here's to summer!
April 19th, 2009
They really are Victorian shoes. I collect antiques and I couldn't resist these shoes being in a wearable condition after all these years.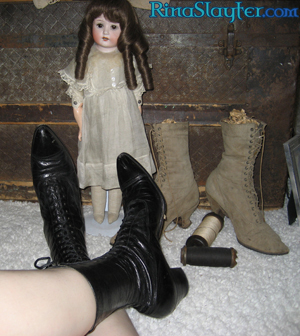 They definitely have that witchy thing going on. It's too bad the other shoes in the picture are for display only because they're in such bad shape after losing a heel and then someone brutally hammering it back on.
My black ones seem to have hardly been worn at all. What amazes me most about shoes from this time period is the sheer amount of time required to lace them up. Like, I seriously have to allow a good fifteen minutes or so because they have so many holes. Once they're on, they're on and I don't take them off unless I'm sure I'm not going out again. And if I do go out, I rarely put these back on. Yes, they're that annoying to lace and unlace, but they fit like gloves.
And they look great. People stop me now and then, asking if they're real. Because they're so old, I only wear them maybe once a year on sunny days only. I keep telling myself that I'm going to display with some of my antique dolls, but I never quite get them set up. Oh well. Maybe someday soon.
April 15th, 2009
The last bit of work was at hand. I poked the hip wire all the way through after patching the tear it made that first time and got the other button on.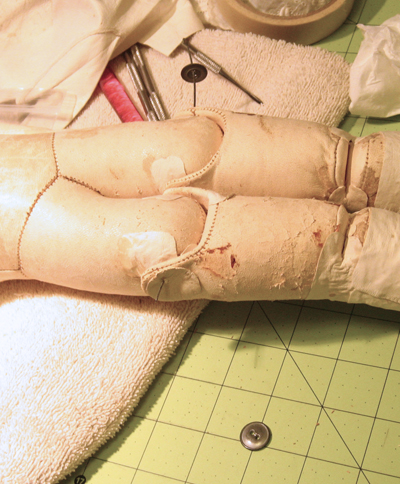 As I admired my finished job, I noticed something… Yeah, the doll just had to "one more thing" me. As if that surprise wire tear wasn't enough, she had to "one more thing me", too.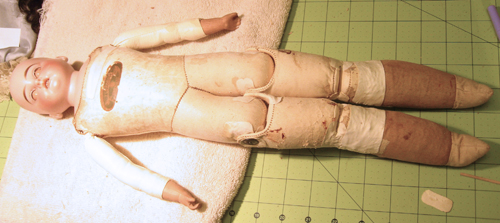 The stitching at her crotch had dry-rotted and torn. No sawdust had come out, but if that seam didn't get reinforced immediately, there was no guarantee that her sawdust would stay in.
I got out the glue and patched her up with one last piece of kid leather.
Now she was really done and ready to be redressed.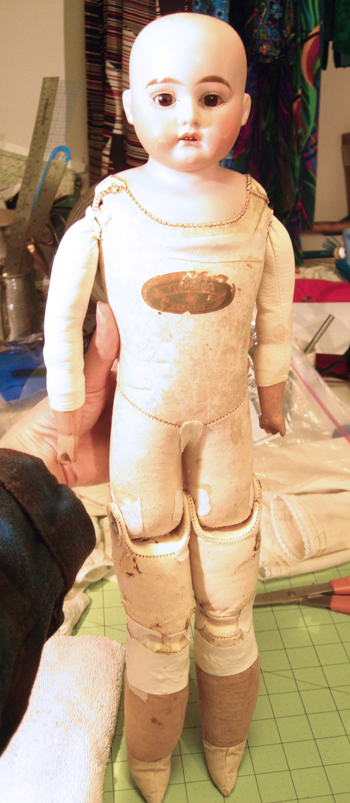 I forgot to put her cameo necklace back on when I took the following picture.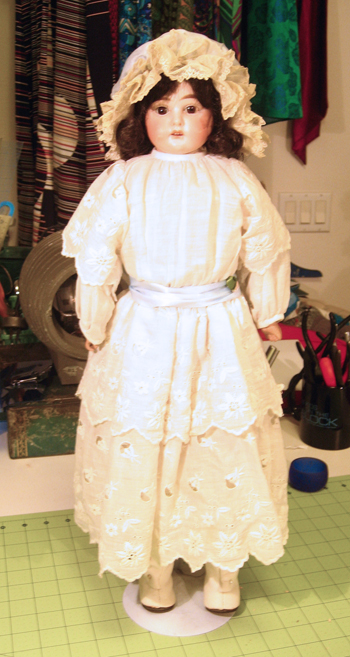 In fact, I still hadn't remembered when I set her back on display where she came from.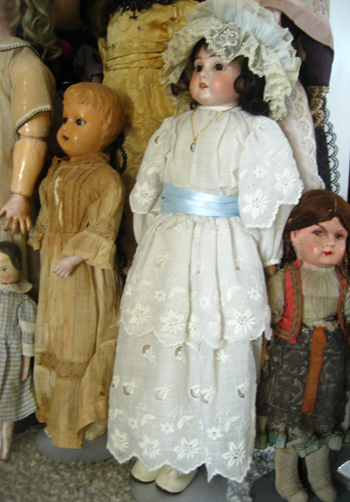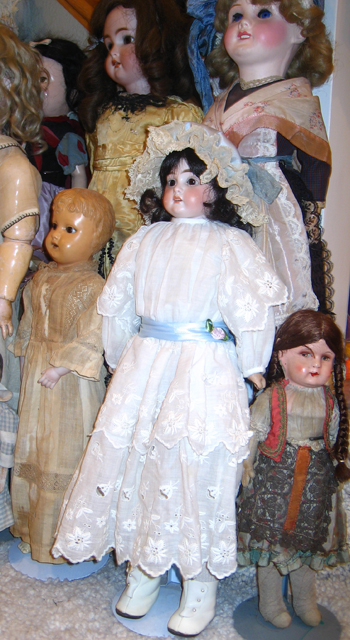 The only difference between "before" and "after" is cameo and no cameo. Oh well, I put it back on her shortly after I took the picture. Again, all the damage was hidden and there's really no difference in what she looks like on the outside. The biggest difference is my peace of mind. Now I know she won't leak any more sawdust just standing there.
On a side note, the doll on the left is the celluloid one whose arm fell off in my hand and I immediately put her back together. The one on the other side is one I consider haunted…well, she was when she first arrived in my collection. At some point I'll post the EVP I got while investigating "who" was with her. In short, because she was so troublesome, I had to move her from where she was in my hallway to this location just to get her to quit being so cantankerous. (Not that she was running around, doing cartwheels or anything, but being a sensitive, I was particularly irritated by her antics.)
But I'll get to her later…
April 12th, 2009
I wear these when I don't know what else to wear. They're fun, sporty and well worn in.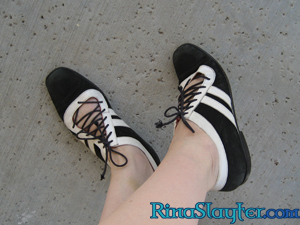 They're similar to the black and white striped ones I posted about last month, but the big difference is that they're so comfy and worn in that I can run a marathon in them. I've had these about fifteen years now and I try not to wear them as much because they're really starting to show the wear, but I still love 'em. They go with just about everything in my wardrobe…and that's hard to do!
They're just a simple pair of flats with laces, but they're weird and thus suit me fine.
April 8th, 2009
All of the patching and stuffing was complete. I'd learned a lot and was ready to embark upon the hip wire. I don't think I've ever done a hip wire. I've done an elbow joint and a shoulder wire, but not a hip wire, although the idea is the same…except in all those other instances I didn't have to poke more than one hole. This time, I had to do eight.
So, again I was dreading it and had to come up with something else to do until I got up the courage to dive in. Since the old buttons had damaged the leather, I figured it'd be a good idea not to put them back on the doll and risk the same problem. (Don't worry, I kept them with the doll, just not installed on her hips!)
I have a lot of buttons. Many of which are antique. I hunted through box after box, looking for a particular pair of smooth metal buttons that I knew I had…somewhere.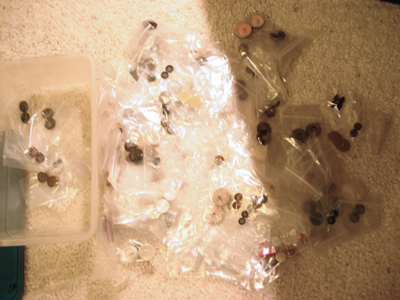 Unfortunately, my system of organization doesn't exactly lend to easy searching. I went through about nine stuffed boxes until I found the buttons I was looking for…and realized that they'd never work for the doll. They had four holes, not two. Whoops!
I settled for another pair of two-hole buttons. They weren't correct by any stretch of the imagination, but they were smooth, metal and had two holes. In consolation, I reminded myself that I was keeping the old buttons with the doll and if her next owner had better ones, perhaps she'd install those in place of the ones I was about to put on.
Plus, the buttons I had would work just fine and the only way anyone would know was if they pulled off the doll's clothes. Under normal display circumstances, those incorrect buttons honestly weren't going to matter and while the style of them wasn't period correct, at least the material was.
So, after getting over the button decision, I hunted around for my longest needle. Then, I inspected a few doll bodies with similar hips in order to help me determine the best placement for the legs onto the torso. Then…I took a deep breath…and started poking some holes.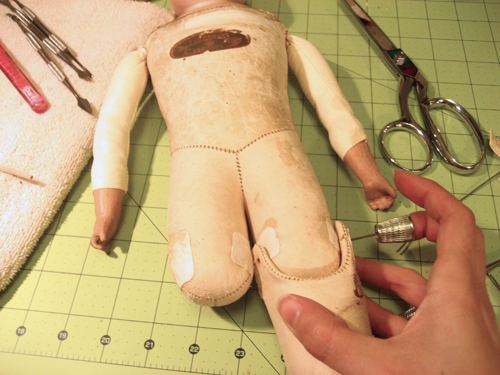 The hardest part was working the wire through. I couldn't get it completely straight, but it was real close. And as if to spite me, as the wire was coming through the last hole, the leather tore a little. I was so pissed I didn't take pictures of the surprise patch job. I just sighed and got it done so that I could work the wire back through, install the button and bend the end back through the other button hole.
April 6th, 2009
Wanna know a little more about me and how I came to be a handmade jewelry artisan?
April 5th, 2009
I got these second hand and they instantly became one of my favorites. Closed toe sandals. They're from the 80s, but when they die, I'm going to have a new pair made up. I love them that much.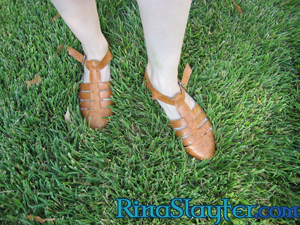 Back in the day, so many girls had similar pairs, but I couldn't afford them. So, of course, when I saw them in my size at a thrift store, I was practically doing cartwheels down the aisle. They were worth the wait.
Except since this picture was taken, something got spilled on them that I can't seem to get out. I was on my way to an extra gig that day and not particularly paying attention to where I was walking in the garage. We had my '68 Mustang Convertible apart and I bet I stepped in oil or some unfortunate concoction of oil, antifreeze, power steering fluid and transmission fluid.
I'm gonna see if OxyClean can help me out. Otherwise, I'm seriously going to make a copy of them. They really are my favorite sandals ever.
April 3rd, 2009
Happy, happy, HAPPY Friday! It seems like it has been so long in coming, but the day is finally here. Forsaken Talisman is now available. And if you buy it here before next Thursday, you get it at a discount.


Forsaken Talisman by Ashleigh Raine
Is she a victim of a madman's agenda, or a willing player in his demonic games?
Book two in the Talisman Bay series.
Kidnapped and mind-wiped by the Shadow Walkers' greatest nemesis, Skylar has no memories of her own, except for her name. All she knows is what memories she does possess belong to someone else—as does her face—and that she can't trust anyone, including herself.
Shadow Walker Dusty Clements goes against direct orders to rescue Skylar and take her into hiding. It's the only way to get to the truth, and keep her out of the hands of an enemy who could use her to wipe out the entire organization. The last complication Dusty needs is to fall for her.
As Dusty and Skylar work to uncover the secrets of her past, they discover a mystery more than twenty years in the making, and a love they can't deny.
The enemy has one more trick up his sleeve though—a magical kiss capable of probing the deepest secrets of the mind. All he needs to bring the Shadow Walkers down is to get his lips on Skylar one more time…
This book was previously published but has been completely revised, rewritten, re-edited, with an addition of more than 20,000 words.
Warning, this title contains the following: Sex in an interdimensional cave. Hot men ripping demons apart bare-handed. Liberal use of the f-word as verb, adjective, threat and sexual promise. Oh, and wet and soapy sex in the shower followed by warm bodies sliding between cool sheets—yes, sex in a bed. It's almost normal!
BUY EBOOK
EXCERPT: Prologue and First Chapter
EXCERPT: Dusty and Skylar Dance
EXCERPT: First Kiss
April 1st, 2009
The doll's torso has been patched up and so has one leg. That left the leg that needed the most work. The previous glue job had been so bad I needed a blade to cut away the glue.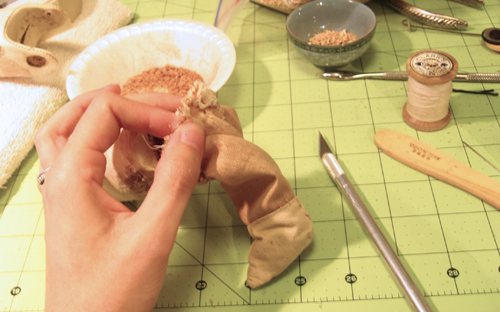 That was certainly no picnic, either. I'm just glad that whoever had made the quasi-socks over the feet didn't glue them. I'm sure they would've been done as poorly. Whoever had done the socks was a great seamstress and did a far better job than I ever could have. I was so glad they'd been done, too, because that would've been another task for me to dread.
And on that note of dread, rather than proceed to stuff the leg, I decided that I needed to figure out what I was going to do about the hip wire. I didn't have any. The closest stuff I had was aluminum and therefore too flexible. I needed something stiff but not as thick as a coat hanger. Hmmm…
I hunted around in the garage after rooting around in my sewing room. Nothing.
But I seemed to recall a spool of bailing wire somewhere… It might be too thin, it might not, but I needed to find it in order to find out and yet it was nowhere to be found.
Still dreading stuffing the leg, I thought outside the box… Well, outside anyway. I knew the wire had been used to hold up some vines on the side of the house so I went out there because maybe, just maybe, there'd be a tail on one of the lengths.
Sure enough, there was.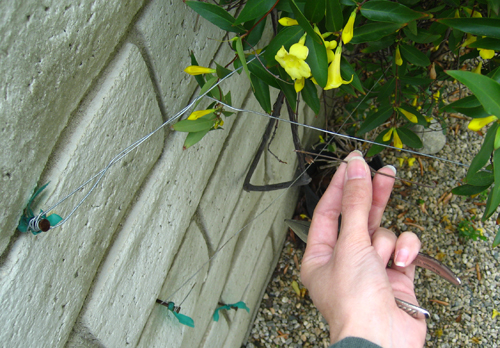 Yay! I cut off the whole tail and used that thrill to fuel the stuffing of the other leg.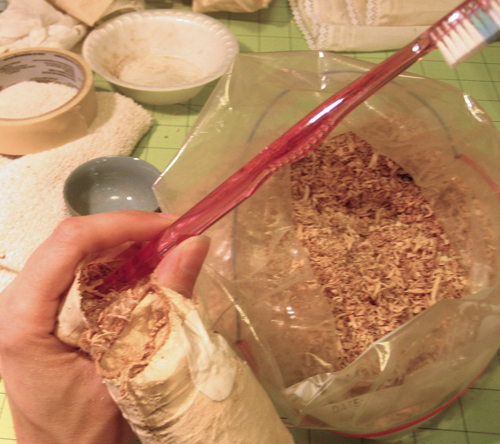 I was there for what felt like an eternity. Spooning in sawdust, packing it down with the toothbrush handle, spooning in more sawdust, packing it down even harder. I even accidentally rammed the toothbrush through the fabric and had to do another patch. (I was too pissed off to take photos of that expedition!)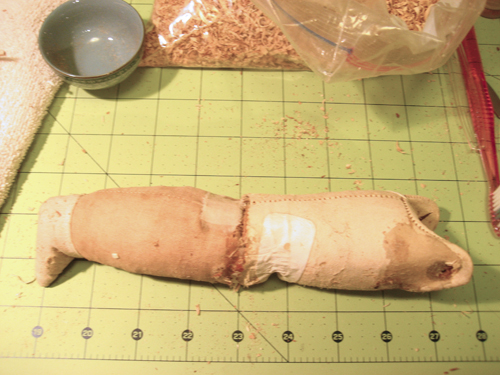 Once I got it fairly well stuffed, it was time to do like I'd done to the other leg and wrap a piece of leather around, stuffing as I glued it down. Stuffing and packing and stuffing and packing. I'd discovered that in my set of carving tools I had one that was more cylindrical like the end of my toothbrush except smaller. That was what I used on all the finishing stuffs for each of the holes and tears. (I just now realized I'd forgotten to mention what I'd used! Sorry.)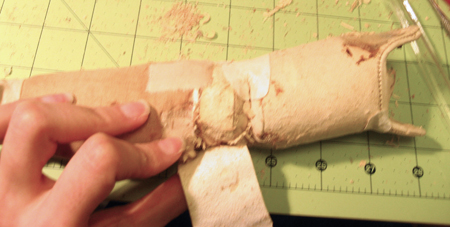 Once both legs were stuffed and patched, I reinforced the tops of the legs, too, by cutting circles out of the old leather and regluing them.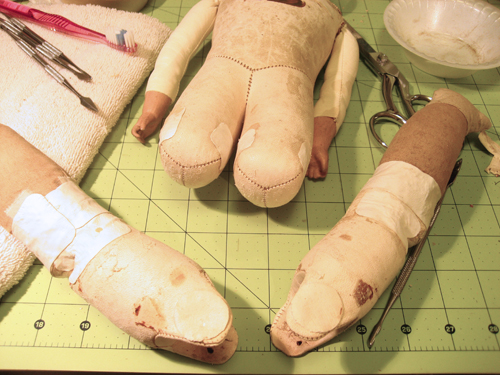 I'd never restabbed a hip joint before. I was in for quite a little learning experience…
March 29th, 2009
They're suede and zip all the way up over my knees. And they're just oh, so crazy. I wish I could wear them more often, but very few outfits actually 'go' with them.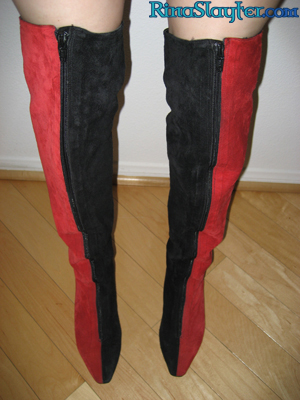 I got them in the mid 90s, but they're definitely from the late 80s. I have a blazer from that time period that goes with them, but seriously, wearing that much red and black…I gotta get up the guts because they attract a lot of attention. They're more silly than they are sexy, but whatever.
About ten years ago, I wore them to a car show and the wife of one of the guys showing his car stopped me and regaled me with a story about her pair…except hers were electric blue and black. Since then, I've been on the lookout at every thrift store, but haven't seen a blue pair.
Maybe I'll start checking online because not only are they strange, they're comfy, too…and warm because all that suede goes above the knee. Now, if I find a blue and black blazer that goes with them, I swear I'll faint right then and there.