June 6th, 2003
After watching this on DVD, I remembered that I'd been in it. Of course, the shot I was in got cut, but there was enough for me to remember that day.
This was before I wrote out all my experiences and posted them to Ashleigh Raine's Fake Reality yahoo group.
Anyway, here's what I can remember of one of my shortest and nicest days on a set:
It was a night shoot in downtown LA, but not the kind of night shoot that's supposed to last all night…just the kind where the crew is doing a sort of split day where they've got stuff to shoot during the day and stuff to shoot once the sun goes down. We were told ahead of time that there'd be no food because we were coming in at the end of the day.
But when we got there, they offered us boxed lunches. That was so nice of them. It really was.
Then, us extras were herded over to wardrobe. I was supposed to be a nondescript pedestrian, but there was also a 'hip and trendy' category and I think the costumers got confused because they chose my hip look over my ND look. Fine with me…I'd rather wear the fun stuff any day!
From there, we were shuffled through hair and make-up all the while being told there was only one quick shot to get with us. Yeah, right. That's what they all say. "One quick shot" usually means fourteen hours doing the same exact thing every take.
At some point, we were herded out onto the street for positioning so that when the camera crew got there, we'd be ready to go. That was pretty cool. I'd never been on a set where they'd done that before. I was assigned two friends and we walked away from the camera up the sidewalk. No big deal. We all went back inside and waited for the crew to finish their company move.
Once again, they all said, "One quick shot and you're all outta here." Yeah, right…uh-huh…sure.
I recall doodling in my little notebook and talking to Jen on my cell phone. I can't remember what about, though. I just remember having to hang up on her when it was time to go outside and do the uh…"one quick shot". She's used to me having to hang up on her by now!
Anyway, once outside, the rather cheerful camera crew was ready to go, Mark Ruffalo [an absolute su-weetheart] got to his starting position, and we did three takes, complete with a little bit of banter and jokes in between.
The director was happy. We went inside kind of in a line…
…And found ourselves being signed out.
What was going on?
We all looked at each other, scratching our heads, completely dumbfounded.
I was on set for a total of about 4 hours, got paid for the full 8, and wasn't lied to. Pleasantly strange…
And by the way, the movie's great! I absolutely loved it and hope I get to work on more like it.
May 25th, 2003
I was on this film four or five times and unfortunately didn't write much about each experience.
The first shoot was in April of 2003. My car broke down on set, but it wasn't a big deal. My battery was tired. The cars were only parked anyway. To get home, one of the transpo guys gave me a jump. No big deal. I got a new battery the next day.
The second and third shoots kind of blur together for me. Two different locations, but same kind of stuff in both places: driving. Lots and lots of driving around and around and around. Not bad, though. I wish I could remember more. I never did see what the scene was about.
But I did get camera time. During the cafe scene, my dark teal '68 Mustang fastback is clearly seen going from right to left through one of the windows. I'd brought my best friend, Eddie to drive my aqua '68 Mustang convertible. He had fun and I had a blast watching him!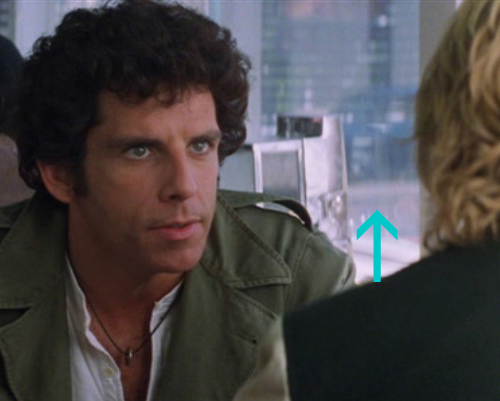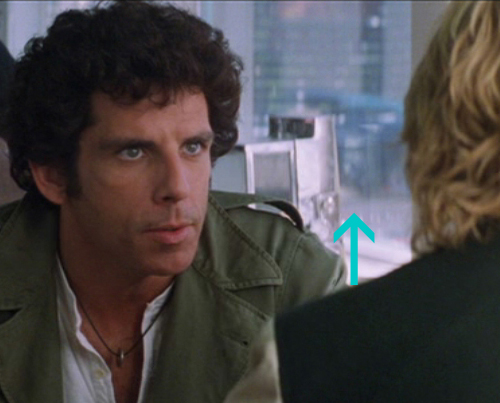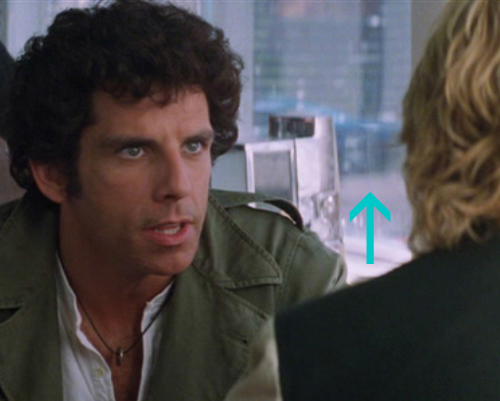 Eddie and I also worked another gig in downtown LA. I recall it being 2nd Unit (ie. inserts or small shots usually without the principal actors). I tried to drive through frame, but they said my car was too pretty. Eddie got to drive through a few times…and a couple girls hopped in the car, too. He had a great time on that shoot for sure! In fact, he keeps asking me if there are any other shows that want two of my cars at the same time. I'm already looking forward to bringing him along if I ever get on another show like that. I keep hoping…And I'm sure he does, too!
May 21st, 2003
I did a lot of writing while on this shoot. I had a small notebook and was frantically scribbling for most of both nights. Reading through the notebook, I'd hoped to post some of what I'd written, but really there wasn't anything interesting in it! I was half asleep and hardly coherent. Plus, much of it was notes about Twyla and Craze in Forsaken Talisman and if you want to know what the notes were about, just read the book. You'll know when you get to the end.
This shoot happened over the course of two nights on the Universal Studios backlot on their New York street.
Until watching the DVD, I had no idea I was in the movie at all! The following screen capture surprised me because there are only extras in the frame, I was one of them and I didn't even notice in the theater!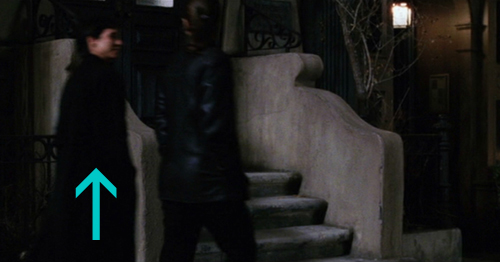 The following is an excerpt from an email that I'd written shortly after the shoot:
I have breathed the second hand smoke of Sam Raimi (whom I am also taller than).
I have come within 3 inches of Tobey Maguire.
And at another point when I was simply resetting back to my number one position, our eyes met. I swear I wasn't really trying. And he grinned and whispered "Hi" almost like he recognized me or something. To my knowledge, he didn't acknowledge anyone else like that last night.
And for the record, non-union extras can get thrown off the set for making eye contact with the principal actors. I know that sounds mean, but it's because the actors are there to do a job, not socialize and something as small as eye-contact could blow their concentration so it's better to just not look.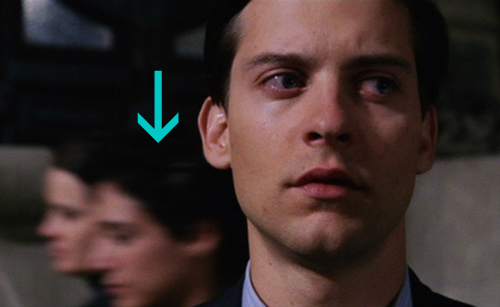 I had three different boyfriends and we all made up little ideas about what we were doing. Yeah, walking into the hotel facade with a tall blonde man in a suit who happened to have a few romantic stories of his own…priceless. We made up a little story that we were co-workers having a torrid affair. It was a blast!
I've seen the movie and think I saw my arm. I'll have to pause it when I get the DVD. My best work was definitely cut out. Sam Raimi likes to ask extras about their character, but that wasn't why I'd already worked mine out. I was BORED and it was way after midnight.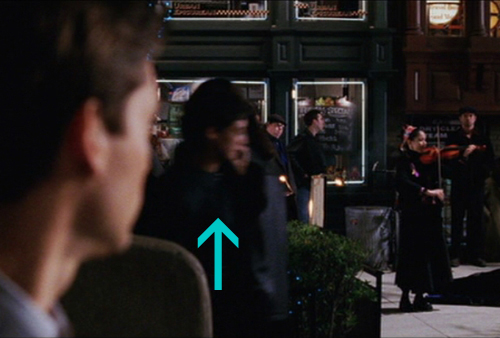 There was one bit I did where I came out of a door, while putting on my trenchcoat and yacking on my cell phone as I walked up the street. I was right next to Tobey. In my head, I was talking to Jen on the phone about Forsaken Talisman and she wanted to meet me immediately at a coffee house up the street so we could talk and write notes in person because the scene she was working on wasn't quite coming together. But Mr. Raimi never asked. I suppose that's because I was believable and not looking stupid and in the way.
And ironically, while writing Forsaken Talisman, there were a couple of scenes that gave us that kind of trouble. But rather than meeting, we just talked on the phone and pulled each other's hair out.
May 1st, 2003
This episode was called "The Day That Was The Day". It's the season one finale.
I was essentially in the same spot in the same church as the previous time I was on the show. Kinda strange, but I was glad to be there. I really loved working on Carnivale. There was just a special magic in the air whenever I was on it. I mean, this show had me covered in the most dirt, the ugliest clothes, but there was just something about all that…like without all that, it wouldn't have been so much fun or so magical.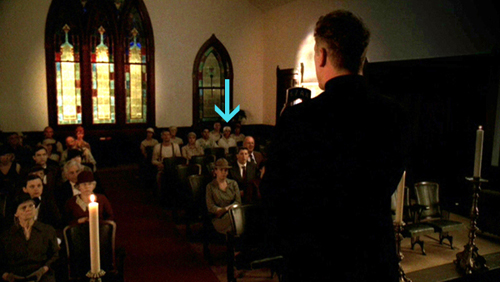 I know I can't really be made out clearly and you just have to take my word that I was there, but I really wanted to include this episode in the Tales section for a few reasons. First off, for the guy playing my 'husband', this was his very first gig. I haven't seen him since then, but I do wonder how he's doing. The fellow seated by himself a few rows in front of me, I think I went on three or four gigs where he was booked, too. We spent an entire night talking on the set of Ripley's and he essentially inspired aspects of Jay in Driven to Distraction.
And finally, I wanted to illustrate the perfect example of where most of my work ends up… Scroll down to the second picture…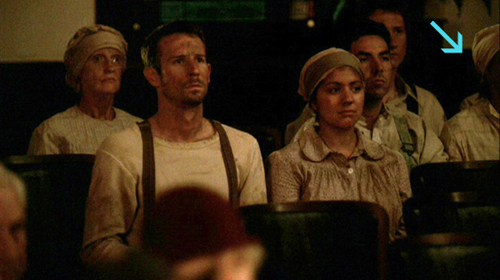 Yep, that's me just barely off screen. Happens all the time!!!!
April 30th, 2003
The following is an excerpt from an email I'd sent the day after this shoot:
I'm certain this experience will make it into an Ashleigh Raine book. In fact, Jen would kill me if we didn't put it in. Before I continue, let me just remind you that this really did happen… No matter how absurd or weird, this is a true story. I jotted down some of the dialogue while I was on the set in fact. And after calling Jen during my lunch break, she couldn't stop chuckling for an hour.
Okay, with that said, here goes. I'll spare the boring details like trying to figure out where the hell I was supposed to park and then who the hell I was supposed to check in with. There were only three extras. Usually, there's at least fifteen and everything's clearly marked.
"Background, we need you to stand by near the set." That was my cue. In my blue jeans, green turtle neck, tweed jacket and sensible shoes, I stepped over to the 1971 RV on the soundstage and waited with the other two extras while the lighting guys did some finishing touches and the director talked to his First Assistant about the rehearsal they were about to do. The lead female–her name is DeeDee–was being touched up by make-up. The next sound is "Rehearsal's up…And…Action!" And DeeDee starts her first line as she steps into the RV.
Mind you, us extras still haven't been told anything about what this movie is about or what kind of characters we are playing. We're just standing by, ready to go…wherever going might take us.
"Follow her. Follow her!" The First AD says to me and I obediently follow DeeDee into the RV. We walk slowly to the back where there's this guy laying down on the floor screaming at us like we're gonna attack him or something. The guy is in great shape in his fifties or so with stunningly gorgeous blue eyes. His line when we were halfway in was something like, "Get away from me, you buttfuckers!" And he's really afraid of us. Like we're gonna eat him or something.
The director shouts, "Cut!" and we all pile out of the RV as the guy on the floor starts laughing. Once off the RV, us extras are looking at each other and saying, "I dunno what we're doing. Do you know what we're doing?" Just as we're standing there scratching our heads, the director goes on the RV to give some notes and the First AD walks over to us.
"Okay. You guys are aliens. You eat collagen. Dr. Norbert on the floor in there is covered in gooey collagen and you're going to eat him. So look hungry and walk slow and real creepy, okay?"
So us extras look at each other questioningly, but we all realize that yes, we did hear that right. We are aliens and we're about to eat the guy in the back of the RV.
Then the First AD gets everyone back to where they started from and from there it's the usual–Director says, "Rolling!" then "Action!" And DeeDee says her line and we all follow her in…
And then as I'm walking toward the terrified, collagen covered Dr. Norbert, I realize that's he's Corbin Bernsen. Yes, the very same Corbin Bernsen who was on LA Law and in all those movies, etc. Yeah, him. And I got paid to walk toward him like I was gonna eat him.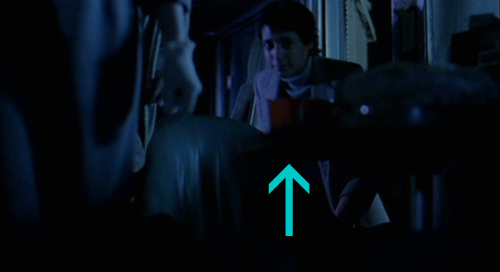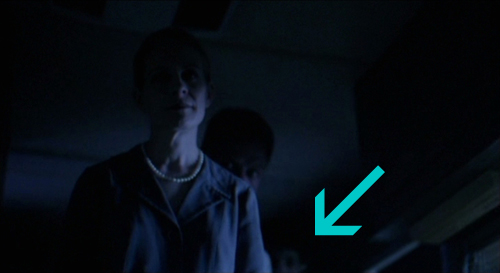 Needless to say, it was a very interesting night. I was sad when it was time to go home. I think I'm gonna have to rent the movie when it comes out. It's called "They Are Among Us". I mean, after all he's done, what the hell was Corbin Bernsen doing being eaten by aliens?!
Oh, and as a funny little aside. (I get these from time to time.) On that first rehearsal, when we ran in there without knowing exactly what we were doing, I vaguely heard someone say something like, "…And now they eat him." And laughingly, Corbin exclaimed, "Start with my penis!"
Here's a bonus shot from the other scene I was in. As I walked toward the door just before the first rehearsal, I heard some guy sort of ranting to himself. Upon arrival, I discovered it was Mr. Bernsen and he was just practicing his lines…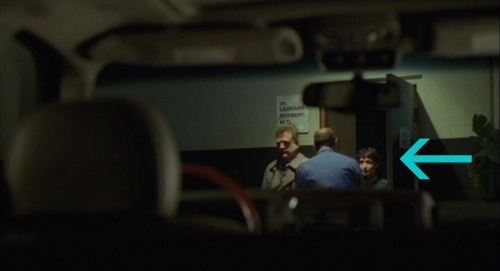 April 29th, 2003
I didn't write anything about this episode at the time, but now that I have some screen captures from the DVD, I'll do my best to remember everything I can about this day.
This episode was called "Hot And Bothered".
I recall having to sing a hymn as part of the congregation. They'd written it out on cue cards and had us practicing it before we went into the church because they wanted us to memorize it.
See, they did a wide shot where nearly the whole room was in the frame so if there'd been cue cards, the camera would have seen them. The song has faded from my memory, but so far that was the only time I've had to memorize something longer than maybe a few words for a scene.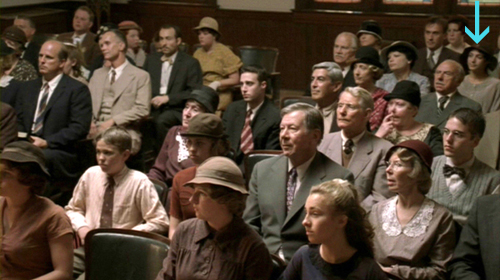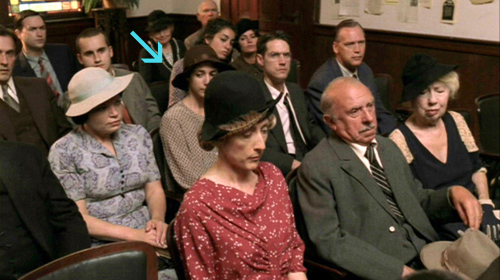 At least I got a better hat this time!
I recall having a character made up in my head such that when Brother Justin accuses the woman in the reddish dress of stealing from the cashbox at work, I was afraid he was talking about me!
The most unfortunate thing about this shoot was that part of the scene landed on the cutting room floor. It was probably in the interest of time, but I'll probably never know for sure. At the end of the scene as shot, nearly the whole congregation stood up and surged toward the priest, asking to be baptized. I was one of the people from the back who crowded the aisle. What was particularly nifty about that bit was how eerie it felt after the director said, "Cut."
We'd been randomly hollering "Baptize me!" for what felt like a minute or two waiting for the scene to end. And when it did, the silence after our fervor was eerie, but powerful all at the same time. I mean, we'd been so 'in the moment', it really felt like we all really wanted to be baptized. Like we'd come under some religious spell overcome by the urge to be baptized a second time. Crazy, but I absolutely loved it.
March 28th, 2003
The bulk of the following Tale is copied from an email I'd sent to Jen after my first week as a Production Assistant on a feature film called Man On Fire. I had a great time and really loved the job after I got used to it.
This was my first foray into being a runner. I'd do it again in a heartbeat, too, because once my head stopped spinning, I had a great time, top down and listening to my radio in my convertible '68 Mustang as I cruised LA.
The toughest parts of the job were strategically planning my route and…well…I don't recall anything else as actually being difficult! Even LA traffic ceases most of its annoyance when there's no need to hurry.
OK… I've been a PA for one full week. I'm actually not much of a Production Assistant as I am a Runner.
I drive about a hundred miles everyday. I know my way around Hollywood like it's second nature. I'm learning Santa Monica and the West Side as well. I'm even venturing over to Glendale and East LA. My goodness! I do a lot of driving. I love it, but it does get tiring in traffic sometimes. I'm mostly glad that the the people in the office understand traffic. They don't expect me to go 40 miles roundtrip in an hour when I leave the office after 3:30. I was really afraid of that at first. So far, there's only been one trip I had to make with a time limit. Actually, that's probably the best description of the kinds of things I do at my new job:
Start in the Valley at Western Costume where the Wardrobe office is located.
Go to West Hollywood and get camera from receptionist at production office.
Figure out how to advance the roll and get it out of the camera.
Go to one-hour photo place about a mile away.
Discover that the one-hour photo machine is broken and look for another place.
Have film developed. It's gotta be done in exactly an hour or I'm not gonna make it back to the production office in time for the big design meeting.
Find a place to wait… I ended up at Starbucks. As I was sitting there being bored, Michael Vartan from Alias walked in and got his morning coffee. He really did look like he just got up!
Finish drinking my tea and eating my chocolate croissant.
Go lean on film counter ten minutes early because I need to get back to the production office.
Pay for film as one of the assistant designers calls me and asks where the hell am I because the meeting is about to start.
Inform her that the place she told me to go had a broken machine so I had to find another place.
Take deep breath as she sounds relieved.
Run to my car and get back to the production office.
Hand over the pix and the camera as the assistant designer and the head designer pretend as though they never called wondering where I was.
Go to the main production office in Santa Monica and pick up paperwork.
Go back to the production office and drop off some of the paperwork–but mostly hang around and wait for the assistant designer to remember that I'm waiting in the lobby for her.
Because she doesn't have anywhere else for me to go, head back to the wardrobe office in the Valley.
From there, go back over to West Hollywood at the Beverly Center and return 2 suits to Hugo Boss because Denzel Washington is going to wear the beige one, not the grey ones.
Go back to the wardrobe office and drop off the receipts.
Yeah, that's a typical day for me… Except that I usually go to at least 10 different places to either pick up, drop off or buy something. Sometimes, I even go to the same place twice!
Oh, and when the film comes out, look for the scene where Denzel is wearing a dust mask of some sort. They sent me to OSH and Home Depot to get it. That's my claim to fame on this movie so far. yippie…
I've also handled and transported some of Denzel's personal clothing. He's got good taste. And apparently, if he likes something, he'll wear it out!
And I've also learned that Hollywood accountants are really really picky. No one told me that not only was I supposed to be keeping track of my mileage, I was also supposed to be keeping track of where I was going and how far each stop was from the next. I nearly cried when the producer told me that… on Friday. I did the best I could to recreate my routes for the week, but I ended up about 70 miles short in comparison to what mapquest said and what my odometer said. I guess that's the price I pay for experience. Oh well. I surprised the heck out of myself with what I remembered of my routes. And at least I'll get paid for most of it.
So, that's a week in the life of a PA. 1 down and 4 to go! I love it, but boy oh boy is it hectic and tiring. I think I could definitely do this many more times as long as I know that it'll be about 5 weeks and then I can have a few weeks off after that.
If I ever meet Denzel, I'm sure I'll post a story. So far, I've only touched his clothing.
I didn't touch Michael Vartan, though… I know Jen was wishing she could have!
During one of my last weeks, I did get to see Denzel at the production office. He seemed very nice, but I wasn't really supposed to be in the room at the time and, in fact, was in there accidentally. Whoops! As soon as I realized I'd goofed, I practically ran out of there. I was delivering a batch of photographs. I'd asked where everyone was and the only reply I got was a fellow pointing into a room while talking on a phone, so I just went in there, did my deer in headlights impression, handed over the photos and ran right back out again.
I do love Hollywood, though. This is absolutely where I belong!
February 28th, 2003
Two night shoots back to back. The Dixie Chicks one was for a Lipton Iced Tea commercial. The Christina Aguilera one was for an NBA promo that I did see myself in believe it or not. There was a great shot of my back with my arms raised. But it was quick and probably I'm the only one who knows it's me…'cept maybe Jen if she remembered the gold velvet 60s coat I was wearing.
The following is an excerpt from an email I'd sent shortly after this shoot:
On Thursday, I was on a Lipton Iced Tea commercial with the Dixie Chicks. Sounds, nifty, right? Read further…
It was up in the mountains of Chatsworth on the property of the old Spahn Ranch–some folk will recognize that as the home of the Manson family. Yeah. Nice place to start with.
It was an all night shoot. Exterior. 40 degrees outside. There were 500 of us. The wardrobe people were picky even though there were no changing rooms. I didn't actually change clothes, I just added over what I was wearing. 3 shirts, 4 pairs of pants including leather and tall boots. I really was not interested in freezing.
There was hay and mud everywhere and holding was about a quarter mile away from the set so we were only allowed to go back when it was time to eat.
Anyhow, it was miserable. The Dixie Chicks were sweet and nice and even sang a capella for us once. However, the camera crew must have had their heads shoved so far up their asses that they lost track of them. It took an average of 30 minutes for them to move two cameras each time they moved. So, that amounted to standing there in 40 degree weather until 3AM to work in spurts of 30 seconds divided by lapses of 30-40 minutes.
Yeah, even the most experienced extras were saying that was the worst shoot they'd ever been on. The union extras were all incredibly full of themselves and production kept trying to put them where they'd get the best camera time. I had been literally front and center in the same exact footprints for 10 hours when one union chick started to give me hell.
I was not in the mood for it at all. She told me that I was in her spot and that she was going to get the director to move me. I told her to go ahead and do that. He could ask all of the ADs, the stage crew, the extras around me as well as the Dixie Chicks themselves where I had been standing for "continuity purposes" as she'd said. I didn't move. Yeah, she hated me the rest of the night, but I was waaaay too cold to care.
And three hours later when they made the non-union extras back up to make room for the union extras in the front, I didn't care about anything anymore and I backed up quietly and she tried to get another rise out of me which didn't happen. Then, as my luck seems to have it, the Director brought out the principal actors and placed them right directly behind and to the side of me. Yeah, I ended up with more camera time than that mean union chick. I'll bet she didn't get any at all because she was in the front at that point.
Yeah, I know I shouldn't have, but I actually kinda felt good that for once, the good girl who was always honest got the last word. So, if you see a Lipton Iced Tea commercial with the Dixie Chicks… Look either front and center for the back of my head or look to the right of the bright red headed girl in the audience. That's me.
As further irony would have it, the commercial got pulled because one of the Dixie Chicks said something controversial. I don't even remember the whole thing, I just know it got pulled.
On to the NBA promo:
I figured I'd be having to go through the same thing the following night because it was going to be a similar situation–a concert. But, it was wonderful.
Friday night was a NBA Playoff promo with Christina Aguilera. It was at the Staples Center. There were 900 of us this time, but at least there was lots of food (including M&Ms) and not only were there lots of chairs, but they were comfortable.
It wasn't 40 degrees and the camera crew had their shit together. We'd film for 90 seconds and then wait about 10 minutes in between. The only camera time I got would be from behind. I'm wearing a fuzzy gold coat center in front of the camera and bebopping along to Christina's song.
We worked for 5 hours and were released… We got paid for 10. It was nice. It was such a switch from the night before that I felt like I could have worked the full ten and even put in overtime. It was great.
I wish all of my huge calls had been this nice. I guess juxtaposed with my worst-gig-ever the night before, anything would've been fantastic!
February 26th, 2003
The following is an excerpt from an email I'd sent the day after this shoot:
I helped out with Good Morning Miami on Wednesday. I was off-screen sound effects so to speak. No big deal. Got to see Fran Drescher in person, though. She was really great.
Actually, I was paid to watch the show and laugh along with whatever was funny. Pretty silly when you think about it, but it was an easy day and I have yet to do another one like it. The warm-up comedian was great and was cracking some downright hilarious jokes. I recall bringing my notebook, but never getting it open because I was having so much fun.
February 25th, 2003
The following is from an email sent shortly after this shoot:
I was on the new HBO series Carnivale. I think I got some pretty good camera time whenever possible because I kept grinnin' and jokin' with one of the camera operators and he kept telling me which way to scoot in order to be in the frame. I was sitting next to a lady who stands up and says two lines so I got perhaps a second of camera time. I was also in front of another lady who had lines in a prior scene so they were getting her reactions separate from the crowd.
The scene is set in a tent where a fellow and a few cohorts were "healing" people. It was all a hoax, but during the Depression, people in these hick towns so removed and such would pay to see a show like that in hopes that they, too would be healed.
I was supposed to be disabled and in a wheelchair, but according to the DP (Director of Photography) I was too cute. So, they traded a hag of a woman into my wheelchair and I ended up in a much better spot. I was a little annoyed at first because it always seems that I'm never pretty enough nor ugly enough. It all evens out eventually, though.
It was a very long day sitting in a very hard wooden folding chair from the 1930s, but all in all, not too bad of a shoot.
I bought Carnivale Season One on DVD and grabbed a couple screen captures from that day. This particular episode was called "Tipton".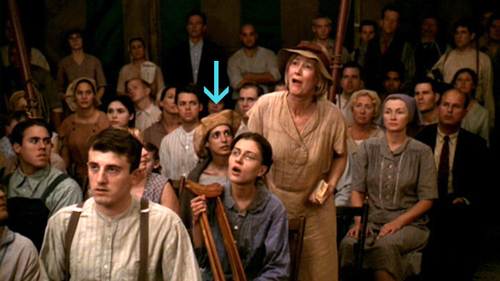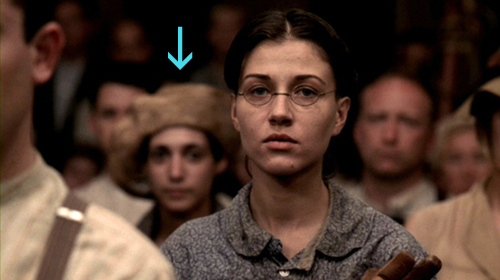 And, yes, my hat really was that ugly! I was just glad that I didn't have to stand all day because my shoes were rather uncomfortable.