June 21st, 2008
Okay, so maybe my doll parts shelves are a little creepy…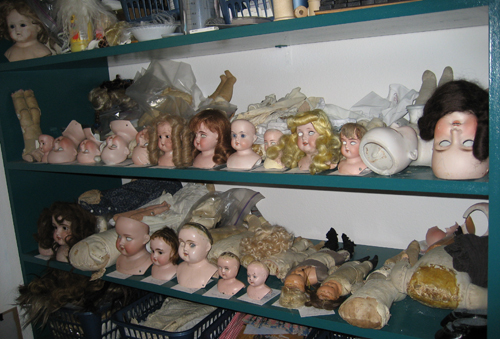 I don't know if it's the ones missing eyes, the upside down ones or what, but my husband hates being in my craft room because of these shelves. I'll admit I've got a lot of work cut out for me. I'll get to it someday. Mostly, I like knowing that whenever I finally have the time, most of these girls have all the parts they need. I'm only actually missing dresses and wigs. The rest just need repairs or eyes set.
I need to learn how to do sleep eyes…the ones that open when the doll is upright and close when she's laid down. I can set stationary eyes in my sleep, but I just haven't gotten up the nerve to try my hand at sleep eyes. I've got several dolls ready to go, but I haven't mustered the courage to give it a try. I just don't want to screw up and have to start all over again.
June 18th, 2008
Okay, I've covered all of the physical senses with at least one story or anecdote. This next story starts in the physical and ends in the psychic. I haven't made heads or tails of it completely, so perhaps you might help me out.
In 2004 I bought a lot of antique dolls and a lot of spare parts. To this day, bits and pieces of dolls I bought that year are still on my shelf awaiting assembly, 23 dolls-worth, in fact. Some still needs wigs or eyes or dresses or glued back together, but one day, each one will be displayed with the rest of my collection. I bought each doll, each part because it would make a great addition to my collection or it was cheap. (Yes, cheap. This hobby can get quite expensive if you let it.)
I hesitate to call myself a collector because, well, I don't care if the doll was made in France or Germany or if she's cracked or leaking sawdust. Is she cute? Do I have one like her? Is the price right? That's really all I care about. They aren't a monetary investment, they're a preservation of history.
Of pre-1920 dolls, I have at least one with a head made of each of the common materials: Bisque porcelain, china, papier-mâché, wax and celluloid. Same goes for bodies: cloth, composition, papier-mâché, leather and wood. They range in height from seven to thirty-two inches.
These dolls may have been the ONLY toy a little girl had.
Yes, I also have several from the 20s, 30s, 40s and 50s including some hand-me-downs from my mom and aunt, but aside from one in particular, most of those girls are quiet.
Anyway, back in 2004, I either assembled a doll or bought one off of ebay and put her on display in the central hallway of my house. I honestly do not recall which doll it was because I'd added more than one to my hallway display that week. I'd even added old shoes to some barefooted girls and changed a few dresses.
One week, I psychically felt a greater sense that 'someone' else was in my house, but this is sort of normal for sensitive little me and I didn't want to deal with psychic stuff at the time so I did nothing.
That Friday, the dishwasher came on without myself or my husband turning it on. The dishes in there were clean, we just hadn't emptied it. Oh well. We thought nothing of it. Maybe one of us had leaned against the counter…although no one was home during when the cycle had started some time around 7:30PM or so.
The rest of the week was normal except that the kitchen light was turned on in the middle of the night a few times.
The following Friday, we weren't home around 7:30PM, but we came home to the dishwasher running on its own again. This time, it only had a few dishes in it. We both joked that we should start filling the dishwasher up and put soap in it every Friday so that if the ghost decides to do the dishes again, it wouldn't be for naught. Ha ha funny funny.
A few nights later, I was in my home office writing one of my novels. The door was open, but I had some music on. My husband was upstairs in our home theater which has a balcony opening over the living room and kitchen.
'Someone' opened the refrigerator and rummaged a little bit. I thought it was odd that my husband had come downstairs to grab something to eat without pausing the movie he was watching.
About an hour or so later, he came into my office and asked if I'd found what I was looking for in the fridge. "Huh?" He proceeded to tell me that he heard the refrigerator open and had called out to me–just a generic hello like we always do when we hear the other–and I didn't answer, so he got up off the couch and looked out off the balcony, but no one was there by then. I told him I didn't answer because I wasn't in the kitchen and then we shared an "I thought that was you" "No, it wasn't me" moment. Hmmm… We shrugged and left it at that.
Sprinkled throughout our house, we have heat-sensitive dimmers on some of the lighting. The previous owner was nuts about mood lighting, I guess. Our house was built in 1997 and we are the second owners. Anyway, there are days when my fingers are so cold I can't get the lights to turn on in the various rooms. I have to use my elbow or my nose or something. Yeah, funny, but I gotta do what I gotta do.
A night or two after the refrigerator incident, the heat-sensitive dimmer in the home office was making the light fade on and off. I saw it shining down the hallway and nudged my husband. We were going to sleep. He had zero interest in investigating and quite honestly, I didn't want to go in there, either. The up and down stopped after about five minutes.
The next weekend, I was up in the home theater watching a movie and my husband was downstairs. He had finished what he was doing and wanted to see if I was done with the movie yet. But first he had to use the restroom. The door to the bathroom opens directly in front of the dolls in the hallway. As he left the bathroom, he saw a shadow run away from the dolls and down the hallway toward our bedroom. He called out to me.
This time I heard him. I was coming down the stairs from the home theater. He was pretty spooked, but once again, we shrugged it off.
Throughout all of this stuff, I still had yet to psychically feel anything negative. I only felt a little frustration and maybe some sadness, but it was nothing worrisome or even really powerful. It never overcame me or gave me other cause for concern.
There were a few more nights of random lights coming on. And one day while I was home alone, the heat-sensitive dimmer in the office started bringing the light on and off again. Well, rather than trying to communicate with the ghost, I used the manual part of the switch to get the light to turn off and stay off.
That night or maybe the next, my husband and I were up in the home theater, watching a movie. About half way into it, I 'felt' someone come into the room. I started to tune her in. I actually didn't have much choice. She had something to say and wasn't going to be ignored any longer.
After about two minutes of listening to her yammer on and on about how she does all the housework, all of the laundry, all of everything and all I do is lay around and never say thank you, how I don't appreciate a single thing she does and that I don't love her at all anymore despite all the years we'd spent together, I asked my husband if he felt anything.
He said yes. There was something weird going on, but he didn't know what.
I told him that there was a woman in a dress with an apron over it going on and on and on and on and on without letting me get in a word edgewise.
He was surprised, but not shocked.
I asked if he wanted to hear what the lady was saying.
He wasn't sure he wanted to hear it, but curiosity got the best of him.
I started repeating everything the woman said…even did some of the gestures–the finger pointing, the arm crossing over her chest, the hands on hips, the head tilting, etc. My husband wasn't scared, he was intrigued. I think he somehow knew I wasn't making this up, that there really was a woman standing near the entrance to our home theater and she was really, really upset.
After about five minutes of this, I distinctly saw a man's arm reach over the back of the couch and pull out a shotgun. (Psychically, not physically, otherwise I think my husband and I would've launched off the couch and crashed through the sliding glass door to get out of the house as fast as possible!)
The man was sitting about where I was on the couch. The woman kept on screaming at him, daring him to shoot, even berating him. Horrible, horrible stuff and I couldn't stop myself from seeing the shotgun go off and the woman fall down and disappear from my psychic sight.
I told my husband, "Wow. I think her husband just shot her. Holy crap."
And the tension in the room eased up and went away. In fact, in the last four years since this incident, the office light hasn't gone up and down on its own, the dishwasher hasn't turned on without someone pressing the buttons, the refrigerator hasn't opened without one of us pulling the door and no more shadow people have run past the dolls in the hallway.
Or at least not while we're home!
Random lights do still come on overnight, though…but they've done that at least once every month or so since we moved in 7 years ago.
Personally, I think the whole thing may have been some sort of place memory that had gotten attached to one of my dolls. The woman was dressed in a style from as early as the 20s, as late as the 50s judging by the length of her dress and apron. The dolls in my hallway range from about 1870 to about 1945. Perhaps one of those dolls had belonged to the woman when she was a child. Perhaps one of those dolls had been on display in the woman's house. I doubt I'll ever know.
Maybe if I'd tried to communicate sooner, I might've found a consciousness to go with all of the unexplained occurrences. By the time she could no longer be ignored, it was too late. I still don't know what to think of the whole ordeal, but I've learned a lot from it.
While I'm no stranger to haunted locations, this one was a little too close to home…it WAS home. Had I been anywhere else, I likely would've tried to communicate. For me, it's one thing to work with a ghost…a whole other thing to live with one! I like to choose who I co-habit with, thank you.
This was also a period of my life where I tried to push aside my sensitivity. As you can tell, it's just not always possible. If she ever comes back, you bet I'll try to communicate. Video, EVP, K-II, whatever I can get. Like I said, doll collecting is about preserving history to me. I'd love to step back in time and talk to someone whose doll I'm now taking care of. Who knows? Perhaps years from now after I'm long gone, part of my life will replay to the new owner of one of my dolls.
All I can hope is that it's a really fun part of my life!
May 24th, 2008
I got the call for this gig while I was on the set of I Love You, Man. I knew I wasn't going to be leaving any time soon–the rumor was 3AM!–so when I discovered I had to be in downtown LA at 7:30AM, I was not thrilled one bit.
Luckily, the wardrobe for both shoots was about the same, so all I had to do was add a couple shirts, jackets and a pair of pants to my gig bag before I went to sleep around 2AM. We surprisingly got out a little after 1AM. I was still going to be sleep-deprived, but I wasn't the only one and the extra hours of sleep definitely helped.
I got to the set on time and went through the usual rigmarole. The weather was awfully gloomy and threatening to rain some more. I was trying to keep as much of a sunny disposition as I could. It wasn't their fault I'd been stuck on a late shoot the night before.
The wardrobe lady loved my stuff and that truly made my day. She excitedly tugged at a couple of my shirts and a jacket and said, "Is this vintage?!" I replied, "Yeah. It used to be a dress, but I opened it up to be a jacket." She tugged on it, "Great! Wear that over whatever else you want in order to keep warm."
I didn't have much to go under it, so I just grabbed an extra shirt and put it on over the one I was wearing. I'd come prepared with one of my heaviest coats. I was good to go…despite my awful habit of wanting to lay down and close my eyes. The blacktop was looking so comfortable…
Anyway, we hopped in a van to go to the set and the incredibly awesomely nice PA started placing us. (I really wish more PAs could be like him. He was so nice and without a bad attitude toward us extras. I really appreciated it after the hell I had on Raising The Bar.) I followed him as he set up crosses for people to do and since I'd been holding a book said, "If you want, I can just sit somewhere in frame and read. If that'd work."
He liked the idea and sat me on a bench behind where the action was to take place. I tell ya, my mental capacity at this point probably couldn't have handled a cross, so sitting on that bench, reading was perfect. I even made sure I wasn't static when the cameras were rolling. I was just so thankful to be there, doing that on a day when I was really off my game like that.
I even sat there between takes, between setups, the entire time. I didn't bother going to holding. I mean, whether I read on the park bench or read in holding didn't really matter. Plus, I had my feet up on the bench and since there was only a chair in holding, it wasn't as comfy.
Okay, now, here's the surreal part of this gig. Imagine all the sleep-deprivation creating a good fog in my brain… I'm reading a book because that was about the extent of the actions I could perform on such low energy… And the scene…well…the two lead actors were shouting "Penis!" at the top of their lungs.
Y'know, when two young kids are just having cute fun together kissing and goofing off in between. Well, that's what the scene happened to be. I don't know why they were repeatedly yelling "Penis!", but it does make me want to see the movie in order to find out. Plus, there's a pretty good chance I'll make it into the finished product due to my static location.
So, there you have it… The day I spent in a haze, on a park bench, reading a book while the scene revolved around two people yelling "Penis! PENIS! PeeeeeeNIS! PEEnis! PEEENIIIS!!!"
I love being an extra. The truth is almost always waaaaaaaay stranger than fiction.
May 23rd, 2008
Last time, I was a waitress and then a hip and trendy bowling alley patron. This time, I was just a hip and trendy bar patron.
I parked in the lot next to the ocean—which was nifty because I don't get to see the ocean every day and I was a little early. Even though it was really cold, listening to the surf while I sat in my car was nice.
Considering the bad time I'd had on my last show, my hopes weren't high on this one, but when I got there, they'd had a whole enclosed trailer for us extras—climate controlled, too! We all had both chairs AND tables, too.
And they even made sure we got fed before heading to the wardrobe line. When I got there and it started to rain, they brought out tents for us so we wouldn't get too wet. Now that's an awful lot of icing on my cake and I hadn't even gotten to the set yet.
When the costumer looked at me, she decided that I should change into a different outfit, but she wanted me to come back once I'd changed. When I came back, she looked me up and down and then got distracted so I thought I was done and headed over to the hair and makeup tents. About two minutes into having my makeup done, a PA came over and told me I had to go back to wardrobe.
All I could think of was: Uh-oh…
And sure enough, she wanted me to change again, but she said she "had something for me".
All I could think of was: Uh-oh…again.
There were an awful lot of thin, short, low-cut sundresses being worn and I really didn't want to get stuck freezing in one of those… in the rain, too, even though the shot took place indoors, we still had to walk a half block to get where we were going.
But then, the costumer brought out this totally awesome vintage jumpsuit. The kind of thing I'd normally wear. She was excited to have someone wear it. Granted, it really was small, but it fit me perfectly. I guess I was born in the wrong era. Lots of vintage stuff fits me waaaay better than contemporary.
Anyhow, so I was suited up and ready for work…
Which was nothing different from anything else I've done—a bunch of crossing through frame—however, the location was so small, there really wasn't enough room for everyone and I ended up sandwiched between a pole, the script supervisor, the monitors and a camera dolly.
In other words, hell for an extra.
You don't want to be in the way, but you are. You don't want to be near monitorland, but you are. You don't want to get run over by the camera dolly, but you might. You don't want to get hit by the boom mic operator, but you might. And you especially don't want to be in the way when the principal actors are trying to talk to the director, but you are.
And you're bracing yourself the whole time for the gigantic chewing out…but it never came. In fact, they were all really nice and understanding about the close quarters. It was amazing.
Then again, I'd come off of a pretty bad show, so when someone was nice to me, it really stood out.
So, I spent the next eight or nine hours walking through frame, pretending I was drinking a martini—which was water with olives, but whatever. My feet did eventually get tired, but I looked great.
And due to my position stuffed in that impossible corner…let me just say that Paul Rudd has the kind of smile where when it happens (which is thankfully quite often), the whole world seems a happier place. Yeah, I…umm…well…I melted. I just couldn't help it. He had that effect on me. What a great little gig.
Finally, we got to a change where instead of walking through frame, they had me seated…right behind the hero table. My back is to the action, but I'm betting when all is said and done, I'll be in at least one frame of the movie. That's always nice.
For the last few hours, Paul Rudd and Jason Siegel were just ad-libbing back and forth and good golly, there were a few times they were so hilarious that it was hard no to laugh. They were amazing. Amazing to experience their talents while joking in character. This was the first comedy I've done where it's more than just the star (Will Farrell in Kicking & Screaming and Jim Carey in Yes Man) is doing the ad-libbing and I really enjoyed it. It broke the monotony.
The only problem with this shoot wasn't even the fault of the shoot. About half way in—after we knew we'd likely be there until 2am—I learned I was booked on another show the following day…at 7:30am. Nice.
But then Paul Rudd smiled at me and everything was beautiful again. *sigh*
May 19th, 2008
I really want to start this entry: "It was the best of times, it was the worst of times…" but I won't.
Good golly, it's true though, I swear it.
Anyway, this was a two-day call. I played the assistant to the prosecutor in Episode 2 and was miraculously called back for this one, Episode 4.
Extras rarely get called back like this. I must've done something right somehow.
This show shoots about ten minutes from my house, so there was no hardship getting there, parking, and getting shuttled to the sound stages. I wore the only dark suit I have because that's what wardrobe wanted, but they didn't like my suit, so they gave me two others. That's fine. I'm not picky.
The only bummer was that one of the suits had pants so long I needed to wear heels and they didn't have my size…or if they did, they were buried. I ended up in three-inch heels that were a full size too big for me.
They were dangerous, but I made them work. I've walked in ill-fitting shoes before.
In the first shot of the morning, we were in the hallway outside the courtroom. I was instantly picked on for my purse which I'll admit didn't match my suit very well, but I'd forgotten to get it approved and it did match the other suit I was supposed to wear. It had been approved the last time I'd worked the show, so I knew it wasn't the bag itself, it was the fact it didn't match. Whatever.
The AD wanted me to put it back in holding, but I'm sorry, no. Especially not when there's a plethora of hiding places off camera. I don't want to be separated from my purse. Who knows what could happen? There are a lot of stories of things being stolen and I did not want my purse to be the stuff of a story like that. After much back and forth, we put it in the room off camera. I felt bad for having to argue, but I had no choice. I wasn't going to be separated from it.
Then, I was handed a briefcase. I tried to explain that props may already have one in the courtroom for me. Last time, I had a filebox and a stack of folders. I didn't want to end up with a pile of briefcases this time.
Well, the same AD thought I was full of shit and just trying to be difficult. She did not understand that I was looking out for the continuity of the show because if the camera saw me walking in that hallway with that briefcase, that case would be married to me for the duration.
I argued a little and then she said this scene was different and the other AD told me to make sure that I'm facing away from the camera and that I'm covered by another of the extras when I do my cross. At that point, I considered it a mini-victory. Yeah, I was stuck with the briefcase, but they understood why I was being difficult, it was for the better of the show. They had my back to the camera and mostly covered so that I wouldn't be recognized playing a role other than who I was inside the courtroom.
Okay, so once we were in it, that shot went off okay and it was time to work in the courtroom.
I took my place at the prosecutor's table like usual. The props guys used the briefcase I'd been carrying in the other scene. I was fine with that and having a great time.
There was a different director this time, but the one from last time was there, too. I guess maybe he was producing this episode instead. At one point, I smiled at him just to say hello and he told me that I was "allllllllllll over episode 2" and "call all your friends and family over and bust out the popcorn".
So, everyone out there who wants to actually spot me in one of these shows, watch for me in the second episode of Raising The Bar. Apparently ya can't miss me in the courtroom scenes!
Okay, so the day dragged on as usual. I spent much of my time in the hallway outside the courtroom. I ended up sitting on the wooden prop benches because I knew I wasn't allowed on any of the canvas directors' chairs. That was fine, even though painful. My ill-fitting shoes gave me blisters and I almost tripped a few times, but for the most part, I was okay.
During the coverage of the prosecutor's table, in one of the setups, they did a two-shot (which is exactly as it sounds…the cameras have both Marcus and myself in frame) and then they were doing Marcus' closeup, but it was intricate because he had to stand up for part of the scene and there was no way to have two people in the frame. The director actually told them to put one camera on each of us. Holy schnitzel!!!!!! The moment was priceless for me. I doubt it'll be used in the finished product, but to have it done in the first place was awesome.
The cameras were about three feet from us. The first time, on episode 2, I was intimidated and terrified, but because I'd survived that, I knew I'd be able to do it again.
And I did.
The rest of the day went fairly well. Much of the same even though it was getting ridiculously hot in there. I mean, like, 80 indoors. I was okay, though, for some reason, even in my suit.
The next day, I realized that wardrobe hadn't liked any of my suits, so I left them at home. Sadly, I forgot my bag of shoes which was right next to my suits. Doh! I knew there'd at least be the ill-fitting pair if nothing else…
But when I got to wardrobe and he asked me why I didn't come wearing a suit, I explained that he'd seen all my suits and couldn't use them. At first, he huffed, but then realized that I'd at least tried because I'd brought a couple shirts that might work under another suit. He picked one of those and gave me one of the suits I'd worn last time.
Then, I realized I'd forgotten to bring that pile of shoes I'd set aside. I was mortified. I expressed such to the wardrobe guy. Of course he wasn't thrilled at first, but after awhile I think he realized that I really was embarrassed and really did just forget to bring the bag of shoes with me. Plus, there were plenty to choose from under the truck…and this time, we even found my size. Yay!
This day, it was more of a sandwich for me. I worked a lot in the morning and a lot at the end of the day, but in the middle, I was in the hallway most of the time because they'd wanted me to stay close. I was stuck on those godforsaken wooden benches.
In the morning, there was a point when the DP told me that I looked really pretty on film. He'd seen the dailies from episode 2 and I'd looked really pretty. I was flattered, but honestly, he's the Director of Photography. He's the one who made me look pretty, so I told him it was all his fault and thanked him. I don't think he'd had an actor tell him that before.
Oh, by the way, I love J. August Richards. He plays Marcus McGrath and is so awesome. He really is. He even helped me through some of the coverage of our table. See, there are rules about what a director can say to an extra without having to upgrade the extra to a day player. Honestly, I don't care about all that crap, I just want to get the eyeline right so that I'm looking where Marcus is looking when we're supposed to be listening to the judge or whoever's talking. No one would talk to me, but Marcus did and for that I'm so appreciative.
Things went well during the first part of the day, but during that middle section, my ass was starting to hurt something fierce. First it fell asleep and I had to walk around to wake it up. Then, the bones started to hurt. But 1) I couldn't go far and 2) couldn't sit anywhere else. After a few hours of sheer pain, I finally decided I needed a break and I wasn't going to stand up in 3-inch heels for any length of time if I could avoid it.
So, there was no one around and all of the cast directors' chairs were empty save one very nice day player. I figured I'm almost cast. I don't have a line, but I'm featured in frame. There's no one around. I'll just sit in a cast chair for a few minutes to hopefully get my ass to quit hurting. If someone important needs to sit there, I'll jump up immediately. I wasn't even leaning back in the chair.
I was there for about two minutes before the AD who'd argued with me before starts yelling at me: "OH NO, NO, NO! YOU CAN'T SIT THERE. WE HAVE TO HAVE SOME PROTOCOL AROUND HERE. YOU'RE JUST AN EXTRA. YOU CAN'T SIT THERE. OTHER EXTRAS ARE GOING TO START THINKING THAT THEY CAN, TOO." she kept going, but I'd already gotten up at the first "Oh no".
As she yelled, I explained that I was only sitting there because it was more comfortable and I was in pain. And get this, I was sitting in the chair DIRECTLY next to a bench. It was utterly ridiculous. I moved the six inches over to the bench, still in shock. She finally quit yelling at me, but I was humiliated. Utterly humiliated. She could've just said, "Hey, don't sit there." or even "You know you shouldn't sit there." and I would've moved.
(On many shows, no one cares who sits in the cast chairs as long as the chairs become available when necessary. I've never sat in them, but I've seen other extras sit in them. I've sat in them as a stand-in, though and have been invited to sit in them by cast members and producers before. It's just a freakin' chair. I have certainly NEVER seen an extra get CHEWED out like I was for sitting in one. I've seen them told not to sit there, but NEVER yelled at for it.)
Trying to fix the awkward situation and maybe ease it, the day player whispered, "You can sit in my chair. I don't mind." But I declined. I was about ready to cry anyway and I didn't want to be yelled at anymore. I don't do well with humiliation like that.
I guess the AD thought that I thought I was as 'good' as the cast and 'privileged' enough to sit in the cast chairs, but that wasn't it at all. Not even remotely. My ass hurt. And I ended up so humiliated, I could hardly keep from crying. This is why I'm background, not featured. I don't like the center of attention…especially in negative situations. I don't do well in confrontations and being humiliated.
So, there I was, my ass hurting as well as my pride and the coverage of my table still hadn't been shot. I could hardly keep myself together and somehow I was supposed to act like I was following the case and totally absorbed in it. I almost asked to go home because no matter how I tried to get back into it, I just couldn't pull myself back together.
But then we broke for lunch which gave me a break from being near the set. I talked to another extra during lunch. She was really sweet and I hope I see her again. She shared a story about a friend of hers who was booked as an extra and ended up with a speaking role. I shared the story about how I got chewed out for sitting in a cast chair. Even she was shocked. The PAs on this show were really cool, really nice, real advocates for our comfort, too, but now that I think about it, they also had an underlying attitude that extras are stupid and should be treated as such.
Whatever.
After lunch, I was together enough to do the scene. I wasn't at 100%, but I was close enough to pull myself together.
While we were waiting to do the scene, I ended up talking to J. August Richards. And I couldn't keep from mentioning what had happened and how I didn't want it to jeopardize my chances of coming back. He saw that I knew what I did was wrong and that it was the fact I was chewed out for it, not politely asked not to sit there and really felt for me. He liked having me as his assistant, I guess. He said he didn't think that what I'd done would keep me from coming back. I reminded him I'm an extra. Nothing's set in stone.
We did our coverage and then I went back to the wicked, hard bench. Also, by now, the set was heating up. Literally. It was easily over 85 degrees in there. I was starting to get light-headed and needed a lot of water and to use the little girls' room.
When I came back, one of the stand-ins was sitting in my chair. When I went to replace her (I'd worked with her on Changeling), she told me that I could rest for a little while because it was hot. That was so sweet of her. I went back out to the bench and tried to get my sanity back. It was freakin' hot.
And, of course, guess who started yelling again and made me go back in there.
Now, normally, I didn't mind standing in for myself even though stand-ins make more money than extras. I didn't bitch about not being paid proper rate or anything like that. Hell, I could call SAG and get them in trouble. I don't usually mind standing in for myself, but dammit, I was about to pass out and worried that my makeup was melting.
The makeup lady came by to touch me up and I asked her about it. She said that I handled it well and didn't look bad at all. I thanked her and told her I trusted her even though I felt like I looked awful, if she said I looked good, then I wasn't going to stress it. And honestly, that made a huge difference. I didn't want to appear unhealthy during my coverage. That would look bad on the show. I don't care about the way I look as long as I look right for the part.
So J and I did our coverage. He was sweltering, too, but they let him use a little personal fan. Honestly, his suit was warmer than mine. He needed the extra cooling.
After that, I went back to the dreaded bench. And as I look back at the day, something must've happened. When I first got there and the day was new, everyone was treating me not necessarily like one of the cast, but at least with a little respect. By the time I got chewed out, I was scum and I don't know why.
Once I was signed out, I thanked the PA who took care of us extras and headed outside to catch a shuttle back to my car. J waved at me and I couldn't help but run over to him and give him a hug. I didn't know if I'd ever see him again. He seemed to think I would, but just in case, I wanted to tell him what a pleasure it was to work with him and all that. I mean, he's really that awesome and I wanted to tell him that.
All in all, it was the best of times, it was the worst of times…
I have no idea if I'll ever be called back on that show. They can't use me on a jury or in the gallery because I was so featured, so if I ever get called back, it'd be as Marcus' 2nd again. That'd be great. I'd love to come back, but honestly, if I'm going to be treated like shit, I'll happily give up the featured part and everything. I don't need the money that badly.
When are people going to learn that if you treat us like stupid fucking extras, we're gonna act like stupid fucking extras and not want to help out the production at all. We'll fuck off, we'll mouth off, we'll be difficult to work with. We tend to mirror the treatment we receive.
When I went into this, I wanted to give 110% of myself. Now, I want to give zero, but I'll do it anyway and probably not be happy about it, which will undoubtedly show in my onscreen and offscreen performance unintentionally.
Treat people with respect and they return it…even stupid fucking extras like myself.
This was still the time of my life. Too bad it got tainted the moment I got chewed out for sitting in a chair. I swear, I'll never do it again. Hell, us extras are hardly allowed on the furniture anyway. We're all such animals, y'know… 😉
May 14th, 2008
It took about an hour to get to where I was going, but the last part of it was through canyons, so that was nice and picturesque. I was to play one of the background dancers in a spoof of the Dirty Dancing scene when Baby first sees what dirty dancing is.
I guess the whole movie is a spoof of dance movies done by the Wayans brothers.
Anyhow, I'd already gone to a fitting for the 1960s clothes, but the wardrobe line was long because there were a lot of us on the call. Eventually, I got my really cute dress and survived hair and makeup.
The morning was really cold, but I knew it'd warm up. I used my fleece blanket until we were called to set. I ended up being placed near the professional dancers. They were awesome.
So, I spent the day dancing (not really dirtily—that was optional.) We were there for about thirteen hours, so needless to say, I was exhausted by the time we got out of there.
I wish I had more to say, but honestly, aside from how funny the scene will be in the movie, it was just another scene to me. I probably got some camera time since I was so close to some of the professional dancers, though. That'd be fun. I haven't been in other farces like this spoof movie.
May 13th, 2008
A funny thing happened when I finished the leg and was ready to do the arm. I'd looked over the broken one, thought about the best way to attack it. I looked at the other one to see how it had been done. They were slightly different, but the idea was there.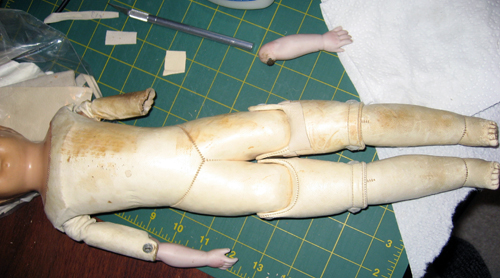 I set the doll down and…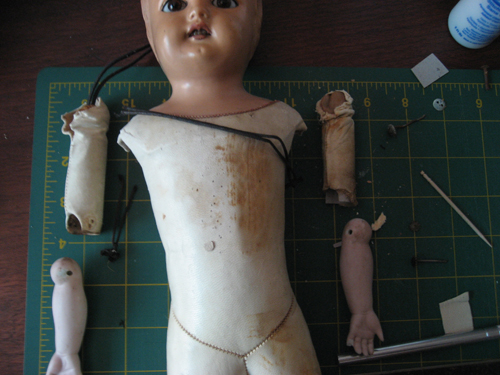 Yep. The cord that strung the arms decided to break. I think it had broken a long time ago as well because while the arms matched both bisque, and leather over wood, the elbow joints didn't. One had been done with wire and two buttons while the other was a screw bar into sprockets. Both were correct for the time period, as far as I could tell.
First, I used a scrap of cardboard to build up the bottom of the broken arm. I glued it in place and made holes for the bar. It took me awhile because I was learning as I went along and if I didn't get it aligned right, I'd have to start all over. Her arms had to face the same way. I glued a new piece of leather around the outside for extra strength.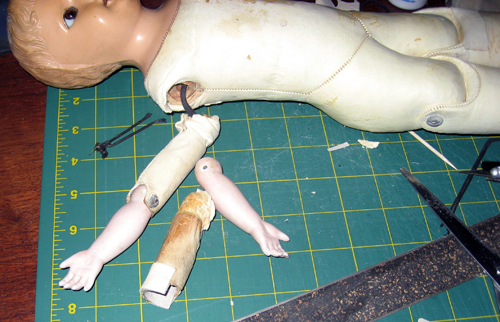 Once I was satisfied with getting the lower arm back on, I set about restringing the arms. Thankfully, I'm a pack rat and had some waxed cotton cord laying around. That was what had snapped. A few knots later, her arm was back on and the doll was done.

I patched a little hole in her belly with a tiny piece of leather, dressed her and put her back on display.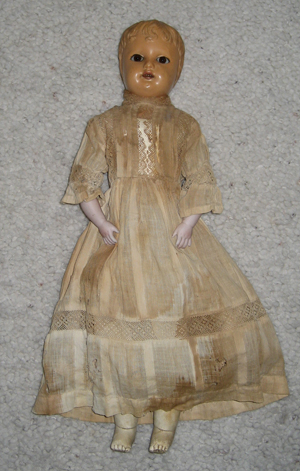 As with all my doll adventures, I learned a lot and can't wait to do the next one. Remember the one that I wrecked my middle finger on shortly before April Fool's Day? Well, I glued her head back together and now it's time to do the fabric reinforcing before putting her eyes back in. She still needs a ton of work.
May 10th, 2008
Since I didn't know how I was going to fix the arm, I figured I'd do the easy part first and patch up the leg. The rest of the body is remarkably tight and supple. Sure, she's got some staining, but she's otherwise a lot more solid than many of my other girls.
It took a few hours to work my way around the leg because I didn't want to lose any of the stuffing. There's sawdust in most of the leg, but thankfully the top part was stuffed with excelsior near the top joint. That made my little job a lot easier while giving me time to figure out how I was going to fix the arm.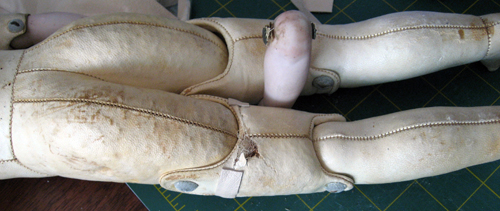 I used the broken arm to help hold the leg in place. This bit was so easy, I forgot to take pics. I need to work on rounding the edges on the patches. That'll be on my next project. One of the dolls near this one in my display has been leaking sawdust just sitting there. When I lifted her dress to see what was going on, I discovered a lot of rips.
Anyway, on this girl, I just cut patches, shoved the excelsior back in the wound and bandaged her back up. Nice and simple. Trouble didn't strike until I started working on the arm. But that's another entry…
May 7th, 2008
I don't remember why, but I lifted the hand of one of my dolls…and it came off in my fingers. Ummm… Uh-oh. Since she's on display, I didn't want to put her in my project pile unless I really had to, so instead of leaving her there, arm next to her feet, I inspected the arm. Why had it fallen off?
This is actually the 'after' picture, but I didn't take one with her dress actually on, so it's doing double duty.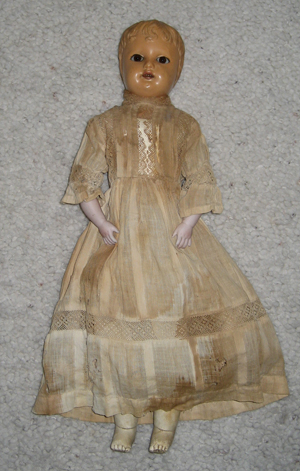 Her head looks strange because its made of celluloid. There's a crack in the back, but it doesn't concern me yet. The celluloid is pretty thick and nowhere near as fragile as some of my other celluloid dolls. This one is either original or damn close to it. To me, she kind of has the face of a boy, but the dress is so old and has spent so long on her, that I'm just leaving her that way. If anyone knows for sure, please let me know.
Somewhere in either 2001 or 2002, my husband and I were wandering through an antique store in Old Town Pasadena when I spotted this doll in a glass case…way underpriced. I mean, I know she's celluloid and therefore not desirable, but she's also on her original body–another reason I'm not interested in taking off her head in order to reinforce the small crack on the back–with potentially original clothes.
Fast forward to 2008 when I picked up her hand. I think I was wondering if her arms were jointed or gusseted. I found out the hard way that they were jointed. The bisque lower arms are hinged at the elbow.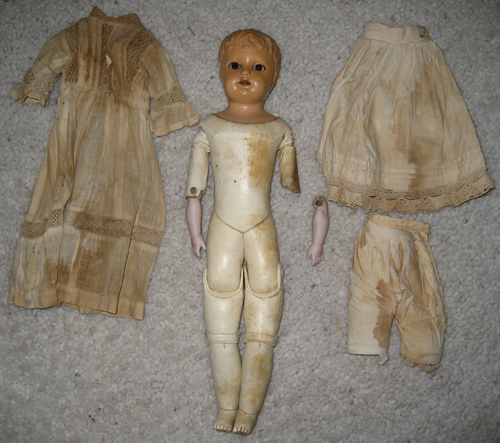 Well, since her arm came off, I had to find out why and see if there was anything else that needed to be done. I removed her old, yellowing dress and undergarments to discover that one of her legs had a gash in the back which had caused about half of the leather to rip to the front. I guess I didn't notice when I first got her.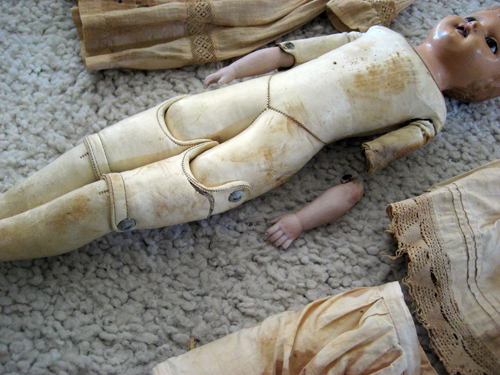 That set the stage for about a day's worth of repair over the course of a week. I kept the doll next to my computer here on my desk and did a little at a time…mostly because I wasn't sure how to do it! I've put broken or missing arms back on, but they'd only come loose. The elbow on this doll had disintegrated and I needed to rebuild it.
I guess at some point in her life, she sat in water or something for awhile. You can see the staining in the pics. It's not just her dress, her leather body is stained, too. And on the side where her lower arm fell off, much of the leather is kind of crunchy.
Doll repair is a hobby of mine, not a profession. I'm untrained, but I care a great deal about my dolls and strive to do repairs that can be reversed. I also don't fully restore or repaint because then the doll doesn't look her age. 90% of my dolls are old and played-with. New ones just don't belong in my collection. They look really out of place. I'd rather see scratches, dents and cracks than 200+ sparkling, shiny faces. I collect for the history, the stories behind the dolls.
I, myself, am not sparkling, shiny and new. I've got tons of stories to tell. That's the way I like my dolls. Most collectors would turn up their noses at my junk, but those are the girls I prefer…and I like to think they prefer me, too. I put them in old dresses made by hand–sometimes even by children. That's they way they were when they were new.
Oh, and for any of you who might be wondering…I did not notice any new paranormal activity when I got this doll and nothing new happened after I fixed her arm. I did experience a few new things at home, but I think those belong to a doll I just acquired rather than being a result of the repairs on this girl.
If something new happens, I'll include it somewhere here on my blog for sure.
April 29th, 2008
I was in the pilot of this show and was quite surprised to be called again now that episodes got ordered. This is the first time I've been in both the pilot and the series.
I was a public defender in the pilot. I was booked as a public defender again, but when I got there and the AD was signing us in, I noticed my name was separated out all by itself near the court reporter and clerks. As I got further through the line, I saw that I was supposed to be "Marcus 2nd". What the hell did that mean?!?
In essence, I was instantly terrified. As far as I knew, I was about to be paraded around naked. No, wait. That's a role I could figure out on the fly…
Anyway, I stressed all the way through check-in, all the way to the wardrobe line and then even more when I was pulled out of line because apparently I was someone important that might be needed on the set first or something, so they cut me in front of the rest of the extras. Aaaack! I hate it when that happens.
It took three tries. None of the suits I brought were appropriate for what they needed and two of the suits they gave me didn't work right either. During all of this, I heard, "She's going to be right there at the table the whole time. Right next to Marcus." And the Costume Designer was being exceptionally picky.
Great, so I was about to be playing a heavily featured role that I didn't know how to do. Nice.
I readied myself for the snake pit and dove right in.
Sure enough, I was seated in the courtroom, at the prosecutor's table. Then my one big moment happened… The guy who was clearly the legal consultant walked by. I gathered up the courage to flat out ask him what it was that I was supposed to do. Do I take notes? What?
I was to be the prosecutor's assistant. I was to do whatever the prosecutor wanted me to do. Note taking was optional.
Finally, there was meaning in my life. I knew my purpose. Everything was going to be okay. Well, mostly. There's still that bit about being featured and having to act.
Why was I freaking out so much? I'm a background ACTOR, so why should this be so crazy to me?
Well, because I'm not 'looking for my big break' or 'wanting to be a star' or any of that kind of stuff. I just want to be part of the Hollywood magic and hopefully be in frame in the finished product so I can do a screen capture and put a little arrow pointing to me. Y'know, being recorded as part of history even if no one outside of this blog knows that tiny little blur is me. I don't have big aspirations. If it happens, great, but I'm not going to seek it out. I don't have that kind of stamina and rejection as a writer is hard enough. Rejection as an actor is far more personal.
There are several actors who would've been instant hams in my particular situation, too, and mentally rehearsed lines they'd make up and try to slide in so they could get paid more or try to show off like this was an on-the-job audition.
I'm not that kind of girl. I was there to be the prosecutor's assistant and not steal his show. I was to work with him, not over him…and also not make him look like an idiot for supposedly hiring me.
That's where all the nerves come from. But once we were rolling during the first take, I realized that mostly I'd be listening to the court case. There wasn't much interaction necessary between Marcus and I. And what was necessary was on his lead, not mine.
So I went with that and everything grew from there. I started to scowl at the other lawyer, I got engrossed in the testimonies, I silently rooted for Marcus whenever he was addressing the jury or questioning a witness. It was awesome. For a role I had no idea how to play, I got it figured out pretty damn well if I do say so myself. (I just hoped I impressed the director, too…)
After much of the testimony of the three witnesses was done, there were still turnarounds to do…and then my chance to really shine. I gotta admit that sitting at a table with two big cameras about three feet from my face–which moved back and forth and side to side during the take–was both terrifying and exhilarating. Both the hair and make-up people had been touching me up between takes all day and that really boosted my confidence because at least I knew I was looking my best…now if I could just act my best, too, without looking fake…
In college, I majored in Theater Design and Technology. Basically, what that entails is about three-quarters of the acting classes that Actors had to take plus a few specialized stagecraft classes. In those acting classes, I was always near the top of the class. Aspiring actors used to ask me how I did so well since I didn't even wanna be an actor when I grew up.
I flat out told them the truth: "I just go up on that stage and get the assignment done. I'm there to do a job. No more, no less. I don't care what I look like or how I'm doing. I don't care about any of that. I just get the job done according to what the teacher wants."
My own advice paid off… That plus a little bit of paying attention when I watch movies and stuff. Ever notice how when they cut to someone who's listening, they always use the clips where the person scratches his nose, shifts in his chair, sniffs, rolls his eyes, bites his lip, swallows, tilts his head, etc.? With that bit of knowledge in my head, my advice to myself about a job to be done and an interior monologue about the case at hand going through my head, I was good to go.
And then it finally hit me pretty hard that it was a two-shot with myself and Marcus. He knew the script. He had worked through his character. He was being directed. As an extra, if the director directs me, they have to pay me more money, so directors usually stay away from background actors. Sometimes, they have the 1st AD relay direction, but only when it's really necessary. Good enough is good enough when it comes to extras.
This being a two-shot suddenly had me scared again. We were to be looking slightly to the right, so that put Marcus out of my peripheral vision. I'd be mostly winging it, so hopefully he'd make a few big movements so that I could sort of copy them. Not exactly, but if he shook his head, I at least wanted to match him with a scowl or rolling my eyes…something that had the same sort of connotations. That way we looked like a team–two people who had put a ton of work into this case together.
As soon as I heard "Action!" I just started making it all work. I did the best I could to match Marcus. I went really deep into my character…and realized that my shoulders were somewhere up by my ears because I was so stiff. How did that get past my mental inventory? Well, since I didn't give a shit about what I looked like, I made that tension work, too and shifted at an appropriate spot and did a few other movements–even played with my pen a little.
That first 'listening' take was crazy, but I could tell by the director's smile and the excitement of the camera operators plus the Director of Photography introducing himself to me between takes that I must've done something right. Yay! Go me!
Two solid minutes of nothing but listening can seem like an eternity–especially when you have to react to words you've heard a million times as though it's the first time you've heard them. It gets hard to fight the anticipation sometimes.
Good golly, I was so thrilled. I mean, what was supposed to be just another extra gig had turned into so very much more and I'm so glad for that. I really am. It's these little things that really spur me on, keep me going back to face the hours of boredom or the comments like "Stupid fucking extras…" and waiting until the crew goes through the lunch line before us extras are allowed to eat. It's the kind of adventure I thrive on. It's why I have been doing this for the past five years.
As a general note on this gig, though, I just gotta mention that another personal record was set for me. The trial took place over the course of four days…three of which were being shot on the same day…which means that us extras had to have three different outfits. This was a first for me to have three outfits that required an area for me to change in rather than just putting on a jacket or taking it off. The other part of this first is kind of funny.
Due to how long it takes to move cameras and rearrange a room to cheat stuff to look right in frame, sometimes, they'd leave the cameras in place and have everyone go change clothes. I swear it, we must've changed clothes at least thirty times by the end of the day. It got so hectic at one point, that I forgot which was which and changed into the wrong outfit. I had to ask the wardrobe people because I felt wrong, but couldn't figure out what I was supposed to be wearing. After that, I started going by who was on the witness stand rather than what scene or what day it was because I just couldn't keep them straight!
I'm betting that'll make for a good story for all of us extras when we're in holding on whatever show we work next. We'll all have an "On Raising The Bar, we had to change clothes a million times" story to share in exchange for a "On War of the Worlds, Tom Cruise refused to work until production put heaters in the extras holding tents because we were freezing" story.
That's another thing I love about being an extra. The stories are fascinating…and I've lived some of them!
Oh yeah, and the other surprise for the day was that I was to be recalled for the following day. Yay!
While the make-up lady was putting my face on, she said, "I just gotta say that you looked really pretty on camera yesterday. You did really good. The way you were lit… You looked really great." I was stunned. I couldn't believe my ears. I mean, yeah, the director shook my hand and thanked me at the end of the day and that was really, really, really freakin' cool, but no one said anything about my performance or how I looked. I just figured that since I wasn't being yelled at or directed, I must be at least passable…y'know, for a stupid fucking extra.
Then, she said, "And over by the monitors, one of the people there said, 'Who's she? The camera's all over her? Does she have any lines?' and when they said no, he was really surprised. 'She's really good.'" Yeah, I was beyond the valley of ready to do happy dance cartwheels. For a role I didn't know how to play and didn't even know I'd be playing it until about an hour before I did it, that ain't too shabby a thing to say.
However, that also meant I had to do a repeat performance. No pressure or anything…
And at least the second day I didn't have to change clothes. That was such a relief! The first day, my suits were polyester, but this second day, I was wearing wool and thought I was going to pass out from the heat a few times when I couldn't take the jacket off. At least it was a skirt suit. That helped a little.
I did more listening and there were a few times when Marcus leaned over to say stuff to me. That was fun. Also, when the verdict was read and we won the case, it was fun to react a little, too.
But the absolute most difficult shot of the whole two days was the shot where Marcus and I leave. He and the other lawyer have some lines while we're picking up our paperwork and stuff. Somehow, miraculously, I was able to carry my purse, a legal-size, inch-thick accordion file and two of those file box briefcases…and do it like it's no big deal…and get through the swinging rail and out another door.
Somehow, it all worked out and I didn't disrupt the scene too much, but wowie, now that was acting! I can't imagine what it would've been like if those file boxes had been full. Ah well. That'll make for another good story to tell while in holding next time I hear someone talking about how much stuff they had to carry in a scene.
Keep your fingers crossed that I get to work on this show again. Sometimes, they don't bring extras back if they've been featured. Hopefully, I'll get a recurring role as Marcus' assistant throughout the series. That would kick ass, but I'm not gonna hold my breath. *sigh*